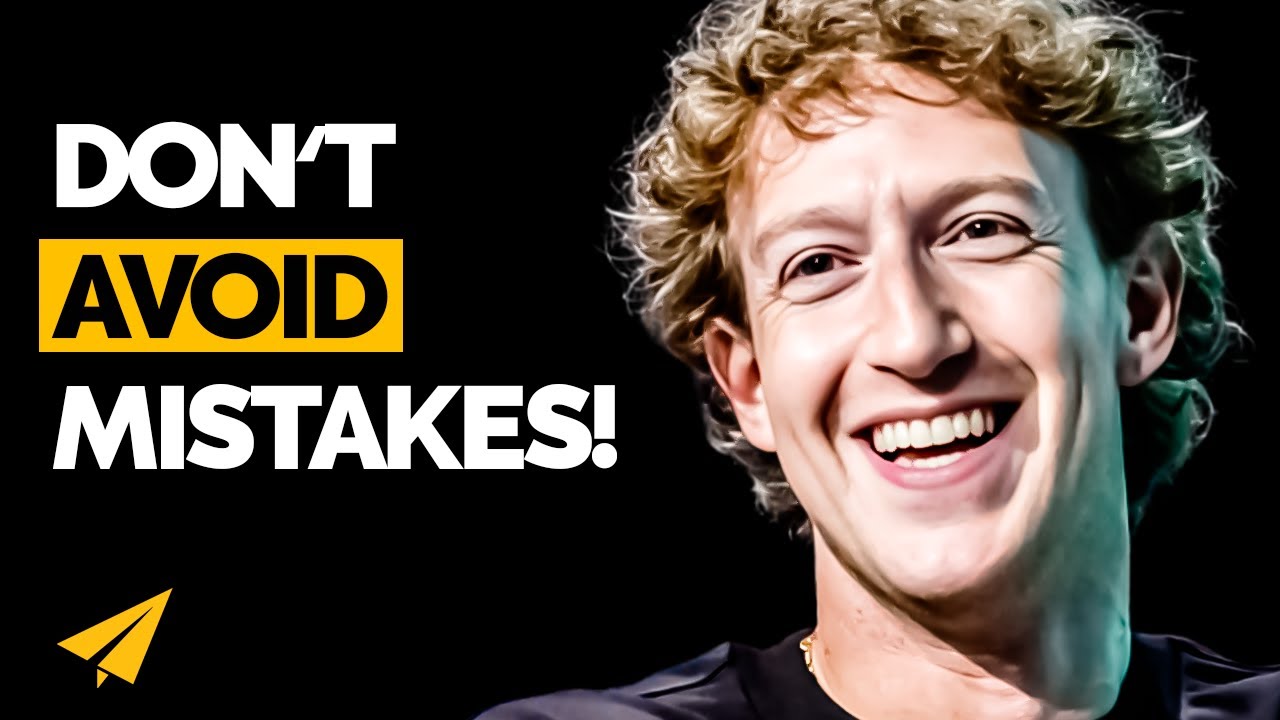 Famous Entrepreneur Quotes
Mark Zuckerberg's Quotes
"All the people who have all the money in the world, I mean, it's not necessarily a fair thing."
"You know, I actually spend a bunch of time analyzing and reflecting."
"The real story is just, you know, a lot of hard work."
Mark Zuckerberg's Top 10 Rules For Entrepreneurship, Business and Success

Today we're going to learn from internet entrepreneur and co-founder of Facebook, Mark Zuckerberg, and my take on his Top 10 Rules for Success.

You Get What You Spend Your Time Doing
First of all, focus on it. I think like, you basically get what you spend your time doing. I want the company to build three products this year, and we're going to work on a few others because people are interested in them, but those are the three things that I'm going spending my product time on. Right? You get what you put into it.
If you spend a third of your time trying to make the people around you better through getting better people, mentoring, getting them to be better, getting the best people in your organization and you're known to more impactful roles then I think over time that's just accrues and you get a better organization.
Rule #2: Get Feedback
We've had this tradition for, I don't know, probably seven or eight years at the company, where every week we have a Q&A where employees can come and ask me any question that they want, about what's going on and what the direction of the company is or questions or things that they read about in the press or that their friends who use the product, what they're asking them.
And it's been this really important tradition for us. Both because we really believe in openness and communication and that kind of what Facebook is all about, but it's also really important for me and for running the company to be able to get feedback, and to be able to learn what's on people's minds, what are employees and folks who are a part of our team are thinking about, and just kind of, a lot of the time, there are good questions that people ask that change the way that we, that we think about what we're building and what we're here to do in the world, that often makes us go think and re-evaluate how we should be approaching different problems.
Rule #3: Make Mistakes
So many things go wrong when you're starting a company, and often I think people ask, "What mistakes should you avoid making?" And my answer to that is don't even bother trying to avoid mistakes because you're going to make tons of mistakes. And the important thing is actually learning quickly from whatever mistakes you make and not giving up.
There are things every single year of Facebook's existence that could have killed us or made it so that it just seemed like moving forward and making a lot of progress just seemed intractable, but you just kind of bounce back and you learn and nothing is impossible, you just have to kind of keep running through the walls.
Rule #4: Only Hire People Who You Would Work For
I don't hire people who I wouldn't work for myself. I think that's a really good heuristic because every one knows there's the saying like, "A players hire A players and B players hire C players", which is like good people hire good, you know. And I don't think that that's that informative cause I mean,
It's not that useful.
What are you going to say? Just someone in your organization,
Hire better people.
Says you're a B player, you don't get to hire people, like I mean, no.  I think a lot of the time the problem is you don't actually know, sometimes you're like trying to figure out how good someone is if you didn't think they were good, you wouldn't have hired them, but the heuristic of only hiring people who you would work for tends to be pretty good, I think, because then it's like, then you know. It's like, I would not for this person then OK I'm not going to like stretch just because I need to fill a role today.
Rule #5: Make A Change In The World
When you're starting something, it's just kind of hard, you need to be pretty headstrong about it, there's going to be all these challenges that come up, and I think the main thing that you need to do is just not give up. Right? And kind of know what you want to do and, the best entrepreneurs that who I've met, don't really start companies because their goal is to build a company.
They do it because they want to make a change in the world, and help people. And I think if you kind of stay true to that and if you just focus on kind of powering through no matter what the challenges are that will inevitably come up in your path, then you'll find that there are lots of tools that are available and a lot of people who will help you build what you're building.
Rule #6: Learn From The People Around You
One definition that I have for a good team is a group of people that makes better decisions as a whole than would individually make as a sum of the parts. And when you're, I think most smart people like learning, right? That's like one of the thrills of starting a company, right?
Is you're just, the learning curve can be so steep and if you can set up a team dynamic, where you're constantly learning from the people around you then, I mean, what's better? Right? These are the people I wake every morning and I want to, I want to go learn from and work from.
Interviewer: Is that one of your heuristics for hiring people too, like, hire people that you learn from?
Yeah. And when building a team, you want it to, you want to think about the dynamics so that way you can maintain this property that the team makes better decisions as a group than any individual would.
Rule #7: Build A Really Good Team
I always kind of like, I get a little upset whenever any media attention focuses on me, personally, and me leading Facebook, much less a movie.
It's been kind of a bad year, hasn't it?
It turned out okay.
Time, McAvinue
It turned out great. The Time thing was awesome.  That was really flattering, but like, I think that it's one of these things that the media systematically gets wrong is that this idea that it's a person. It's never a person. It's always a team and the most important thing, if you are an entrepreneur, trying to build something is you need to build a really good team and that's what I spend a lot of my time on. I spend probably, at least, three hours a day with our core team at doing things. I spend probably 25% of my time recruiting, finding good people, both outside the company and inside the company to put in more impactful roles.
Rule #8: Give The Very Best Experience
So there's this inherent conflict in the system, though, which is are we trying to optimize newsfeed to give each person, all of you guys, the best experience when you're reading or we're trying to help businesses to just reach as many people as possible. And in every decision that we make, we optimize for the first.
For making it so that when, for the people, who we serve, who use Facebook and are reading newsfeed get the very best experience that they can. That means that if a business is sharing content that's going to be useful for them, then we'll show that.
But that means that if the business is sharing content that isn't going to be useful for them, we may not show that because it's probably more important that they learn about their friends who had a baby and their baby is healthy.
So that's an important guiding principal for how we think about this stuff, and as the products continue to develop there's just going to be more people sharing more things and we're going to continue to try to do our best at showing the best thing that we can, understanding that there's no way that we can, that a person will ever take the time to go through every one of the 1,500 things that are shared with them every single day, but that's kind of how I think about organic reach and there are a lot of pages that are going, that are doing quite successfully and their organic reach is growing quite a bit because they're delivering content to people that they really want.
So if you're a business owner and you're thinking about how to use your free page on Facebook, I would just focus on trying to publish really good content that's going to be compelling to your customers and the people who are following you.
Rule #9: Care The Most About It
You know, I actually spend a bunch of time analyzing and reflecting on why it was that we were even able to do it because, like all reason suggests that we shouldn't have been able to do it, right? Because all these other companies had way more engineering power and, and servers and time and money and all this stuff and I actually think that this is a pretty instructive thing for anything that you want to go do because this is, the same property is going to be true for anything that you guys start, is that someone else is going to have more resources and be able to do it.
The reason why I think we actually ended up being the ones doing it is because we just cared way more about it than everyone else. Right, so, there were always projects at some of these other companies that were these hobbies, but we always thought that it was this really important thing and really just like felt in our gut and our heart that we wanted to do it, and you know, early on there were all these skeptics saying that 'Oh, this can't be a business," we didn't actually care that much about it being a business early on, but a lot of the reason why bigger companies didn't invest in it was because it wasn't clear that there was a model that would work for it.
Interviewer: It seemed like a bad idea.
Yeah, and I actually think that that's true for a lot of the best ideas. Where it is that it's not that someone else can't do it, they actually can, and the odds are sacked against you, but I think often that belief in the fact that you just care so much about what you're doing is the only thing that kind of drives you to do it and, you know, to be honest, that kind of drives me to this day, I mean, one of the big emphasis points for the company right now is internet.org and for a while we had this rallying cry of can we connect a billion people and when we start talking about that we thought that was crazy, right? It was way bigger than any service in the world that had been built and it was ten digits long.
It felt crazy, we'd never get to that. But then the thing is, as we started to actually get closer to that, we took a step back and we're like, 'Alright, well, our mission isn't actually to get 1 in 7 people in the world to be connected, it's we want to connect everyone', so it's a big issue that only around the third of the people in the world have access to the internet and that's something that we think that we can do something about and, similar to early Facebook, there's no business model around this, I mean, all the people who have all the money in the world, I mean, it's not necessarily a fair thing, are already the people who are on Facebook in the first 7th of the world, but we just believe really strongly that, it's like this is what we are here to do, this is what our company cares about, I care about it, the team cares about it, our culture cares about it, so we're just going keep pushing on it and I actually think a lot of the reason why great stuff gets built is because it's kind of irrational at the time, but so it kind of selects where the people who cares the most about it doing it.
Rule #10: Social Bonds Are Critical
But the students around me were really important, as well. Right, and both in high school and in college, I mean, the people who started Facebook with me, a lot of people who are still with me, running the company today are people who I met when I was at Harvard and some of them were my T.F.'s at Harvard, right, and you know, when the professors were off writing papers, these were the people who actually taught me and then we hung out and we had like social bonds and academic bonds and I just, I wouldn't understate the importance of that, and I mean, it's very tied into my whole philosophy and the product that I spend my life building Facebook because we just believe that social bonds are critical.
One way that I think about the value that Facebook is filling in the world is that, you know, you go through school and, at least when I did, people just focused on academics, like achievement, different areas, and one of the things that no one really ever taught me was like, having friends is really valuable, not that I didn't have friends, but like, although you know, the movie.
Right.
Of course you can see that, but,
But that first girlfriend.
But for sure, I don't think anyone is like, it's not like, okay, 3rd grade we're going to like, now we're going to like teach you that like hanging out with people is a very important development, right, and I don't know, I actually think that that is. I think that that's part of the reason why sometimes people view Facebook as a waste of time, but I actually think it's this extremely, socially valuable utility and I know that I wouldn't be where I am today without that aspect of my life being as developed as the academic part.
Thank You!
Thank you so much for watching. I made this video because Moxertons asked me to, so if there's a famous entrepreneur that you want me to profile next, leave it in the comments below, and I'll see what I can do.
I would also love to know which of Mark Zuckerberg's Top 10 Rules had the biggest meaning to you. Leave it in the comments, and I will join the discussion. Thank you so much for watching, continue to believe, and I'll see you soon.
---
BONUS!
Give back
Hey everyone, yesterday Governor Chris Christie challenged me to the ALS Ice Bucket Challenge. Governor, I accept your challenge! And after I dump this bucket of ice on my head, I get to nominate three new people to challenge, so I'm going to challenge Bill Gates, my partner in Facebook, Sheryl Sandberg, and Netflix' founder and CEO, Reed Hastings to do this within the next 24 hours, so you have 24 hours to do this or you have to donate $100. All right, here we go! That was really cold.
Don't be a victim
I think that that's why you become an entrepreneur, right. Like, you don't get to pick your partners a lot of the time. But you do get to pick your organization, and you do get to pick who you partner with, I mean, sometimes you may be forced by circumstances to try to work with people who aren't your top pick to have to work with, but you get say over all this stuff, and I don't know, don't be a victim. Make it happen.
#Believe deeply in your mission
But no, I think the real story is just, you know, a lot of hard work. I mean, that's a lot of people who are engineers who kind of sit around and code and were here because we're trying to help people connect and we believe deeply in this mission and, you know, our community today has 1.35 billion people in it and there's 7 billion people in the world, we want to connect all of them. And that's why we're here.
Mark Zuckerberg's Rules
BONUS
I hope you enjoyed this article, make sure to check my Mark Zuckerberg video on his Top 10 Rules For Success as well.
---
You might also like
---
More from Mark Zuckerberg
---
What's up, Believe Nation? It's Evan. My one word is believe and I believe in people more than they believe …
What's up, Believe Nation? My name is Evan Carmichael, my one word is believe, and I believe in people more …