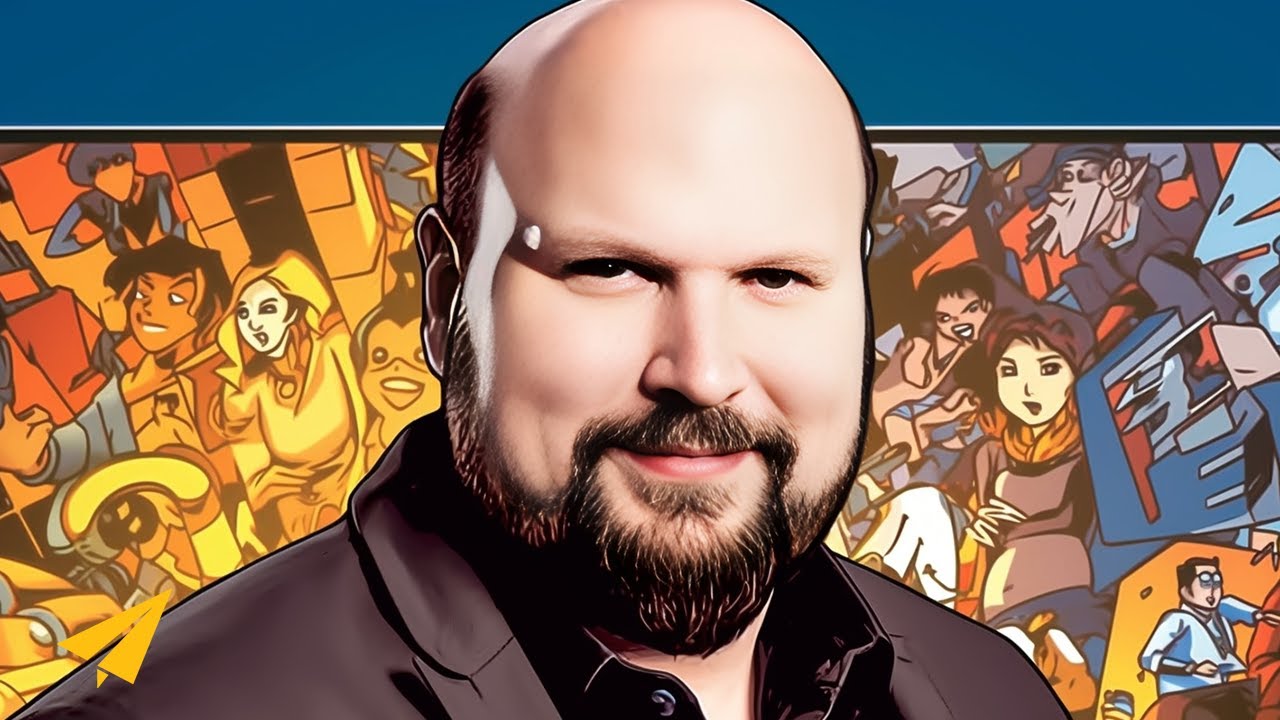 He's a Swedish video game programmer and designer. He co-founded the video game company that created Minecraft in 2010. He has an estimated net worth of $1.5 billion. He is Markus "Notch" Persson, and here are his top 10 rules for success.
Markus "Notch" Persson's Top 10 Rules For Business and Success
Rule #1: Start Small, And Gradually Grow
Interviewer: Can you tell us a little bit about how you got started in video game development?
Oh, well, when I was really, really young, like eight years old, my dad got us a Commodore 128 and we started subscribing to a magazine that had like code listings for games. And I started entering them and started toying with them.
It's been with me for a long time. And it's kind of gradually growing, then it became a profession. Then I quit that job and just went Indie.
Interviewer: And what advice would you give to people who want to get started in video game development themselves?
Well, yeah, look at what other people have done, look at tutorials, look at code and just play with the code. Then once you're comfortable with it, don't try to make your biggest game. Just try to make a small game and actually finish it.
Rule #2: Just Try To Make It Work
I've been playing games forever and I've been programming since I was eight. So it's obvious I have some kind of experience in it and I kind of, I can understand kind of what's fun gameplay but I didn't mean to make like a big success. To claim that I know the secret sauce would be kind of false.
Interviewer: There's no formula.
I wasn't following a formula, I was just trying to make a game.
Rule #3: Keep A Critical Eye Towards What You're Doing
Well, I think actually working on it is more important than thinking about it. So if you just get started, even if it's not something big, even if it's just small, just try to make games or look at tutorials or play with the code other people have made or something.
And then also to keep a critical eye towards what you're doing. 'Cause it is very easy to just assume what you are doing is good because you're used to it. But if you're just trying to see it with like the eyes of a new player helps a lot.
Rule #4: Don't Just Plan, Do!
I think that the best advice that I could give everyone is don't listen to advice. But if you are going to listen to advice then making sure you actually do something is a good advice. If you just around planning stuff and you're not doing it, you're not actually going to get anywhere.
Rule #5: Stay Happy
Interviewer: You sold your company recently to Microsoft. But you haven't really been talking about it. So, what happened there?
I wasn't working on Minecraft anymore and I hadn't been for a long time. But I still kind of was responsible for it as a main, I was the main shareholder of Mojang. And then this big thing happened with EULA and stuff, people thought we changed the rules and like.
Interviewer: The end user licencee agreement.
Yeah, which had always been in place, but what actually happened is that some people brought it up like so we're not allowed to do this and that. And we was like no, so we looked it over and actually made the rules more lenient. But people still got very upset with like me, personally, even though I wasn't even working over there more.
I don't know if I want to put up with this any more. And then I saw the This is Phil Fish video, this is a YouTube documentary about a guy called Phil Fish and he talks about how like internet personalities and like famous people aren't really, they're not talking to that actual person when they're talking to a person, they're talking about that idea of the person.
How does this connect when you respond personally to stuff that's not really intended to be personal. And I kind of just figured like I'd probably, maybe I don't have to put up with this. So yes, when that happened, and everyone just giving so much like crap online, I just went no, it's not worth it any more.
So I just tweeted kind of jokingly, who wants to buy the company? And a couple of days later, Carl the CEO came by and said he got a bunch of offers, like were you serious? And I thought about if for a while and I said yeah, maybe it's time.
Interviewer: How do you run your Minecraft company? Have you sold out the evil corporations yet?
No, not yet, we hope not to.
Interviewer: How long you think you'll be able to do that before you kind of get absorbed by the borg?
I think that depends on how long we can kind of keep the fun mood going that we have. That's very stressful and it really got to me. I don't want to work on the product any more 'cause I wanted to just write prototypes for new games and stuff that just, the stuff I actually get happy from doing.
And I felt like, still like, I needed to be responsible for it. 'Cause I was still like the main owner of the company and it was me who developed the game and people were like looking up to me. And for me it was very important to make sure that it was like a clean break. Like it wasn't like trying to get some investor in and try to grow the company, do like a big exit. It was more about getting it quick and easy, and just get it done with.
Rule #6: Do It As Your Job And As Your Hobby
I think the difference there is kind of people do something as their job and as their hobby, you get so much more experience so much faster. So you can kind of skip a few of the steps I think. I think it's very important to know you're not going to be an expert right off the bat, you have to, 'cause I've been programming since I was eight and I'm far from an expert still.
It's like you can't expect the first thing you do to be a hit. So having a few jobs and such is probably a good idea. Before King I didn't know how to finish games so that was a huge experience for me. Yeah, but it isn't easy as a hobby the way I like and I got to learn faster than just doing it as a job.
Rule #7: Let Others In
Yeah, letting other people into the code was really scary. Jess's the guy now, working Minecraft with me.
Jess: One change I've made is that spiders will climb up walls.
Markus: You used the ladder thing?
Jess: Yeah.
Markus: Okay.
Jess: They are always on ladders.
Markus: So if they, okay yeah, that's so freaking clever hack.
Jess: Every time you change stuff somebody is going to say that it's better for it, they're going to say ah, it's much better but most of the time you have to like focus on what is real part of feeling yourself, if it's good or bad. Another thing, a suggestion is to make a scarecrow because it would be so fun to have like a pumpkin here, and then some cloth and then some sticks. It would look very cute.
Markus: Or the hay, in the middle.
Jess: Ah, yeah the hay.
Man: Maybe if you used like a target dummy for the creepers.
Jess: Yeah maybe it would attract monsters.
Markus: Yes, and we should have snowmen as well that could throw snowballs.  It's like, when I see suggestions from the community, I try not add it because it feels like I'm doing like, just they just ask for things and I add them and that's not necessarily my idea that's driving it any more. But that's changing now because Jess is adding stuff that he thinks works. But when I see it actually in the game and it makes sense, I can just much easier accept it. It worked a lot better than I thought it would. I think it's a matter of just letting go, I think. 'Cause it's good for the game. The trap look was just brilliant.
Jess: Yeah right, now it's really fun to add stuff to Minecraft. It's also fun to be part of this so early, and really be with the core team. I don't know how big we're going to be in the future, but it's fun to be here from almost the beginning.
Rule #8: Don't Pressure Yourself
I have been working on like prototypes and trying to learn new languages. But it is not really the intent that I'm going to finish a game. Maybe I will at some point, and then it is good to have like company set up for it.
And it's fun to have like the idea when you work and stuff like it's supposed to become something. But not feel pressure like it has to.
Interviewer: So you could possibly never release a game again.
Yeah, and I would be fine with that. It was a long time where I was freaking out like how do I follow up on Minecraft, and it was really hard to deal with. 'Cause it's this entire big cultural phenomenon. You can't manufacture that.
Maybe now that I've analyzed it I understand some of why Minecraft worked, but that only means I know how Minecraft worked back in time in the context it was made in. So that doesn't mean I know how to do it again.
Rule #9: Community Is Essential
I kind of feel like I made a game, and then the community kind of made the community around the game. And the combination of the two is kind of that true Minecraft. So it's way more than just the game I made about just, chopping rock kind of slowly.
For example, creative mode is not what I wanted in the game at all, but it's in the game because a lot of people use it. And then the people doing really cool mods and they're doing really intricate stuff like abusing bugs and redstones so we can't fix it, it's turned into something much bigger and it's very impressive, and it's very fun to be able to be a part of that.
Rule #10: #Believe
I think when I was like really young and said I wanted to be a cop or something. But I kind of always knew that I wanted to make games and I said so in school to my career counselor thing, and she said well, that's probably not going to happen.
Thank You
Thank you guys so much! I made this because Zed Schee asked me too, so if there's a famous entrepreneur that you want me to profile next, leave it in the comments below and I'll see what I can do.
I'd also love to know which of the top 10 rules had the biggest impact on you. Leave it in the comments, and I will join in the discussion. Thank you so much, continue to believe, and I'll see you soon.
---
You might also like
---