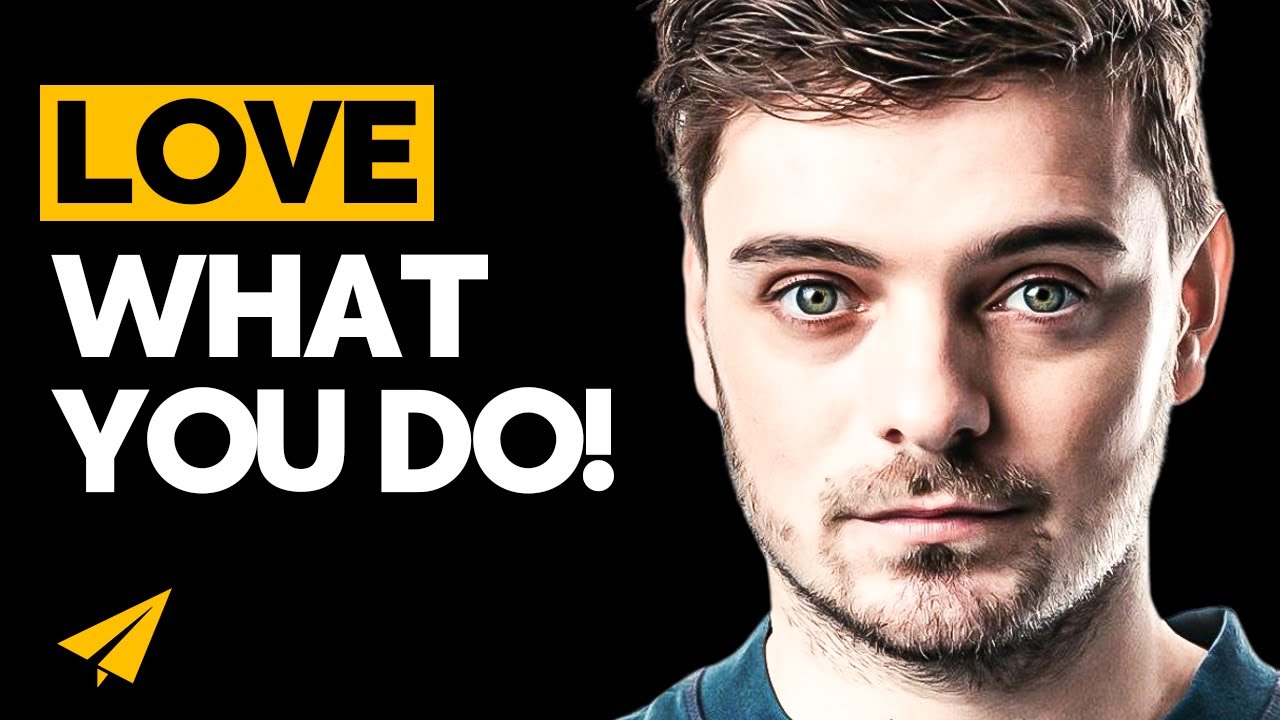 In the beginning, there were a lot of people like, "Oh Martin, you're too young."
Man: Hmm.
"Oh,  off.
"That's not going to work."  If I release a new track, there will be 99 good comments and one bad one, and I would be like, "Why would someone say that?" If you always play it safe, it's boring. Life will get boring.
Martin Garrix's Top 10 Rules For Success
Evan: He's a Dutch DJ, record producer and musician.
He gained fame through his song Animals which became popular in the EDM culture.
He's ranked number one on DJ Mag's Top 100 DJ list.
He's Martin Garrix and here's my take on his top 10 rules for success.
Rule number one is my personal favorite and I'd love to know which one you guys like the best.
And as always as you're watching, if you hear something that really resonates with you, please leave it in the comments below.
Put quotes around it so other people can be inspired as well, and when you write it down, it's much more likely to stick with you as well. Enjoy.
---
Martin Garrix Rules
#Believe
Focus on the positive
Take risks
Be yourself
Love what you do
Put your energy in the right place
Define success for yourself
Follow your dreams
Keep trying to be better
Have fun
BONUS
LIVE and BREATHE Your Craft
Learn from others
Rule #1. #Believe
You know, what have you learned from your success so far, maybe?
Um… That's all about hard working, I think. And trusting in what you're doing because in the beginning, there were a lot of people like, "Oh Martin, you're too young."
Interviewer: Hmm.
"Oh  off, that's not going to work."
And…
Yeah.
Also, my soccer team… I was DJing and they were like…  And right now, they're like, "Oh fuck, dude. "You were right."
Yeah.
And I think that's the most important thing. If you believe in what you're doing.
Interviewer: Yeah.
That's the most important thing. If you don't believe in what you're doing, you give up.
Interviewer: Yeah.
You don't have to put time and effort in because it won't work.
Rule #2. Focus On The Positive
My life lesson would be… Just always focus on the positive stuff. Every time there's something negative, and I used to focus on all the negative stuff. Like, for example, there would be… If I release a new track, there will be 99 good comments and one bad one.
And I would be like, "Why would someone say that?" And just only focus on the one bad comment. But for me, what really helped was for me just to forget, don't even pay attention to the negative stuff. Just always focus on the positive side.
Rule #3. Take Risks
I feel like if you're not taking risks, you're doing something wrong. If you always play it safe… It's boring. Life will get boring and I feel like taking risks is exciting because you don't know what's going to happen and to me that feeling is a great feeling. And also anything in life I feel like if you want something to happen, you need to take a risk. You need to try new things. Don't be scared.
Rule #4. Be Yourself
What do you want to say to your fans that are asking, "Yo, are you still going to make that high BPM festival music?" Are you leaving that for more…
I'm not leaving anything.
Mainstream, or can you explain that transition and what you're doing there?
For me, it's all about trying to find new sounds, reinventing your own sound. I can release 128 BPM club song every week but I don't know, I want to challenge myself in the studio, I want to try out new things, I want to experiment and me trying out something new and doing something like Scared to be Lonely or Name of Love doesn't mean I'm completely switching my sound.
Interviewer: Right.
In October, I just released seven very aggressive 128 BPM house songs. I've got Ultra coming up, I've got Coachella coming up. I'm going to also play a lot of old-sounding Martin Garrix stuff. But it's a weird situation because then I release a house song one year ago and they're like, "Oh, same repetitive boring stuff. "Try to do something new, be refreshing."
And I do something new and they're like, "We miss the old Martin Garrix." You know?  Wait, what you guys want me to do? But for me, what I think is most important is just me being myself in the studio, doing what I want, and don't let other people's opinions affect my music. I want to represent what I want to make and I'm not switching my sound, I'm just having fun.
Rule #5. Love What You Do
I start focusing more in the studio, just trying to find my own sound. If I had one hour or two hour break at school, I would run to my house and then work or something.  This is some stuff I did in 2008. Sounds like  but… Pretty funny to hear back.  For me, producing music was just my Martin time.
I could spend 12 hours just behind my computer in my room, never really with the mindset of like, "Oh, I want to make money!" Or, "I want to become famous!" If I look back at that time, I see a little kid just enjoying everything and doing what he loves.  Sounds super unprofessional, super bad mix, super bad sounds but it's funny. It's a timeline from my life as a producer. It's pretty cool.
Rule #6. Put Your Energy In The Right Place
What's my biggest advice is if you're in it for the wrong reasons, don't even try to get famous because very small chance it will happen. In the end, when you're producing music, what I had a lot was I would send my songs to a bunch of labels and get no reply and would feel like  for a couple of weeks and in the studio I would be insecure, like is it that bad? If I put all the time I put sending the songs in to the label, if I put all the energy that I put into that into producing, I would have known what I know right now, maybe two years ago.
Rule #7. Define Success For Yourself
Man: But apart from the financial success of the Garrix brand, the 19-year-old still says that it really is just about the music.
For me, I don't measure success in money. Money is something which comes along with it but for me, I measure success in releasing a song and getting super, super many views, good feedback about the fans and the fact that you can do shows for more people.
In the end, I'd rather look on how a show is going or how a tour is selling, how many people want to see me, how many people visit the shows, how many people watch the videos online. That means so much more than just the number of money.
Rule #8. Follow Your Dreams
It sounds so cheesy but it's follow your dreams. For me, I have 100% belief in if somebody really wants something and really is eager to work hard for it, you can make it happen or you can at least be very, very close, you know? So, yeah, it sounds cheesy but follow your dreams and spend as much time as you can trying to improve, get better, learn new things, and it's never too late to learn new things. For me still, every day, I get to learn new things and that's a fun thing. You never know everything.
Rule #9. Keep Trying To Be Better
What I had trouble with was that no label wanted to sign my stuff the first four years, five years. And every time I had a track, I was like, "Oh, this track is amazing!" And then I sent it to all the labels and I would get no reply. As a producer, it's the most frustrating thing ever especially when you think like, oh, this track can be a hit. I just need a good label.
But right now, if I listen back to the tracks, I'm like, of course the labels didn't reply. But I was always too stuck up on oh, a label didn't reply and I wouldn't produce for two weeks because I felt bad and then I was like, "Oh , I'll try it again. "I'll open the program." So, my advice is definitely try to get better, get better, get better. Try to spend as much time as you can in the studio and the labels will find you instead of you finding the label.
Rule #10. Have Fun
♫ Don't look down ♫ This high will never hit the ground ♫ Don't look I would love to have a latte.
Okay.
What do you want? ♫ Three, two, one, go!
A latte! A latte, I want a latte too!
Great, I love it!
No, honey, I don't want to go to your parents' this weekend.
I'm sick of this same argument every time!  ♫ In the name of love ♫ In the name of
Thank You!
Thank you guys so much for watching. I made this video because Thug Kurt asked me to. Also, if you want to nominate someone for the next Top 10 video, please check the description for a link to a video where you can vote for people and put in your suggestions as well. I'd love to know what did you take from this video, what was the most important lesson that you learned, that blew your mind, that you're going to immediately apply to your life or your business somehow? Please leave it down in the comments below. I'm super curious to find out.
I also want to give a quick shout-out to Grant from mohoscoffee.com. Grant, thank you so much for picking up a copy of my book, Your One Word. I really, really appreciate the support and I hope you're enjoying the read. So thank you guys again for watching.
I believe in you. I hope you continue to believe in yourself and whatever your one word is. Much love. I'll see you soon.
---
BONUS
LIVE and BREATHE Your Craft
How many hours a day are you busy with music?
All the hours that I'm not asleep. It's like literally, I wake up… Also listening to music. I mean, music is everything to me.
Interviewer: You live and breathe it.
Yep.
Learn from others
The collaboration with Ed Sheeran came about… Yeah, I met him a couple of times and we were talking about music and I sent him some ideas, some melodies. And then suddenly he recorded a  note in WhatsApp. From him singing Rewind Repeat. The first super old version of it. And I liked it.
He recorded it, he sent it to me. I made a track around it. Then he redid the vocals or changed a little. It was really cool and we've been in the studio three times together, two times to properly finish a track. Record some of his guitar as well which is also in the track. So, it's really a collaboration.
And the cool thing is, he comes from such a different… He has such a different vision and I got a different vision. So sometimes we had to like… He's here, he's here, and we had to agree in the middle. And it was super cool, I learned a lot from the process and it's also interesting as a producer to see how someone else thinks, how someone else works. It's very learnful, it's really nice.
---
You might also like
---
More from Martin Garrix
---
Good morning Believe Nation. My name is Evan Carmichael. My one word is "believe," and I believe that entrepreneurs are …
Good morning Believe Nation! My name is Evan Carmichael, my one word is Believe, and I believe that entrepreneurs are …
Good morning, Believe Nation, my name is Evan Carmichael, my one one is believe, and I believe entrepreneurs are going …