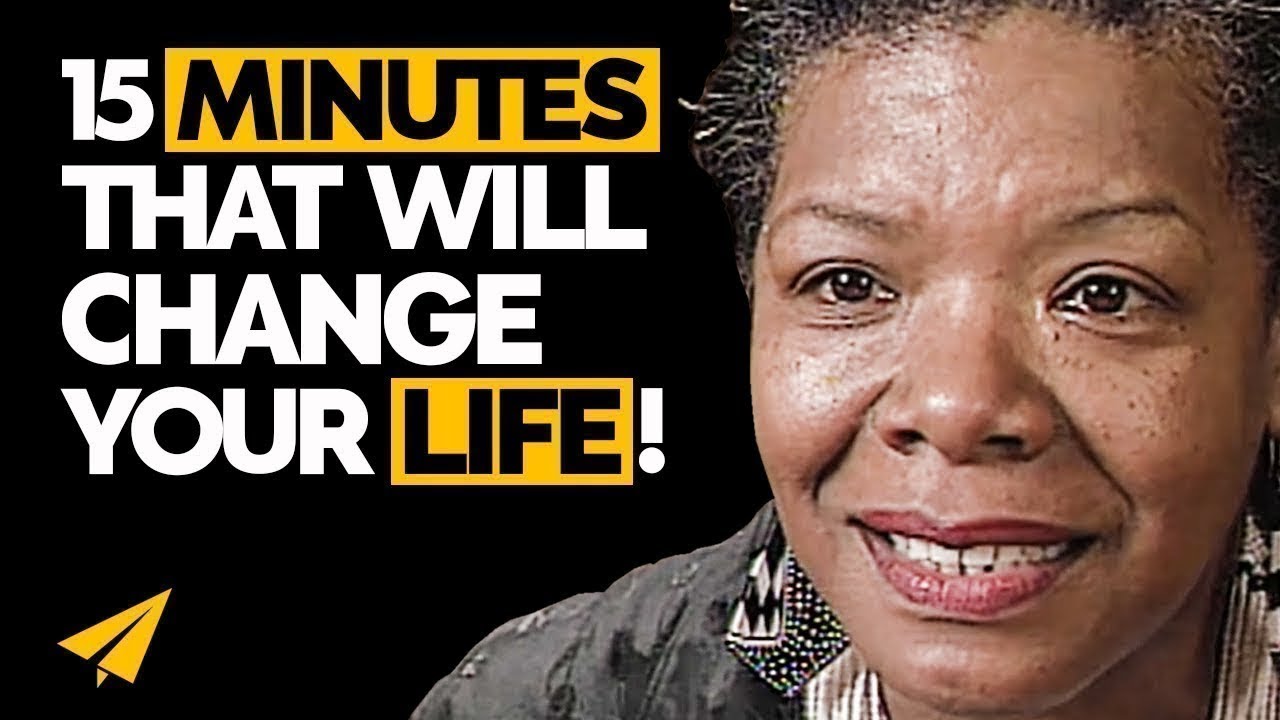 Hello Believe Nation!
My name is Evan Carmichael, my one word is believe and I believe that entrepreneurs will solve all the major problems of the world.
I started the Mentor Me series on this channel with the goal to hang around people who've done a lot more than us and hopefully by watching more of their content some of their thoughts, their mindsets their beliefs, their attitudes their way of thinking seeps into us to help us become the best version of ourselves.
So today we're going to learn from Maya Angelou and some of her most inspiring moments. Mentor me Maya.
Moment number four is my personal favorite and I'd love to know which one you guys like the best. Also, as Maya is talking if she says something that really inspires you please leave it down in the comments below.
Put quotes around it so other people can be inspired as well and when you write it down yourself it's much more likely to stick so you remember it too. Enjoy.
Maya Angelou INSPIRING Interview Moments
#1: Risk Failure
I've tried a lot of things. I've failed at some things and succeeded at some.
Yeah but what I love about you is that you have, you have attacked it all with great passion. I mean, look at all the books here that you have written. I can look at all the things you have done from journalist to poet, to writer to actor to producer, all of those kinds of things. Which suggest this uncommon confidence in yourself and willingness to risk failure.
Yes. But maybe it's more dangerous to risk success.
Charlie: What do you mean?
Well a lot of people don't really want success.
Charlie: I've never understood that.
This is true.
And maybe because they don't want it and the best evidence of that is that they fail. And the best evidence of that is they don't try things.
That's right.
Charlie: Right.
That's right. But to succeed means that I mean you're in front of God and lots of responsible people and you have to either eat your words or stand by them. I think that I agreed a long time ago Charlie Rose this may be what my greatest blessing. I agreed a long time ago that I would die. Now, whew. If I can admit that. That no matter what happens, I will do this thing. This is the biggest bugaboo of them all. I will do that. Well then why couldn't I attempt something lesser?
Charlie: Yeah.
So I will try.
#2: Use Your Anger
Well what the '60s must have been like for anybody. Was it eight or nine assassinations. What does that do to a generation? Having lived through it and having known these people. This is me. I imagine I'd still be angry. I'd be angry with my country, I'd be angry at anybody who let that happen to my friends.
No. If you're not angry you're either a stone or you're too sick to be angry. You should be angry.
Dave: But what do you do?
You never mind it, that's the difference. You must not be bitter.
Dave: Oh that's all?
Let me show you why. Bitterness is like a cancer. It eats upon the host. It doesn't do anything to the object of its displeasure. So you said anger, yes. You write it, you paint it, you dance it you march it, you vote it. You do everything about it, you talk it. Never stop talking it.
#3: Turn Struggles Into Triumphs
When I was seven and a half I was raped. I won't say severely raped, all rape is severe. The rapist was a person very well known to my family. I was hospitalized. The rapist was let out of jail and was found dead that night and the police suggested that the rapist had been kicked to death. I was seven and a half. I thought that I had caused the man's death because I had spoken his name.
That was my seven and a half year old logic. So I stopped talking for five years. Now, to show you again how out of evil there can come good. In those five years, I read every book in the Black School Library. I read all the books I could get from the White School Library. I memorized James Weldon Johnson Paul Larnstom, Countee Cullen and Langston Hughes.
I memorized Shakespeare, whole plays. 50 sonnets. I memorized Edgar Allen Poe. All the poetry. Never having heard it, I memorized it. I had Longfellow, I had Guy de Maupassant. I had Balzac.  Rudyard Kipling. I mean, it was Catholic kind of reading. And Catholic kind of storing. When I decided to speak I had a lot to say and many ways in which to say what I had to say.
I listened to the black minister and listened to the melody of the preachers and I could tell when they would start up on that kind of thing whether you know they mean to take our souls straight to heaven or whether they meant to dash us straight to hell. I understood it. So out of this evil which was a dire kind of evil because rape on the body of a young person more often than not introduces cynicism.
And there's nothing quite so tragic as a young cynic. Because it means the person has gone from knowing nothing to believing nothing. In my case, I was saved in that muteness you see? And the soledad, I was saved. And I was able to draw from human thought human disappointments and triumphs enough to triumph myself.
#4: Change Your Thinking
I see you as a brave-heart woman.  How do you see yourself Dr. Angelou?
A working woman. I work hard.
Interviewer: Yes. You say, "Always in the process "And never take your shoes off."
That's it. And working all the time. I laugh as much as possible.
Yeah.
I just don't trust people who don't laugh. Who act as if, "I'm serious." Who act as if they've got some kind of airplane glue and stuck their fist to their forehead. I think I don't know if you're serious or not. You're boring as the dickens but that's for being serious. I think if you're serious you're trying to make a change. If you don't like a situation, you try to change it.
Do whatever you can to change it. And if everything you do falls flat and you can't change it then change the way you think about it. Move to another position to look at it. In doing so, you may find a new way to change it.
#5: Lift People Up
People will very often try to respond to you on the level on which you address them. So if you say, "Aren't you wonderful? "Aren't you splendid? "My goodness you're beautiful. "Oh, you're so bright." People will try, even if they're not they really will try to lift themselves up to that. On the other hand, if you say "You know you're a dog. "You really are so low. "You'll never be anybody. "In fact, you're a nobody now "And you never have been."
Sooner or later, that person will address. Will respond on the level on which he or she is addressed. He will say figuratively or literally "Let me show you where dog is. "Let me show you where low really is. "I will show you that." Years ago I did a movie called Poetic Justice and there was a young man the first day who cursed so, I couldn't believe it. I walked around and behind him.
Tried to ignore him. But the second day, he and another young man, black man ran to each other and they were about to fight and hundreds of extras started to run away. But one black man walked up to the two young men and I walked up and I took one by his shoulder. I said, "Let me speak to you." He said, "If these men would do, would do." I said, "Let me speak to you honey." "Well I'll tell you something."
I said, "No let me talk to you please." And he finally calmed down. And I said, "Do you know how much you are needed? "Do you know what you mean to us? "Do you know that hundreds of years of struggle "Have been for you, you? "Please baby, take a minute. "Don't lose your life on a zoon." I put my arm around him. He started to weep. The tears came down, that was Tupac Shakur.
I took him, I walked him down into a little deli and kept his back to the people so that they wouldn't see him. And I used my hands to dry his cheeks. And I kept talking to him sweetly, sweetly. For the next week while I was on that film whenever I'd walk by he would be saying "So I told him!" He said, "Good morning Miss Angelou."  Dears, try to introduce courtesy into your speech to each other. You have no idea what it would do for your brother or sister to whom you speak. And you surely have no idea what it would do for you. It will lift you up.
#6: Develop Courage
At Martin King's request I rejoined the Southern Christian Leadership Conference because I had left him to go to Malcolm.
Was it really separated, the movements like that?
Oh my goodness. The Malcolm was in the states it was so separated. Malcolm even made Martin look like a Tom. Until he understood what was happening. But that's the wonderful thing about the icon. You continue to grow.
And you develop courage. The most important of all the virtues. Because without courage, you can't practice any other virtue consistently. If you've seen another truth and had enough courage to change your way of thinking. To say hey everybody, you know what I said in that street? I don't believe that anymore. A little challenge will straighten me out.
#7: Light A Match
What I love about my life. There's nothing I don't love about my life. It's a struggle, but that's life. That's why they call it life. When I think cruelty, that's unfair. That's nasty. Cruelty to anyone, that's rude and stupid. But I don't see a lot of that and if I do, I try to do something about it rather than I don't just sit in the dark and curse the dark. I try to light a match.
#8: Keep Rising
You may write me down in history with your bitter, twisted lies. You may trod me in the very dirt but still like dust, I'll rise. Does my sassiness upset you? Why are you beset with gloom? Just because I walk as if I have oil wells pumping in my living room.  Just like moons and like suns with the certainty of tides. Just like hope springing high. Still I rise. Did you want to see me broken? Bowed head and lowered eyes. Shoulders falling down like tear drops. Weakened by my soulful cries. Does my sassiness upset you?
Don't take it so hard just because I laugh as if I have gold mines digging in my own backyard. You can shoot me with your words. You can cut me with your lies. You can kill me with your hatefulness but just like life, I'll rise. Does my sexiness offend you, aw.  Does it come as a surprise that I dance as if I have diamonds at the meeting of my thighs.
Out of the huts of history, shame I rise. Up from a past rooted in pain, I rise. A black ocean leaping and wide welling and swelling and baring in the tide. Leaving behind nights of terror and fear, I rise. Into a daybreak miraculously clear, I rise. Bringing the gifts that my ancestors gave I am the hope and the dream of the slave and so.  Wow! There I go.
Thank You!
Thank you guys so much for watching. I'd love to know what did you think of this video? What was the most inspiring moment from this video that left its mark on you and why. Leave it in the comments below. I'm super curious to find out.
I also want to give a quick shout-out to Lauren. Lauren, thank you so much for picking up a copy of my book, Your One Word and making that review on your Youtube channel about it. I really, really, really appreciate it and I hope that you enjoyed the read.
This week I read Your One Word by Evan Carmichael. And I've been a fan of Evan Carmichael's channel here on Youtube for a while. He inspires entrepreneurs to go out and just do their best.
So thank you guys again for watching. I believe in you. I hope you continue to believe in yourself and whatever your one word is. Much love. I'll see you soon.
---
You might also like
---
More from Maya Angelou
---
Good morning, BelieveNation. My name is Evan Carmichael. My one word is believe and I believe that entrepreneurs will solve …
Good morning, Believe Nation. My name is Aleks, and my one word is belong, and I believe the world would …
Maya Angelou Everyone in the world has gone to bed one night or another with fear, or pain, or loss or …