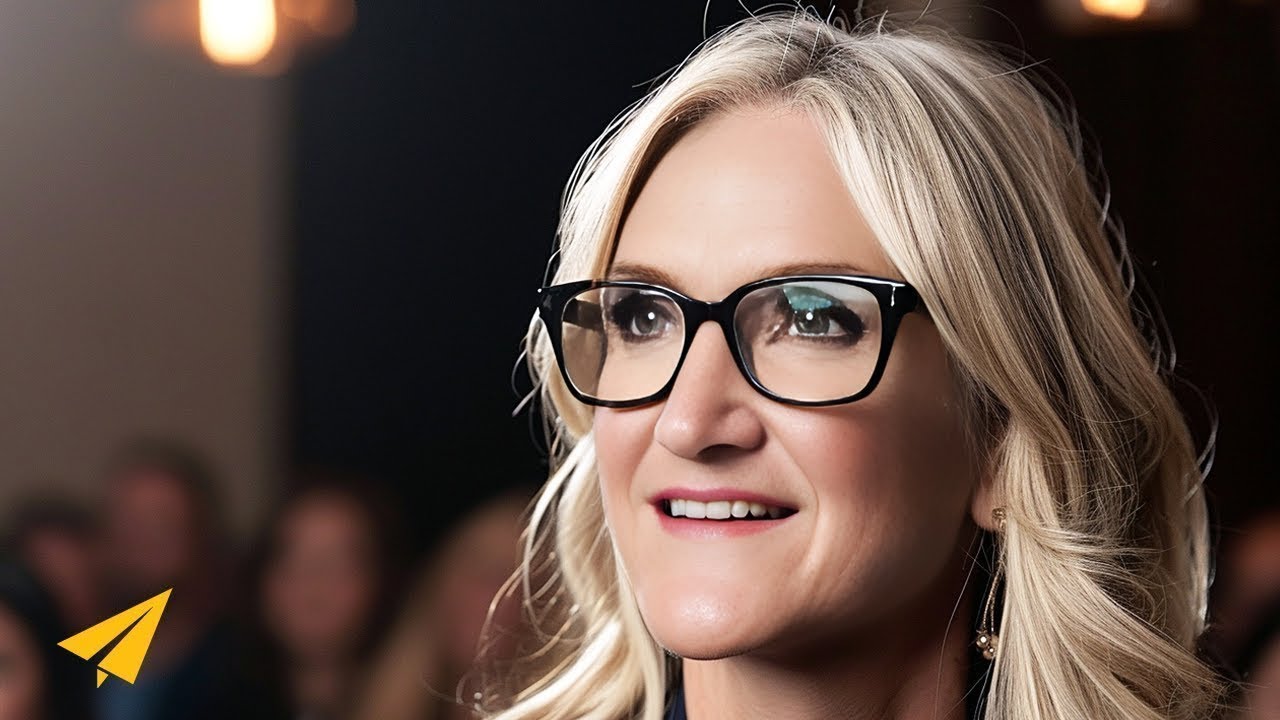 Famous Entrepreneur Quotes
Mel Robbin's Quotes
"Drive is the mode where you're in charge of your thoughts."
"There is a super tight connection between happiness, and the ability to live in the present moment."
"Whenever you start feeling in your life like, oh my gosh, is this all there is, huge red flag number one."
Mel Robbins's Top 10 Rules For Entrepreneurship, Business and Success
Today, we're going to learn from TV host, author and speaker Mel Robbins and my take on her Top 10 Rules of Success, Volume 2.
Rule #1. Be In Charge Of Your Thoughts
Drive, that's this puppy right here. This is what you want, this is your prefrontal cortex. Drive is the mode where you're in charge of your thoughts. It's where you are fully awake, you are present and you are driving your thoughts and actions. When you're doing that, your prefrontal cortex is active.
The prefrontal cortex is the part of the brain that you need in order to learn new behavior, in order to do something difficult, in order to do something uncertain, in order to do strategic thinking. I'm going to give you an example. So I'm a rightie.
If I were to try to write with my left hand, and like you, Lewis is going to torture me – Sure. and tie my hand behind my back and make me like do this, I could do it. It would look like I was writing with my foot.  And if Lewis came up to me and said, hey Mel, you want some BulletProof Coffee? I'd be like, Lewis I'm trying to concentrate. I can't do this. My prefrontal cortex would be el fuego because it is firing on all cylinders to communicate to my hand, new behavior.
So, the thing that's cool about that is that you can use a simple trick. The moment you feel yourself hesitate, the moment you've got one of those moments where you know that you need to, this is that moment that Lewis talks to you about where you got to step outside of your comfort zone and you got to lean into your passion.
And you've got to really take some risks. And you got to feel the fear and you got to do it anyway. That's the moment where you just woke up. Now you got a decision to make. Are you going to drift back into the habits or are you going to awaken your prefrontal cortex and drive forward and focus and do something new?
Rule #2. Do The Most Important Work First
Get up 30 minutes earlier than you normally do and push yourself to work on the most important priorities first. This isn't just me. Research shows that your most productive hours are the first two to three hours after you wake up and get ready. This means that for peak productivity you've gotta do whatever you can do to make sure the most work to you done first  during that window of time.
Rule #3. Live In The Present Moment
If you are living in the past, you are going to be depressed because you are re-hashing thing that happened to you, that are not going to happen again. If you're living in the future, you are going to be anxious, because you are anticipating what is coming, you are wishing for things that aren't happening yet. Being in the present where the gold is. Being in the present moment is where you will have the greatest control, where you will feel the most at east, and where happiness flourishes.
There is a super tight connection between happiness, and the ability to live in the present moment. A lot of people believe that happiness is tied to the things that happen to you, not so at all. In fact, there is a Professor of Positive Psychology, he is one of the grandfathers of the movement.
He teaches at the University of Pennsylvania, his name is Martin Seligman, and he's studied happiness for decades. Now, one of the things that we talked about a lot  is that, 40% of your happiness levels are present  by genetics. 60%, you are in complete control of!
One of the things that this professor has discover is that, It doesn't matter what has happened to you. In fact, some of the people that have has the worst things, THE WORST THINGS happen to them, like people that survived the Holocaust, are actually are actually the happiest and most grateful people in the world.
Happiness comes down to, this, right up here (Mind). It comes down to your thought, it comes down to your mindset, it comes down to your attitude, and you, are 100% in control of what you are thinking. You may not be in control of how you feel in the moment, but you can always, always, always…. ALWAYS be in control of what you think.
That will change how you are feeling. One of the most powerful thing that you can do in terms of think; and this goes back to Strick's question, is, "How do you be present?" Being present is literally nothing more than the skill of having your thoughts be in this moment.
Not the past, not in the future, but right here. The way you teach, is, the moment you catch yourself being distracted, the moment you catch yourself starting to worry, the moment you catch yourself drifting to the future or drifting apart…That is the moment of tremendous power, because you basically just woke up. You basically just noticed that you are not here, in this particular moment. Use that wake up call, 5..4..3..2..1.. and ground yourself in this moment.
The best way to ground yourself in the moment, is to look for something in this particular moment that you can savor. Now I am using the word savor on purpose, because it's the psychologist use to describe what happen when you find something in this moment right now, right here, right now… to focus on and appreciate. It could be literally, the question,  these are printed out  question from people on social media.
If I we're to stop and look at these and savor them, what I would feel in this moment is a tremendous amount of gratitude. Because people are taking the time to write and that makes me feel incredibly grateful. It also makes me very happy because it means that the folks that are writing, are taking control of their lives, and seeking out information that they need. Another form of savoring, that we can all relate to is eating.
As your seating, instead of drifting to the future and thinking about all the things you need to do, or hanging out in the past and re-hashing everything that has happened the day, be in this moment, in this meal. Slow sow, think about the food that you are eating. Think about the people that you are sitting with and how you feel about them.
If you want to take it up a notch? Actually acknowledge them. "Hey, this food tastes amazing, thank you for cooking" or "I am so glad to see you and we get the time to have this meal together." Those small simple acts of savoring are how you expand your happiness inside the present moment.
So, "How do you be more present?" Simple, the moment that you catch yourself in the past, worrying.. whatever.. Refocus yourself right here, right now. Then find something right here, right now that you can savor. When you do that, you are not only going to be present, you are going to feel more grateful, and you are going to feel a little boost of happiness.
#4: Pick The Two Priorities a day
So, when I think of priorities (Just make it super simple, Louisa) pick the two things that are the most important things that YOU can focus on, that are priorities for you, that will advance your long term goals. So just pick two priorities a day. Whenever you have some spare time where you have some wiggle room in your schedule that's when you force yourself to sit down and work on those two priorities for the day.
Because here's the truth about a to-do list, eventually that crap will get done, and typically what we do all day long is we are usually putting out  fires, we're responding to e-mails, we're sitting in meeting that other people have called, and our days get filled doing those things for other people. So, what I want you to do is I want you to start thinking about every single day, what re two things that are priorities for you? Then find time whenever you can, even if it's just ten minutes, to sit down and work on them.
#5: Set You Goals High
I want you to start seeing something bigger. I know you're all successful. I'm talking about something really big for your life. And in order to do that, you have to answer this question, what do you really want? Now I'm not talking about something small. I'm not talking about a little haiku. I'm not talking about renovating your kitchen. I'm not talking about signing on 10 new customers this month. I'm talking about what you really want.
You know three years ago, I was a lawyer and a business coach working with private clients and big corporations all over the country. And I came to a seminar, just like this one. A big leadership seminar and I went there with my husband, we're both business owners. I went because I wanted to be more successful. I went because I wanted to make even more money than I already did. I was sitting exactly where you are, in fact, I was sitting about, I don't know, 15 rows back right where that woman with her hand on, her hand, yet you.
Yeah, she's like, hi! I was sitting and I was taking notes and I'm like, okay I'm sure to make more money. And then all of a sudden, she walked on the stage. That is Martha Beck. She writes a column for Oprah Winfrey. She travels around the country speaking. She's a best-selling author. And when she walked on-stage, I literally stopped listening. Please keep listening to me, right now.  And it hit me. I said, I want to be doing that.
I'm ready for a bigger state, like that's it. And what's so interesting about when you answer that question is that you don't answer it up here, you answer it here. That's how you see something bigger for yourself. You guy are really cute because everybody's like, I don't see it. I don't see anything for myself right now. Now I'm just confused, I thought I knew what I wanted. And you know, now Mel, I'm not really sure. Right now, the economy is so bad.
I mean, it's so bad that even if you're successful. I know sometimes I feel embarrassed talking about my success around some of my friends because I know that they're really struggling. I get calls everyday into the radio show. People saying, oh I've got this great idea but I just don't know if it's the right time. You know what I say to them? I say, yeah you know, you're right. The recession, it's huge. You should wait.
Those dreams yeah, put 'em on hold. That's right. You should stay in that job you can't stand just a little bit longer. You got college bills to pay. I mean, what you're doing it's fine. You're busy, right? That guy you're dating, he's good enough for you but for the people in this room, baloney. You know, that's right. You know exactly what you want. And the only thing that you need to do is to admit it. Now this may sound weird because I know most of you came in here because you're like, I know what I want, I'm here with success to try to figure it out. I'm talking about something bigger. Much bigger.
I'll admit to you what it is that I'm up to. And the truth is, it's embarrassing because when you lock onto something way bigger than where you're at, it is downright embarrassing to tell people because you're not there yet. But I mean, at this rate, I've already admitted to you that I stalked Martha Beck and that I brought a haiku to the best Lit agent in the country so I got nothing to lose at this point. So this is what I want.
Well not him, I'm married. I want what he's got. I want 600 radio stations. I want two million listeners. And I could certainly deal with the $400 million salary. In fact, if I got it, I'd renovate everybody's kitchen.  And you know, the thing is though what's so interesting about this is that I didn't pick him. I mean, I'm not looking to become a cigar-smoking, Conservative political guy that like stirs the pot and makes everybody all mad.
I'm the liberal lifestyle gal that's trying to help people out. But what I want to do is I want to use radio to entertain people and help them achieve their dreams. And when I really think about it, he's the one that's in the front. I want to not only reach what's he doing, I want to surpass him. I mean, do you think I like it when my friends come over to my office in Boston at my house and they're like, what is that guy doing on your board?
No, it's embarrassing. When you admit the big thing that you're up to, it's embarrassing. I have 40 stations, he's got 600. There's a big gap so admitting where you want to get to is embarrassing but you got to do it.
Rule #6: Lean Into Change
Interviewer: Mel Robbins, your radio show, Make It Happen, helps people go for success. You actually say there are three red flags we should look for that will actually tell us it's time to change.
Big ones. Whenever you start feeling in your life like, oh my gosh, is this all there is? Huge red flag number one. Number two, when you spend your energy being jealous or having the grass is greener over there, another big wake-up call for you that you're ready for a change.
And then the other final red flag is if you're spending your life waiting to be happy. I'll be happy when, I'll be happy when I get married. I'll be happy when I change my job. I'll be happy when I want your business. It's time to change now 'cause that moment's not coming unless you make it come.
But how do I know that I'm maybe not just living in a fantasy land, that I'm never going to, no matter where I am, the grass is always greener concept that oh we say, this could be better and then I might be making change for change sake but it might not be really what I need.
Baloney, if you're still saying that to yourself over and over and over again and you're complaining, what you're really good at is ignoring your gut. So it's time to start tuning into your gut and making some changes.
Okay so people see these signs, why don't they make changes then? I mean what you just described is very depressing.
I can tell you why, I can tell you why. The reason why they don't make changes is because what happens is, you say, okay I want to do X and then immediately what you see next are all the obstacles. And so you're actually smart, you're not necessarily afraid. You're smart because you think, how the hell am I going to go from being a lawyer to a carpenter when I have a mortgage to pay. I've got tuition bills to go. My wife is going to kill me if I make this kind of change. So you get stuck because you see obstacles and then you never do anything.
Those are very real obstacles.
Of course they are.
Okay so-
how do I kind of get past those obstacles? Very easy, let's say I recognize the warning signals. Okay, time for change. Danger, Will Robinson. This is not the right path but it does seem Herculean the hurdles I have to go over.
Don't quit your job, that's number one. Second thing is, I think most change in life is not about putting on a big cape and jumping off a cliff, or out of an airplane. It's more like leaning into something. So if you find yourself daydreaming about something or wishing that you could change your life, start investigating. Start having conversations about it. Start leaning into change.
Rule #7: Beat Your Fear With Anchor Thoughts
You know, I've heard a lot of experts say that fear isn't real. That is such a bunch of baloney. Fear is so real. In fact, there are probably things that you're afraid of doing right now. In your life. In your relationships. At work. And the fact that you're afraid, that's robbing you of all of the experiences that you wanna have in your life. I mean, if you're afraid to fly, that's gonna limit your ability to travel and see the world or go visit friends.
If you're afraid of public speaking, that's gonna really limit your ability to express yourself and share your ideas. If you're afraid of talking to your boss or asking for a raise, that directly impacts how much money you make. Or, what if you are dreaming of starting a business or you've already started a new business. But you're afraid to talk to people. And you're afraid to share your business with people. I mean, fear is something that stops it all. And that's why I'm here to talk to you.
Because it doesn't have to. Fear is real, but I'm gonna share a secret weapon that I have used for years to beat every single fear that used to stop me. Now, first, before we get into the secret weapon, I just wanna cover a few facts about fear. What it is, what it isn't. And some things that you may not know about fear. So, first thing: Fear is a physical state in your body that is exactly the same as excitement Let me say that again.
Fear and excitement are the exact same physical state. Your heart races, you might sweat a little bit, you might feel tightening in your chest, you might feel a pit in your stomach. You have a surge of cortisol. It's basically the way that your body goes into a hyper-aware state because it's readying for action. Now, what's the difference between fear and excitement? Really simple. The only difference between fear and excitement is what your brain is doing as your body is all agitated.
If you're excited, your brain is going "Oh wow, this is gonna be so cool to ride this rollercoaster!" If you're afraid, your brain is going "Ugh, no way! There's no way I'm doing that! This is dangerous! Get out of there! Don't do that!" It's saying something different. So, what's critical about understanding this, is that we are gonna use the fact that your mind is either working for you for excitement, or against you with fear, to your advantage.
And I'll tell you about it in just a minute how you're gonna do that. Second thing that I want you to understand, is that you may have heard the advice "Feel the fear and do it anyway." You may have heard the advice "Oh, just try to calm down. Think positive thoughts." It doesn't work, does it? And there's a reason why it doesn't work. So let's go back to fact number one. When you're afraid, your body is in a state of arousal and agitation, your heart is racing and you're all like pumped up and you're hyper-aware of what's going on and you're freaking out a little bit.
What is it like when you're calm? It is kind of chill, right? You got this like low arousal state. Very, very difficult to go from a state of agitation, being all jacked up and excited and weirded out to an "ahh" kind of state. It doesn't work. It's like trying to stop a train by throwing a boulder around the tracks. It's gonna make the train jump off the tracks. It's gonna cause a disaster. In fact, they've proven in research that when you try to ignore your fears, that actually makes worse.
And they've also proven in research that positive thinking alone also can make your fears worse. So, what do you do? What do you do when you're about to go talk to your boss and you feel afraid? What do you do when you have to get on a plane and you're actually terrified of flying? What do you do if you got to give a presentation and you are afraid of public speaking?
Here's what you're gonna do: You're gonna use the strategy, the same one that I use, that has helped me beat every single fear and turned me into somebody that is terrific when it comes to a high-stress situation. This is how you do it: You're gonna use my 5-second-rule in combination with what I call an anchor thought, and that is going to reframe what your mind is doing. So that your mind goes from feeling agitation and making you afraid, to reframing it from agitation to excitement. It works like magic.
Now, I have used this technique for years. Literally for years. And, one of the ways that I want to introduce you to it, is I want to take you backstage. I wanna take you backstage to a speech that I delivered this year, and what you're gonna see is you're gonna see me behind, you know, the major set. I'm about to walk out, you can kinda hear the crowd roaring, my introductory video is playing, my body is in a state of arouse, I am literally, my heart is racing, my arms are sweating, like, you're gonna see this. I'm gonna tell you about it.
And you're gonna watch me use the same technique I'm gonna teach you, to reframe my nerves into excitement. Check this out. Alright, I'm about to go on stage. There are 7000 people out there. And is so exciting because what they don't know is they're about to learn the 5 second rule, and their lives are never gonna be the same again. Now, I gotta tell you: My heart is racing, my armpits are sweating.
I have the exact same physiological feeling as when I'm afraid. But I'm not afraid. I'm excited. Excitement and fear are the exact same thing in your body. It's just what you're brain calls it. Here's a trick that's proven by science that I use every time I speak: When I start to sweat, when I start to have butterflies, when I start to have my heart race, I say: "I'm excited! I'm excited to get out there!" "I'm excited to talk to these people!" "I'm excited to share them the 5-second-rule!"
And what that does is, it sends a message to my brain, that tells my brain why my body is all agitated and excited. And that way, I don't feel afraid. Remember, excitement and fear, the exact same thing in your body. The only difference is what your brain calls them. Go get them! Now, I wanna give you one more example. Just to make sure that you really get how you can use this. So a lot of you have written to me about your fear of flying.
And I can really relate to that fear because I used to have the exact same fear. But I used the same strategy to conquer it. Here's how you're going to do it: So first things first. If you've gotta do something that really makes you nervous, or that you're afraid to do, before you're about to do it, come up with an anchor thought. What's an anchor thought? Well, an anchor thought is something that's going to anchor you so that you don't escalate any situation into a full blown panic attack or into a situation where you screw things up.
It's a way for you to anchor yourself so you maintain control over what you're thinking and how you behave. So here is an example with flying. It's important when you're creating an anchor thought to pick something that is in the proper context of what you're afraid to do. So for flying, pick an anchor thought that has to do with a trip that you're taking. So if I'm boarding a plane to fly back home to Michigan, an anchor thought might be a picture in my mind of my mom and I walking on the shores of Lake Michigan where I grew up.
That's a thought that makes me happy. It makes me excited. And it's also related to the trip that I'm taking. If you have a conversation that you need to have with your boss, pick an anchor thought about how you feel after having that conversation.
Maybe it's you picking up the phone and calling somebody that you love and say: "Oh my gosh, it went so well!" Or, you know, you walking out of the meeting and feeling like "Yeah! I survived that conversation! I feel pretty good about myself!" So now that you have your anchor thought, you're ready to beat the fear.
Rule #8: Choose What You Would Love to Do
If you took money off the table, if you didn't give a  what anybody else thought, what's the thing you would love to be doing with your life, seriously? Do you dream of being a professional photographer? Do you want to open your own restaurant? You always thought about traveling the world and entertaining kids with your juggling skills. I don't know, it's your life. You get to choose what you want to do. Be honest with yourself.
What is it that you would want to do with your life if you didn't have to pay the bills doing it. Another thing you can ask yourself, who do you find yourself sort of envious of? You know like you look at their life and you just think, gosh, how awesome that they get to do that. Well, once you have that answer for yourself, you've gotten really honest. You pushed the bull  aside and you really asked it for yourself and answered the question honestly, all you got to do is explore it, that's it. Just find one thing that you can do to enrich and expand your knowledge about it.
Find one course online, Google the topic. Stalk people that are pursuing this line of work. That's how you start to do it. One step at a time. So start with answering the question, what do you really want, with a massive dose of honesty.
Google the topic and find one thing that you can do, just one. Push yourself and start to explore. If you were to wake up and do that every single day, spend 10 minutes a day, you would be startled, astonished by what your life looks like in a matter of a year or two.
Rule #9: Break The Habit Of Hesitation
What is the biggest obstacle that we face? Tiago, it's simple. It's self-doubt. It's not fear, it's not lack of money. It's not lack of supporters. It's the fact that deep down inside, you will doubt yourself at critical moments. And here's the problem with self-doubt. Self-doubt doesn't have to stop you. The problem with self-doubt is that the second that you feel a little doubtful, the second that you start to question yourself, you physically hesitate.
That hesitation has become a habit that stops you because the moment you hesitate, it wakes up your brain. Your brain starts thinking and then you hold yourself back. You guys know I talk about the 5-Second Rule incessantly. It's the title of the new book that I'm writing that's coming out in 2017.
The 5-Second Rule is a tool that battles self-doubt because in those moments, those tiny micro-moments, when you're faced with, should I do this or should I not? Should I speak in a meeting? Should I hold back my ideas? Should I have this tough conversation? Or should I wait 'til later?
The second you doubt the option of moving forward, you hesitate. Then you think, then you hold back. That's how it happens every single time. That's how you sabotage your success. That's how you rob yourself of joy. That habit of hesitating, the moment that you feel doubt is killing your dreams. The single biggest obstacle in life, Tiago is the doubt that you feel. And the single biggest mistake that you're making is that you hesitate when you feel it. If you start to use the 5-Second Rule in those moments to just physically move forward within five seconds, feeling that doubt, you'll win.
Rule #10: Help Others
I need a volunteer. Come on up.  Hi, how scared are you right now?
Woman: About a 12 or 15 or a 30.
On a scale of 10?
Woman: Yeah.
Yes. Good you're perfect. Okay. So I have an envelope. You can either open this up and read what it says but you have to do it.
Woman: Oh no.
How afraid are you for her?  or you can give it to somebody else.  Now what are you managing right now?
Woman: My heart rate is just like out there.
What do you want to do?
Woman: Life's about change so I'll open it.
Okay.
Woman: So I'm up on stage with Mel.
Give her a standing ovation, she deserves it.  So again, same rules. Open it up, read it to the audience and then do what it says. How scared are you?
Woman: I'm a little nervous 'cause I'm not sure what you're going to want me to do. I'm shy.
Really?  That's baloney.
Woman: Tell everyone in the audience the most embarrassing thing that's ever happened to you.
All right, you're ready for another one?
Woman: Sure.
How scared are you?
Woman: Less.
She'll be speaking at the next conference, you watch.
Woman: Yes I will!……Congrats, LifeVantage is paying for your registration and three-night hotel stay at the Elite Academy at Orlando!  You're kidding!
I'm not kidding!
Woman: Oh my word!  It's overwhelming joy. Just a peace, I think, that can come with really choosing to change.
Thank You!
Thank you guys so much for watching. I really hope you enjoyed this video. If there's someone you like me to profile in the next Top 10, check out the link in the description and go and cast your vote. I'd also love to know what was your favorite message from this video. What did you learn from this video that you're going to immediately apply somehow in your life or in your business? Please leave it down in the Comments below. I'm really curious to find out.
I also want to give a quick shout-out to Jelena Ostrovska, thank you so much for picking up a copy of my book, Your One Word and doing that awesome review and interview on your YouTube channel Talking About It. I really appreciate the support and I'm so glad that you enjoyed the book.
Evan Carmichael, also the author of the book Your One Word that has been published just a couple of months ago.
So thank you guys again for watching. I believe in you. I hope you continue to believe in yourself and whatever your one word is. Much love, I'll see you soon.
Summary
Rule number two is my personal favorite, and I'd love to know which one you guys like the best.
Mel Robbins's Rules
I hope you enjoyed this article, make sure to check my Mel Robbins video on his Top 10 Rules For Success as well.
---
You might also like
---
More from Mel Robbins
---
Today, we're going to talk about how you can create a massive action plan. Good morning, believe nation. My name …
Hello Believe Nation, it's Evan. My own word is believe and I believe in people more than they believe in …