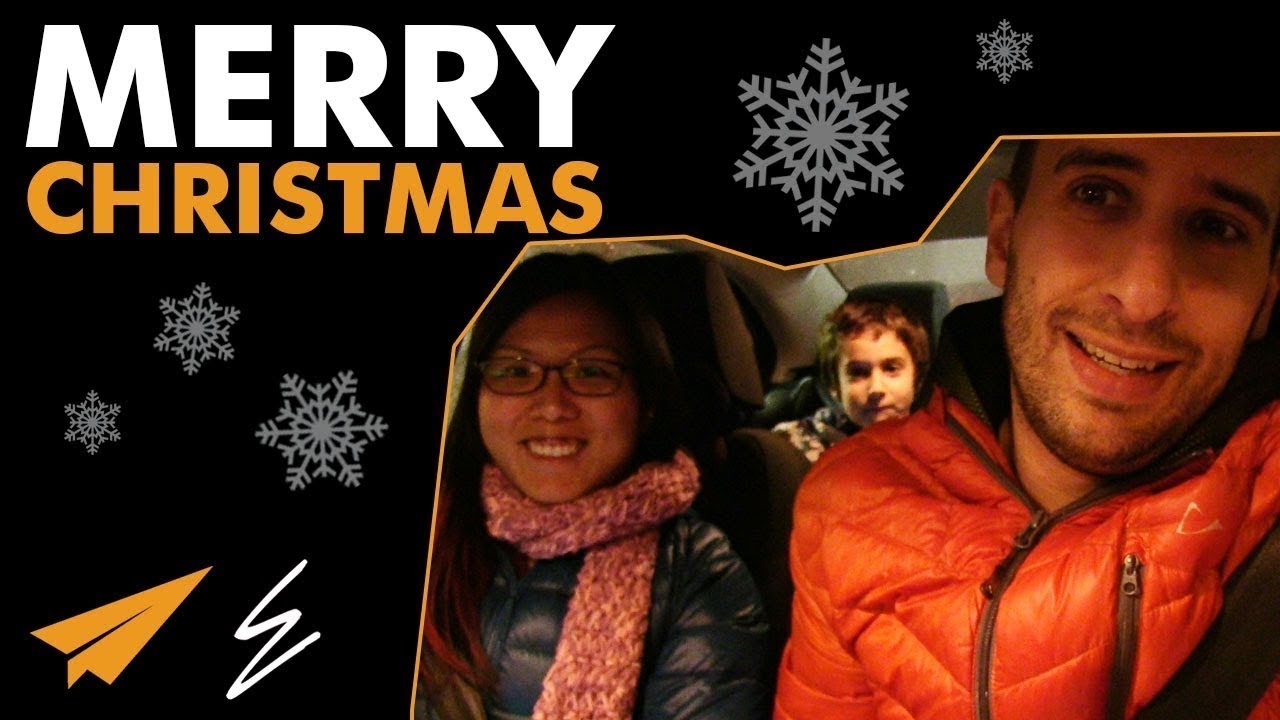 Merry Christmas everyone! – Evan and Nina
All right, merry Christmas everybody! Great to be here. Been an amazing year. A lot of milestones passed. Got the book out. Got the 500,000 subscribers. Super excited for the year ahead into 2017. And this is going to be a quick video because we are in the car as you can tell. Nina is beside me, Hayden's in the back. Oh, there he is, what's up, Hayden?
Why do you guys wear red?
Wow that's the.
It's Christmas!
Hayden's light, and we're right. We're doing a quick pit stop tonight. We're waiting 'til it gets dark, which it is now. And we're going to go check out this amazing home that has over 50,000 light bulbs turned on. They decorate their house. This family called the De Sario family, every year decorates their house outside with 50,000 light bulbs to help raise funds and raise awareness for SickKids which is a hospital.
Really?
Yeah, it's for SickKids Hospital. To raise awareness for SickKids Hospital. And this family doesn't live that far from where we are so, I thought we were going to go check it out, spread some holiday cheer. We haven't seen it ever before, so we're going to check it out for the first time ourselves, and share in the journey with you guys. So, here we go!
Everyone.
Everyone what?
I got a Pikachu.
You got a Pikachu? Hayden got got his first Pikachu Pokemon Go. He's pretty excited. He's pretty excited. Good job. Show it so they can see. There he is.
Hayden: There's Pika!
Okay, let's go find the house! This is crazy. It smells like fire, or something. All right. Did you guys see that? Look! Look at, that's a house. That's crazy. Huh? What do you think?
I wish I got my snow pants!
They're in the car.
I'd like to jump here.
Oh no, no. It's not a road here.
Bystander: Really nice.
Evan: This is a house. Pretty crazy, huh? They do this to raise money for SickKids. You can put donations in the box there, raising money for the local hospital. So I think these are them, the De Sario family. Pretty cool! Look at the garage full of lights they have to put up. This is what the house looks like normally. Okay, let's go! What do you think, Mister?
50,000 lights!
Pretty crazy, huh? That was pretty crazy, pretty fun. That's a lot of dedication that family has to raise money for charity. You guys have a Christmas message, Nina? Christmas message?
Merry Christmas!
Merry Christmas, that's Nina's Christmas message. Okay.
Bystander: Ho, ho, ho!
Evan: There you go. Hayden, what's your Christmas message?
Merry Christmas!
Evan: That's it? What else you want to say?
Merry Christmas.
"Merry Christmas. And I will say Merry Christmas, and believe. Yeah!" – Evan Carmichael
Whatever your one word is.
And whatever your one word is.
We'll see you soon.
Have a great Christmas guys, it's been an awesome year. Super-pumped for 2017. And for those of you who celebrate other holidays sending you lots of joy and blessings and have an amazing 2017. Let's crush it together!
---
You might also like
---
More from Evan Carmichael
---
What's up, Believe Nation? Greetings from London, England. It's Evan. My one word is believe and I believe in people, …
Today we're going to look at seven different ways that you can make business alliances. What's up Believe Nation? It's Evan. …