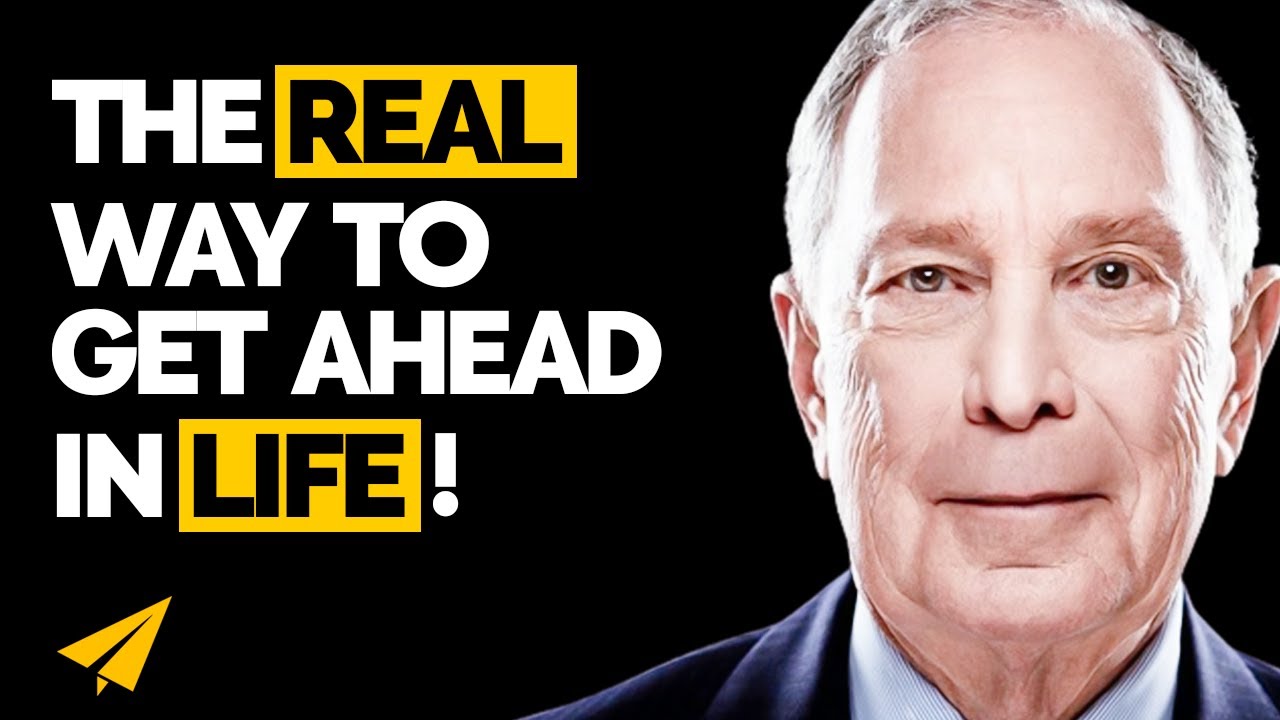 He's an American business magnate, politician and philanthropist. He served as the 108th mayor of New York City serving for three consecutive terms with a net worth of $41 billion, he's the seventh richest person in the United States. He's Michael Bloomberg, and here are his top ten rules of success.
Michael Bloomberg's Top 10 Rules For Business and Success
Rule #1: Don't Jump Too Quickly
You know, I think it's very, my advice to young people is you never want to do something on the spur of the moment you don't want to jump too quickly, that doesn't mean you should sit around and waste your whole life and never realize when something's not going to happen or when the opportunity's not going to be presented but every time I thought about leaving Solomon I stopped and said you know I'm learning a lot, and even though I might have been able to make more money elsewhere it was a great firm.
They were scrupulously honest, phenomenally competent, worked very hard, very nice to me, erm, and, er, I always decided to stay. I don't think I ever seriously, other than maybe a little Walter Mitty dream now and then, I don't think I ever seriously ever thought of leaving and it turned out to be great, I'd say nothing but good things about them, even when them firing me was the right thing.
Rule #2: Share The Credit
Woman Interviewer: You never wanted to beat your competition?
No, I wanted to be successful
Man Interviewer: You said teammates versus competition.
But I mean, at Solomon Brothers all those times, you work with other people, one of the ways incidentally, Stephanie, to really get ahead, is to give credit to somebody else. When I say oh, I didn't do it, Lloyd did that and he involved me, let me tell you, I'm telling everybody it's me as well, but I've now made a friend, and you respect me because I've shared the credit, and if you say, no, me me me, I I I, nobody likes you and nobody respects you and they think you're exaggerating everything, but to the extent you've credited someone else with the thought of, are they exaggerating? It doesn't even come up.
Rule #3: Delegate
And I'm a big delegator in terms of management style If you're going to run a 24/7 organization you have to do that. Anybody that tries to centralize everything through themselves or through their staff really is making a terrible mistake. But that's why lots of businesses don't work And that's why lots of governments don't work Because they do exactly that.
Rule #4: Work Hard
The only thing that you can control that influences success in life is how hard you work, how honest you are, and how well you deal with others. You can control those variables. You can't control how lucky you are although the more you work the luckier you get.
You have no influence on the intellectual capabilities that God did or did not give you, but you can work as hard as possible, you can be scrupulously honest so that people respect you, and you can get along with others, cos nobody does anything by themselves.
Interviewer: Did you have to pay a price though, you personally?
Well I think that everything is an either-or. There's a price in everything. You can study or you can go out and play. You can defer to others or you can try to hog the credit. You can be honest and suffer the consequences, or you can lie, cheat and steal, and short-term, maybe even advance. But long term, you are better off if you work harder. You are better off if you're honest, and you are better off if you give others credit and get them to help you by helping them.
Interviewer: What do you tell others who try to strike that balance? Between family and work and volunteer efforts and anything else?
Well the answer to either/or is invariably yes, you can't go all in one direction. You cannot walk away from your family for your career. On the other hand if you walk away from your career for your family, you're not going to have the money to support the family, and parents all the time are making those kinds of choices between career and family.
They do some of both and you try to blend the two, and that may not be the perfect answer but that's a practical answer, that I've always told young people when they go off to college, you have to study and you have to get good grades, but you certainly should have a good time as well because that's part of your growing-up experience and there's no point in leading life to suffer all the time, you want to enjoy life as well as the next person, so some balance, some blend between the two.
Rule #5: Question Everything
I went to Hopkins to study physics and it turned out there was a German requirement so after 30 days I became an engineer where there was no language requirement. And I think looking back, an engineering background was perhaps the transformative thing in my life.
Because in science, and it would have worked if I had stayed as a physicist too, I suppose, in science, you have to be able to look in the mirror and answer the question, you can't just say something and believe it, you have to be able to show people that you're right.
The essence of science is that somebody else, independently, can verify what you claim you saw. And that discipline of not just taking people's word for it, or not just automatically falling in to what's generally accepted, has forced me to step back and say why? And to question.
And if you question why we're doing things, I think you'll find yourself targeting your energies much more efficiently, appropriately, and in a much more satisfying way. So somebody says well this works, well that may be, but you know, stop and think, does it make any common sense? Listen to what people are telling you to do.
Think about what they say in the newspaper, does it make any sense? Do you want to be part of it? Could you do it better? It's that mental discipline of questioning, which I guess is the scientific method.
Rule #6: Focus On People
Interviewer: What do you think has mattered about the culture of Bloomberg? And what lessons do you think a company like this should learn?
I think it's not just for companies I think it's for governments and everybody else. People want recognition and respect. And whether you do it by giving them free food and nice offices, whether you do it by always giving them the credit when somebody says why does it go along? I always make a point when I walk into a building I shake the hands of the security people at the door.
If it wasn't for them, the rest of us wouldn't be able to go in and conduct our business. They're just as important as the head of the company. I think we have too many distinctions between people and the egalitarian concept that America was built around, I think, really works.
And at Bloomberg I abolished all titles there's no titles in the company. On my card, it never said anything, it just said Michael Bloomberg, and address, and phone number. In those days you didn't even have email addresses, today they continue with that process.
Everybody knows who they work for, there is a hierarchy, you have to have a hierarchy, you have to have structure, but that doesn't mean that we should have, every time we introduce somebody, something that distinguishes and says that one person is more important than the other.
In city government you can't quite do that because they're built into the structure is different, and the requirements they use titles is different, but in the private sector to the extent that you can include everybody in this room and around the world that works for Google, I would argue, do it, that's what we do at Bloomberg. To the extent that you can make people be happy to come to work and want to be there, in the end luck plays a very important part in how successful you are, but the harder you work, and the longer you work, the luckier you're going to be.
So you want people to want to come in early in the morning and want to stay late. You want people that, if they want to take some time off for family obligations that's fine, but you want them to want to come back, and I think if you take a look, you're never going to please everybody.
Bloomberg has about 9,500 employees, maybe 120 offices around the world, and there'll always be somebody that isn't happy. But fundamentally we have a very low turnover rate, and I think whenever you have intellectual content as the basis of your business, and certainly Google does, and certainly Bloomberg does, the most important asset you have are the people that leave at night and come in in the morning. And so that's where your focus should be.
Rule #7: Be Honest With Yourself
Interviewer: And what's your advice to these small business founders today?
Work hard, you're going to need some luck, but the harder you work, the luckier you get. And if it doesn't work out, it's not the end of the world. I just don't have anything in common with people that sit there and say "Oh my God, it was terrible."
It's water over the dam, under the bridge, get on with it and start another business the next day, or another career, and be honest, look in the mirror, and say why didn't it work out? Well it wasn't the skillset, or it wasn't I didn't have the temperament for it, or I was in the wrong place, wrong time, maybe I can afford to do it again, maybe I can't, but people aren't honest with themselves.
What I've always done is I've taken a yellow pad, I've drawn a line down the middle, write out the pros on one side, the cons on another, in the sense that if I let you see it, you wouldn't laugh at me. And then when I get done, I just rip it up and throw it away because I've worked out in my mind, What is real, and what isn't and what I can present to people and what I can't.
Rule #8: Be Prepared
And this goes back to my boy scout days, is be prepared. I know what you're thinking, you're already prepared, you've mapped out the rest of your life, the rest of your education, postgraduate work, residencies, fellowships, clerk ships, and you're going to have a long, meaningful career. You have all of your plans already laid down.
That's not the preparation I'm talking about, because let me tell you the likelihood of you winding up 10 years from now doing what you think you're going to be doing ten years from now is probably less than one in ten. The truth of the matter is, you don't know what opportunities are going to be presented to you, you don't know where you're going to succeed and where you're going to fail, the careers that you wind up in are invariably going to be very different so what I would do is I would focus on how I interact with people, how I approach problems, I would get involved in government, if you want to go into public service, I would recommend you first become a billionaire but that's another issue.
You're going to spend your entire life doing something different than what you think, and the good news is that Dartmouth is preparing you for that, because while you think there are individual subjects, what they're really teaching you to do is to think and to reason and to build relationships, and that's what's going to carry you.
Rule #9: Don't Look Over Your Shoulder
Interviewer: Well from the book, after you were fired or let go from Solomon, "I didn't sit around wondering what was "happening at the old firm, I didn't go back and visit, "I never look over my shoulder, once finished, gone, "life continues."
Yes, you can't sit there, and should've, would've and could've is not a particularly useful thing to spend your time doing. It will just leave you heartsick, or it'll leave you living a past life and not looking towards what could be great tomorrow.
Rule #10: Collaborate
Interviewer: How important is it to have salesmanship, you could have the best idea in the world?
I don't know any business where sales isn't a big part of it, or cooperation and collaboration isn't a big part of it, I suppose if you're a monk and have a vow of silence, maybe, but an author, for example, you've got to work with an editor, you've got to talk to a publisher, and you have to deal with your family.
And it's, they're all, this is a world, and I think it's good, where you don't do anything by yourself. Nobody just works for one person or just works for themselves, nobody does anything independently, we deal, and whether it's your family, your outside life, your business life, or whatever.
Thank You
Thank you guys so much, I made this because Will C asked me to, so if there's a famous entrepreneur that you want me to profile next, leave it in the comments below, I'll see what I can do.
I also love to know which of Michael Bloomberg's top ten rules meant the most to you, what's going to have the biggest impact on your life, on your business, leave it in the comments during the discussion.
Thank you guys, continue to believe, and I'll see you soon.
---
BONUS
Think About Your Legacy
Interviewer: What would you like to see as your legacy? What would you like to say that you achieved with your life?
Well I think I'd want my kids to look back and say he was a great mayor, and honest, and made a big difference in the city, but I think the things that will last are things like the life expectancy numbers or the economic development of New York City compared to other cities, or reforming education, which is always a two-step forward, one-step back thing, but if we can be an impetus to Rahm Emanuel, for example, to stand up and fight for the control of the school system in Chicago, or elsewhere around the country, I think those would be good legacies.
If we could figure out a way to stop this carnage from illegal guns, that would be another thing, but if you go back, go down the road and look back, those are the kinds of things, investment in educational institutions, my alma mater, Johns Hopkins, that you're on the board of, or Harvard, where one of my daughters went to graduate school, and I did, or Princeton, and NYU, those universities will, I hope, make a difference in the world and I'll be a little part of it.
At Hopkins we have a malaria project, for example, trying to build a better mosquito. And the reason, you want a mosquito that's tougher than the others that doesn't carry the malaria parasite, and then it would drive out the others. It's really probably the only ways to stop malaria which kills a couple of million people every year.
When our Nobel Prize winner who runs the project wins his second Nobel Prize, and I've challenged him to do so, I'll have a little bit of that prize, 'cause I helped fund it, and so will the clinicians, and other scientists that work with him, and so will patients that work with him.
We don't do anything on our own, and everybody collaborates and gets something from somebody else. And I also hope that I'll set a standard and that whoever comes after me will be a better mayor than I am. I'm going to live in New York City and I've always, in my life tried to hire people smarter than me.
I've certainly done that with my deputy mayors in the city, I've certainly done that with the people that are running Bloomberg, and hopefully the public will pick a successor that will turn out to be, nobody'll ever think anybody is at the beginning, but will turn out to be a better mayor and will take it forward.
And I hope that Washington gets its act together and starts understanding, we are in trouble in this country. Niall Ferguson wrote a great story about the end of civilizations and how quickly things can collapse. Rome in a couple of decades, the USSR in a couple of years.
I mean that was the second biggest power in the world and two years, it's gone. We really are on a cliff, and it's not just the fiscal cliff we're already over the fiscal cliff, the question is, are we going to pull a rip cord or just keep falling? But we're on a cliff socially, as well. And the world is not necessarily on our side.
Think On Big Companies
Interviewer: Did you ever think your company wasn't going to make it, in the early years? Were you nervous it wasn't going to make it?
Sure. For the first year, it's always an exciting thing, every two weeks I wrote another check to the company from my personal bank account, to put money in to pay the help. And the last year of the three that it took me to get customers, you could see that that light at the end of the tunnel wasn't a train coming towards you, it really was that you were going to get out of this and it was going to work.
The middle year, what you find is that your family and your friends say, you know, I know you know what you're doing and I have all that confidence in ya, but you know just in case, because we were competing against big companies, and every article in the paper said this was foolish, you can't win against big companies, I've always thought that competing against big companies for a small company is not only exciting, it is, it has enormous potential, because big companies never believe the little company is going to challenge them until it's too late, and big companies have such an infrastructure and investment, and product and people and brands, and that sort of thing, that they can't change, and you know, Clay Christensen's Disruptive Technologies, if you need more examples of that taking place just pick up the paper.
Every day there's another industry going out of business. The other day we gave awards to ten different small startup companies. Our economic development corporation did. In the fashion industry. And I'm talking to this guy, what did he get an award from? He has a computer program, you just stand in front of his camera, turn around once, and then he has your body measurements for every single square inch of you down to a science. That goes straight to the loom, and the next set of jeans that comes off is built perfectly for your body.
Think about how many people in the process that's going to take out. That's one of the great challenges for creating new jobs that that kind of technology takes away a lot of the kinds of things. But there is still the demand for people creating that kind of program, there's still demand for the designer who comes up with what's fashionable or not. So there is potential, but it requires investment in infrastructure and it requires better education than we are providing our kids today with. And it requires people from around the world wanting to come here, rather than sending these industries overseas.
---
You might also like
---
More from Michael Bloomberg
---
What's up, Believe Nation? My name is Evan Carmichael, my one word is believe, and I believe in people more …