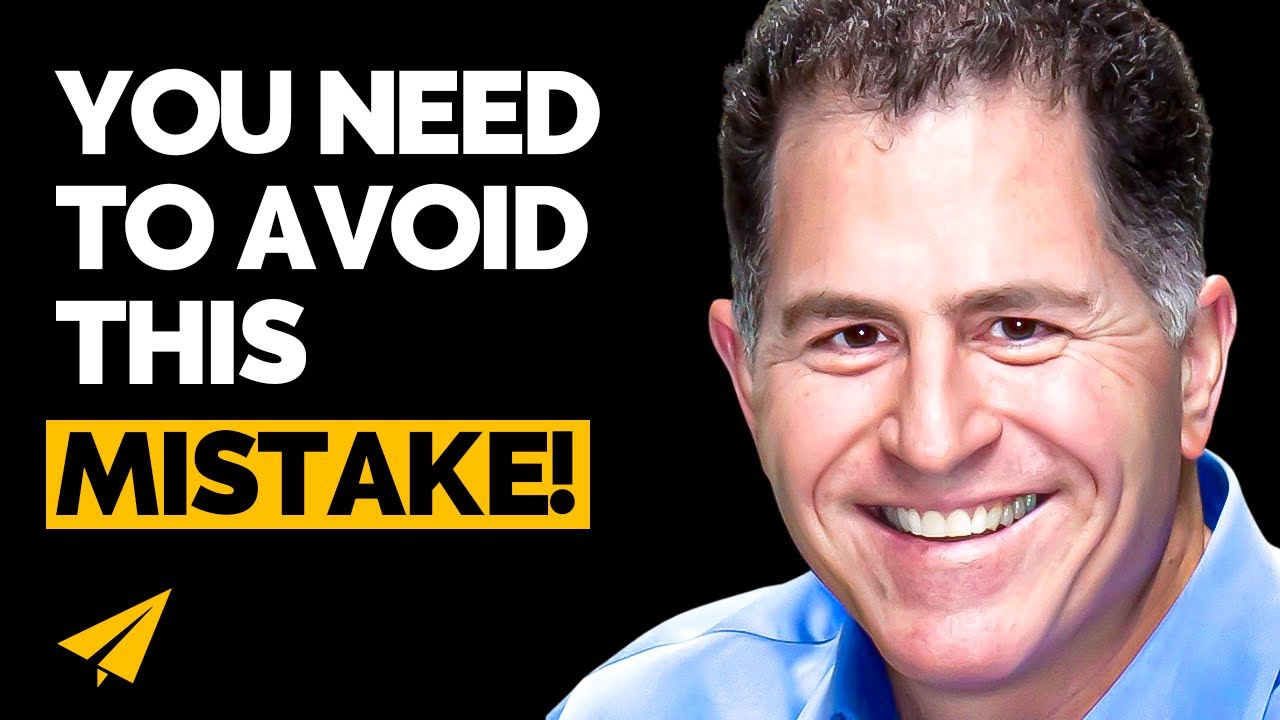 He's an American business magnet, philanthropist, investor, and author. He's the founder and CEO of Dell Inc. One of the world's leading sellers of personal computers. Forbes estimates his net worth to be 19.5 billion dollars. He's Michael Dell and here are his top 10 rules for success.
Michael Dell's Top 10 Entrepreneurship Rules For Business and Success
Rule #1: Understand Your Point Of Impact
You know you have to think about the point of impact. If you're running a business with 100 people, the point of impact for the leader is very different than if it's 1000 people or 10,000, 100,000. And so that's the frame of reference that I've always used to say okay, if I'm leading this organization, what are the things that actually I can do to cause it to be successful? If it's 1000 people, it's very, very different than it is for me today.
Today I'm a lot more focused on strategy, because that's the point of impact on 110,000 person company. On a hundred person company, you're sort of doing any job in the organization. You're doing every job in the organization, potentially. And that might be okay at that point.
Rule #2: Look For Experiments
One of the things I see in new businesses, is they're often looking for perfection. And I think this is a really big mistake. I think you ought to be looking for experiments. And quick experiments and it's okay to have little failures.
And what you want to do is learn as much as you can very quickly. And try things. And certainly when we were a small business, you know, we'd go out and try all sorts of things to find what would work.
And then we found something that would work, we'd do that 100 more times or 1,000 more times. We still do that today as a large company.
Rule #3: Be Resourceful
When I was 16, I got this job working for a newspaper in Houston. And my job was to sell subscriptions to the paper on the telephone. And I realized two things when I was doing this. I realized that people that were buying the newspaper generally had two things in common.
Either they were moving to a new residence, or they were getting married. It turns out that you could go find information about both of those things in enormous quantities. So the state that I lived in, in Texas, when you want to get a marriage license, you have to file with the state and it's public information.
Particularly the address you want the license sent to once it's issued. So I hired all my friends, and went to every county in the surrounding 16 counties in Houston, captured the addresses of all the people who applied for marriage licenses and sent them a direct mail offer to offer them the newspaper for a free trial and then a subscription. And I ended up making a fair some of money for a teenager.
Rule #4: Build A Culture
In our situation where we were creating a new way of doing business, that was actually part of our culture as well. And as we wanted to attract people from let's say related spaces, we didn't actually want them to bring the culture of the other companies. We might want some insights from their experience and that sort of thing.
But we had to be very explicit about the Dell culture was really all about, what the values are, particularly as we expand around the world. You know, these aren't necessarily American values, these are the Dell company values. This is incredibly important, and this is the way we operate our business.
Rule #5: Tough Times Present Opportunities
One of the things that people do instinctually when there are tough times, is they kind of do nothing.  And you know they kind of hunker down.
Interviewer: Is this sort of the frozen rabbits in the head lights thing.
You know, it's kind of completely stunned into inaction, and I think that's actually the worst thing to do. I think times when everyone is confused and kind of stunned, present the most enormous opportunity, because no one is really doing anything.
So, you know, I think this is a time where the seeds of really successful new businesses will be created. In fact, if you look in our industry, which I'm most familiar with, you know, the greatest companies kind of came out of, and were formed in some of the most difficult times in the industry.
When no one was really looking, and everyone really thought the whole thing was going to go south, all of a sudden a whole new breed of companies emerged. So for example if you look at when Dell was formed, in the early 1980s, 1984, this was pretty dark time in the US economy.
The personal computer industry had just gone through a big down cycle. And the prevailing wisdom was that all electronics would be dominated by the Japanese. That we had this big boogie man called Japan Inc. And that no one could compete with Japan Inc. Especially in something like computers.
But it turned out to be completely wrong and there was enormous opportunity, and huge waves of productivity were unleashed, with the computer industry flourishing.
Rule #6: Be Willing To Experiment
Be willing to experiment and fail. A lot of people go into business and they're looking to never make any mistakes. That's not the way to succeed. You have to be willing to try things, experiment, ask a lot of questions, don't be stuck on any one position. And most importantly, to listen and look for breakthroughs, you know, and ideas that haven't been out there.
Rule #7: Accept Risk
As a business grows, the natural tendency would be to take fewer risks and to be cautious and to have contingency plans, but in business is changing very quickly, or one that you want to grow, you actually need to be explicit about accepting risk. One of the people who work with me, kind of describe it this way.
I was sort of encouraging this person, hey why let's try this, why don't we do this, how about this? At some point he came back and said, "So, what you're telling my is "you want me to try to do ten things, "and if I only get eight of them, "you'll be okay with that if I don't get all ten." Versus, having five things and doing all five perfectly. That's exactly right. We want to accept some experiments.
Rule #8: Develop Partnerships
If you just dissect the IT sector, you know, look at the whole thing, you've got roughly three, three and a half trillion dollar industry. And there are about ten companies that have more than one percent of the three trillion. We have two percent.
But nobody has like more than five or six percent. It's a quite fragmented space. So, we work extensively with partners across the ecosystem and it's a big part of how we evolve rapidly, go quickly, reach new customers, gain access to the latest ingredient technologies.
Whether it's in semi-conductors, or software ingredients. So the partnerships and alliances are incredibly important part of how we grow.
Rule #9: Be Passionate
If you really don't know what it means to be an entrepreneur, may be you are one. So, I think there's a bit of self initiative, and self-starter that is an incredibly important part of entrepreneurship. And no one can tell you how to do it, you have to sort of have an instinctual feeling, an idea about something.
And you got to be passionate about it. I think people that look for great ideas to make money, aren't nearly as successful as those who say what do I really love to do, what am I excited about, what do I know something about.
Rule #10: Failures Lead to Success
When we have had failures, those have ultimately resulted in some of the greatest successes we've ever had. You talk about those, particularly when someone comes to see you and they say, "Yeah, I'm feeling really bad, "because this didn't work out." Okay, well let me tell you about some other things that didn't work out that we learned a lot from.
And let's pick ourselves back up, and let's figure out what we learned from this and how we go apply that next time. You know, when you're in the zone of doing things that no one has ever done before, if you're only succeeding, you're not taking enough risk.
Thank You
Thank you guys so much, I made this because one of you asked me to. So if there's a famous entrepreneur that you want me to profile next, leave it in the comments below, and I'll see what I can do.
I'd also love to know which of Michael Dell's top ten rules meant the most to you. Leave it in the comments, we're going to enjoy the discussion. Thank you so much. Continue to believe, and we'll see you soon.
---
You might also like
---