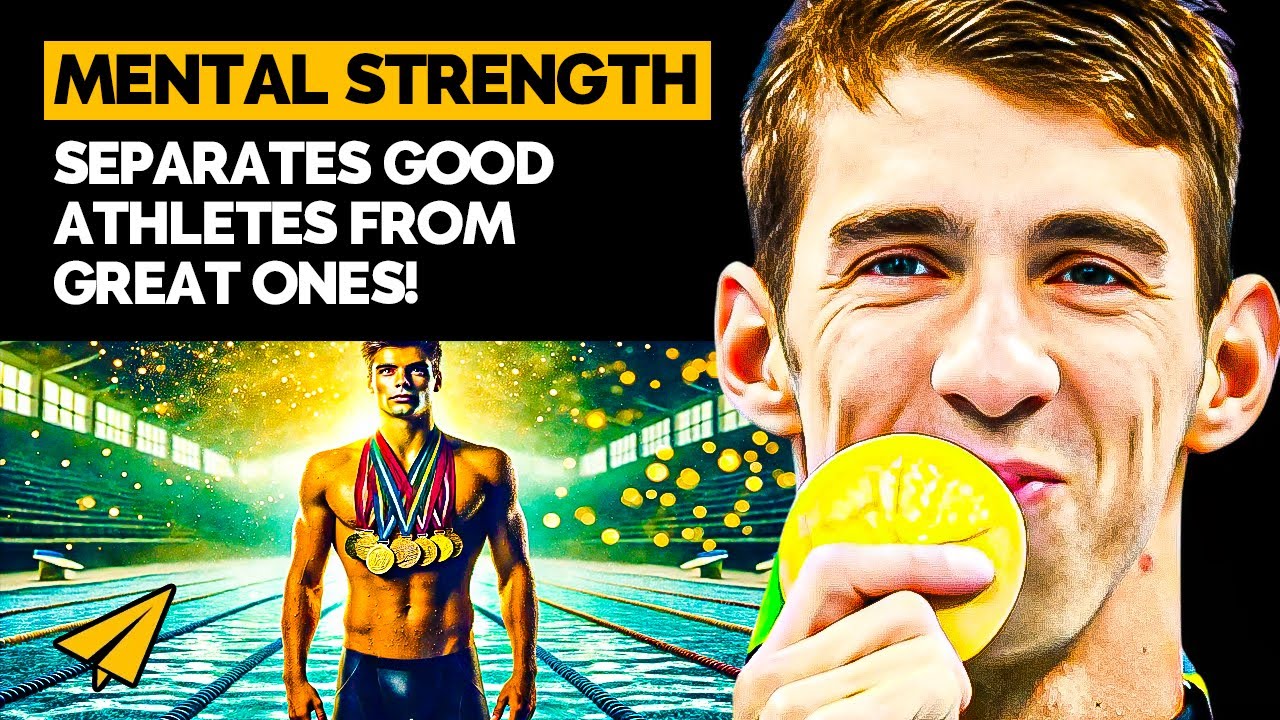 He's an American competitive swimmer and the most decorated Olympian athlete of all time. He also holds the all time record for Olympic gold medals. His international titles and record breaking performances has earned him the title of World Swimmer of the Year seven times. He's Michael Phelps, and here's my take on his top ten rules for success.
Michael Phelps's Top 10 Entrepreneurship Rules For Business and Success
Rule #1: Have Goals That Motivate You
I had two older sisters that I kind of looked up to, and for them, having the chance to travel nationally and internationally, you know, Whitney was on an international team with people I looked up to, and, you know, she'd always come back with, like, autographs and stuff, and I was like, I want to do that. I want to be on those teams.
I want to travel the world, and at that point, I was just like, I want to be an Olympic Gold medalist. I want to break a world record, and I want to be a professional athlete, and those goals that I thought about every single day kept me coming, week after week and year after year until I was able to accomplish them.
Rule #2: Be Dedicated To Your Craft
It's one reason why we trained seven days a week, why we train on Christmas, why we train on Thanksgiving, 365 days a year. I don't know of many clubs that train seven days a week. So, that gives you one extra set training session every single week where you can pick something up. So, I mean, I'm getting 52 more practices than everybody else is, and that's going to make that little our big difference in the end.
Rule #3: Don't Make Excuses
Interviewer: What do you feel separates good athletes from the best athletes?
I think it comes back to what I was saying earlier about, I mean, I think it's, a lot of it is mental. You know, if you want to do something, and you want it that bad, you'll make sacrifices, and, you know, I, growing up for me as a kid, I made a lot of sacrifices that I didn't see 'em that they were a big deal, and I don't see 'em, like, I don't think of them being, as being a big deal right now.
You know, there were Saturdays or Fridays where, you know, I'd give up going to a dance or hanging out with my friends 'cause I had workout the next day, but those things that I gave up, you know, were things that I wanted to, to help me get to my goal, and there were times where I been put in uncomfortable situations, but I've used my mental power and my mental strength to push through it.
I think that's how you, you know, you can look at any of the athletes in the world. I mean, Tiger, the guy's a busted knee and still comes and destroys the rest of the field. You know, that's the thing. It's like, people don't make excuses. There's some of the best athlete, or the greatest athletes in the world, do things when they're uncomfortable.
You know, everybody can compete when they're feeling good, happy, excited, rested, but it's the best people who can overcome when they're tired, sore, not in the great mind, you know, not in the best mindset, and I think mental power that the greatest athletes have can push all the pain aside.
You know, I mean, when I was doing that Navy Seals thing, was it easy for me to do it? No. Was it easy for me to climb over a 45 foot wall and look down? Not at all; I'm afraid of heights, but you know, I said to myself, I'm going to do this and no one's going to stop me, and I think that's the biggest thing is how strong you can be mentally 'cause I think that really shows who the person is. So, I think that's one thing that separates the good from the greatest.
Rule #4: Take It Day By Day
I think that I just, I just keep the ball rolling. I like to, I guess, have some more best times in other events. Maybe a close score that gets noticed. I don't know. I think that, it's my long term goal is to win the gold medal in Athens and go in more than one event. So, I mean, I have a lot of goals, but I think that I just want to take day-by-day.
Rule #5: Keep A Wide Open Mind
I think if he said that then it's, I means it's sort of he thinks that he can't do it. I don't think it's impossible for anybody. I mean, I think if you really just have a wide open mind, and use your imagination, I think a lot of things are possible.
Rule #6: Be The Greatest That You Can be
I think of myself as the greatest person that I can be, and that's it. I'm not going to go out of my, you know, out on a limb and say I'm the greatest this or that. I just, I was a kid with a dream, that's it, and, you know, the people before me set the bars so high, and I was a little kid that wasn't afraid to dream as big as I could, and that's really it. I, you know, like you said, we were like talking before, I was dedicated, I was hardworking, and that put me in the shoes where I am now.
Rule #7: Change The Game
You know, ever since I've moved to Arizona, it's been so wild to me, to see so many people that have come up and just been supportive, and I think that's something really special because it goes hand, it goes back to what I wanted to do with the sport, and being able just to know that this person or that person is watching at the random bar down the street or a random restaurant down the street.
I've changed things in the sport, and I've done what I wanted to do, and there are people back home, when we're overseas, that are screaming their brains out, and there's nothing cooler, like, when I come home and hear just the stories from them, and those little times, you know, could change someone's life, could pick somebody up. It's just an honor for me.
Rule #8: Love What You Do
Interviewer: This time his retirement is for real, even though he claimed the same thing after London. I remember saying to you, "Are you done?" You said, "I'm done, I'm done." I said, "The great ones never retire," Jordan.
The million dollar question, I know.
Interviewer: Sugar Ray, you said, "Nope, nope, nope," but you were boned. You weren't loving the swimming at that time.
I hated it; I wanted nothing to do with the sport then, and that's why I came back 'cause I didn't end my career like that, but I had to find the passion, myself, again, and I found that again, and I had fun, and this was, this is how I wanted to finish. How I, what I did here is the best.
Interviewer: What happened in, since London and Rio in those couple of years that turned the lights back on?
I guess I just started being me and found who I was and was happy with who I am, and that's what everybody's going to see, and that's what everyone is seeing over the last two years, me being me and being a kid and loving what I'm doing, and, you know, being able to start a family.
Rule #9: Be Grateful
There were a lot of mixed feelings after that race. I wasn't happy with the time, but afterwards, I like, I saw the time and was like, man, that's really, like, I'm not happy with that, and then I realized that I'd made my fifth Olympic team, and you know, that was something that after London, I didn't think was possible.
Taking some time off, going through some ups and downs, and being able to get through the obstacles that I had to be able to have the chance to swim on my fifth Olympic team.
It's just special to not only be on the team again and represent my country, but also have the chance to have my son come and watch my last swims ever. He might not remember 'em, but I'll have the memories for life.
Rule #10: Live Your Dreams
I don't, I don't really live the normal life as a teenager. I mean, I get a lot of, I give, I guess I give up a lot of things, but, I mean, I'm getting tons and tons of other things that normal 15 year olds aren't getting. So, I think that, I think this is the life that anyone could dream of, and I'm definitely loving it.
Thank You
Thank you guy so much. I made this because sam229a asked me to. So, if there's a famous entrepreneur that you want me to profile next, leave it in the comments below, and I'll see what I can do. I also love to know which of the top 10 rules from Michael Phelps had the biggest impact on you, meant the most to you, and why.
Leave it in the comments, and I will join in the discussion. Finally, I have to give a quick shout out to Kyu Lee-van. Thank you so much for picking up a copy of my book. Thank you guys. Continue to believe, or whatever your one word is, and I'll see your soon.
---
You might also like
---
More from Michael Phelps
---
What's up Believe Nation? It's Evan, my one word is believe and I believe in people more than they believe …
Good morning Believe Nation! My name is Evan Carmichael my one word is believe. I believe that entrepreneurs will solve all …