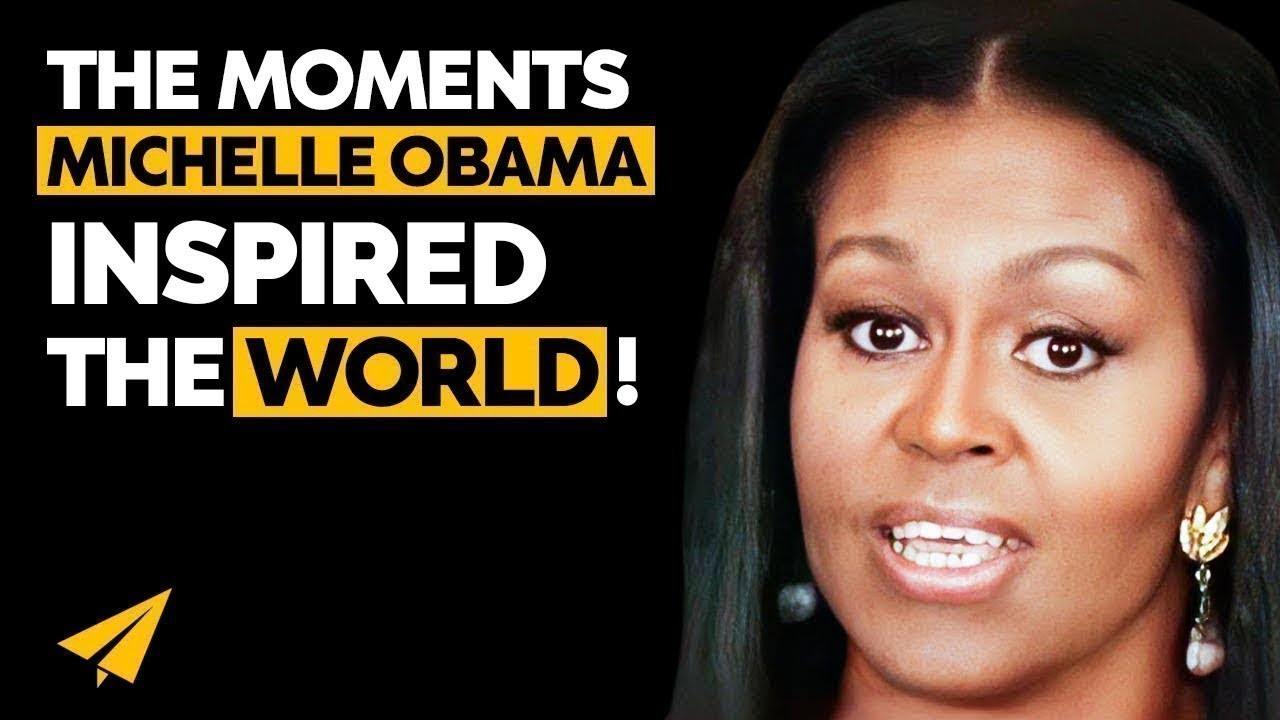 What's up believe nation?
I started the Mentor Me series to try to learn from people who've done a lot more than us and by hanging around them a little bit longer, hopefully some of their viewpoints, their mindset, their way of thinking seeps into our brains to help us become the best version of ourselves.
Today we're going to learn from Michelle Obama from some of her most inspiring moments. Mentor me, Michelle.
Rule number two is my personal favorite, and I'm curious to figure out which one you guys like best. And as always guys, as you're watching the videos, if you see something that really resonates with you, please leave it in the comments below and put quotes around it so other people can be inspired, and if you write it down, it's much more likely to stick with yourself as well.  
***
Michelle Obama's INSPIRATIONAL Moments
#1: Empower Yourself
When you are struggling, and you start thinking about giving up, I want you to remember something that my husband and I have talked about since we first started this journey nearly a decade ago, something that has carried us through every moment in this White House and every moment of our lives. That is the power of hope.
The belief that something better is always possible if you're willing to work for it and fight for it. It is our fundamental belief in our power of hope that has allowed us to rise above the voices of doubt and division, of anger and fear that we have faced in our own lives and in the life of this country. Our hope that if we work hard enough and believe in ourselves then we can be whatever we dream, regardless of the limitations that others may place on us.
The hope that when people see us for who we truly are, maybe just maybe, they too will be inspired to rise to their best possible selves. Shoot, it's the hope of folks like my dad, who got up every day, do his job at the city water plant, the hope that one day his kids would go to college and have opportunities he never dreamed of.
"Young people, don't be afraid. Be focused. Be determined. Be hopeful. Be empowered." – Michelle Obama
That's the kind of hope that every single one of us, politicians, parents, preachers, all of us, need to be providing for our young people because that is what moves this country forward every single day, our hope for the future and the hard work that hope inspires. Want our young people to know that they matter, that they belong, so don't be afraid. You hear me? Young people, don't be afraid. Be focused. Be determined. Be hopeful. Be empowered.
Empower yourselves with a good education, then get out there and use that education to build a country worthy of your boundless promise. Lead by example with hope, never fear, and know that I will be with you, rooting for you and working to support you for the rest of my life. And that is true, I know, for every person who is here today and for educators and advocates all across this nation who get up every day and work their hearts out to lift up our young people.
I am so grateful to all of you for your passion and your dedication and all the hard work on behalf of our next generation, and I can think of no better way to end my time as first lady than celebrating with all of you. I want to close today by simply saying thank you. Thank you for everything you do for our kids and for our counry. Being your first lady has been the greatest honor of my life, and I hope I've made you proud.
#2: Keep Moving Forward
You should never view your challenges a disadvantage, instead, it's important for you to understand that you experience facing and overcoming adversity it's actually one of your biggest advantages. Not just as a student working my way through school, but years later, before I came to the White House and I worked as dean at a College.
In that role, encountered students who had every advantage. Their parents paid their full tuition they live in beautiful campus dorms, they had every material possession a college kid could want; cars, computers, spending money. But with some of them got their first bad grade, they just fell apart.
"You should never view your challenges a disadvantage, instead, it's important for you to understand that you experience facing and overcoming adversity it's actually one of your biggest advantages." – Michelle Obama
They lost it. Because they were ill-equipped to handle their first encounter with this appointment or falling short. Life will put many obstacles in your path that are far worse than a bad grade. You have unreasonable bosses, and difficult client and patients.
You'll experience illnesses and losses, crises and setbacks, that will come out of nowhere and knock you off your feet. But unlike so many other young people,  you have already developed the resilience and maturity that you need to pick yourself up and dust your self off and keep moving through the pain, keep moving forward.
#3: Choose Excellence
Are you going to throw up your hands and say that progress will never come? Are you going to get angry and lash out? Are you going to turn inward and just give in to despair and frustration? Or are you going to take a deep breath, straighten your shoulders, lift up your head and do what Barack Obama has always done as he says, "When they go low, I go high."
That's the choice Barack and I have made. That's what has kept us sane over the years. We simply do not allow space in our hearts, minds or souls for darkness. Instead, we choose faith. Faith in ourselves and the power of hard work.
Faith in our God, whose overwhelming love sustains us every single day. That's what we choose. We choose love, our love for our children, our commitment to leaving them a better world. Our love for our country, which has given us so many blessings and advantages.
"Excellence is the most powerful answer you can give to the doubters and the haters." – Michelle Obama
Our love for our fellow citizens, parents workin' hard to support their kids, men and women in uniform who risk everything to keep us safe. Young people from the toughest backgrounds who never stop believing in their dreams.
Young people like so many of you. That's what we choose, and we choose excellence. We choose to tune out all the noise and strive for excellence in everything we do. No cuttin' corners, no takin' shortcuts, no whining.
We give 120% every single time because excellence, excellence is the most powerful answer you can give to the doubters and the haters.  It's also the most powerful thing you can do for yourself, see 'cause the process of striving and strugglin' and pushing yourself to new heights, see that's how you develop your God-given talents. That's how you make yourself stronger and smarter and more able to make a difference for others.
#4: Be Authentic
Next, I've always felt a deep sense of obligation to make the biggest impact possible with this incredible platform, so I took on issues that were personal to me. Issues like helping families raise healthier kids, honoring the incredible military families that I've met out on the campaign trail, inspiring our young people to value their education and finish college.
Now, some folks criticized my choices for not being bold enough, but these were my choices, my issues, and I decided to tackle them in a way that felt most authentic to me. In a way that was both substantive and strategic but also fun and hopefully inspiring, so I immersed myself in the policy details.
"I have learned that as long as I hold fast to my beliefs and values and follow my own moral compass, then the only expectations I need to live up to are my own." – Michelle Obama
I worked with Congress on legislation, gave speeches to CEOs, military generals, Hollywood executives, but I also worked to ensure that my efforts would resonate with kids and families, and that meant doing things in a creative and unconventional way.
So yeah, I planted a garden and hula-hooped on the White House lawn with kids. I did some mom dancing on TV. I celebrated military kids with Kermit the Frog. I asked folks across the country to wear their alma mater's T-shirts for college signing day.
And at the end of the day, by staying true to the me I've always known, I found that this journey has been incredibly freeing because no matter what happened, I had the peace of mind of knowing that all of the chatter, the name-calling, the doubting, all of it was just noise.
It did not define me. It didn't change who I was, and most importantly, it couldn't hold me back. I have learned that as long as I hold fast to my beliefs and values and follow my own moral compass, then the only expectations I need to live up to are my own.
#5: Refuse To Settle
We want our children and all children in this nation to know that the only limit to the height of your achievements is the reach of your dreams and your willingness to work hard for them.  And as our friendship grew, and I learned more about Barack, he introduced me to the work that he'd done when he first moved to Chicago after college.
You see, instead of going to Wall Street, Barack went to work in neighborhoods that had been devastated by the closing of steel plants. Jobs dried up, and Barack was invited back to speak to people from those neighborhoods about how to rebuild their community.
And the people gathered there together that day were ordinary folks doing the best they could to build a good life. See, they were parents tryin' to get by from paycheck to paycheck. Grandparents tryin' to get it together on a fixed income.
Men frustrated that they couldn't support their families after jobs had disappeared. You see, those folks weren't asking for a handout or a shortcut. They were ready to work. They wanted to contribute. They believed, like you and I believe, that America should be a place where you can make it if you try.  And Barack stood up that day, and he spoke words that have stayed with me ever since.
He talked about the world as it is and the world as it should be, and he said that all too often we accept the distance between the two, and we settle for the world as it is, even when it doesn't reflect our values and aspirations. But he reminded us that we also know what the world should look like.
He said, "We know what fairness and justice "and opportunity look like," and he urged us to believe in ourselves, to find the strength within ourselves to strive for the world as it should be. And isn't that the great American story?  It's the story of men and women gathered in churches and union halls, in high school gyms and people who stood up and marched and risked everything they had, refusing to settle, determined to mold our future into the shape of our ideals.
*******
Thank you guys so much for watching. I'd love to know what did you think of this video? What did you learn from Michelle that you're going to immediately apply to your life or your business somehow? Please leave it down in the comments below, and I'm going to join in the discussion.
I also want to give a quick shout-out to Cristi Vlad. Cristi, thank you so much for picking up a copy of my book, Your One Word, and posting that YouTube video review on your channel. I really, really, really appreciate the support.
Cristi: I'm going to tell you about a few insights that I got from Evan Carmichael's book Your One Word.
So thank you guys again for watching. I believe in you. I hope you continue to believe in yourself and whatever your one word is. Much love, I'll see you soon.

---
You might also like
---
More from Michelle Obama
---
Good morning, Believenation! My name is Evan Carmichael. My one word is believe and I believe that entrepreneurs will solve …
Experience. Facing and overcoming adversity is actually one of your biggest advantages. You got to be open to taking some risks …
Good morning believe nation! Today's message is, get up, over to you, Bill Clinton. Bill Clinton If whatever it is doesn't work out, …