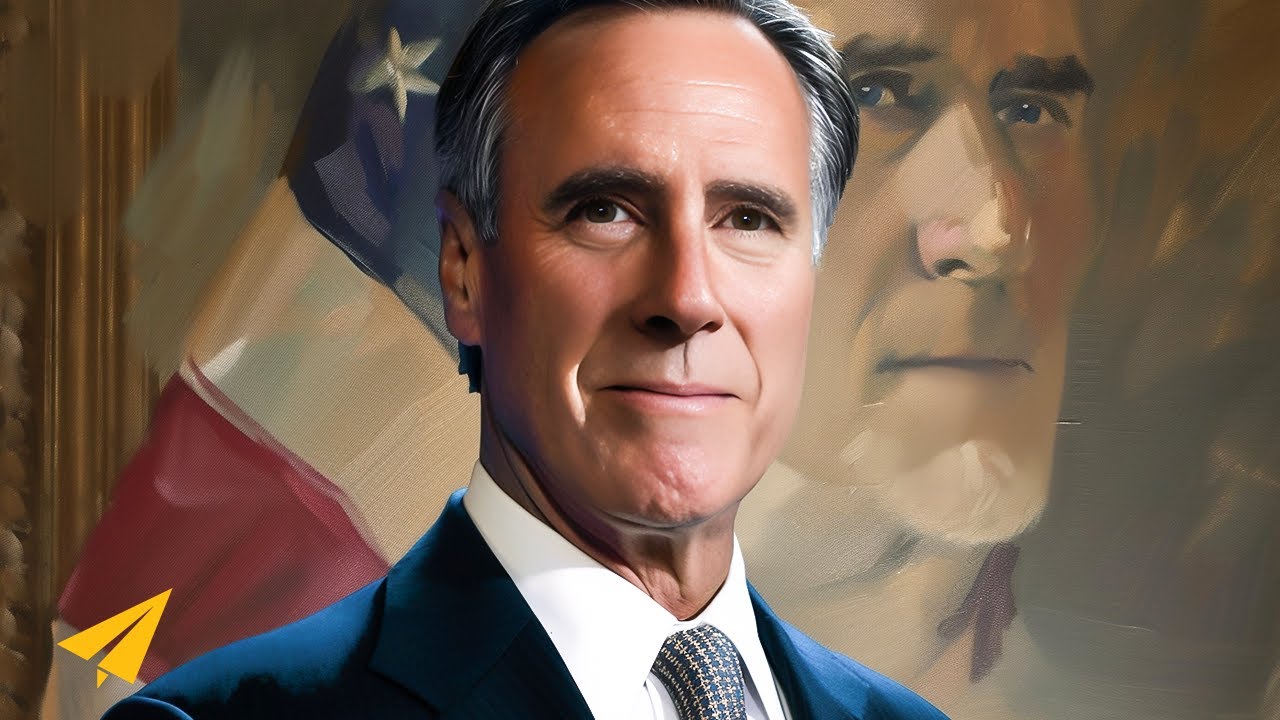 He's an American businessman and politician. He has a net worth of 250 million dollars. He co-founded and led the spinoff company Bain Capital. He is Mitt Romney and here are his top ten rules for success.
Mitt Romney's Top 10 Entrepreneurship Rules For Business and Success
Rule #1: Have Clear Objectives
I believe having a clear vision of where you want to go and being able to articulate that to yourself. Perhaps writing it down. I take out the notes section of my iPad and will write down what it is I want to accomplish and think about precisely what I hope to accomplish with a particular assignment, so I'll write that down. So having a clear objective, I think, is important.
Rule #2: Stop Thinking, Start Doing
You hear the expression all the time, you know, the grass is greener on the other side of the fence, but don't forget, you can only make the grass greener on your own side of the fence. You can't change the color of the grass over there. You can only change the color of the fence on your side.
And so, the real issue is, where is the best opportunity? Where can you find opportunities in your life? Where is an opportunity, for instance, to start a new business? I've met a lot of entrepreneurs who started business and most folks think that they're going to sit down in their study and think and think and read magazines trying to find some opportunity that'll allow them to become rich by starting a business.
I haven't found a lot of people do that. Most of the people that I have found that were successful in starting a business of their own looked around them in the job they already had and looked for opportunities that weren't being filled by their current enterprise. Looked for customer needs that weren't being met. Looked for something that just wasn't working particularly well.
Rule #3: Failures Are Inevitable
Through all the occupations I've had I've experienced successes, and as you know, failures. I'm asked what it felt like to lose to President Obama. Not as good as winning.  Failures aren't fun, but they are inevitable. More importantly, failures don't define who you are.
Some people measure their life by their secular successes. How high in the corporate ladder they got, how much money they made. Did they do better than their high school classmates? If that's the kind of success you're looking for, you're bound to be disappointed. Life has way too much chance and serendipity to be assured fame or fortune.
Rule #4: Have A Life Coach
You need to have a life coach. You need to have someone who'll tell you the truth. Tell you that the perfect mate you've been looking for is no more perfect than you are. Tell you when you're wrong. Tell you what you need to do to make things right.
I can assure you that finding someone who cares enough about you to tell you the truth and then is willing to take time to give you their counsel and their coaching, that's invaluable. Look for it.
Rule #5: Do What You Enjoy
My path in life has primarily been focused on doing things I thought were fun and enjoyable. And so, that was fun. My undergraduate major was English. Everyone said, "Why would you go into English, "I mean there's no future, right, as an English major.
"What are you going to do," right? But I liked reading and I liked writing so I took English as my major and then coming out of business school, law school I went into consulting 'cause I enjoyed it. Not because that's where I thought I'd spend my life.
I expected that I'd be there for two or three years, like most people do, and then get a job in a line corporation of some kind and perhaps move up more aggressively by having started in consulting. I loved consulting because I am oriented towards solving problems, I like analysis and data and problem solving and writing and writing presentations, that's what I like to do.
That's what took me there and so, I would follow the career path that you enjoy most as opposed to trying to follow a career path that you think will lead to the highest income or the quickest promotion. Do what you enjoy and then your life will be enjoyable and fulfilling.
Rule #6: Launch Out Into The Deep
Now I'm going to draw a familiar account from the life of the Savior to help me describe what I believe is the secret to abundant living. You recall that Peter and the other fishermen had been unsuccessful in catching fish and the master directed them to return to their boats to go out deeper and to let down their nets again which they did and when they did so they were met with enormous success.
These were the words that Luke records that the master spoke, he said this, "Launch out into the deep and let down your nets. "Launch out into the deep and let down your nets." In some ways, these words are a metaphor for life. Launch out into the deep, don't live in the shallows.
Live in the deep waters, grasp every ennobling experience that's available to you. Embrace every dimension of living that challenges you, that educates you, that elevates you. Live for purposes greater than yourself. Lose yourself in the service of others. Reach beyond the shallowness of selfishness and complacency and mindless conformity and of indulgence. This is the promise, launch out into the deep and your nets will be filled.
Rule #7: Keep Your Life In Perspective
I did something to keep things in perspective, to keep myself grounded. At the top of a sheet of paper that was always placed on the podium so we could make notes during the debate, just before the debate kicked off I wrote at the top one word, dad.
I also drew a small image of the Sun and throughout the debate when I glanced down at that paper to look at my notes that I'd taken, I was reminded of my father's fearlessness in fighting for what he believed was right. And the Sun, that reminded me, of course, of that familiar scripture, let your light so shine.
Win or lose that debate, I hoped I would never do anything that would dishonor or discredit the things I hold most dear. Now during your life you're going to encounter circumstances that make you sweat. For many of you, the exams and tests won't be over when you graduate and you're all going to stand at podiums, stand in front of a boss to ask for a raise, or work on some critical project in your employment that'll make a big difference in your life.
At moments like those perspective is a very powerful friend. You can welcome perspective through preparatory prayer, by considering the blessings of the temple, or by simply glancing at your CTR ring. Find ways to keep your life in perspective.
Rule #8: Devote Time For Family
If you're spending all of your time in one aspect of your life and not devoting it to other things that are important to you, then obviously things are out of whack. A couple of things I backed into. You're in the joint program, business law program.
I came from Brigham Young University to Harvard and was convinced that I would flunk out. 'Cause I looked around and I saw all these people who were obviously smarter than me and how was I possibly going to make it in this environment except by just studying like crazy, and so I studied all the time.
And if I was not studying, I felt like there's this black cloud hanging over me. I should be studying, I've got to be working, because I'm going to flunk out. And it was omnipresent, and at some point I finally said, you know what, I'm going to do something which goes back to biblical times.
I'm going take Sunday off, I'm going to decide I'm not going to study at all on Sunday and I'm going to devote that day to my family, to worship, and just personal time and it was amazing what happened when I made that decision because then on that Sunday I didn't feel the black cloud there anymore.
It's like, OK, I can't study today. I don't have to worry about it. And the same thing happened as I went into my career in the consulting industry. I said, you know what, I'm just not going to work when I come home at the end of the day.
It may be a late night, it may be I get home at six or seven instead, but when I come home I'm going to close my briefcase and not work, and I'm going to devote the time I have at home to my family, and it was wonderful. It was freeing, because I could really focus on the things that I cared most about in life, which were my wife and my kids.
Rule #9: Do Your Present Job Well
Your job will expand your skills, it will demand your ability, your energy, and your time. Hard work, ennobling work. Dive into your profession with passion and heart. Go beyond what's expected or required and in doing so, by the way, you will learn the secret to advancement. And that is doing your present job well.
Rule #10: Your Choices Shape The Lives Of Other People
Each of you here will influence other lives. Think of that. Perhaps you'll shape history. Perhaps you'll shape one person's history. Consider with care how you act, what you say, and to what you're going to devote your life to, because I assure you, your choices will shape the lives of other people.
Thank You
Thank you guys so much. I made this because iambergeson asked me to. So if there's a famous entrepreneur you want me to profile next, leave it in the comments below and I'll see what I can do.
I'd also love to know which of the 10 rules meant the most to you, had the biggest impact. Leave it in the comments, I'm going to join in the discussion. Thank you guys so much for watching. Continue to believe, and I'll see you soon.
---
You might also like
---
More from Mitt Romney
---
Hello, Believe Nation. Today, we're going to talk about how you can keep things in perspective. And as always, guys …