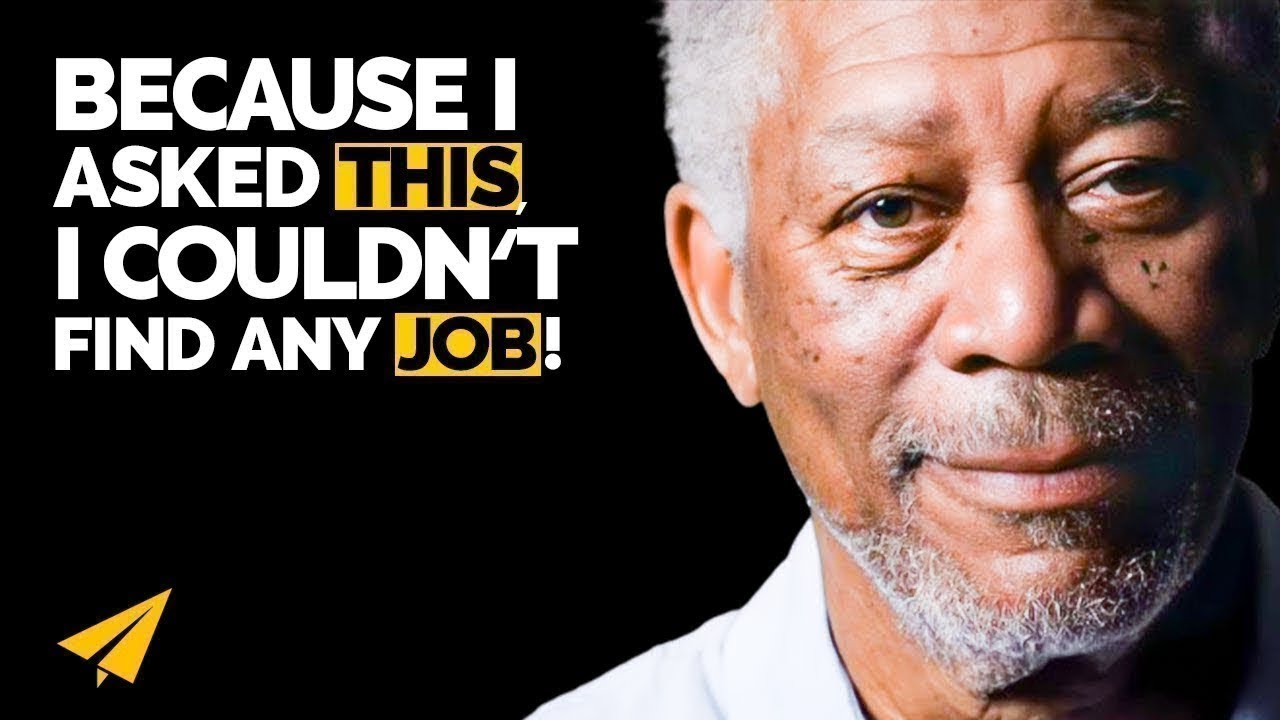 Got on the elevator in L.A. one day and the lady said, Oh, I just saw you in the Hudsucker Reduction.
I had a long haul, from where I came from to here, but here we are.
Your job as an actor is to give it your best shot, every time.
So, there was a period, there in the early 80's, when I didn't get any work because I would ask these questions.
Morgan Freeman's Top 10 Rules For Success
Evan: He's an American actor, producer and narrator.
He is known for his distinctively smooth, and deep voice.
He's ranked as the third highest box office star with over 4.3 billion dollars in box office gross.
He's Morgan Freeman and here's my take on his top 10 rules for success.
---
Morgan Freeman's Rules
Be who you are
Build word-of-mouth
Be courageous
Always do your best
Live your craft
Find your path
Just do it
Learn from others
Hold on to your values
Have fun
Rule #1. Be Who You Are
To collect unemployment, you have to go out and hunt for employment. You have a code and mine was a clerk typist; so, you go out and you look for work as a clerk typist. And one day, I just, I can't keep being forced to be a clerk typist. So, I went to the employment office and I asked to see the supervisor.
And I was lead into this office, this pretty little lady, redhead, whose name was Mrs. Lipton, what can I do for you? And I said, you're forcing me to be something I'm not. I have to go out and look for work as a clerk typist, I'm not a clerk typist, I'm an actor.
So, I just can't keep doing it this way. She took this thing and stamped my employment book, and said you've got six months, go be an actor. So, if Mrs. Lipton is alive today, Mrs. Lipton, I'm an actor.
Rule #2. Build Word-Of-Mouth
The box office success when The Shawshank Redemption came out was Dumb and Dumber.
I'm just not going to laugh.
Well, no, but that's, you know, the juxtaposition of box office and, what's that other term, critical. Shawshank got really good reviews, but because nobody could say Shawshank Redemption, it didn't get word of mouth. And I don't care how much you promote a film, if you don't have word of mouth, you aint promoting it.
People have to be able to go and say, listen, I saw this really terrific film, it was called,  Shanksham – Shimshunk –  Got on the elevator in L.A. one day and the lady said, Oh, I just saw you in the Hudsucker Reduction.  So, that was the reason it was not a box office success. No word of mouth at all.
Rule #3. Be Courageous
Don: Here's a stat from your show, and it says that the richest 85 people on this planet have as much money as the poorest 3.5 billion.
Yeah, right, that's on the planet however. You know, that's – Don: It's not far off here in America.
No it isn't far off in America, but we still hear, don't abandon the idea that it isn't finite. It isn't finite if you were born, where were you born?
Me?
Yeah, you.
Baton Rouge, Louisiana, Baton Rouge General Hospital.
Baton Rouge, Louisiana, I was born in Memphis, Tennessee. I had a long haul from where I came from to here, but here we are.
Don: Right.
So, proof is in, the proof of the pudding is in the eating and here we sit at the dining table.
But it's hard to, when you say that to some people, because they say, well, there you go with the pull yourself up by the bootstraps thing, and, you know, you're just being respectable. Not everybody can do that.
Bull , everybody can. Everybody doesn't. Courage, courage is the key to life itself. There are a lot of people who are born in situations where they say, well, I'll never get out of this, so, they won't. I say to people who say, well, I would like to have done so and so, so and so, and I say, well, you could've done it. They say, well, I couldn't get out of here, well, man, the bus runs every day.
You're exactly right.
Yeah.
If you can conceive it in your mind,
If you can think of it, you can do it, that's the human condition, if we can imagine it, we can do it.
Don: Right.
And I think that's the condition of each individual human.
Rule #4. Always Do Your Best
Your job as an actor is to give it your best shot every time, so, yes, I'm going into it with the idea that I'll play it to the best of my ability and they wouldn't give it to me, the role, if they didn't think I was capable of pulling it off, or, I wouldn't take it if I didn't think I was capable of pulling it off.
Rule #5. Live Your Craft
So what advice would you give purely in an acting sense, to yourself, 30, 40 years ago?
Same advice I gave myself 30, 40 years ago, get a job.  Act. There are, unfortunately, those of us who say, well, I want to be a star, that's way out there in the ether somewhere. I want to be a working actor, you can pull that off. So, act, work, work. Someone asked me once, and you're about to do it,  what would you do if you weren't an actor?
If you didn't make it as an actor, what would you do? I have no idea, I would act somewhere. Maybe I'd be driving a cab, maybe I'm working somebody's yard, whatever I'm doing, I'm going to belong to somebody's little theater group, I will act, cause I'll die if I don't.
Rule #6. Find Your Path
I got into the air force because I was, as it turns out, I was romanticizing that whole idea, you know, we were re-fighting World War II as I was growing up, so, we had all these heroic movies, and I fell in love with the idea of flying. And, then, when I got into the air force, I had this big eye opener, that racism was rampant there also, and that I didn't, I am not as qualified or as suited, is a better word, for military life, that kind of, unquestioning obedience to a lot of things that I think are stupid, didn't quite go over well.
So, when I got out I was an early discharge. It was almost dishonorable you know, cause I just really didn't fit but the catalyst, actually, was I did get to sit in a jet trainer cause I had a lot of people behind me to get me into flight school and stuff, but sitting there, it occurred to me that this is absolutely not what I want. It isn't movies, it's for real, you know, this little red button on the joystick controls guns with real bullets.
I sat there for quite a while and knew that if I made a strafing run, I needed a camera here, and I needed the people to be able to get up and go back to number one.  So, I got out of that plane, on the runway, at North Island Air Station, a Naval air station, and I walked away from that and towards acting. I knew that it was all about the movies. It was all about the movies.
Rule #7. Just Do It
I got on stage the very first time when I was eight years old, I was brilliant. Then, I got on stage again four years later, when I was 12, brilliant again. So, by the time I was 13, it was pretty much a foregone conclusion in everybody's else's mind, teachers, parents, that acting was going to be my thing. I hadn't, like made a conscious decision that I'm going to be an actor, I don't think you do, I think you just, that's what you do.
Rule #8. Learn From Others
The first stage play I did in New York, I was working with Stacy Keach in Viveca Lindfors', that was a great experience for me. You talk about a masterclass, you have it there. Stacy had come out of Yale University, I think, and he was much more advanced as a stage actor than I was, but wow, did I have big ears, and was I ready to learn; so, you just sit and watch. It's always a learning experience.
The big thing I learned from working with Pearl Bailey was professionalism, she was a total professional, total, total, total professional. She always gave 100 percent, 110 percent in a performance. And I watched her very carefully. She was one of those performers that you say, this is the way to go, this is the way to be, in this business. Be on time, know what you're doing, do it full out, give all you can, that's a lesson.
Rule #9. Hold On To Your Values
As I said, I went to the movies all the time. I've seen the movies, and at some point it struck me rather dramatically, how much I wasn't in the movies. Not the way I needed to be in the movies. And, if you look at a lot of the disaster movies in that period, the only people left on the planet were white, so, now, my thing is if I get in the movies, I want to make sure, that I speak about that.
That if I am able to do it, I want to talk about it. So, there was a period there in the early 80's, when I didn't get any work because I would ask these questions. I auditioned, oh, I don't think I even got to audition, I interviewed for the movie, The Thing, the remake. So, I read the script, and I go back for the audition, and the producer or the director, one of those, said, did you read the script, I said, yes.
What did you think? I said, well, you've got 11 people at the South Pole, eight of them are scientists, and then you have a cook, a mechanic and something else, they're all black, none of the scientists are. What do you think I think? Needless to say, I didn't get that job.  Again though, you know, providence rears her beautiful head, when Glory came about. I was just floored, cause I knew about the 54th Massachusetts Regiment from a one page thing on This Day in History in Jet Magazine.
She talked about this Sergeant who was awarded a Medal of Honor for his activities at this charge with this outfit. So, the history is there, it's there to draw upon. But, we could ask ourselves, we, me, black people, why aren't we, why don't we figure more in it? I need something that's going to engage me, that makes me sit up and think. I refuse to take part in anything that is going to denigrate a people.  Especially me.
Rule #10. Have Fun
Jimmy: Alright, here we go, ready? Do you ever want to go to space?
I really shouldn't be doing this.
It's helium, it's helium, Morgan, it is helium.
It's very undignified.
I think your voice sounds great, it's not undignified. Some people just have voices like this so you're actually making fun of those people.
See.  I told you.
I want to thank you so much for being on the show, and, please, would you ever like to come back?
I'm never coming back.
Thank You!
Evan: Thank you guys so much for watching, I made this video because JP Annett asked me to, so, if there's a famous entrepreneur that you want me to profile next, leave it in the comments below, and I'll see what I can do.
I'd also love to know what you learned most from Morgan Freeman, which of the 10 clips had the biggest impact to you and why, what change are you going to make in your business or life as a result of watching this video? What's the impact? Leave it in the comments below and I will join the discussion.
Finally, I want to give a quick shout out to Kris Schantz from www.happyworker.com. Kris, thank you so much for picking up my book, it really means a lot to me. For those of you watching, if you want a chance at a shout out in a future video, make sure to grab the book and also email in your receipts so we can keep track.
Thank you guys so much for watching, continue to believe or whatever your one word is, and I'll see you soon.
---
You might also like
---
More from Morgan Freeman
---
Good morning, Believenation! My name is Evan Carmichael. My one word is believe and I believe that entrepreneurs will solve …
Good morning Believe Nation! Today's message is live and breathe your craft. Over to you Martin Garrix. Martin Garrix When I was like …