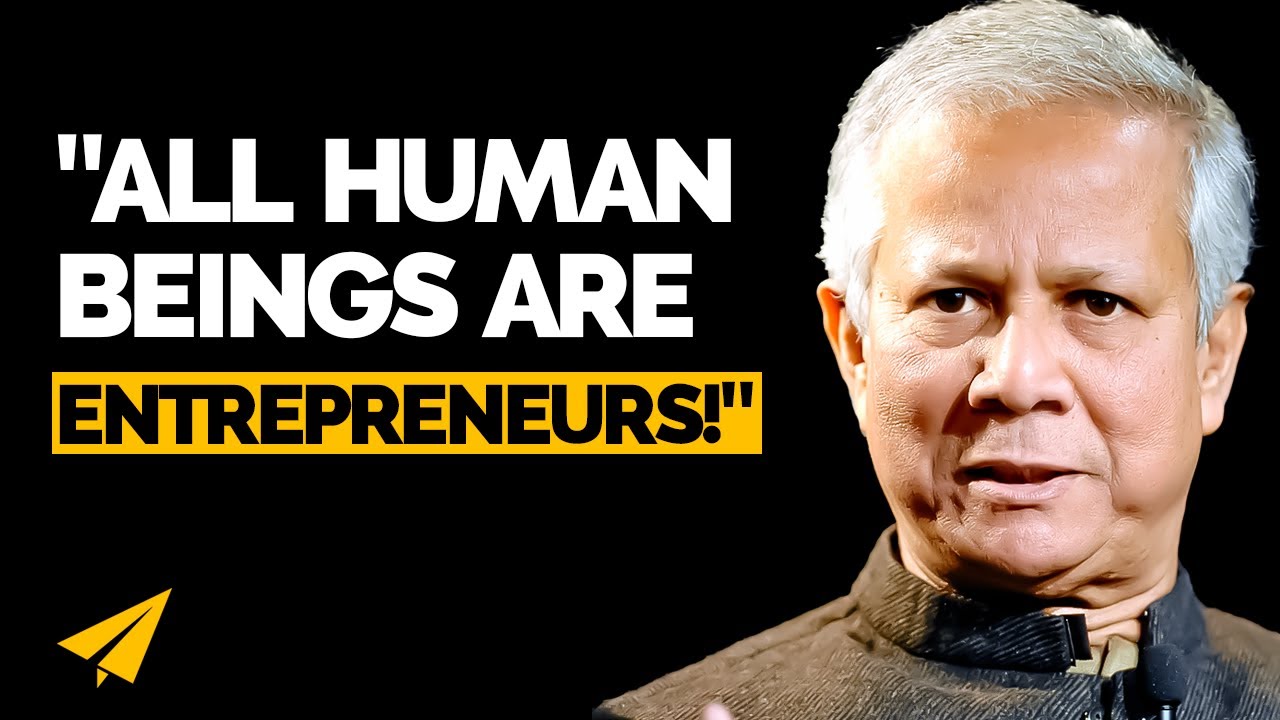 He's a Bangladeshi social entrepreneur, banker, and economist. He was awarded the Nobel Peace Prize for pioneering the concept of microcredit and microfinancing. He also serves on the board of directors of the United Nations Foundation. He's Muhammad Yunus and here is my take on his top 10 rules for success.
Muhammad Yunus's Top 10 Entrepreneurship Rules For Business and Success
Rule #1: Start Very Small
Imagine big things, but always, this is my recommendation personally, always start very small. As small as you can get. Don't get caught up with your imagination to jump into it right away. Your first tiny step will make this all happen. So, limit yourself into tiny little thing of change. And make that happen. It's easy, it's not difficult if you make very simple, very easy.
Rule #2: Challenge Things
Don't get scared if you don't know something. Don't feel that you have to very smart to do something. Stupid people like us do things, it works out. So, that's the fun part of it. Don't feel scared about challenging things. Conventional bankers always telling me we can't lend money to the poor people.
You know why? Because they're not credit worthy. I have heard it millions of times telling me that they are not credit-worthy. I wondered, should the banks tell people whether they are credit worthy or not? Or that people should be telling the banks whether they are people-worthy or not?  You reverse it. You reverse the whole question. Then you get it. So, doing the opposite way, doing the stupid way is not a bad thing.
Rule #3: Don't Be Money Centered
Everything that we do in the business world is focused on making money. That's what the indicator that you try to assess how successful we are. In the business world there's nothing else. So that kind of squeezed out all kinds of social orientation of human life and human activity.
And that's not a tenable situation. And that untenable situation is created by the structure that we have. I said, business doesn't have to be always money-centered, always self-centered. All, many times obsessed with money. Because human beings are not always about money.
Human beings are much bigger than just money making machine. We are not robots. We are human beings. We take care of ourselves individually. At the same time, we take care of everybody else. We take care of the planet itself. And business world doesn't have that orientation. At the moment. We can do that. We can create different kind of business which is not money centered.
Rule #4: Don't Wait For A Certificate
The designing of education system is very important. It's not, I tell again, this is also relevant for education system. I tell that you don't have to wait to finally graduate, to finally get your master's degree or whatever degree, to become an entrepreneur. You can become entrepreneur anytime you want.
Any class you are in, whether it's junior, high school or senior high school, doesn't matter. 'Cuz you are an entrepreneur. You don't wait for a certificate. You wait for a certificate when you are look for a job because you need these piece of paper to get in. This is your entry document to get in.
But entrepreneur doesn't need it. That doesn't mean that you don't need education. You need education to the extent that you are interested in, not because of a certificate. So, certificate orientation can go, if you are an entrepreneur. And make sure what are the things interest you and get to those kind of educations.
Rule #5: Behave Like A Job Creator
Who told you to have jobs? Did your teacher tell you to have jobs? Did you read it in your textbooks? Of course they cannot answer that question. I said forget about jobs. Job is a very old-fashioned idea. Obsolete idea. That should have ended in the last century, but somehow it sneaked in. Get rid of it.
You keep telling yourself again and again, I'm not a job seeker, I am a job creator. And behave like a job creator, think like a job creator. Suddenly you see completely different thing emerging in front of you. It's in your head, which causes a problem, not in your ability.
You have the ability to become entrepreneur. And I tell them that all human beings in the world are entrepreneurs. That's in our DNA. That's in our blood. That's how millions of years we've lived in this planet by using that entrepreneurship.
When we were in the caves, we're not sending job applications from cave number five to cave number 15. Do you have a job for me? We created a tradition of go-getters. We are go-getters. We are problem solvers. Some people mistaken it, convert it into job-seekers as if human beings are not born to work for somebody else.
Human beings much bigger than that. But the moment you accept a job, you limit yourself. Your life is made into tiny little thing. Which yourself is huge big thing. Your creative power can go any direction you want. That's what you should be.
Rule #6: Find Your Inspiration
Interviewer: Who have you seen as an inspirational figure?
Well, I'm sure many people. Probably in the early stage when I was growing up, I would say my mother was my inspiration because she didn't go to school, study very much. 4th grade, 5th grade, probably. That's all the education she had. But very unique character. Very open, very helping person.
She always inspired me in that, whatever that she did. The other one inspiration I get from the people that I work with, all these women that work in the village. How hard their life is and how they work so hard to make a little difference in their life.
To make sure their children don't have to go through the misery that she has gone through, that's the only thing she does. And she's so committed, given this tiny money she gets in her hand. She tries to get the best mileage out of this money.
When she receive this first money, when you give her loan from Grameen Bank, as I said, initial loan being about 30 dollars or 35 dollars, when she holds this money she literally shakes, she cannot stand still because she did not believe anybody could trust her with such an enormous amount of money.
She thinks this is such a huge money, she doesn't know how to handle that money. So, that's what the shaking part comes. And inside of her she keeps promising anybody who has trusted her all this money didn't ask for anything, just gave her the money on the basis of their trust.
She will give her life to make sure that trust is kept. And her eyes will be, tears will be running down from her eyes not believing that it's real. It's not a dream, it's a real thing. And the rest of her life she struggles to make sure she makes that thing true that yes, her trust will never be broken. And that's what keeps the whole Grameen bank microcredit together, the relationship of trust between the two.
Rule #7: Reinvent Your Purpose
We think making money is the purpose of the life. Purpose of life is not making money. Purpose of life is to make oneself happy and the rest of the world happy. But that purpose is forgotten, so we have to reinvent the purpose. What is the purpose of our life? That's what the young people are looking for.
Human life is about creativity, about doing things so that it becomes a legacy, build a legacy for yourself. That's not what we do in business. In business, we have a big, big stack of cash and that's where I'm going to say goodbye. We have the capacity to change that thing. Nobody should be unemployed, nobody should be poor. It's for the same reason. We are capable. Nobody should be wealthy and dependent.
Rule #8: Don't Limit Your Imagination
Imagination is the real power. I imagine about the app to transport me into your site. All the crazy things that you can think about. When you imagine, don't put a limit. Be as wide as you can be in creating the image of the world that you want to create.
Without any hesitation, without any limitation. Be as wide as you can be in your imagination. As if you are writing a social fiction. We like science fiction all the time. But unfortunately we don't write social fictions. Fictions are the driving force, like in science, in technology, science fiction becomes a driving force. It makes things happen. Similarly, if you have done the social fiction, it will make it happen.
Rule #9: Have Confidence
Interviewer: Let's imagine that I was one of Grameen Bank's clients and I have the loan. But what mindset do I need for myself to succeed?
Well, succeed that you take a loan to start a business, that's what you explained to the bank that this is what I'll do. And you'll focus on that that I have to be successful in this and make sure that I can pay back all the money out of the income that I make out of the investment that I did.
And that focus is very important and self-confidence that I can do it. Because many borrowers, maybe like you, never had any experience before. Taking money from somebody else and doing things and paying back. They never handled money in many cases because their husbands handled the money.
The first time they are handling money, so they are scared to death. So, have confidence, make it happen, go step by step and then, once you have been successful in getting the money back, you become very confident, you did it. 'Cuz you go through the whole process, became more successful. That builds up tremendous amount of success.
Rule #10: Create The Better World
What the thing that I see about the world, what it should be, is all a question of imagination.  If we imagine today what kind of world we want and that's the world will be created. Everybody has freedom to imagine in his or her way. My imagination is we want to create a world which will be absolutely free from poverty.
Meaning that there'll be no poor person on this planet anywhere in the world. And once we create that, we'll create poverty museums. So that people who'd like to know what is it that used to be called poverty? How did it happen? So, they will go into poverty museum, they take their children to poverty museum.
That's the kind of the world that I would like to build. And that will be the world where there'll be no unemployment. And when you tell people, oh, they used to unemployment, there was a big crisis, there's a lot of unemployed people and the young unemployed.
And people will be wondering, what is unemployment? Why should anybody be unemployed? They have capacity. Why a one human being should be unemployed? What does it mean?  They'll be writing thesis to understand what is unemployment, why did it happen those past years.
And nobody should be on welfare. Why state has to take care of people or any charity organization has to take care of people. Because human being has everything inside. How come we couldn't provide the facilities so that you can bring those capacities and contribute to the world? And we would want to create a world where there'll be no unnecessary debts.
We pride of our technology, we pride of our knowledge. Simple thing. Why human being die of preventable diseases? Those diseases should be gone. So, that's the kind of world and a world where we will not make this planet more dangerous than it was before.
We'll make it everyday it will be more safe than it was yesterday.  So, we start thinking about it. And we start working towards it and it will happen.  When we keep fictions, social fictions, it will happen. Like we do science fictions.  We'll go to the moon, that was a science fiction.
We go to the Mars, that was a science fiction. We go to another galaxy, that's a science fiction. Because we make those fictions, science follows them, make it happen. In the science fiction, there is something we start talking to each other.
If imagination can do it, the reality should be able to do that, too. And it is becoming more and more possible because all the science and technology is in the hands of us right now, much more than any time ever in history.  Why can't we make things happen now? What is our excuse? Why should anybody be uneducated in this planet? Is it because of cost? Cost is gone.
Science has made it possible, technology has made it possible. You don't have to just come to one classroom. The same class can be taught all over the world. And every single thing can be done.  If we do not imagine, it will not be done. If we imagine, someday it will happen.
Thank You
Thank you guys so much. I made this because Tawhid Rahman asked me to. So, if there's a famous entrepreneur that you want me to profile next, leave it in the comments below and I'll see what I can do.
I'd also love to know which of Muhammad's top 10 rules had the biggest impact on you. Leave it in the comments and I will join the discussion. Thank you so much. Continue to believe and I'll see you soon.
---
BONUS
Don't Sacrifice Your Creativity
Like I explained to young people in Bangladesh in a language that probably they understand. I said, why should you go for a job? Because if you take a job, you start at the bottom. Nobody will give you a top job when you first time you get. So, you take orders from your immediate boss and then there's a series of bosses on top of it.
So, all your life is trying to satisfy your boss. All your creative power you sacrifice it. Why should you sacrifice your creative power? I said, if you're going the entrepreneurial path, you want to become entrepreneur, you always start at the top because you are the boss.
You are the one who decide. You create, you bring all your creative resources into the picture, all your creative capacity in the picture. So, today we sacrifice ourselves that we don't bring our creative power because of the system of taking jobs.
---
You might also like
---
More from Motivation
---
Watch Evan Carmichael's Top 10 Rules For Success video. Famous Entrepreneur Quotes Evan Carmichael's Quotes "Changing my environment had a dramatic impact …
Watch Mark Hamill's Top 10 Rules For Success video. Famous Entrepreneur Quotes Mark Hamill's Quotes "I love the allure, the danger, of …
Watch Brandon Beck's Top 10 Rules For Success video. Famous Entrepreneur Quotes Brandon Beck's Quotes "Whether you think you can do it, …