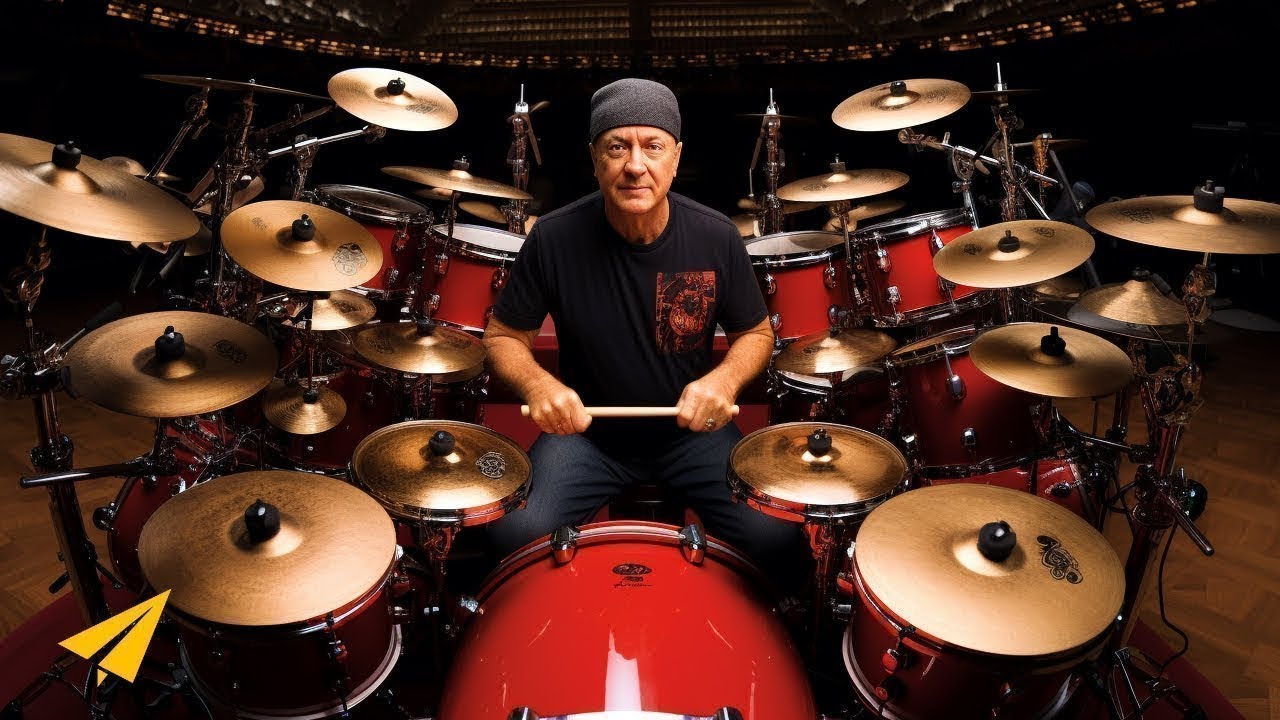 He's a Canadian American musician and author. He's best known as a drummer and primary lyricist for the rock band Rush. He's received numerous awards for his musical performances. He's Neil Peart and here's my take on his top ten rules for success.
Neil Peart's Top 10 Rules For Business and Success
Rule #1: Earn Your Audience
You know, I don't take for granted that people just admire what we do, so whatever we do, they'll admire. No, you know, I feel like, in fact, this is very true; every audience, I feel like we have to earn them. You know, we have to earn their dedication and their expenditure of time and energy and money to be there.
Every single time. You know, every show. It's an old show business thing, but I really feel that you're only as good as your last show. That's the one thing I do like about touring. If you have a bad one, you've got another chance.
Rule #2: Be Restless
Interviewer: It seems like you're a man of extremes. Like, you don't just drum, you drum on one of the largest kits there is. You don't just ride motorcycles, you ride 50,000 miles.
I'm an extremist.
Interviewer: Even when you describe your appetite for reading, too. It seems like a voracious appetite for reading. Is that what got you where you are as a drummer?
I would expect that it all comes down to a kind of restlessness. When people talk about boredom, for example, I can honestly say I've never been bored for a second in my life, but I've always found another way not to be. If I have to go to a medical appointment or something like that, I bring a book with me.
So, that waiting is not going to be a hardship. With the early days of touring, when all that dead time was hanging on me, reading. Portable, useful, nurturing; all that stuff. So, I think I combat… You learn to adapt to your own personality and the extremes do come in there, too. I wanted to read every book ever written.
Drumming-wise, my determination was more important than talent, early on. I think, for most things, you do have to have a bit of a knack, but I had to work so hard to learn so many things, but I was relentless in terms of determination.
And with traveling, when I've got a day, I'm tempted by what's the most excellent thing I can do which might be way too far or way too long, but I'm going to go for that because it's the most excellent thing I can do. And with writing, it just seems unstinting in the same way because I just kind of know when I've done my best on it.
Maybe an editor can help make it better and maybe somebody else could have written it better, but I have a good built-in sense of this is the best I can do.
Rule #3: Get Out Of Your Comfort Zone
I kind of accepted the definition and applied it myself. Yes, I'm a compositional drummer. And then, in the same breath I went, wait a minute, I want to be an improvisational drummer. You know? And also push myself out of my comfort zone.
Even my solos, in the past, were always improvised over a carefully structured framework. But, I wanted even that to be freer. To say, okay, it's a performance in front of people, so it's not going to be like, just coming here and playing for a couple of hours for myself. It is a performance and I want it to have a certain standard of repeatability.
You know? So that it's going to be satisfying for me and for the audience every night. So, that's a hard line to walk, too. But, I did work over the course of the tour to achieve that. And, I think we did 44 shows on this first part of the tour in this summer and this fall.
Towards the end, I was getting so outside of. I remember I thought, bolero! I'm going to put bolero over top of the shahato. And did it! What I love about my warm up, too, it has the same freedom. About a half hour before show time, I go in and play for about twenty minutes and just play. It's the same thing.
I usually use those three rhythmic elements that are my foundation right now. But there's no consequences. It doesn't matter what happens. So I would just, in my warm-up that night, I tried putting a bolero over the top of it and it worked.
I said, okay, and it went in my solo that night. And that certain freshness that I loved, that I'd been building on more the last couple of tours, is being able to do that. To say, okay, I've almost got this, I've almost got this, I'm going to try it.
Rule #4: Learn From Others
We were an opening act for so long and we had a really good relationship with the guys in Kiss and their crew. We opened for Aerosmith like 40 times and never got a sound check.
I mean, Blue Oyster Cult, Ted Nuggent, if you name any band from kind of the mid-70s, we probably opened for them, because we were an opening act. And then we started headlining small halls and still be opening shows in between. So, we had that mixed bag for a long time, which really contributed to our balance, I think.
We learned a lot about character studies from watching other people. And some of the lyrics that I've written on the subject and thoughts that I've expressed on the subject of fame and celebrity are from witnessing how people like that behaved and handled it. And, in turn, how they came out.
Rule #5: Create What You Like
Interviewer: Neil Peart is the drummer, of course, with Rush. 30 million albums sold. It is quite incredible. Over 22 years. This is a fixture on the Canadian landscape. Do you have any understanding why? I mean, of course you're talented and good.
Well, no, obviously we know that's not enough. Even were it true. It's an often asked question and one which no one knows the real answer. If they did, they would bottle it and sell it to all aspiring young musicians.
Obviously we're glad that it sold, but you can't get together with three people and say we want to have a career spanning over 20 years and have a really loyal audience.
So we just did what we thought was right and made music that we liked and hoped other people would too, and so far that's been the secret formula.
Rule #6: Infect People With Your Fire
Inspiration, I think, is the rewarding thing. When people come up and say something like that, you influenced me to play drums. I say, apologize to your parents for me.  And music is certainly about sharing your enthusiasm. The nature of Rush is that we love our music and we hope other people will like it too.
There's nothing calculated more than that about it. In the writing, too, these are things that I was moved to write about and to craft carefully enough that I hope I can share with the reader. If you do infect them with your fire. Oh, that's good.
Enthusiasm, the literal meaning of enthusiasm is infected with the god. If you can share that god of yours, that fire of yours, and to light someone else's, that's a great thing, too.
Rule #7: Don't Read Reviews
Interviewer: We talked about the magazine. I said you were one of the best living dramatists. Another poet that brings your lyrics into question, how did you feel when you read that? They said you weren't a really good lyricist, but I'm sure that people obviously disagree with it, but when you read that how do you feel?
You know, you can't help but be stunned. I don't think that anyone that I would want to know would be above that. And it's actually a beautiful illustration. Another author, Tom Robbins, I was always a great admirer of his novels and I loved the way they kept getting better and more adventurous every time.
There was one of his, I think it was "Skinny Legs and All", that there was just a scathing review in the New York Times by a moron. So, I just got angry about it and I wrote to Tom Robbins and said look, as long time reader I want you to know your readers are more than satisfied and I love the way you keep progressing, et cetera.
He wrote me back a really nice answer and said I stopped reading reviews long ago because if I believed the good ones, I'd have to believe the bad ones. I took that sort of to heart and I never read another review.
Rule #8: Create For Your Ideal Audience
Well, really, I tend to write for a general reader and in the case of this book, certainly, I was writing for someone who doesn't know anything about Rush, or rock, or motorcycling, or any of that. I figure it's my job to make it interesting, as the other travel writers that I admire.
And in every case, it was easier when I was writing about bicycling in Africa then it's it's obviously not a Rush book. When I'm motorcycling around the US or driving and listening to music. It was about music, but it really wasn't about me as a rock drummer.
This time I used all of the same approaches of my ideal audience. Someone who is curious and intelligent about stuff, but again, doesn't necessarily know anything about my preoccupations. So, I was very clearly writing for that imaginary audience in the same way that songwriting is for an imaginary listener.
Or even when I'm rehearsing for a tour, it's for an imaginary audience that I'm gearing myself up. It's an ideal sense, but it's also based on what I would expect. Because I love reading travel books myself and about other people's experiences.
Rule #9: Find Your Inspiration
It's a good point. Most of my rhythmic growth is evolutionary. So, that what I've worked on grows into something else, grows into something else. There have been the odd times that I would call epiphanies like that. There's a rhythm that I used a lot in the late 80s or so, Nigerian music, west African music with slightly displaced accents in it.
I heard that, I was in a village in Togo, in west Africa. I was traveling by bicycle that time. I just heard this rhythm echoing across the valley and it was just two drummers with hand drums playing it. It engraved itself on my mind. It became a huge influence on me, rhythmically, after that because I had been listening to King Sunny Ade, he was a pioneer of Nigerian pop music and this certain rhythmic accent syncopations that it was based on that I was very influenced by at the time.
Then, this other rhythm that I heard that time in Togo was from that same heart. The music that I heard, it lodges itself in my brain. It engraves itself in there. And that becomes something special. Those are rare, I think. When you're suddenly hit by something that's that strong.
Reggae, the first time reggae music really got into my soul and I felt that upbeat, downbeat tension. Again, I'll never forget. It was a Bob Marley song, "Natural Mystic". Just sitting in a car and hearing that song and suddenly I got it. I got what reggae was all about. I'd heard it before, but hadn't got it.
Rule #10: Never Stop Experimenting
Interviewer: You write in your book, because you were talking about the art of writing, you say and planting roots and everything, you say magic exists but often requires some planning. But, you were talking about writing. I think it also seems to apply to the music. You have some planning, but then there's that room for improv.
Well said. Absolutely so. All that effort and study and I would say that the early records that three of us made together, we were experimenting. We were learning how to play our instruments. We were learning how to write songs.
We were learning how to arrange, especially, through, say, Farewells to Kings Hemispheres. We were learning so much about arrangement and orchestration in the sense of a three-piece rock band. All of that, gathered together, and then by, say, Moving Pictures, 1980, so, we'd been together six years by that time, and then we jelled and all of those studies, all those courses of study that we went through together with pure innocence and pure enthusiasm suddenly they became a unified approach that Moving Pictures, and from then on, carried for us.
As that time, yeah, even from that time, we continued to experiment, absolutely, with different songs, different kinds of arrangements, orchestrations, all kinds, different producers. There's another good example.
You can get comfortable working with the same producer, and some people do their whole career, but we always thought we wanted new brains to pick and new criticisms, new enthusiasms, just new, new opinions.
Thank You
Thank you so much. I made this because Sam Mack asked me to, so, if there's a famous entrepreneur that you want me to profile next, leave it in the comments below and I'll see what I can do.
I'd also love to know which of the top ten rules hit you the hardest, had the biggest impact on you, and why? Which one was your favorite? Leave it in the comments and I will join in the discussion. Thank you so much. Continue to believe and I'll see you soon.
---
You might also like
---
More from Motivation
---
Watch Evan Carmichael's Top 10 Rules For Success video. Famous Entrepreneur Quotes Evan Carmichael's Quotes "Changing my environment had a dramatic impact …
Watch Mark Hamill's Top 10 Rules For Success video. Famous Entrepreneur Quotes Mark Hamill's Quotes "I love the allure, the danger, of …
Watch Brandon Beck's Top 10 Rules For Success video. Famous Entrepreneur Quotes Brandon Beck's Quotes "Whether you think you can do it, …