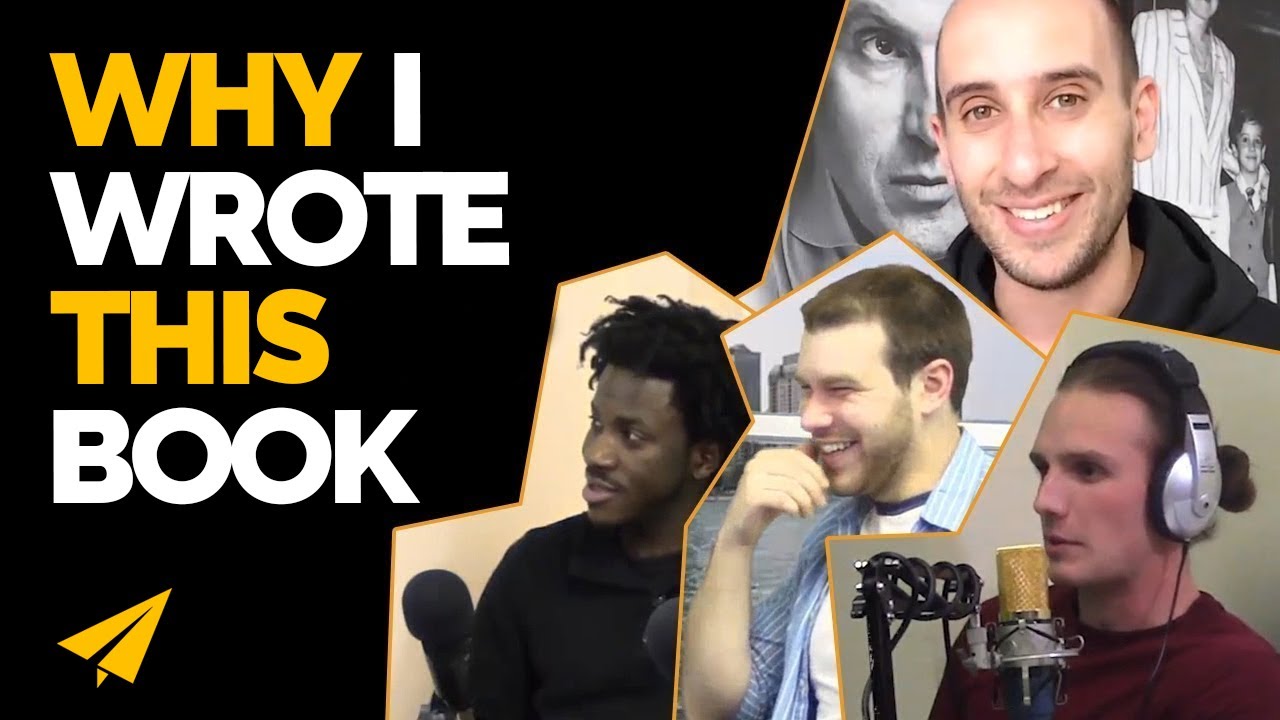 Neil: Talk to us, Evan, please a little bit about the book, Your One Word, how did that idea come to fruition? Like was it something you'd been planning all along or were you just one day like I'm going to write a book, let's make this happen?
I NEVER Wanted to Write a Book
Evan: I never wanted to write a book. It wasn't my thing. My agent Steve in New York is like we need a book, you need a book.
I need a book to sell you into corporations and all this stuff. Like, I don't want a book, Steve. Look at my YouTube channel. I can open up doors. It's not 1950 anymore, right? Like you don't need a book to open up doors.
Neil: Yes, sir.
My entire business around one word.
Evan: I mean, he's like okay, I'm going to pitch you anyway into publishers. I'm like, do whatever, pitch me, it doesn't matter. And then through that process I was figuring out my one word, believe.
I started branding my business around believe. My website was about believe. My newsletters were about believe. I was making videos about believe.
Everything that was believe related took off way more than anything else. And so, and one because it's easy to understand and market but two, it was like, it was more me.
Believe is not just a marketing thing. It's authentic for me. It's what I am. And so, it's curious to then find other businesses. Like I'm going to do this crazy thing and build my entire business around one word.
It sounds nuts. And then I started finding other businesses that had done it and from the guy who just built a $50,000 full-time income for himself around one word, to then a business that had half a million dollars, a million dollars, five million dollars, and 150 million dollars in revenue.
"Believe is not just a marketing thing. It's authentic for me. It's what I am." – Evan Carmichel
And I went out to interview these people and they all just figured it out. Nobody had a blueprint. There was no plan, and so I thought it would be pretty cool if there was a plan. Like if there's a book that I want to write, that's the book I want to write, not this other stuff that you guys are pitching me.
Excited about being able to teach the concept
And so, I was really reluctant at the start. I like didn't want to do it at all and I was just following my agent, and like didn't want to take calls, and didn't want to do like, we'd take a call and then give us a propose. I'm like a don't want to do a proposal. I don't even want to do a book.
But then when this idea came, I'm like guys, this is it, this is the thing. And they hated it at the start. They're like, that's a workbook, that's like five pages of a worksheet.
Like, are you kidding me? This is more than a book, this is a series. And they're like for a book they want like 60,000 words. That's how much like a typical book is going to be. I wrote 120,000 words.
We cut half the book. We cut an entire book, and they're like oh, we can use that as volume two. I'm like no, no, no, I'm like, we're not even keeping it, I'm throwing that away.
Like, if I write another book, it'll be something different. It's like just grind out the work and I'll throw away more than what most people will even create and so, like that's the best of the 120,000 words condensed down to 60 or 65 or whatever it is.
I just got really excited about being able to teach the concept and I thought it would actually lend itself better to a book because of the activities and exercises, than making YouTube videos.
Thank You!
Thank you guys so much for watching. Thank you to the guys from VNR Media for the awesome interview. The full link is in the description below if you want to check it out.
I'd love to know what did you think? What are your thoughts? Leave them in the comments below. I'm simply curious to find out.
Finally, I want to give a quick shout out to Dan Khaul. I hope I pronounced that okay. Dan, thank you so much for picking up a copy of my book, Your One Word, I really, really, really appreciate it, and I hope you're enjoying the read.
So, thank you guys again for watching. I believe in you. I hope you continue to believe in yourself and whatever your one word is much love. I'll see you soon.
---
You might also like
---
More from Evan Carmichael
---
What's up, Believe Nation? Greetings from London, England. It's Evan. My one word is believe and I believe in people, …
Watch Evan Carmichael's Top 10 Rules For Success video. Famous Entrepreneur Quotes Evan Carmichael's Quotes "Changing my environment had a dramatic impact …
Today we're going to look at seven different ways that you can make business alliances. What's up Believe Nation? It's Evan. …