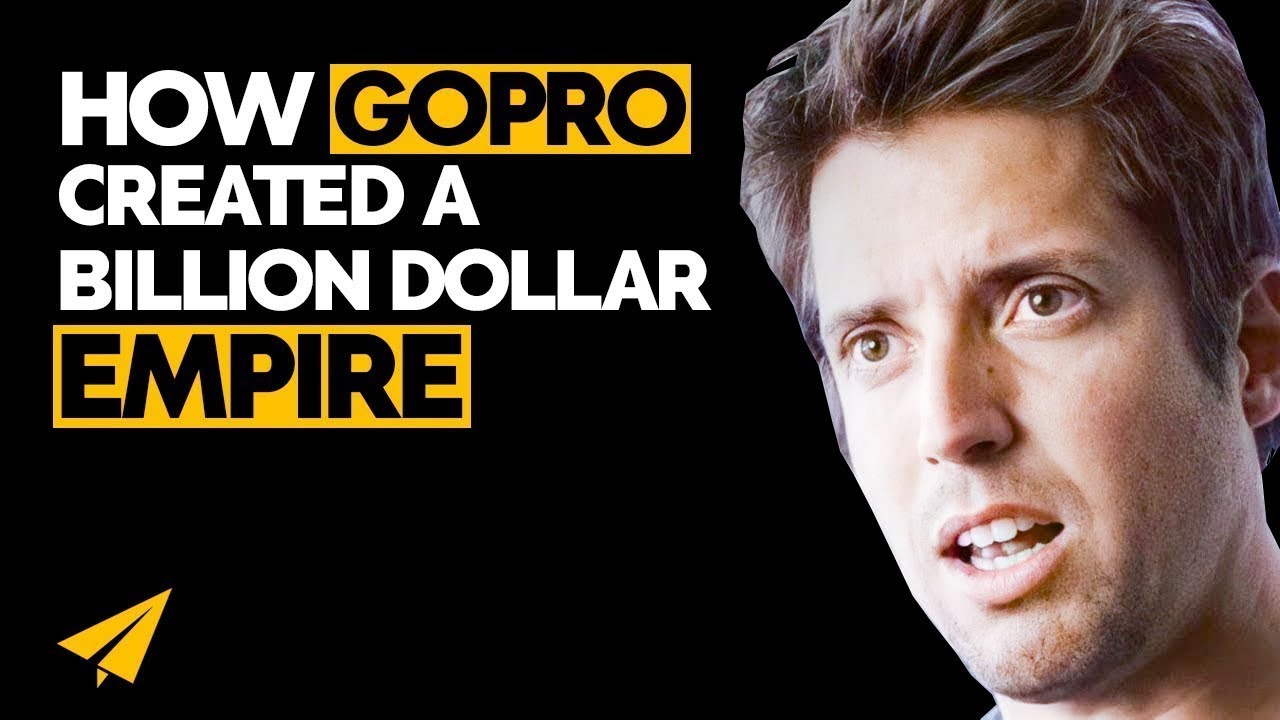 He's an American businessman and philanthropist. He's the founder and CEO of GoPro. He has an estimated net worth of 770 million dollars. He's Nick Woodman and here's my take on his top ten rules for success. Number 10 is my personal favorite and make sure to stick around all the way to the end for some special bonuses.
Nick Woodman's Top 10 Rules For Business and Success
Rule #1: Pursue Your Interests In Life
We all have interests and passions for a reason. It's your inner voice telling you what you should be doing with your life. If you're not pursuing your interests in life, you're not realizing who you really are and as a result, you're not going to be as happy as you can be.
Rule #2: Turn your Ideas Into Reality
Interviewer: What does the word entrepreneur mean to you?
When somebody can take an idea and make it real. An entrepreneur could be a business person, could be an artist, could be a musician. Anybody who can have an idea and turn it into reality.
Interviewer: And how did you do that?
I dedicated myself to it. When I was 22-years-old, I promised myself that I would work my tail off until the age of 30, at a minimum, to succeed as an entrepreneur. That was extremely important because I had a lot of failure along the way.
Interviewer: Right, the first company you started failed.
Yeah, actually and then there was a company that I didn't even start that I failed at. So I really had two failures before I succeeded with GoPro.
Interviewer: How do those failures drive you today? Does it drive you?
Well at the time they scared me. Failure isn't easy. It wasn't like I thought, oh, cool, I failed. And success has taught me that one of the most important things an entrepreneur can have is perseverance, a dedication, a willingness to fail, pick yourself up again and give it another shot. Because if you don't have that, if you don't have that grit, you're going to get run over.
Rule #3: Just Go For It
Interviewer: You started in 2002. Let's talk about that initiation of the dream. How did that start and how'd that come about?
I'd started a business before that. I raised four million bucks of other people's money. Started a web marketing company. Went boom and bust with the first .com boom and bust. I knew I wanted to make it as an entrepreneur and start another business but I had no idea what I wanted to do.
So, for inspiration, I went surfing and I planned a five-month surf trip around Australia and Indonesia. The inspiration came before I even left. I wanted to capture photos of myself and my friends that I was going on the trip with while we were surfing out in the water.
No camera existed that allowed you to do that. And so I set out to develop this wrist harness that I could put a single-use disposable camera into and surf with it. I didn't even mean it to be a business idea, I just wanted to document my experience on this trip. As soon as I got it working well, the light bulb went off and I realized, oh my God! There must be so many other surfers in the world that want something like this!
Interviewer: So you started with wrist straps, essentially. But how do you go from wrist straps, which are very simple, to hardware and to actually developing a camera?
I wanted to use higher quality cameras with my wrist strap to capture higher quality photos but every camera that I would use with the strap surfing, I would break the camera. Because cameras weren't designed to be used during rigorous activities like surfing.
What I ended up doing was I spent two years going to trade shows, the camera trade shows around the world, to look for a camera that was close to what I would want to design. After a year and a half, about a year, I found it. Got the manufacturer to agree to make the modifications and begin building the cameras for me.
I actually did the deal without ever meeting the actual company. It was all e-mail. I had one phone call where we could barely understand each other because of language barriers. They're in Shenzhen. I wired my $5,000 for the tool to be, the mold to be made because it was actually cheaper just to wire five grand than to fly over there, meet them, have a business trip and I just figured, okay, we'll just go for it, and they ended up being legitimate.
We were profitable from day one because it was just me, one employee. We just had no overhead and rolled one good production run into another and slowly scaled it. The GoPro that everybody knows today has been built on $265,000 of capital.
Rule #4: Differentiate Yourself
The Hero4 Session is the first GoPro we've ever released that didn't immediately take off. It wasn't just that we're selling against the strength of HERO4 Black and Silver, we also gaffed it and priced it wrong. What I'm proud of is that when we recognized that we mis-priced GoPro, and that it wasn't in the interest of the customer and the customer just wasn't grooving on it, we changed it.
It's not the last time we're going to make moves like that, a radical that are in favor of the customer's experience but if we can keep doing that, we can keep differentiating ourselves from how a lot of other businesses operate and that differentiation is part of what makes this company so special.
Rule #5: Never Get Complacent
Interviewer: How do you keep GoPro, what you're famous for, how do you keep it the best of the bunch?
Well, having failed a couple times, I recognize that your business can always go away. You can never get complacent 'cause I've had it all taken away from me before. It's important to wake up every morning a little bit scared that that might happen. Never think that you've finally made it
Interviewer: Does Shuame scare you? Does Apple scare you?
No, no, no. Actually, competition is a really good thing because, yeah, of course they scare you a little bit. That's a good thing because it drives you. It motivates you to put more into your work, to stay running and stay running hard and that's something that we, is alive and well at our culture, and I think it's also important to never let yourself stop being a start-up. Stop trying to re-invent yourself.
Rule #6: Stay True To Who You Are
Interviewer: You're getting new video all the time.
All the time. This is actually a video of a firefighter rescuing and resuscitating a kitten.
Interviewer: And a video like that would very easily go viral all around the world. I mean that's essentially a commercial for GoPro.
Essentially a commercial for GoPro.  It's a marketer's dream and it's all based off of authenticity, right? It's our customers doing interesting things around the world and they're so stoked that they're able to finally self-document these things that they like to do and share it with people.
They're so stoked at how good they look in the video that when they share the video, they often give us credit. My GoPro ski trip. My GoPro day at the park with my kids.
Interviewer: You're the only CO that I've ever interviewed who's used the word stoked.
Like five million times.
Interviewer: Five million times, yes.
Well, you know, you've got to stay true to who you are and I recognize that my approach to life and now our company's approach to life is what has made GoPro what it is and so there's no reason to change that.
Rule #7: Follow Your Passion
Everybody around me, their parents were lawyers or investment bankers or entrepreneurs. They were all involved in business. That actually didn't seem very much fun to me growing up. I thought that being an adult's kind of a drag. I actually was pretty depressed when I graduated from college.
I mean, I was literally depressed for like six months. I woke up at one o'clock in the afternoon and laid on a couch and looked up at the ceiling and was just like, dude, what am I going to do? So, with no inspiration, I just decided, you know what? The only thing I can think of to do right now that's going to make me happy is if I go surfing.
So I planned a five month trip around Australia and Indonesia living out of a back pack and a van at the time. If I didn't follow my passion for surfing, I would have never had the idea for GoPro.
Rule #8: Be Relentless
You have got to be relentless. One of the things that's really benefited GoPro is a healthy dose of fear that you're going to get taken out by somebody and a healthy enthusiasm for all of your great ideas and being impatient as hell to bring them to reality.
You know, having failed in business before scared the hell out of me. You know, I still wake up scared that it's all going to go away. Less scared than I used to be. But it happens. You can never say, ahh, we made it, 'cause that's when you get hit by the competitive truck. Or a surf board.
You have to stay scared and you also have to really, really, really be relentless. I always think about what is the other company doing? The other guy or gal, what is their mindset and how can we be more aggressive than them? How can we have a more aggressive roadmap, development time line to where we just absolutely out-pace the competition? Just wear them into the ground.
I think that that's been one of the secrets to our success. If you look at our development and product release history, from the HERO to the HERO2 to the HERO3 to the HERO3+ to the HERO4, we've launched five new cameras in the last 11 months. We've made significant advancements in our software, all the while expanding our global marketing, growing into more than 40,000 retail stores with our in-store retail merchandisers in every single store.
Once we have those in store, that's not enough. Now, we need to grow footprints. So we grow from two linear feet of retail merchandising shelf space to now 12 feet in big stores like Best Buy. Even our smaller format stores are going from two to five to some eight feet of linear.
You can never be done. You have to be relentless and as soon as you are losing steam, you've got to bring people into your business that can add a relentless passion to it. If you don't feel like you're relentless, chances are that you're competing against somebody who is. It's a race.
Rule #9: BootStrap
As long as you can bootstrap, not at the sacrifice of competitive advantage, meaning not leaving yourself open, not moving so slowly that you leave yourself to be eaten alive by your competitors. Bootstrapping is a really powerful thing because it allows you to be totally devoted to your vision and not have to deal with the pressures of investors to maybe realize milestones and unrealistic timelines.
Everybody has an idea over time of what the business should be. When the business is going well, people leave you alone. But I think maybe during the formative period, too many opinions could be disruptive. I know it really helped GoPro that we didn't have to answer to anybody for years.
I think an example is when we, as soon as we could afford it, we bought a race car. We went racing up at Sonoma Raceway in Sonoma and I learned how to drive a race car and I became our chief R&D developer for motor sport.
Interviewer: When you're the founder, you can do whatever you want to do.
Yeah, but if we'd had investors at that point, they might have questioned, you know, is this really a great use of company proceeds? In the end, it led to one of the biggest ideas that we ever had at GoPro, which was to get the camera off of the wrist and make mounting accessories so that you could use the camera, mount the camera in any way imaginable.
The way that that happened was I was in racing school and they wanted to charge me a bunch of money to put a camera on the car. And I thought, that's crazy. I've got my wrist camera in my trunk of my street car. I went and got it, strapped it to the roll bar, and the light bulb went off.
It was literally like I could see GoPro's mounted all over the place. I got chills. Until then, we had been a little wrist camera company plodding along. Then that was a major hockey stick moment for the company that was totally inspired by climbing into a race car, which is not what a board of directors would normally think was a great idea.
Rule #10: Never Give Up
I had a deal with my parents that I got into Berkeley. But I didn't get in here. I was terrified of going to Berkeley 'cause it was so close to home.  My parents said, "You know what we said "about you being able to pick where you can go to school?" "Yeah."
"As soon as you got into Berkeley that choice went away. "You're going there." And I made a deal with them that if I could get into UC San Diego, would they let me go here? This is where I wanted to go and my motivation was it was the best education combined with the best surf. I mean, just, just being honest. I wrote a very earnest letter of appeal. Thank God, I got in! The rest is the history that we're continuing to write.
Interviewer: What was the case that you made? Do you remember?
Yeah. I promised that I would really buckle down and put my head down.  Why are you laughing?  My wife is laughing. I made the Dean's list.  In my freshman year, I think I made it. I think I made it once or twice, then kind of fell from there.
I promised to really devote myself and make the most out of the education. That I wasn't coming to party. That I wasn't coming just to screw around. That if UC San Diego would give me the opportunity, I would really make something of myself at the school.
Thanks for taking a flyer on me. The lesson there just is never give up. Never give up. 'Cause if I went to Berkeley, I don't think I would have had that life is a winding path. I just don't think I would have had the same interests and inspiration there that led me, ultimately, to my idea for GoPro.
Thank You
Thank you guys! I hope you enjoyed. I made this because grnhy asked me to. So if there's a famous entrepreneur you want me to profile next, leave in the comments below and I'll see what I can do.
I'd also love to know which of the top 10 rules had the biggest impact on you and why. Leave them in the comments and I will join the discussion. Thank you so much. Continue to believe and I'll see you soon.
---
BONUS
Build Globally
A secret to GoPro's success, people would wonder how did you cash flow the business? We learned early on that our international distributors would pay FOB Hong Kong, right? They would pay when we would ship to them from Hong Kong.
We would, in the day, get paid by our international customers before we even owed the factory the money. We went against the grain, and we built our international business first because they would pay up front. We used the international revenue to build the domestic business which is the inverse of what traditional business logic would tell you, which is build your domestic brand first and then take it overseas.
I don't know that that really works this day and age. You'd pretty much have to build globally quickly or else somebody else'll do it for you.
Be Resourceful
Everything you need to succeed in life is already out there. You don't need a ton of money and just go be scrappy and be dedicated, and you can build your own GoPro.
---
You might also like
---
More from Motivation
---
Watch Evan Carmichael's Top 10 Rules For Success video. Famous Entrepreneur Quotes Evan Carmichael's Quotes "Changing my environment had a dramatic impact …
Watch Mark Hamill's Top 10 Rules For Success video. Famous Entrepreneur Quotes Mark Hamill's Quotes "I love the allure, the danger, of …
Watch Brandon Beck's Top 10 Rules For Success video. Famous Entrepreneur Quotes Brandon Beck's Quotes "Whether you think you can do it, …