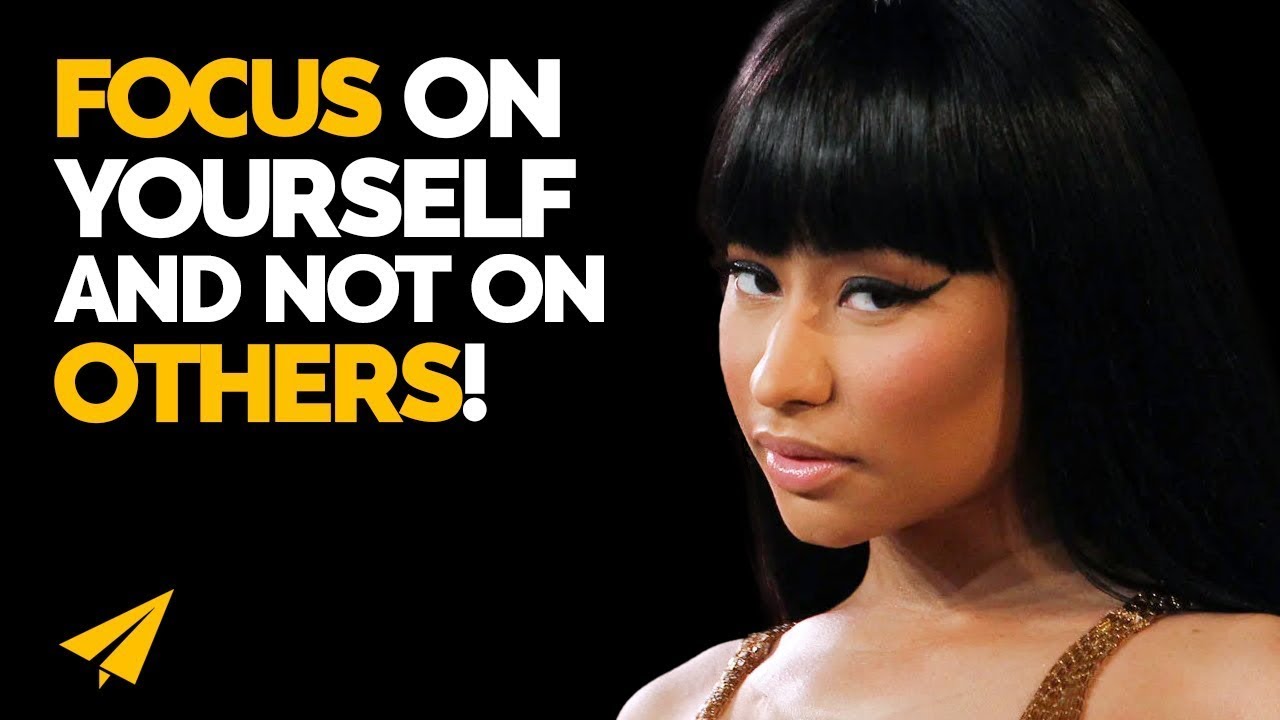 She's a Trinidad-born American rapper, singer, and songwriter. She was the first female artist to be listed on MTV's annual Hottest MC list. In 2016, she was listed on Time Magazine's Most Influential Hundred People in the World. She's Nicki Minaj, and here's my take on her top ten rules for success.
Nicki Minaj's Top 10 Rules For Business and Success
Rule #1: Follow Your Heart
Be you. Make sure that your art isn't being done to please anyone but you, because something magical happens when you do what you love, and whether it's loved by the masses or not, there's magic in that genuine love that you have for your own art, and it could never be taken away. And little by little, people start catching on. So just follow your heart and don't be afraid.
Rule #2: Work Hard
Really I just kept at it. I work, work, work, work, work, I don't believe in, I hate lazy people, I hate laziness, I just don't like procrastination, I don't like people that make up excuses, just get it done. And I've always taken that approach with my life and my career, and I guess that's why I've been around.
And I haven't just gotten around, you know? I've been here for a minute.  So I've been trying for a long time and it just goes to show you if you really want something, you work hard at it, you know what I'm saying, eventually people will come around. It's just up to you to stick with it.
I think the problem is a lot of people just give up because it's so difficult. It's like, you got bills to pay , you got to do this, so a lot of people just give up, but I just didn't; I just kept working.
Rule #3: Do It Right
It's a ladder, you want to climb the ladder to success. Some people don't appreciate the first two or three steps. You know what I'm saying? They just want to get to the top. And I always said, I didn't want a rushed album, I didn't want to rush anything.
I was always like, when I do it, I'ma do it right. When I do it, I'ma do it big. And a part of that is that grind, is the blood, sweat and tears, even though it doesn't feel too good at the moment, I know that one day I'ma look back and say, it was all worth it because there's nothing better than staying grounded and appreciating what you have.
Cause even though I'm not a multi-platinum artist, I know I'm still better off than a lot of girls that have been trying to do it for so many years, and they haven't gotten their foot in the door, so, I'm their voice. You know, they probably hate me, but I got love for them.
Rule #4: Don't Ever Give Up
And don't ever give up, I'm mean, I could have given up a million times and there's always something, you know, I guess in the back of my head that just says, not yet. You should always listen to that voice that tells you, not yet, don't give in just yet, because there's always a billion people waiting to take your spot.
And on another note, you don't know whose life you can touch when you do what you do. You know what I mean? So just keep on doing your thing.
Rule #5: Evolve
Interviewer: Dream Team Minaj says, "I love you. But I'm curious, "why did you change your rapping style "from the come up days to today? I love both."
I don't think I changed my rap style… I think you guys were just starting to hear me and you didn't hear all of me yet, that's it. I've always been into being weird a little bit. But I think what people really mean is that they think that I've changed my persona. And life is about growth and change, and I don't want to remain the same for my whole life. I want to be able to change, you know, I respect the people who loved '07 Nicki, and I'm definitely going to give you some stuff on Pink Friday. I'm not forgetting anybody, but I just also have to be true to me. And the truth is, I started seeing different things. I started going different places. I started eating different things. It would be fraudulent to rap the same way, and look the same way, and act thee ame way, because I am not the same, period, I'm not.
Rule #6: Be Thankful
Yeah, when I think about where I came from, sometimes it is surprising. I guess, in a way, I always felt like it was my calling to do something bigger than just be in Southside Jamaica, Queens hanging out. But, I guess every now and then, I do feel like, wait a minute. Is this really my life? Like, I can't believe I've impacted a culture, ya know, the hip-hop culture.
Sometimes that is surreal for me because, I didn't even set out to be a rapper. You know what I mean? You know like sometimes you have like that dream when you're little? I didn't think when I was like 10 years old, you know, I'ma be a rapper one day.
Ya know? It just happened, but the other day I realized, even when things are bad or going crazy, I have so much to be thankful for. Those little tiny things that I have, like those people in my life that I can count on,  You know what I mean? I can reflect now and be super appreciative of everything.
Rule #7: Be Your Own Boss
I think that being an underground artist was the best thing I could have ever done in my life. Being independent and not signed to a major label was amazing because, ya know, it teaches you to be your own boss.
It teaches you to have drive. When you don't have a machine behind you, that's when, you know, that God-given drive comes out. And sometimes when you have a machine too early, you just kind of, you know, become dependent on it, and when that machine goes away, you find artists that don't even know how to live or function without a major backing.
So I cherished the independent days. I'm about to embark on a new journey with a major, and I'm excited. I think it's time.
Rule #8: Don't Play The Victim
Interviewer: Do you read the blogs?
I don't read them. Anything about me, really I don't read them. Even if there's an article somewhere about me and people call me and tell me, I won't read them. It puts you in the mind frame of  a victim too much.
And when you're a powerful person, you can't play victim. Ya know, victim has to go out the door. When you read negative things, you feel sorry for yourself, and there's no room in life to feel sorry for yourself. It's just like, yo, let's go.
Rule #9: Stand Up For Yourself
You have to be a beast. That's the only way they respect you. I came up under Wayne, and Wayne has his way of doing things. When Wayne walks on the  set and say, "Don't talk to me. "Have my  music ready. "Get the  up out of my face, "and I'ma blow this  "in your face all day," it's cool.
But every time I put my foot down and stand up for myself, it's like, "We've heard about Nicki Minaj. "Nicki Minaj checked out of a photo shoot, oh my god!" Everyone's, "No one wants to work with Nicki Minaj!" I'm glad you've heard. Now, when I come to a photo shoot, let it be of quality.
You know why? Because I put quality into what I do. So if I turn up to a photo shoot, and you got a $50 clothes budget, and some sliced pickles on. You want to know what? No, I am going to leave. Is that wrong? For wanting more for myself, wanting people to treat me with respect? But you know what? Next time, they know better. But had I accepted the pickle juice, I would be drinking pickle juice right now.
Rule #10: Learn From Everyone
When people see this one person that's getting a lot of shine or notoriety or whatever, it makes them feel unhappy with themselves. I mean, ya know, the small-minded people feel unhappy with themselves. But the intelligent girls just take the things that they like from me and my journey and they apply it to their journey.
And I think, if I had it my way, that's what they'd all do. I mean, everybody's not going to like Nicki Minaj. You know what I mean? Everybody's not going to like the way look, and what I do. But I think if you're smart, you would take from me, and figure out why everybody's talking about me, ya know.
I mean that would be the smart thing to do, and I think they don't know how to express that, so they express it with anger, and jealousy, and hatred, and then that consumes them, and ya know, and I'm still here.
Thank You
Thank you so much. I made this because Shaun asked me to. So it there's a famous entrepreneur that you want me to profile next, leave it in the comments below, and I'll see what I can do. I'd also like to know which of Nicki Minaj's top 10 rules had the biggest impact on you and why.
Leave it in the comments; I'll join in on the discussion. Thank you so much. Continue to believe, or whatever your one-word is, and I'll see you soon.
---
BONUS
Know What You Want
One thing I learned along the way in business is the necessity for you to be unapologetic about asking for how much money you deserve. At a very early stage in my rap career, I was making six figures for shows. If I heard there was another rapper making that, I thought, you know what, I'd get out there and command the crowd.
I'd get out there make my fans happy. I want that too. And I think women have the tendency to feel that they shouldn't ask to be compensated as much as a man doing the same exact thing. If you know you're great at what you do, don't ever be ashamed to ask for the top dollar in your field.
Find Your Inspiration
Definitely pull inspiration from your influences. I think we all have influences; I don't care what anybody says. You know, we all have musical influences. Pull inspiration from them, and pull inspiration from your life.
You know it's funny; you don't have to be like on some somber , but your regular life is filled with so many colors that you can pull from.
---
You might also like
---
More from Motivation
---
Watch Evan Carmichael's Top 10 Rules For Success video. Famous Entrepreneur Quotes Evan Carmichael's Quotes "Changing my environment had a dramatic impact …
Watch Mark Hamill's Top 10 Rules For Success video. Famous Entrepreneur Quotes Mark Hamill's Quotes "I love the allure, the danger, of …
Watch Brandon Beck's Top 10 Rules For Success video. Famous Entrepreneur Quotes Brandon Beck's Quotes "Whether you think you can do it, …