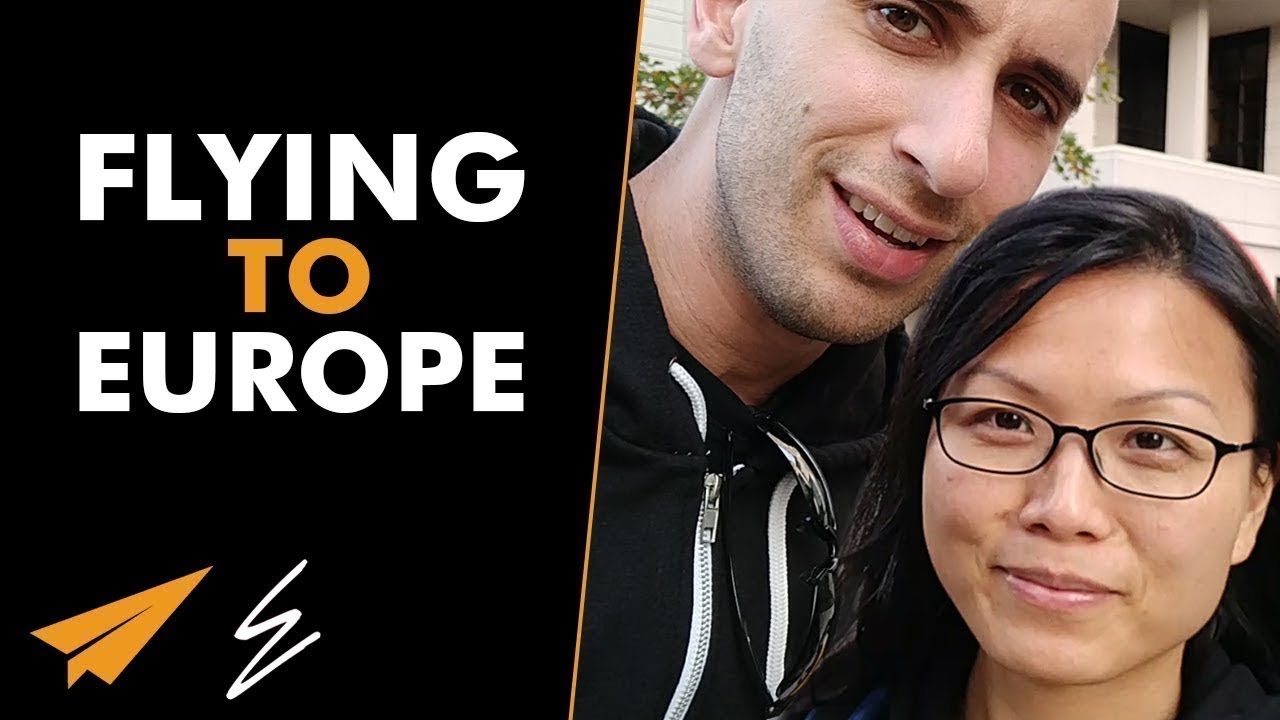 Hello everyone, this is Evan, this is Nina.
Wow. What's up, Believe Nation? Nina and I are heading on a vacation to London and then hopping a cruise across Europe. And you guys are joining us on our trip.  So Nina and I haven't, when was the last time we went on vacation?
Two Summers. Just us?
Yeah.
I don't remember. No, we didn't go last year. We went the year before. We went to
Asia?
No, not Asia. Oh yes, that was the Asia trip.
I've traveled too much this year. I've had six trips already, I think, this year. It's too much. I don't like getting out. I got a lot of work to do. But, we decided we're going to go. Nina has never been to London.
Yes.
So she's excited. I'm going to show her around. And then we're going to hop a cruise and go to some new countries. Meet up some friends, discover some new things, eat a lot of bad food.
Nina's already started her crappy diet today.
Yummy food.
Oh yeah, yummy food, but bad for you.
Yeah.
And we're waiting for our Uber so we can hop to the airport.  Nina's getting a free ride. Nina's never been to the business class lounge before. What do you think, Nina? You want to get something to eat?
Yeah.
Evan: Get something to drink?
Yeah.
Evan: I think Nina's really excited.
Bon appetit, guys.
Evan: What did you get, Nina?
Salad, toast, and my soup, and a glass of wine.
Evan: Glass of wine, I got a beer, brand I've never heard of, so I tried that. Mac and cheese, bread, salad. Nina's most excited about the wine, I think. Free wine. You ready to eat?  We polished off a lot of food there. Mostly Nina.
Three plates and a soup.
Evan: Nina's nice and full now. And she had her wine. Okay, so Nina, what are you most looking forward to on this trip?
Free food.
Evan: Free food? Come on.
No, actually not free food. Free calorie count food.
Evan: You don't have to go to Europe to do that. You can do that at home, you know.
Well, I'll also get to see different countries.
Evan: And spending, you know, an amazing week and a half with your husband.
With me.
Evan: With yourself?
Yeah.
Evan: You get that every day.
Yeah, I get to see you every day.
Evan: I'm looking forward to seeing your face when we do the different sights. Because when you see new things…
What's that, what's that, what's that, what's that.
Evan: Yeah. You freak out and your happy and excited and I love seeing that face. That's what I'm most excited for. We still have two and a half hours before we leave so we've decided to, Nina made us hot chocolate with Bailey's in it. Special Nina recipe. She's going to have some snacks. and we're going to watch some Marvel Agents of S.H.I.E.L.D. Good way to pass the time. Nina and I ate way too much, especially Nina.
Oh yeah, oh my gosh.
We're not used to eating this much food and so we're going to be on a cruise ship, where you can eat tons of food.
Yeah.
So we've got about an hour before getting on, I was going to say getting on the boat, on the plane? And we're going to try to walk off some of this food that we've had.
So we can eat again.
So that Nina can eat again on the plane.
This is for you, Sean.
Shawn is our personal trainer. He keeps us on a very strict diet. And this is our 10 to 14 days to do whatever we want.
Calories.
Yeah.  What happened, Nina?
Starbucks, so, Starbucks.
Evan: There's a Starbucks behind you? I thought you were super full.
Pumpkin spice.
Evan: Is it the first day of pumpkin spice latte, frappaccino?
Yeah, but I can't have anything right now.
Evan: Maybe after the walk?
Maybe after the walk.
Evan: We'll see. What are you doing, Nina?
Too heavy.
Evan: Too heavy on your back?
Yeah.
Evan: Got to pack lighter. Everything I have for, how many days? 12 days? 13 days? In this backpack. Yeah. Travel light.  Nina tried to put too much stuff in her suitcase and she broke her zipper.
Ah, I thought I could fix it.
That's what happens when you bring too much stuff, people. Pack light.  You're not doing it.
I'm too full.
Evan: Too full?
Yeah.
Evan: That walk didn't help? That crazy work out and fixing your bag?
No.
Evan: No? Alright. No pumpkin spice frappuccino.
I don't know. Maybe I have to walk around two more times.
Evan: There it is, Nina. Starbucks. Hello. We haven't convinced her yet. Let's see what happens.  What's that over there, Nina? Oh, we're not going? Nina's decided officially too full. Can't handle Starbucks. We'll look for a pumpkin spice in London. Nina's crashing out.
Tired.
Evan: She's tired. Let's get her on the plane. Get her sleeping, and arrive in London. Yeah. Alright, we had a delay.
Yeah. Nina's not happy about this delay.
I'm so tired.
Well welcome to my life, like every trip I go on is a delay. It's why I hate traveling. But we made it on, Nina's excited, get to our seats, get to sleep, she's going to eat some more guaranteed. This is me, four D. There's Nina, four G.
It's cool.
Evan: What's cool?
Like here, room to put my feet up.
Evan: You could sleep, you could lay down properly, huh?
Yeah.
Evan: Alright, she's excited. Here, you got headphones. We've got some headphones. We've got some water, even here we got some toiletries. What do you have.
We have socks.
Evan: Okay, good, so you don't get smelly feet. Okay. And then, what else you got? Eye mask. How Cool. And then?
And then cleansing cloth.
Evan: Cleansing cloth, okay.
And lip balm.
Evan: Exciting for you.
And lotion
Evan: Lotion. All right. Toothbrush.
That's important.
Evan: The menu came. See what we're eating. Late evening supper. Do I want to be woken up for breakfast? Probably. My favorite part is I get to watch foreign movies, cause it's always a good selection on the plane. So I watch the Chinese ones with Nina so there's some Korean action movies that I'm looking forward to watching. I'm going to start with this one. Confidential Assignment. Nina, on the other hand, wants to watch cartoons. She's going to watch a cartoon with a purple hippo and a cat. She's just a kid at heart. That's partly why we love her. Also noise canceling headphones, so Nina's trying to tell me something. Nina, what are you trying to tell me. I have no idea what she's saying. Noise canceling. Here's dinner. I got some steak, potatoes, bread, cheese, fruit, salad, and some red wine. While I watch a different movie.
---
You might also like
---
More from Evan Carmichael
---
What's up, Believe Nation? Greetings from London, England. It's Evan. My one word is believe and I believe in people, …
Watch Evan Carmichael's Top 10 Rules For Success video. Famous Entrepreneur Quotes Evan Carmichael's Quotes "Changing my environment had a dramatic impact …
Today we're going to look at seven different ways that you can make business alliances. What's up Believe Nation? It's Evan. …