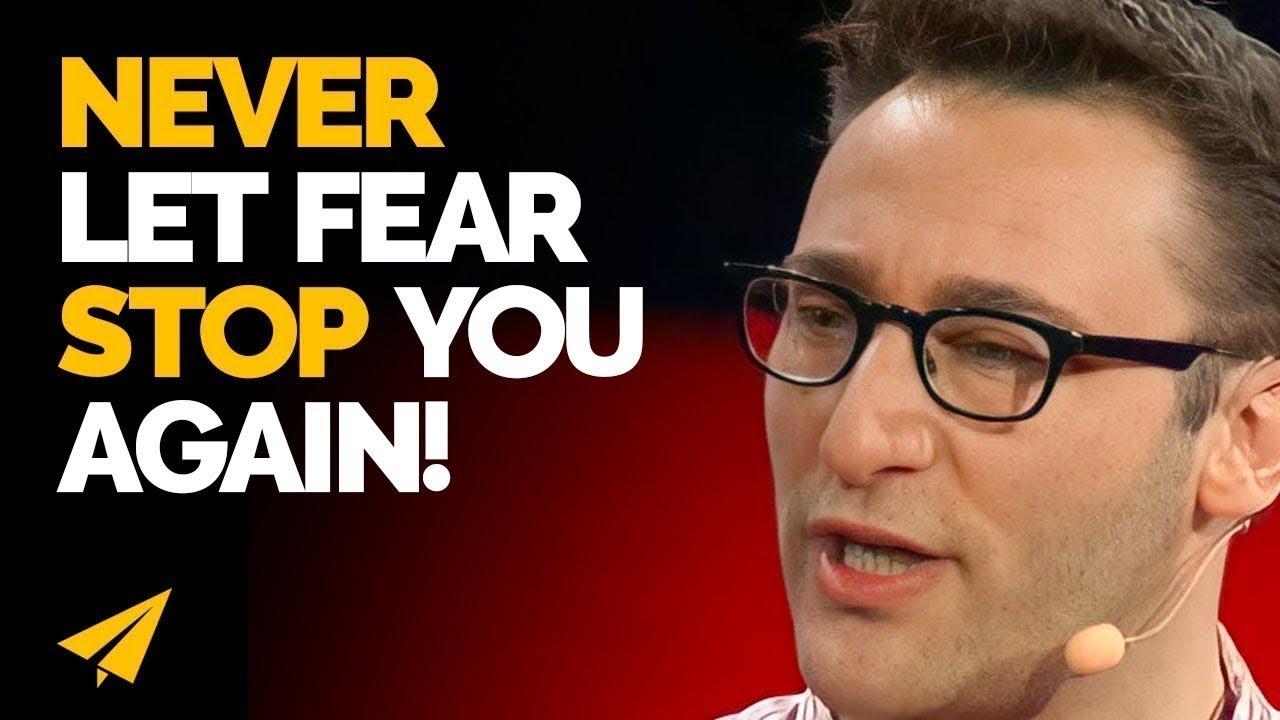 Today's message is be open to the unknown. Good morning Believe Nation it's Evan. My one word is believe and I believe in people more than they believe in themselves. And my sincere hope is that if you see in yourself what I see in you you'll be able to change the planet
Be Open to The Unknown – Simon Sinek
Rarely are we instant experts.
You may have a particular gift or affinity toward something but you still get better.
You know people would pay me high compliments when I started speaking and then people who've seen me a year or two later say that I'm even better. And I feel it.
Because you learn more you know.
I think that hubris is dangerous I think to think that you're an expert in anything is a foolish pursuit.
You're never you're never as good as you could be.
There's always room for improvement, there's always room to get better.
You know that doesn't mean you have to listen to all the advice just you know not necessarily because everybody know best.
But but to believe that you can be better and to believe that you can offer more is a constant pursuit.
You know I used to think being a public speaker meant being poised and presenting in a way that was compelling and speaking at the right pace.
And that's that's a part of it. But but I have been taking more risks lately, doing things that are very unstructured and very uncomfortable.
And I will now do like if I have an hour to speak I'd rather speak for 20 minutes and do 40 minutes worth of questions. And who knows how that's going to go.
And that to me, is the best. And so I'm a better speaker because now I'm way more open to the unknown. Where a few years ago that that would have scared me.
My Thought About Be Open to The Unknown
One of the greatest skills I think it can master is to learn to be comfortable and be uncomfortable.
To lean in on it to feel the excitement and energy from it as opposed to just the fear and shrinking downness is which is what a lot of people do.
A lot of people are super uncomfortable when there's a new strange scary situation happening and want to lean in on that so you can grow as a human but also you can bring the most to your business.
A good habit to try to get into is as soon as you think of a new idea, as soon as you come up with something that you want to try, you want to talk to that person, you want to launch this new business, you want to create this new campaign.
Assuming you have that idea find some small way to take immediate action on it. One, you're more likely to follow through, you're more likely to build momentum, and to actually see some results coming from it.
But two what happens is, here's what happens so often there's so many entrepreneurs and it's so frustrating, it's so limiting for a lot of you guys. Is, you come up with an idea and you're excited right. Like this could be a great new idea I really want to try this thing out.
And then you add more layers and layers and layers and extrapolations and this little tiny idea becomes this huge big project.
And as you scale up the project and it's exciting to think about how you can make it this big thing right if you want to launch a YouTube channel it starts with one video and then you think wow, I need to have my banner art, I need to have my production schedule.
I need to figure out what lights and what camera or microphone. And you like build up this huge project that is very exciting but then the fear kicks in.
And then it's like, well how do I go out and accomplish all those things?
I need a team, I need money, I need resources, I need time, I need to plan, I need to plan, I need to plan.
And you're stuck in this constant planning mode and it becomes such as such a big idea but then you never do anything about it.
Where if you can cut that off sooner and as soon as you get an idea while it's still little of something that you want to try go ahead and do it.
Go and see how it works. See if you enjoy it. See if you want to do it again. I keep thinking back to dating as an example where if you're about to meet somebody for the first time if you're already thinking long term, if you're already thinking about the wedding, and the kids, and retirement in depth.
Like you're thinking all the way out there you're putting so much pressure that you find out even going to say hi to this person and you don't even know if it's ever going to work out.
Or just go out grab a coffee, see if you like them. See if you want to go up for another coffee right.
"As soon as you get an idea while it's still little of something that you want to try go ahead and do it." – Evan Carmichael
I think as soon as you get an idea to just try it and it's uncomfortable and it's scary but just try it in some small way.
I think about my Malaysia speech that I did a couple years ago it was a meaningful speech for me because the first time I introduced Your One Word and Believe to an audience.
Maybe I did it to you guys first on YouTube but like to an actual speaking audience.
And just before going on stage I had a woman stop me at breakfast and was talking about how she was being cyber bullied and how it was really impacting her negatively and she was thinking of shutting down all her social accounts.
And the impact that I had in her family and just a really sad story from a really beautiful wonderful caring woman.
And I was about to get on stage about to go do my second speech and I just thought of this idea like wouldn't it be great to involve her somehow?
Wouldn't it be great to get it give her some recognition and have the people in the audience support her.
And so I brought her up on stage she had no idea what was happening and I asked her you know, "Are you okay if I tell your story?" And she said, "Yes." and I told her story.
And then what I wanted people to do was while I was speaking I had just my new friend here to the side of the stage and I said, "Everybody what I want you guys to do is "come up and take a picture with her, "put hashtag I think with hashtag peace or hashtag love. "And anybody who tagged me in the picture takes a picture "with her and has hashtag peace or love, "I will give them." I gave them one of my my guides "one of my e-book download that I had.
And while I was talking at the front there was a huge line up. And throughout the entire presentation people were taking pictures with her and they were laughing and they were smiling and there were tears of joy and happiness and it really made an impact on my new friend, this woman that I had met, but also on everybody coming through that this was something that was really important.
And it made the talk that much more valuable to everybody. And it just happened spur the moment this was not a planned thing, if she didn't come and meet me at breakfast and stop me and say hi and tell me her story I wouldn't have done that.
"Embrace the approach so you would rather know and have it fail then live the rest of your life with regrets because you were too afraid to take some kind of action." – Evan Carmichael
I would have just continued with my regular regularly planned speech. And so I think it's good to have a plan but it's goof to make adjustments, it's good to lean into the unknown.
I had this idea and instead of making it this big thing that I could save for the next time I do a speech, or the next time this thing happens I'm going to do something right now.
And it may work and it may not work out but I'm going to test it. And that one worked out really well. But sometimes it doesn't work out right.
Sometimes you fall on your face. Sometimes you think you do that jump and you can't make it and you fall down.
That's going to happen too but I try to embrace the approach if I would rather know and fail, than not know.
Then just live in my head because I would hate to think that here is this woman who I could have helped who could have made a meaningful contribution to and all these people in a room that I could have helped them in a meaningful contribution to but I was too scared to do it, I was too scared of releasing an imperfect plan and so I did nothing.
And that's too often what we do in our business and in our lives. We had this idea and we're too afraid to release an imperfect plan and we do nothing as a result.
There will never be a perfect plan. You can think up a plan all you want but as soon as you start to get out there into the world and test it your plan will change.
Every single successful business the plan they started with is not the plan that ultimately helped them grow.
It was part of their plan, but they had to change it, had to adapt.
And so too many of us are just stuck in our heads and we don't take enough action.
And so I strongly encouraged you the next time you feel uncomfortable, the next time you're feeling nervous about something, the next time you get that little queasy feeling you know the, I don't know if I should do that or not, just do it.
Say yes. Embrace the approach so it would rather know and have it fail then live the rest of your life with regrets because you were too afraid to take some kind of action.
---
So the question today is I'm curious what is something that you are working on that you're afraid to release?
That is imperfect but now you're going to go out and push it and let people know about it at least in a small way. I'm curious, what is that project.
Leave it down the comments below I'm really curious to find out.
I also want to give a quick shout out to Chris and Juliana. Thank you guys so much for picking up a copy of my book Your One Word and taking that great picture in your car with it. I hope you enjoyed the read and I really appreciate the support.
Thank you guys again. I believe in you. I hope you continue to believe in yourself and whatever your one word is. Much love and I'll see you again tomorrow morning for another shot of espresso.
---
BONUS
Anthony Hopkins
Do something new. You know you've got to make you've got to get in your comfort zone. That's what we all do we get to a certain age whilst in earth comfort zone with the recliners watching television day in there. And we get certain age we receptive I say, why sit around watching television through the rest of my life because I've done it all.
Sitting on my laurels it reads. It's not worth it I mean life so short and such glorious images in the world and such horror as well. But I want to see it all so I've moved out of my comfort zone. It's some essential for me otherwise I may as well die.
So I've done it I've broken every rule in the book and not out of malice or any telling anyone that, I'll show you. I did it for to show myself. I've showed myself I looked in mirror, I thought, I'll show you one day. They've done something completely rewrote the music and I feel limitless.
Queen Latifah
Woman: You want to grab me you've got like the nomination for an Oscar. You've won a SAG award, the Golden Globe. You've won so much. Like how'd you keep going? Like what inspires you?
Honestly I pray always the staple. You know if you always learn something new you can be inspired.
So I don't just kind of sit and look at the past like I did this. Until people like you remind me of a lot of that stuff I don't really you know think about it in the same way because I see the new things on the horizon and I don't feel like I have to do the same thing over and over.
I think if you're a creative person then you kind of just have to follow your vibe. If an opportunity is there for somebody something interesting you know sparks me then you can go for it. And I was just kind of never one of those people that felt like I couldn't do it. I've got the right people around me to I believe to join anything I want to do.
Woman: Well you do, in everything you've done.
I don't master at all but I persevered through it all and it gives me a chance to find the next thing to work on. So I'm a fighter you know I I know how to take them as much as I've been give them.
Misty Copeland
So so when I for some reason felt that I had this small bit of confidence to audition for the drill team. And I made sure I was auditioning for captain not just to be a part of the team which is not that was not something that I normally did in my life.
Like step outside of my comfort zone and do something where I was being put out in front of people. But I auditioned and they made me captain and the drill team coach Elizabeth Camtine saw something in me immediately.
She saw an ability that I had my body proportions and she thought, you are a ballerina and I want to introduce you to someone who's giving a free ballet class at the Boys and Girls Club that she already attends. So I was not at all interested in ballet.
But after about a week of hiding out in the back of this ballet class on the basketball court the teacher Cynthia Bradley pulled me on and I took my first class in socks and shorts and a T-shirt.
---
You might also like
---
More from Anthony Hopkins
---
What's up, Believe Nation! So for the past few months, I've been putting together a list of my favorite rules, taking …
Life's so short and such glorious images in the world and such horror as well that I want to see …