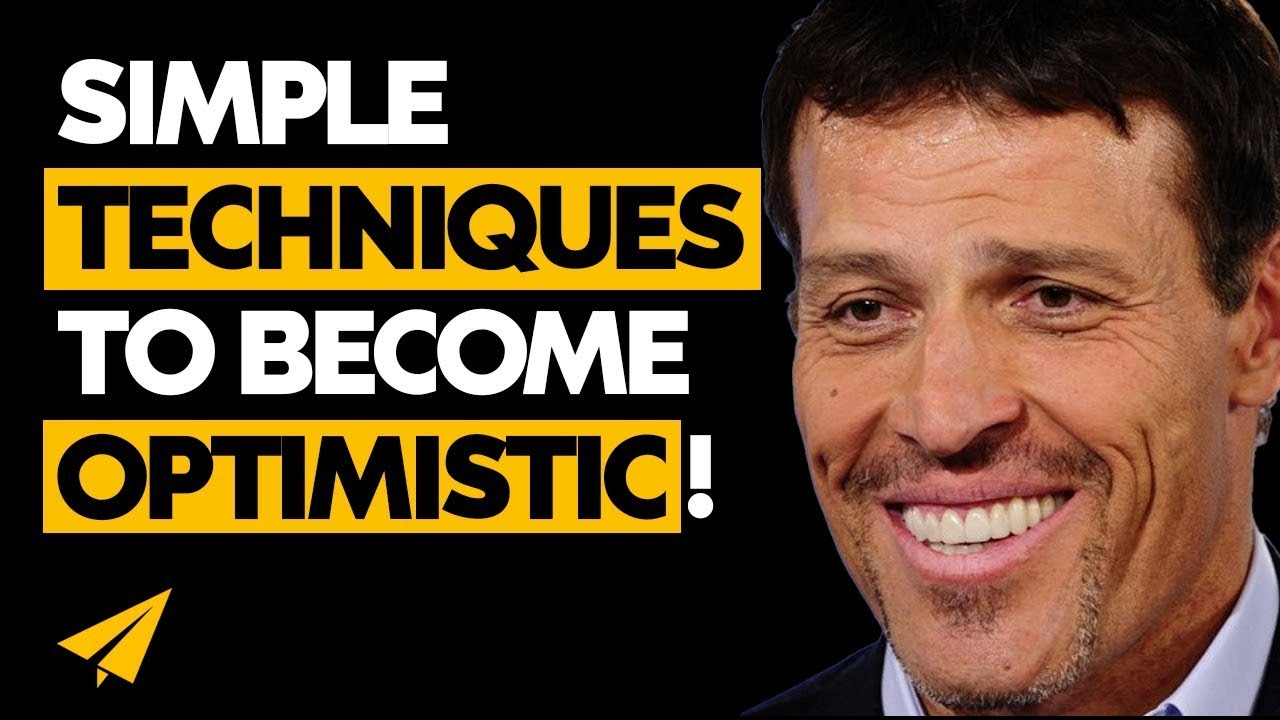 What's up Believe Nation? It's Evan, my one word is believe and I believe in people more than they believe in themselves, and my sincere hope is that if you see in yourself what I see in you, you'll be able to change the planet. I started the Believe Life Series to help us learn a little bit more about ourselves, grow personally, and ideally bring some of what we learn about ourselves, to our business to have more success. So today we're going to learn how to be optimistic in life.
How To Be OPTIMISTIC In LIFE
Gary Vaynerchuk
I think the biggest obstacle to success is a lack of optimism. I think the world like lacks optimism. I think, you know, everyone's like, "Your energy, your energy." I've come to realize, it's just optimism, just happy, just positive. That's what it is.
Breath A New State
Tony Robbins
Most of us have situations where there are, for all of you listening, a place where you have some unfinished business.
Tim: That's the story of my life, Tony.  
Tony: Okay well I do a story of all our lives, right? That's just being human, right? But it's a place where there's something that you should have handled, and you haven't handled, with a person or situation, it stresses you out. And so what we tend to do is focus on other stuff 'cuz we don't want to have to deal with that 'cuz it's stressful, 'cuz it's, you know, painful.
And so think of something that on a zero to ten scale, where ten is totally stressed out and zero is not at all, pick something that's unfinished business in your business or personal life, with something or someone, and it's at least a seven, eight, nine, or a ten. Just so you can see that this really works. Now by the way, there are hundreds of ways to do this. I'm just going to give you this one, 'cuz we can do it in two minutes, alright. So, I'm hoping, Tim do you have one by chance?
Tim: I do.
Tony: Okay perfect. Give me the topic of content, no one else tells the content. Alright. Everyone if you would, just for a moment, and I don't have any music in the background which I need to enhance this normally, but let's just do it. Put both your hands on your heart, and physically breathe deep into your heart. And as you're breathing deep in your heart, feel the strength of you heart. Feel the power of your heart. Feel the beauty of your heart.
What are you proud, or grateful, that your heart has guided you to do? Or to give? Or to feel? Or to enjoy? And feel of the strength of your heart, breathe into it. Feel the blood flow, the oxygen. And feel grateful for your heart first. Just think about it, you didn't have to earn this heart, it was given to you. You didn't have to prove your value or your worth, you didn't have to accomplish anything. Something loved you enough to give you the gift of life.
As long as this heart is beating, you have that gift, and you live. It beats 100,000 times a day. It pumps blood through 60,000 miles of blood vessels, they put 'em end to end, they go around the world twice at the equator. That's what's inside every one of us. And you don't have to think about it, what a gift. So as you breathe in your heart, feeling your powerful heart, I want you just for a moment, we're going to think of three, but just think first of one event in your life, one experience, one moment, that you could feel so grateful for if you wanted to, a magic moment, a sacred moment, a sexy moment, a beautiful moment, a loving moment, any moment that really you could feel grateful for, if you wanted to right now.
And then step into that memory for a minute, like step in your body as if you were there. See what you would have saw, as if you're there. Or hear what you'd hear, back then. Breathe the way you were breathing back then. And if you fill up with that sense of gratitude for that moment, how do you smile when you feel so grateful or so thankful? What's the look in your eyes? How do you breathe? Let's look in your face when you feel really really grateful.
And just fill it up, fill up with gratitude. The reason we use gratitude, by the way, the two emotions that mess us up most is anger and fear. And you can't be grateful and angry simultaneously, it's the antidote. You can't be fearful and angry simultaneously. So fill up with gratitude, now think of a second moment you can feel truly grateful for, and again breathe deep in your heart, feel that power. Just think of any other moment, it could be from your childhood or adulthood.
It could be last week, it could be today, it could be ten years ago. Any moment that you can just truly feel like that was the greatest, that was magical, that was beautiful, that's magnificent. Something that gives you the feeling of tremendous gratitude, if you really focused on it. Breathe it, feel it, enjoy it. Fill up with gratitude. Then finally, think of a third moment you can feel truly grateful for. Step in it. See it, feel it, be there.
Feel the gratitude. What were you so grateful for? What are you grateful for? And then maybe throw one extra one in. Think of a coincidence, you know we all love when life happens for us, not to us. We love coincidences 'cuz we didn't do anything, something happened for us. You were going to do one thing and you met somebody that you developed a partnership with or became a friend or a lover or the love of your life.
Or maybe a business opportunity came from a coincidence. Or an insight came from a coincidence, that's been so valuable in your life, something you're grateful for. What's the coincidence that led to something you're so grateful for? And feel the gratitude for that. And was it coincidence or were you guided? Hmm. Now as you breathe in your heart, you've been doing this for about two minutes. Keep breathing, keep feeling it, feeling grateful.
Let's use this state to solve the problem state. So the easy way to do that is, is keep breathing in your heart stay out of your head, in your heart, and think of that situation that's unfinished business, that's stressed you out in the past. But keep breathing in this beautiful state, and ask yourself this question: ask yourself all I need to focus on, in that situation, all I need to focus on, all I need to remember is what? Your heart knows.
All I need to focus on, all I need to remember, all I need to do in that situation, is what? Your heart knows the answer. All I need to focus on, all I need to remember, all I need to do is? And then your heart probably knows the answer. I've done this a million times, not every one of you, but a normal room I'd have people say, "Raise your hand if you got that answer." 98, 99% of people usually do, even with this simple technique.
Write 30 Exciting Things
Leo Gura
Optimism can be stoked up, like a fire. You know, you've got a campfire, and it's kind of dying down, and then you can blow air on it, you can put some more kindling on it and then it'll spark up, and flare up. Well that's what you can do with your optimism. So right now maybe you're just kind of feeling at a at a baseline level, where you're not too pessimistic about your future, but you're not too excited either.
So what I recommend you do, is you do the following exercise. I want you to take your journal, piece of paper, something where you can write, and I want you to write out and list, thirty things that you're most excited about in the next year, that you're going to do. Thirty things that you're super super excited about. Maybe it's that vacation you want to take, maybe it's that relationship that you hope to get into.
Maybe it's that promotion at work you know you're going to get. Maybe it's having all your credit card debts eliminated. Maybe it's starting that new business of yours, or starting that dream project or losing some weight. Whatever it is, but start writing it down and be as specific as possible. Thirty things that you're excited about achieving in the next year, that really really motivate you. Try to focus on the ones that get you excited.
This is simple, this is all. This is the whole exercise. Sit down and actually do this, take 20 minutes or whatever it takes you to wite all this stuff out, and notice how you feel. Notice how you feel right now. Notice how you feel before you do the exercise, and then I want you to notice how you feel after you finish it. If you're like me, you're going to feel so much more optimistic. You're going to feel energized, you're going to feel happy, you're going to feel alive.
You're going to feel like there's something to your life. Because your future now is bright, and it's right here before your eyes. You've articulated it, you've layed it out very clearly, and it's right before you. I recommend you do this exercise more than once. Do it right now but also continue to do it throughout your life. Continue to do it, do it at least once a month. Do it even once a week because it's going to get you connected back to the stuff that's exciting to you. And it's also going to, you know you're mind's going to brainstorm and come up with new stuff to put on that list.
And you can be brainstorming about what you're going to be doing for the whole year, but you can also localize it down and you can shorten the timeframe to something like the next month, or even what you're going to be doing over the next week or even today. Even today you can do it. Just like what are five things you're going to be excited about doing today? If you do that exercise in the morning, just for five minutes, what are the five things you're going to be excited about doing today? It'll probably even take you just two minutes to do that. You're going to feel you're going to be much more excited about your day, and you're going to be much more optimistic.
Do Doorway Affirmation
Michael Phelps
I was going through some stuff and a woman said this to me, she was like, "When you walk through a doorway, say an affirmation." And if you think about it, think about how many doorways you walk through in a day. A bathroom door, your bedroom door, a door of a building. Your office door, in, out. Every time you go in or out of a door, you have to say something positive about yourself. Or something that you believe. It's insane if you try it, 'cuz you end up saying like 400 things or 500 things a day. And it's pretty incredible how fast you see the things that you say inside of you. And that was something that was really powerful for me.
Learn How To Control Your Thinking
Brian Tracy
I want to talk to you now about the big difference between optimists and pessimists in life. Between happy, excited, fulfilled people and negative, tiring, depressed people. Now everyone wants to be physically healthy, but it's important to want to be mentally healthy as well. The true measure of mental fitness is how optimistic you are about yourself and your life. Now in order to become truly optimistic, you must learn how to control your thinking in very specific ways, so that you feel terrific about yourself in your situation, most of the time, no matter what happens.
There are three basic differences in the reactions of optimists and pessimists. The first difference is that the optimist sees a set back as temporary, while the pessimist sees it as permanent. The optimist sees an unfortunate event, such as an order that falls through, or a sales call that fails, as a temporary event, something that is limited in time and that has no real impact on the future. The pessimist on the other hand, sees negative events as permanent, as part of life and destiny. The optimist makes a mistake and brushes it off. The pessimist makes a mistake and considers that he or she is not really good enough.
He or she is not competent, he or she is not likable, popular, or successful, and becomes depressed, becomes crizest by self pity, sees themself as a victim, and feels like quitting. The second difference between the optimist and the pessimist is that the optimist sees difficulties as specific, while the pessimist sees them as pervasive. This is really important. This means that when things go wrong for the optimist, he looks as the event as an isolated incident, largely disconnected from other things that are going on in his life.
He deals with it and gets busy, and puts it behind him. For example, if something you were counting on failed to materialize, and you interpret it to yourself as being an unfortunate event, but something that happens in the course of life and business, you know, stuff happens, you would be reacting like an optimist. The pessimist on the other hand, is different. The pessimist sees disappointments as being pervasive, "Oh, whoa me." To him, those setbacks are indications of a problem or shortcomings that pervades every area of his or her life. They have this, "What's the use?" attitude.
The third difference between the optimist and pessimist is that optimists see events as external, while pessimists interpret events as personal. When things go wrong, the optimist will stand to see that set back is resulting from external factors over which one has little control. For example, if the optimist is cut off in traffic, instead of getting angry or upset, he will simply downgrade the importance of the event by saying something like, "Oh well, I guess that person's just having a bad day.
Or maybe he or she is in a hurry to get to work. Or something like that." The pessimist on the other hand, has a tendency to take everything personally. If the pessimist is cut off in traffic, he or she will react as though the other driver has gotten up that morning, and driven through traffic and deliberately acted to cut him off, to make him upset and angry. The hallmark of the fully mature, fully functioning, self actualizing personality, is the ability to be objective and unemotional when caught up in the inevitable storms of daily life.
The superior person has the ability to continue talking to himself in a positive and optimistic way, keeping his mind calm and clear and completely under control. The mature personality is more relaxed and aware, and capable of interpreting events more realistically and less emotionally than is the immature personality. As a result, the mature person exerts a far greater sense of control and influence over his environment and is far less likely to be angry or upset or distracted.
As the Buddhists say, "The immature person practices detachment. And though they're concerned about things, they don't get excited, they just stay calm." Starting today, resolve to think like an optimist, no matter what happens. Look for the good in every situation. Look for a lesson that you can learn when you have a failure or a set back. You may not be able to control events, but you can control the way you react to them, and in doing that, you control your whole life.
Use The 5 P's
Robin Sharma
How do you really take a bad day and restructure it, so that you can actually turn it into something valuable? And so I'm going to share with you, the five P's of turning a bad day into a valuable day, and even an epic day.
And I'm going to dial right into the first one, which is Perspective. Perspective is a word that seems very simple but I think it's very powerful. It's very easy to get seduced into making something small, a lot larger than it is.
And perspective simply reminds us to go to 50,000 feet on a bad day, and count our blessings. Perspective simply reminds us that things could be a lot worse. Perspective on a bad day, is simply understanding that we live in a world where half the world's population lives on less than $2.50 a day. Perspective on a bad day, is reminding yourself of that Persian proverb, of which says, "I curse the fact I had no shoes, until I saw the man who had no feet."
Perspective is such a powerful word. Here's a great question on a bad day, to bring on some perspective. Has anyone died here? So perspective is something I really want you to think about, and on a bad day, it will actually allow you to turn the lead into gold and really pivot.
Which brings me to the second P, of turning a bad day, into a great day, and it's Pivot. And here's the question to really help you pivot. W T O H: What's The Opportunity Here? So you're having a bad day, maybe you had a fight with someone, maybe you lost a big sale, maybe someone cut you off in traffic, and then you didn't get your favorite lunch, and then you missed getting into Soul Cycle Class. And then you had a difficulty on the way home, so let's say that's happening. You simply run the W T O H question, which will allow you to pivot. W T O H: What's The Opportunity Here? See there's great power in a question.
And it allows your brain to hunt for something good. And so how do you pivot? You ask yourself: What's The Opportunity Here? You have a fight with someone, let's say one of your family members, you say, "What's the opportunity here?" Well, your brain then starts to look for the opportunity, which is, I can learn how to communicate better. Or this is an opportunity for me to show forgiveness and grow in my personal bravery. This is an opportunity for me to understand my family member better. It's a great and powerful question.
Which brings me to my third P, in turning a bad day into a great day, and it's really Pharmacy. The third P is Pharmacy, and that's all about moving. When I have a difficult day, here's one of the first things I do, I will get on my mountain bike and I will ride like a bat out of wherever, through the forest, and that releases dopamine in my brain, which is the neurotransmitter of inspiration. And that releases serotonin, moving, ride on the bicycle, it releases serotonin, which is the pleasure neurotransmitter.
And it cuts down on my cortisol, which is the fear hormone. So just simply going for a mountain bike ride, or going for a swim, or getting into yoga class, or something as simple as going for a walk, or maybe even doing jumping jacks when no one's looking, will create a pharmacy of mastery within your brain, which will affect your psychology, your neurobiology, and your interior life, which makes you feel just a lot better. You know that.
After a workout, you always feel different than you did before you went into the workout. And related to the pharmacy of mastery, is something that I have counted on for years, when I've had good seasons, when I've had challenging seasons of my life, massage. I call it the two massage protocol: two massages every single week, it moves your lymph, it moves your blood, which oxygenates your system, it reduces toxicity, you feel a whole lot better.
Which brings me to the fourth P, in turning a bad day into a great day: Pages. You know I love journaling, and for hundreds and hundreds of years, people who have gone through difficulty, people who are experiencing calamity and chaos, open a journal turn to a fresh white page, and pour their pain or pour their confusion, pour their frustration, out onto that page. It does something so powerful. It allows for a profound release of what you're experiencing, out onto the written page.
Here's the key, if you will repress and suppress your feelings, of anger, of sadness, of disappointment, all of those lower energy feelings, if you keep them inside, they not only build up toxicity, and they build up resentment and frustration, but those are the very things that lead to inflammation, that create dis-ease. And so what I'm sharing with you, with great love and respect, is really very potent. Pages, the fourth four of turning a bad day into a great day. Pull out your journal and write what you're feeling onto a fresh, crisp, written page.
Which brings me to my fifth and final P, in the five P's of turning a bad day into a great day, the Planet. Now you're saying, "Robin, what are you talking about here?" Well, nature. Nature is life's sweet recovery method. Going for a walk in the woods, or walking on a beach and getting next to the ocean, or if you live near a desert, getting out there. If you're blessed to live by the mountains, you know what I'm talking about.
But when you go out to nature, it grounds you. When you connect with the planet, again nature, what does it do? It gives you that recovery method so you actually breathe in the fresh air, but it reminds you, you are part of something so much bigger than yourself. And maybe your bad day, is taking you to a better place. You know, you've heard that old idea, but life doesn't really happen to you, life really happens for you.
And there is this incredible intelligence to life, we don't understand it. Look, you and I are humans, we resist it. But what if the thing you see as bad, is just your false belief system, judging it as bad. We all know this. The things that we see as bad, over time, turned out to be blessings. And so everything is really happening for you, for your best interests. It's taking you to a better place, it's making you stronger, it's teaching you great lessons, often we resist it, but it all comes for our good.
So those are the five P's to take a bad day and really transmute it into a great day. Definitely do these five, because these are all muscles, and like anything, the more you practice, the stronger and more fluent you're going to get. And if you keep on practicing, you are going to get to a place where everyone else is feeling, "Oh, I've gone through this difficulty, it's a bad day," and you're going to see it as possibility and you're going to be masterful at turning the difficulty into opportunity. Hope I've been of service, I'll talk to you soon.
Thank You!
Thank you guys so much for watching. I'd love to know, what did you think? What did you learn from this video, that you're going to apply immediately somehow to your life or to your business? Leave it down in the comments below, I'm really excited to hear from you. And if you leave a comment within the first few hours of this video going live, you might win one of our two daily prizes.
I also want to give a quick shout out to Danijel and Aleksandra, thank you guys so much for picking up a copy of my book, Your One Word, and posted an awesome five star review on Amazon. I really really really appreciate it, I'm so glad the book had an impact on your life. And thank you so much for sharing and supporting me.
Thank you guys again for watching. I believe in you. I hope you continue to believe in yourself, and whatever your one word is, much love. I'll see you soon.
---
BONUS
Girl: Look, I can be a shark. Now, my whole house is great. I can do anything good. I like my school. I like anything. I like my dad, I like my cousins. I like my aunts, I like my Allisons. I like my mom, I like my sisters, I like my dad,  I like my hair, I like my haircuts. I like my pajamas, I like my stuff. I like my room. I like my whole house.  My whole house is great. I can do anything good. Yeah, yeah, yeah, yeah, yeah. I can do anything, good. Better than anyone.

Leo Gura
And now, you might also have this objection over this thought, that goes something like this, "Well, Leo, okay positive thinking. I hear you, it sounds nice. But isn't positive thinking actually dangerous? I mean, I'm a realist.
Isn't it better to be a realist in life? Rather than to be this starry eyed optimist? And approach everything optimistically? Isn't realism the best approach? I mean, what if you're optimistic and then you're all about optimism, that you have all those goals and dreams and the outcomes that you set for yourself, all those just come crashing down when it comes and kind of collides with reality? What if you're cheerful and you're telling yourself to be all happy, and then someone close to you dies, and then you're not able to maintain that? What happens then Leo? Isn't that reckless? Isn't that dangerous? Aren't you setting yourself up for pain?" And the answer is this: you are setting yourself up for pain, if what you're doing is you're setting these hard expectations, and you're very attached to the outcome. But it doesn't have to be that way. Right? See, this where discounters and naysayers of positive thinking, will get it wrong.
Is they'll say, "Well positive thinking, that's going to set me up for failure. That's going to set up to disappointment." The problem is, they're being positive, and they're telling their self, "Well, I'm positive, and I need the outcome to be positive.
And if it's not positive, then everything's going to Hell." But see, true positive thinking is like be more relaxed, be more chill, be outcome detached. You're a positive thinker, you're thinking positive about the situation, that doesn't mean that the situation won't turn bad. That doesn't mean that you can foretell the future and you can get everything that you want to happen in your life, to happen in the way that you want it; never going to happen.
On the contrary, it means that you're going to have ups and downs, you're going to have things unexpectedly happen. You might have some sort of lofty ambition or goal for your business, and then it comes crashing down, and it, you know, the market comes and it crashes, and your business crashes with it. Or maybe you have some nice expectations and you're thinking very positive about your relationship and then your relationship ends in a divorce.
That could happen. So I'm not saying you can necessarily prevent that in all situations. But the idea here is that, if you're a positive thinker, you remain positive, and you're not attached to it. See if you're a realist or a pessimist, then actually what you're doing is you're like, "Okay, if I'm thinking positive, then I need it to actually pan out. I need it to be positive all the time." And of course that's not going to work.
That's a neurotic way of doing positive thinking. True positive thinking is like being cool and chill and is like, "You know what, if it happens, good. And if it doesn't happen, you know, still good." Heads I win, tails I win, that's what a true positive attitude is about. Alright so, I'm going to wrap it up here. This is what cultivating a positive attitude means. It's really about acceptance. You have to accept. What do you have to accept? One: you have to accept the present moment, as it is, completely inevitable. Number two: you have to accept that worry is completely useless and of no value to you.
Number three: you have to accept that cheerfulness is the best strategy to go through life with. And you have to now strive to live up to that. Right, I know it's hard, this doesn't mean it's easy, It's going to be very hard. But, if you're like me, then you see the longterm potential here. I mean, how awesome would it be to develop yourself internally? So that you could have a true positive attitude about life? So that no matter what happens to you, you can remain cheerful, so that you're not worrying, and you're not feeling like you have to worry because you know that the worry is not helping you.
And that you're in the present moment and you accept the moment as it is. If you can achieve all those things, then you've basically accomplished nirvana; you've got Heaven on Earth, like nothing can hurt you, you're untouchable. So this is a very powerful goal to set for yourself, is to cultivate this attitude over the months and the years, as you're growing yourself and you're doing other stuff, try to move you way and inch your way up, to having a true positive attitude about life.
Wengie
Wengie: One thing that I've found, like really really hard about optimism, is that you can't expect to become an optimistic person overnight, it does not happen. It's probably taken me like five years of constant practicing to become an optimistic person, or someone that can see the bright side of things. And when I'm in a bad mood or something, I tend to go back to my old habits and think really negatively. But in general, it gets easier and easier to, I guess, have a better perspective on things, as you practice.
So for those of you guys wondering why it's so hard to be optimistic, don't need to wonder, it is really really hard, especially if it doesn't come naturally, but I know that you can be an optimistic person if you try. So I'm going to be showing some of my tips that I have used to help me. And I believe everyone is born with sort of a natural level of happiness, and there have been scientific research studies that have been done, that everyone comes with a baseline of happiness. And whatever that is for you, that is kind of where you naturally will sit. So if you're born like someone that isn't naturally happy, you have a lot more work to do, and you need a little bit more practice but there's nothing wrong with you. And if you're born a super happy person, then you don't really need to try very hard to be optimistic.
And if you are born someone that, you know, wasn't born super duper like happy go lucky kind of person, you may look around and see these people always being so cheerful and bubbly, and wonder, how the Hell did they do it? Well, I believe they may have been born with it. But you know, I don't know, it's just science. So, I guess for those of you that have a baseline level that isn't as high, you just need to switch the way you think about things. And I think this is something I've been noticing really really like obviously lately. Like, with any given situation, there's always multiple ways to look at it.
Like if you get into a car accident, you can either feel like, you know, it's the worst thing that happened today. And you could also think, this is the luckiest day of my life because I'm still alive after having a car accident. So a car accident can either be super duper negative to you, or it can be like, oh my God, I'm alive. I better live my life better. So you can see how something so tragic and terrible can have two sides of the coin, pretty easily. Like I can imagine someone feeling both feelings. And you'll probably know someone in your life, that will experience both of these feelings. So I guess when you look at any situation objectively, it's kind of a choice.
It's your choice to decide what any given situation means to you, and that is your decision to make, and no one else can force you to think like it's a negative situation, and no one else can force you to think it's a positive situation. I guess becoming an optimistic person means making that choice in your life, and then sticking to it, and being really aware of the thoughts going in your head, and how you think, etc. Because someone can get cancer, and they can have two different reactions. One person may take it as it's their chance to do everything that they wanted to do, and help people. And one may feel like a victim and think like it's the worst thing.
Why did this happen to me? And then spend the rest of their days, mulling over and being really grumpy. It's your choice, really. And I know I'm using really extreme examples, like accidents and cancer, but it's these extreme examples that can really show you the glaring difference between how people think. And even though you don't automatically think optimistically, it doesn't mean you can't do it over time.
So I always catch myself doing things like this, if I catch myself thinking negative, I will stop, breathe, and then try and rethink about the situation again. And then when you do that, that process becomes easier, much like lifting weights. At first, lifting you know heavy weights, would be like really hard. But if you practice every single day and then just lift a little bit more every single day, you will actually get really good at it. And I don't know why I always use weights as an example, but I don't know, the gym is just my go to example for things, I have no idea why.
But yeah, so whatever situation you're in right now, and you're feeling really down about it, I want you to sit down with a piece of paper, or even in your mind, it really depends on which way is easier for you, and to think of all the different ways someone can think of that situation. You don't have to put yourself in that situation personally yet. Pretend you have five different friends, how would each of them think about this situation? And then you can list out all the ways I could think about it differently, and that will really open your eyes on the amount of ways that you can think about it yourself.
And then you can choose the one that will help you the best. Because at the end of the day, whatever you think about the situation will determine what your future can be. Someone that thinks positively of a really bad situation can end up being you know, the person that helps many other people in the same situation through sharing their story, opening a charity, or doing volunteer work. And then the other very same person can affect their future by playing the victim and then spending the rest of their time making all their friends miserable by dragging them into their sad story.
---
You might also like
---
More from Believe Life
---
Today we're going to learn how to communicate effectively.  Good morning, Believe Nation. It's Evan. My one word is believe, …
Today, we're going to talk about how you can create a massive action plan. Good morning, believe nation. My name …
Today we're helping you to stay motivated, and to learn how to motivate yourself! How to MOTIVATE Yourself - #BelieveLife Why MotivationGrid We're all …