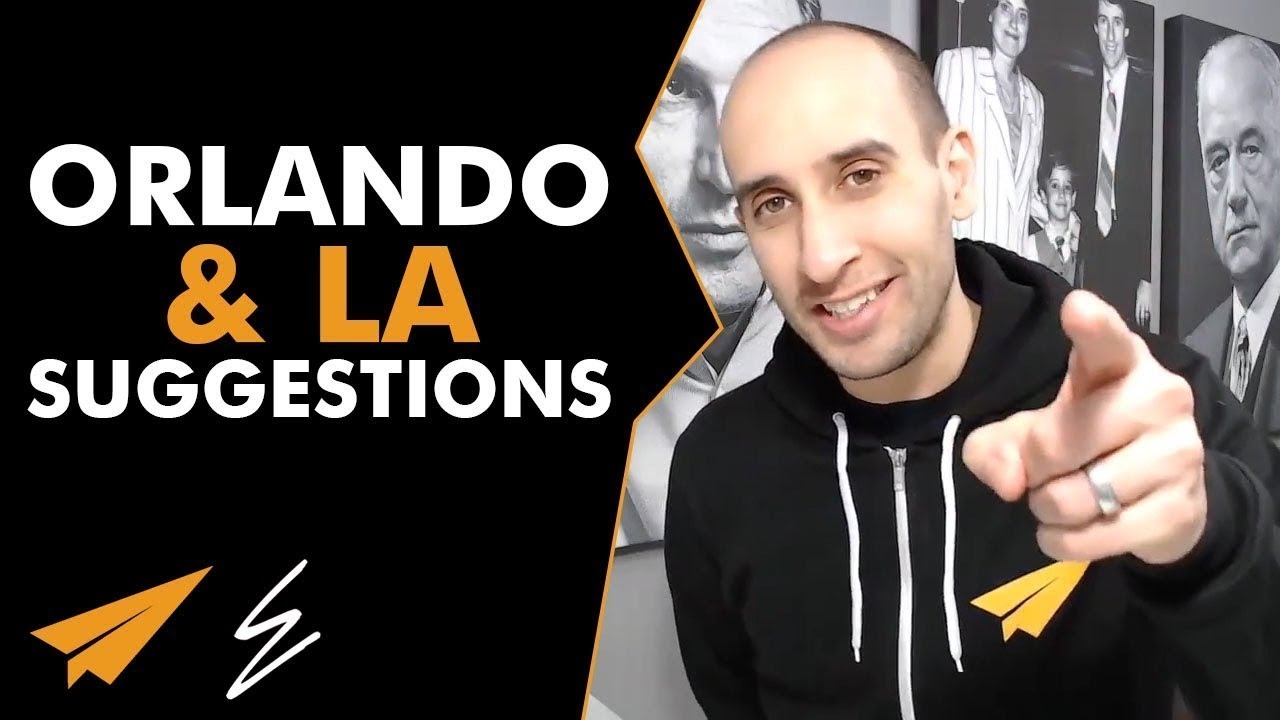 I'm on my way to Orlando and LA and I want your suggestions on what I should do there.
What's up believe nation? Hope you're having an amazing weekend. So I wanted your advice, I want to hear from you. I'm on my way to Orlando and then LA in March. One, Orlando is for my annual Disney trip. It's a tradition that we started a number of years ago and we go every year, and I'll be documenting it. And we have one day off, we've got a shopping day, we've got Blue Jays baseball spring training day, we've got three days at Disney, we've got one day at Universal Studios which we're going to for the first time.
And I want to know what do you guys think? Am I missing something? What is the must do in Orlando that I need to go check out? If you're from Orlando I want to get some comments down there as well. And then I'm coming back for like three day with Toronto and I'm heading off to LA doing something with Tony Robbins, and then Lewis Howes, and Brian Grazer in LA. And I have half a day after, or before, I have to figure out the exact day. If any of you guys are in LA and want to meet up, let me know, leave it in the comments.
Maybe we can figure something out and I can give you exact dates. Let me see actually, when are we, when does my, what is my LA day? So in LA I have time on the 27th of March either first thing in the morning or in the late afternoon. I think my last meeting starts at three, so until, you know, starting at five or whatever, I'll be in Beverly Hills and West Hollywood around there. So if you're anywhere close and you want to meet up let me know.
Or if you have suggestions of what I need to go and do in LA, that I haven't done before, and you recommend I must check out, let me know, leave it down in the comments, and hopefully I will get a chance to do it. Quick one this weekend for you guys. Hopefully you are having an amazing one, and I look forward to seeing your ideas, listening to your feedback, and maybe meeting up with some of you soon. Thank you guys for watching, I believe in you. Hope you continue to believe in yourself. And whatever your one word is, much love, I'll see you soon.
---
You might also like
---
More from Life With Evan
---
Hello everyone, this is Evan, this is Nina. Wow. What's up, Believe Nation? Nina and I are heading on a vacation …
Happy weekend everybody, today I'm taking you to the Canadian National Exhibition with Nina, she just wanted to get in. …
What's up Believe Nation? Happy weekend, it's Evan. I'm thinkin of launching a new potential t-shirt and I need your …