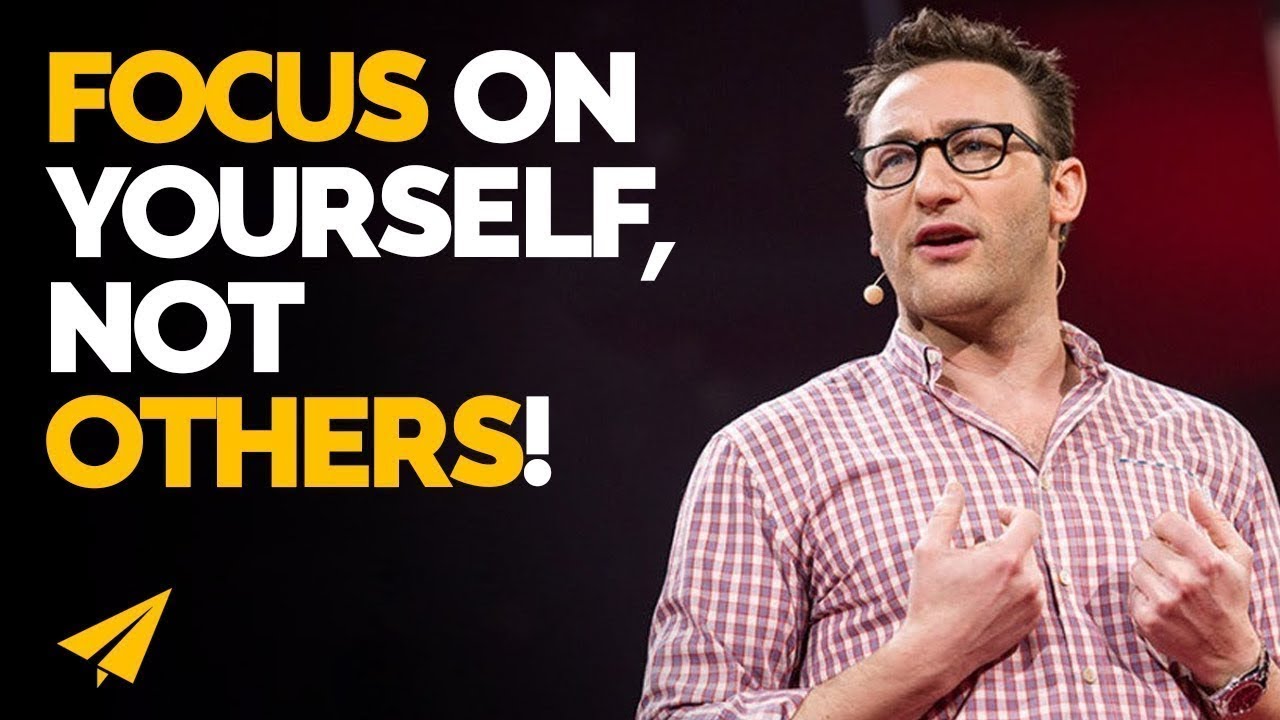 Good morning, Believe Nation. My name is Evan Carmichael. My one word is believe, and I believe that entrepreneurs will solve all of the worlds major problems. So to help you on your journey, today's message is outdo yourself. Over to you, Simon Sinek.
Outdo Yourself – Simon Sinek
I spoke at an education summit for Microsoft. I also spoke at an education summit for Apple. At the education summit for Microsoft, I would say that 70% of the executives spent about 70% of their presentations talking about how to beat Apple.
At the Apple education summit, 100% of the executives spent 100% of their presentations talking about how to help teachers teach, and how to help students learn. One is playing this way, and one is playing that way. One is playing finite, and the other one is infinite. Guess which one gets frustrated.
So at the end of my talk at Microsoft, they gave me a gift. They gave me the new Zune when it was a thing.  And let me tell you, this thing was spectacular. It was the most elegant piece of technology I'd ever used. The user interface was incredible. The design was spectacular. I absolutely loved it.
It was easy to use, and it was bright, and gorgeous and fanta, it didn't work on iTunes, which is a different problem. So I couldn't use it, but it was amazing.  And elegant, my God, it was elegant.
So I'm sitting in the back of a taxi with a very senior Apple executive, sort of employee number 12 kind of guy, and you know, I like to stir pots, so I turned to him, I said, "You know… Microsoft gave me their new Zune, and it is so much better than your iPod touch." And he turned to me, and he said, "I have no doubt." Conversation over.
Because the infinite player understands, sometimes you're ahead, and sometimes you're behind. Sometimes your product is better and sometimes it's worse.
The goal isn't to be the best every day. The goal isn't to outdo your competition every day. That's a finite construction. If I had said to Microsoft, "I've got the new iPod touch and it's so much better than your Zune", they would have said, "Can we see it, what does it do?" React, react, react, react.
Finite players play to beat the people around them. Infinite players play to be better than themselves. To wake up every single day and say, how can we make our company a better version of itself today than it was yesterday? How can we create a product this week that's better than the product we created last week?
We also have to play the infinite game. It's not about being ranked number one. It's not about having more followers on Twitter than your friends. It's not about outdoing anyone. It's about how to outdo yourself. It's not about selling more books, or getting more TED views than somebody else.
It's about how to make sure that the work that you're producing is better than the work you produced before. You are your competition. And that is what ensures you stay in the game the longest, and that is what ensures you find joy. Because the joy comes, not from comparison, but from advancement.
Evan Carmichael
So I think having enemies is actually a good thing. I think enemies can push you to be better, to do more, to go stronger. It doesn't mean you have to copy them, but I think they push you to be a better version of you. Tupac was better because of Biggie. The Yankees are better because of the Red Sox.
Apple is better because Microsoft exists. I'm better because of people like Gary Vaynerchuk and Grant Cardone, and all these other guys who are making YouTube videos as well. It doesn't mean that we copy them, right? The way the way that Gary wins is through his speeches and through his vlogs, and daily people following him around.
If I was just copying him and saying, well this is the way to win, I need to do exactly that, then I'm going to lose. If you look at your competition and say, I'm just going to be a copycat, that's when you lose. Because you can't out-them them, right? I can't out-Gary Gary, and Gary can't out-Evan Evan.
It's just not possible, right? So if you look at your competition just saying I'm a copycat, you've lost already. But to look at them and see they're growing, they're gaining, you know, they're getting more market share, they're getting more customers, they're getting more subscribers, that can push you to do better.
Sprinters do better when they have people behind them who are also good. If you're constantly the best in your field and you have no competition, then it's easy to get complacent, it's easy to get lazy, it's easy to relax. And so, I think having enemy is a good thing, but I definitely agree with you need to try to outdo yourself every single day.
I look at myself as my competition, I look at my videos from last week and say, how do I do better, how do I get better? Yes, I want to aspire to be like a Les Brown, or a Tony Robbins and learn from them, and their skills, and their abilities, and not be them, but learn from them to be a better version of me, and I want to be better than I was last week, and the week before, and the week before, and the week before.
And you may not always see a difference from week to week. But you can definitely see a difference with more time. There's been a lot of people come back to my videos from five, six years ago, and say, "Wow so much has changed!" You know, I'm still the same guy, I still have the same points of view, but my abilities have grown because I've practiced. We've done 5,000 videos, right? You got to get good at something if you've done it 5,000 times.
Even if you're practicing really inefficiently, you better get good at anything if you're trying it 5,000 times. And so, I think it's really important that you can look up to other people, you can look up to your rivals potentially, and say these people are pushing me to do better, to be more myself, to work harder, to grind it out more, to hustle more, and… I'm not going to use external people as my barometer of success.
Because if I'm only looking at Les Brown, I say, well, maybe I'll never get to Les Brown level. Don't use that to beat you down, use it as a kick forward. And, I want to compare myself to how I was last week. 'Cause if you're only comparing yourself when you are at your start, to somebody else's middle or somebody else's end, it's not a fair fight.
And so you can use that as inspiration, but tactically, and practically, on a day to day, week to week basis, competing and beating and outdoing yourself is super important. So I don't think it's one or the other. I think you take the best of both to help you become the best version of yourself.
Question Of The Day
So the question today is, I'm curious, what have you done to recently outdo yourself? If you're looking back a week, a month, a year, what have you gotten really good at that you weren't so good at before?
Have a little bit of a brag, show some love for yourself, have a little bravado. It's okay this time, I want to see it come out. Leave it down in the comments below, really curious to see what you have to say.
I also want to give a quick shout out to Jonathan Balgame. Jonathan, thank you so much for picking up a copy of my book, Your One Word, and taking a picture with it and posting it on Twitter, it was awesome to see, and I'm really thankful for your support, and I'm glad that you enjoyed my book.
So thank you guys so much for watching. I believe in you. I hope you continue to believe in yourself, and whatever your one word is, much love, and I'll see you again tomorrow morning for another shot of entspresso.
---
BONUS
Outdo Yourself
Terry Crews
How many times have you ever heard the phrase, you are perfect, just as you are? Have you heard that a lot, man? You know what, you are perfect just as you are, you are so perfect just as you are. Well you know what, you are not. You are not perfect just as you are.
You are perfect, but you're not complete. This is the thing, and this is what I mean by that. A lot of people are going to go, oh what do you mean, I'm, what are you trying to say, I got to change? I got to change into somebody else? Yes, yes. You need to change.
Everybody, everybody out there needs to change. We are designed for change. Nothing in this world stays the same. You are either getting better, or you are getting worse. Let me describe something to you. When I say you are perfect, but you are not complete, let's say this building I'm in.
If I looked at the blueprints for this building. The blueprints for this building before it was built were perfect. Everything was in its right place, everything was great. But could I walk in it? Could I do anything? Did I have a building? No, why? It wasn't complete.
When they framed up this building and put wood, and metal, and all this stuff, but they didn't do the floor, didn't do the electrical, was it perfect? Yes, it was perfect. But it wasn't complete. You are like this building. You are perfect in every way, but you're just not done.
You're not done. And you know what? Anybody's trying to tell you, don't try to change me. Now, no one should try to change you, but you have to change yourself. You owe it to everyone to change yourself into a better person. Into a better human being. That's what you have to do.
You are perfect. But you're just not complete. So, when you look at yourself, look at yourself as that building. And it's framed up, and everything is in it's right place, but you're just not done. I want to tell you that. So anybody who's trying to tell you that, I'm perfect just the way I am is not trying to change.
And guess what? You're not. And it's not working. You're a half done building. Who wants to live in a building with no roof? Nobody. And I'm just trying to break it down to you, that you hear these catchphrases. You hear this stuff all the time. And everybody just takes it and says, oh yeah, I'm perfect just the way I am, and you don't change.
And your life doesn't change, and nothing gets better for you, and you wonder what's happening. And everything is crumbling around you. Hey, I'm guilty. Terry Crews is guilty. Then I realize, wait a minute. Wait a minute. I'm not perfect just the way I am. I have to be perfected. I am perfect, but I am not complete.
Pitbull
At the end of the day, this is called the music business. You've got to continue always find ways to better your business. It's kind of like Apple. You know, if he stayed on a laptop, then what would he be? No. What did Steve Jobs and the whole team come up with? iTouch, iPad, iPod, now it's iCloud. It's always finding ways to get better, and that's the way I looked at it through music.
I said well, now I can just go from rapping to everybody in the neighborhood, to the whole world, and it worked. And now everybody's doing it. Now I got to figure out the next move. Now I got to figure out my next iSomething.
Trey Songz
I don't write down goals, and go get 'em. I know a lot of people do that, but I just kind of try to outdo myself. Outdo my last outdo. And although this is a competition, in every sport, and I look at this industry has a sport, because it's numbers and it's money, and it's achievements, and it's championships, and et cetera, et cetera, you know.
I'm only really in competition with myself. You know, although it is, you know, a fun competition to look over and see what your homie doing, and see, you know what I mean?
For me it's all about bettering me, bettering the music I make, bettering my fan experience, bettering my business, bettering myself as a man.
The truth is, there's a lot I want to accomplish in the music industry. There's a lot I want to accomplish as a businessman. I haven't done a lot of those things yet, although I have done a lot, I feel like I'm just getting my feet wet and the ceiling is very high for me.
---
You might also like
---
More from Entspresso
---
Today's message is be confident. Good morning believe nation, it's Evan. My one word is believe and I believe that …