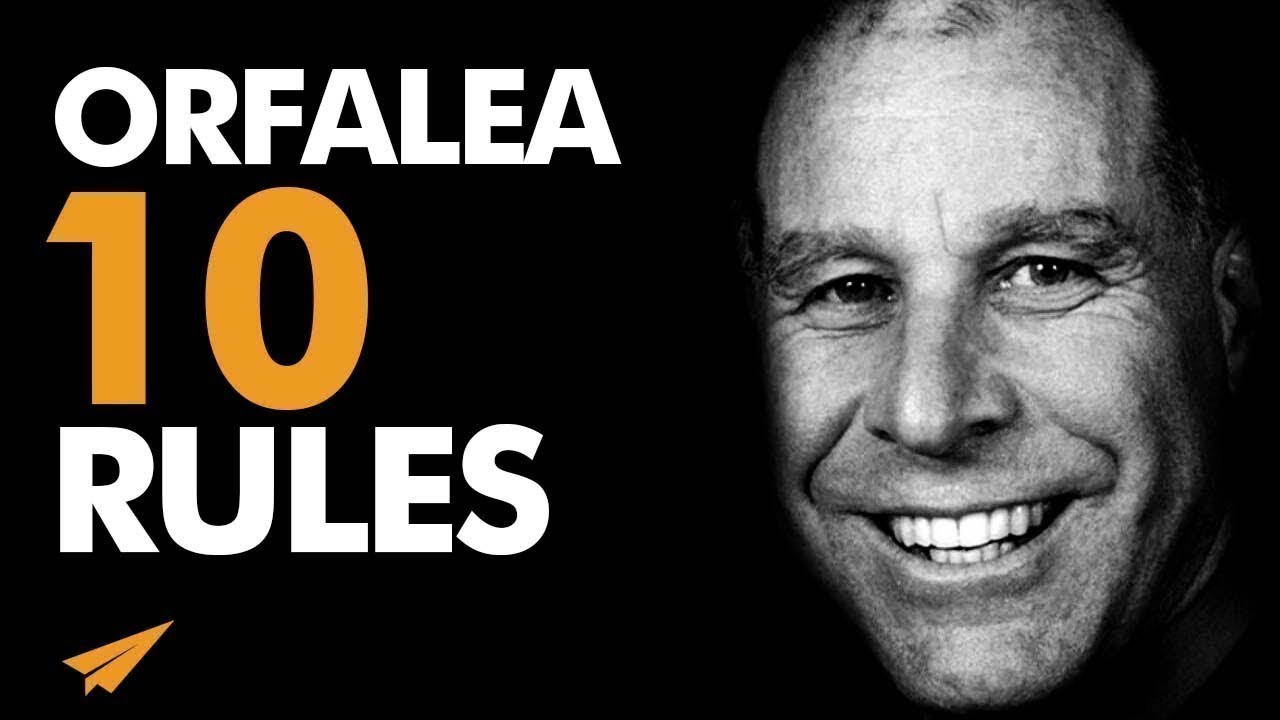 He co-founded the copy chain Kinko's, Fortune Magazine named Kinko's to be one of the best places in America to work for three years in a row. Now that he is no longer the CEO of Kinko's he's focused his efforts on philanthropy, he's Paul Orfalea and her are his top ten rules for success.
Paul Orfalea's Top 10 Rules For Business and Success
Rule #1: Keep Making It Better
I'm lucky enough to be very restless, some people call it ADD and I was very good at leading my business. After the first three months we hired a manager because those stores used to drive me nuts, they were very hectic and nerve-wracking. And my job was really, because of my restlessness, I could be in the moment, was going store to store to store looking for what people are doing right and exploiting it.
Couldn't I make a lot more money discovering some cool new idea than hovering in that office worrying about stuff? And I was working with very capable people that knew how to run the business very well. I did financial controls but my job was always looking for ideas to make it better. And I always had to define my job that everything went beautifully without me, but whatever I did every day I made it better.
Rule #2: See The Success Around You
You're surrounded by success, thinking about a washing machine, washing machine weighs maybe 150 pounds, you buy it for $750? Isn't that an amazing thing? $5 a pound? You get all those little parts, that for some reason seems to break. Isn't that kind of an amazing thing how you get that whole washing machine for $5 a pound? Isn't that kind of a cool deal? Are you aware that you are surrounded by success? Every time you're buying something, it's a successful endeavor, do you see the success around you and are you obsessed with making money from the success around you? Are you obsessed with what's wrong? Like you can sit in your office, now you all have a great cop out, the economy's bad and I'm not going to get a job, well tough  you've got that cop out for the rest of your life.
That's not going to be, you want to have that you can intellectually be very honest and you can sit at the Oasis and just become an alcoholic. I mean really, you have that intellectual option because you say the job market's bad, I'm just going to go to depression, isn't that fear? That's an honest response and I would say maybe you ought to just think about all the gifts you have and say the world is successful, I want to be part of it. But I don't want to work for other people, maybe? That's like think why you're here, is that right?
Rule #3: Create Your Own Rules
I'm really lucky, I can't read well, I have no mechanical ability, I was held back from two grades, I was expelled from four high schools, I was graduated 8th from the bottom of my class of 1,200. I figured out how to go through college because I didn't really want to get drafted and if you think of it school's like a system, isn't it? And for me, I couldn't do it their way, I was a third grade speller, I had to do it my way.
And I think that getting through that system prepares you for life and how to get through that system. When you think of it, business is really defining making your own rules to a certain extent.
Rule #4: Take Risks
I don't know nowadays if rejection is part of your every day life, so I think a lot of business and doing things is just the idea of having resilience. I'm going to ask you all a question, if you're little five year old comes to you with a painting from school, what are you going to say?  Absolutely, the worst thing you could say because what you do by saying good job is you teach a child to please others rather than to please themselves.
What you might want to say is tell me about the painting and why did you do it? But I think to produce, I don't know if today people are risk takers, they want a lot of atta boys and you have to give it to them sooner or later. So I'm not sure, can I amplify it a little bit?Here I am, I'm at USC and it's really not complicated, I saw all these people in line Xeroxing, what a discovering.
If they're Xeroxing at USC, why wouldn't they Xerox at Santa Barbara? Was this, such research, I didn't invent the Xerox machine, they were just in line Xeroxing and at one point, all the customers could see, I had all the customers in line, my own workers could see how much money I was taking in and I wasn't, we expanded every college in America.
What always baffled me, is why I didn't have more people across the street competing with me and I think even back then we weren't risk takers but look back on your grandparents, if your grandparents had seen that I had something good with customers lining, you think they would have been out there competing with me in a heartbeat? So, I'm not sure risk taking is as rewarded as it should be.
Rule #5: Cultivate Your Intuition
You fall in love with somebody here, you don't love them here what happens? You get a stomach ache here, where do you fall in love? With your stomach.  Are you cultivating your intuition? And I would say if you're not drinking enough beer at the Oasis, you're not taking advantage of your education.
Because what you're going to do in life is you're always going to be gauging people if they're bs'ers or not. And if you're not cultivating your human skills they're going to snow you, you know what I mean? Drinking beer is not your enemy, drinking beer is socializing, having coffee, you're learning that those are very constructive moments, you're learning is that a person to bs or could I trust them? What is the behavior that I really want for my workers?
Rule #6: Look At Your Business
If you're always doing what you didn't do yesterday, you're never ready to get to do today's work, let alone tomorrow's. I was always in the moment looking for opportunities, I was always at Kinko's, the guy across the street, looking at my business.
I was never really in the business looking out and if you have that vantage point, first of all you're healthy paranoid, you deal with anxiety, you're always on the cutting edge of making it better. And I simplify my job is everything went beautifully without me but whatever I did every day I made it better.
Rule #7: Remove Obstacles
I sold my business to these guys in New York, they asked me my biggest competitive advantage and I said it was the sparkle in our workers eyes and I firmly believe that. Cuz anybody can have those silly little Xerox machines, but what really made the competitive advantage was our workers had a sense of purpose, and they've got a thousand thank yous from customers and they're really working for the customer, they could see that relationship.
So I really spent all my time nurturing that relationship and the best definition of management came from my wife, the only reason you have management is to remove obstacles, not to make obstacles so the only purpose of a owner or a manager is to make worker's jobs simpler and eaiser and that's how I conducted my affairs.
Rule #8: Get A Good Night's Sleep
Get a good night's sleep, you know the secret elixir of life is sleep, everybody wants this natural everything, why don't you just try a good night's sleep for a change. And you know, what you've learned in the daytime is imprinted on your brain while you sleep, so if you're not getting a good night's sleep you're not taking advantage of your education.
My mom only cared about two things, saving and sleeping.  That's the only two things, I don't care what you're doing, you're going to bed early and you're getting a good night's sleep, your grades aren't as important as a good night's sleep.
Rule #9: Trust People
The only thing you have to trust, what is the most important thing a child wants? Predictable environment from their mother, that's called trust. What's the only thing you want from a teenager? Trust. What's the only thing you want from a worker? Trust.
Doesn't the worker say, well I want to trust that you can pay me? Trust is all qualities of leadership, isn't that when you break someone's trust? Life is all about trust, there's only one word and so I had no choice, as much as I'm paranoid, I had to trust people. I trusted people because I wasn't capable of doing things myself.
Rule #10: Work, Love And Play
We had to incorporate in the philosophy of our company, the values, the real value statement of what we were all about, the idea of work, love, and play. To be successful in life you have to have three things in balance, if not how would you run a 24 hour a day business? If you didn't have a balance in your life, you following me? I mean, you'd have a nervous breakdown if you're just a workaholic, wouldn't you? So I think to be successful you have to have all three and you'll be more successful if you strive for balance in your life.
You'll make better decisions, somehow wives really ground the hell out of you, you're not a big shot at home and that's good.  So just try to remember, make goals every year for all three, work, love, and play and it's just important. You'll make better decisions.
Imagine when I went out and I told these people that love things, let's go 24 hours a day, what they would say to me? Paul, I can't work any harder, how do you expect me to keep this thing open 24 hours a day? Those are the wrong people, they had a idea of going to people based people and you can't lead other people unless you manage yourself. If you don't look rested, nobody wants to follow a leader that's tired, haggard, and miserable.
It's just not a prerequisite for leadership. Nobody wants to, I think Obama's done a bad job, the first month he looked too dour, I voted for him, but I agree with Bill Clinton, he is not. Yesterday he was inspirational, but you don't want the President of the United States saying if you don't pass this legislation you'll go with the cliff.
Wrong, he's got to always be cheerful, always uplifting, that's what leaders are supposed to do and then somebody said, "Well you want him to be honest." No, you don't always have to be honest as a leader, you could honestly say I know this problem's over there but we're still going to charge forward.
You don't have to, leadership is a different thing. It's not you open  remember work, love, and play you'll be successful. You'll be a better leader, you'll be a more balanced person and people will respect you more. So all you workaholics, drink some beer.
Thank You
Thank you so much, I made this because girohead asked me to, or girohead? So if there's a famous entrepreneur that you want me to profile next, leave it in the comments below and I'll see what I can do.
I'd also love to know which of Paul's top ten rules meant the most to you, leave it in the comments and we'll join in the discussion. Thank you so much, continue to believe and I'll see you soon.
---
BONUS
Be Curious
It's astounding at the lack of knowledge of current events, I teach at USC, in my own class. Give them a little current events test in the beginning, two students this last few weeks ago, they were 2200 in the SAT types, solid As, native Californians, couldn't point Arizona on the map.
The guy said it's sort of in this area. How do you not know where Arizona is?  Do you think that if you didn't know where Arizona was you might have had that straight A education but you got in the lunch room and they're going to say fired. What do you think? I mean there's just certain things, I mean how many of you knew last summer there was a flood in Pakistan? What are you going to talk about when you get out in the real world if you don't have any knowledge of current events? How do you have any way of assimilating your education in some sort of context if you don't have a knowledge of current events? I was always a current events junkie, I'd go home at 4:00 and watch news until 7:00.
Maybe I took it to the extreme, but I wake up in the middle of the night and I watch the BBC for five minutes to find out what the hell's gone on since I went to bed. I'm really curious.  You ever read a good book, you just can't wait for the next chapter? Never happened to me, but I hear you can do it.  But the news is like that.
Interviewer: So you heard from Mr. Orafalea himself, my students, be curious, pay attention.
And watch the paper, read the paper, read the news. Be involved.
See What Isn't There
You want to hear another great stupid story?  They got his McKinsey, you ever heard of McKinsey?  Are they here or something? So I leave the company, they spent $2 million to study our business, okay? I was talking to this man and he owned these markets called  Markets in Pennsylvania, you ever see them? Okay, guy tells me at lunch, you know I can't explain it but we would close our business from midnight to 6 in the morning cuz we'd only do $40 in business but our daytime business would drop in half.
He said I don't understand why just closing those six hours would have such an effect on my daytime business. What did the guy tell you, I go to bed, I go to sleep I wake up like a bat out of hell and I said, what'd the guy tell you, if you go 24 hours a day, your daytime business doubles, is that correct? And it's true, and it doubled, my overhead was the same everything, it was all marginal profit.
Was that a cool discovery? Let's go like this, yeah it was a good discovery.  So the bozos get this McKinsey in there and McKinsey takes a stopwatch and says by the way you'll save a bunch of money closing at 10 at night and opening up at 6 in the morning.
Was the wrong decision? You know the art of business is seeing what isn't there, anybody can see what's there but the art is seeing what isn't there. Did anybody see that half the customers I lost cuz I wasn't there? But that's another thing that maybe you guys don't see, you don't see what isn't there. Maybe you should go home and have some more anxiety.
Care About Your Children
There's only one measure of success in this world. You know what that is? Do your children want to be with you when they're adults? Don't forget, if you get so busy your children don't ever want to come home and see you, I don't know if that's really being successful, so it's very tricky marketing to your kids cuz you want to raise them and be strict but at the same time you want them to come home for Christmas. How do you do that? If you become too strict they don't want to come home ever? You're a jerk, if you're too lenient they become drug addicts, I don't know.
---
You might also like
---
More from Motivation
---
Watch Evan Carmichael's Top 10 Rules For Success video. Famous Entrepreneur Quotes Evan Carmichael's Quotes "Changing my environment had a dramatic impact …
Watch Mark Hamill's Top 10 Rules For Success video. Famous Entrepreneur Quotes Mark Hamill's Quotes "I love the allure, the danger, of …
Watch Brandon Beck's Top 10 Rules For Success video. Famous Entrepreneur Quotes Brandon Beck's Quotes "Whether you think you can do it, …