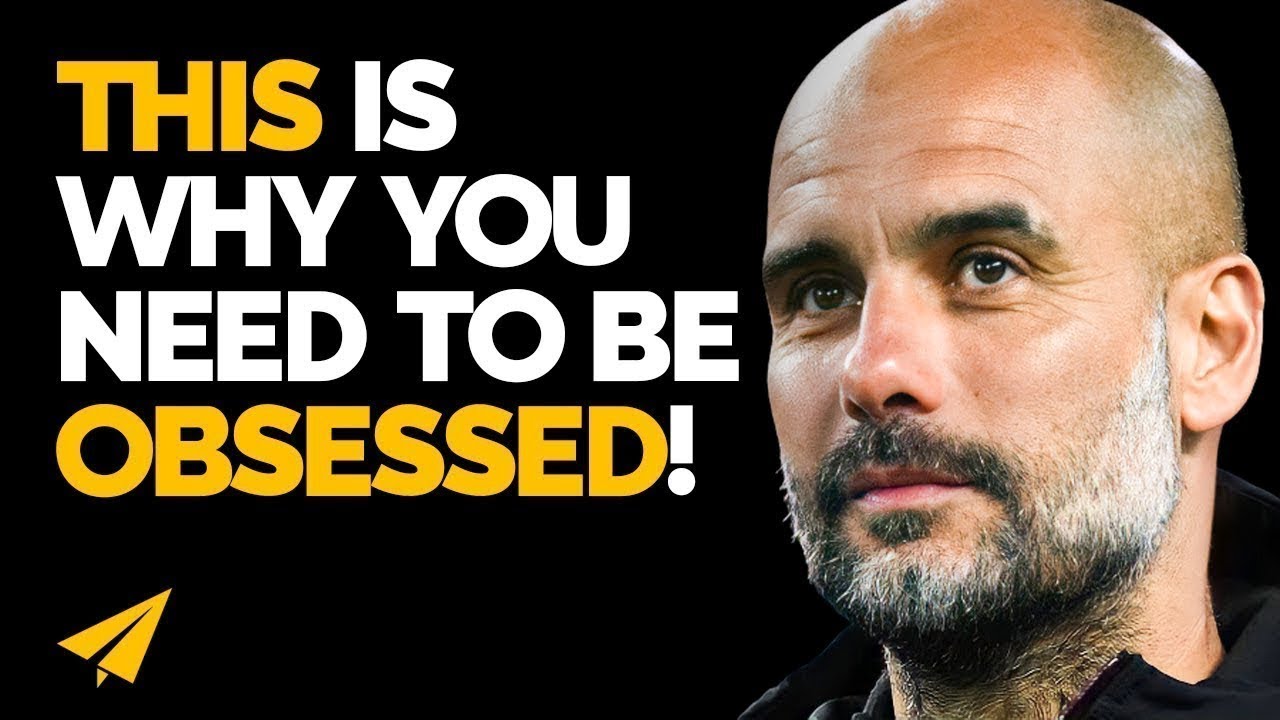 I want to win. I want to play serious. I want to be effective.
Maybe because I am a Latin guy, I need to be close to the guys.
We had decided that he will be the next coach of the first team of Barcelona. And when I told him this he said that, 'You wouldn't have the balls.
– Pep Guardiola
…
He's a Spanish professional football coach, former player, and current manager of Manchester City.
As a manager, he won 14 trophies in the first four years of his managing career.
He's considered by players, managers, and commentators to be one of the best managers in the world.
He's Pep Guardiola and here's my take on his top 10 rules to success.
Rule number two is my personal favorite and I'm curious to figure out which one you guys like the best and as always if Pep says something that really means something to you please leave it in the comments below and put quotes around it so other people can be inspired as well. Enjoy.
…
Rule #1: Be Legendary
Sophisticated.
Magical.
Intense.
Motivator.
Calculated.
Genius.
Evolutionary.
Great coach.
The perfect job.
Excellent.
Perfectionist.
An obsessive.
Passionate.
Visionary.
Pep, Pep is love.
Rule #2: Follow Your Passion
Interviewer: Talking of talented players for any young viewers out there who want to become a professional footballer, what one bit of advice would you have for them?
Pep: They have to look inside to themselves, if they have passion.
That's all. If they have passion they can do it. If they play just because it's always in TV or it is to be famous, you can go out with the beautiful girls or win a lot of money, there is no chance.
Do it, do it and not just for the football. Like I think about life. If you like to do something then you can spend a thousand million hours in that because you love it.
"If they have passion they can do it." – Pep Guardiola
All the professionals stay a long long time playing every three days in important games because they love the game. If they don't love the game, they don't love training, they can't stay for long.
Rule #3: Prove Others Wrong
Noel: It seems to be that mangers from other countries come and they are quickly addicted to the place. Have you spoke to anybody on that behalf?
They told me it's so hard, so tough, and other people say Pep is not going to adapt in that he's not cut in that way so that's why I am here to try to do it.
The people have confidence it's going well but some of them in Germany as well the people say the way you play would not be possible here in the Premier League so and I said myself why not?
Why we don't travel there to try it?
And that's why. It's a big challenge. Not just for me but I am always in my teams, I was able to boss the players and it is going to happen here as well. When that happens everything will be easy.
Rule #4: Play To Win
Interviewer: You've said you are obsessive about build-up play. In order to get results, would you sacrifice that at all?
Impossible. It's impossible. Sacrifice for what, so you lose the game? If you believe in that, you have to keep going. So, when it's going to happen, when to use the goal keeper, you're going to wrong pass and you're going to receive a goal and the people say why you doesn't hit ball, no you have to insist on that there is a why, why you miss that pass.
"I want to play serious. I want to be effective." – Pep Guardiola
Interviewer: So you wouldn't, what we call win ugly? Play maybe not attractive if you're going to get a win.
No no no no, I will win. The people say no is it when you play the build-up or you know, I want to win. I want to play serious. I want to be effective. I don't do that to be I want to play build-up, no no. I make a build-up to convince the players that this is a consequence of positives and negatives.
If I believed and do that and it is not productive for the team, I would not do that. But I was a football player and manager and always when I do that I would score a lot of goals and concede few and that's why I believe in that.
So it's attractive but with purpose.
Of course, I want to win because if not City's going to fire me.
Rule #5: Realize Your Dreams
Interviewer: If you were to win the trophy again at Wembley, would you feel you would have come full circle?
Yeah, but never thought to play in Barcelona when I was a boy, never thought to win Champions League, never thought to become a coach, but before to win a championship and now to try to beat one of the best teams of the world in this atmosphere in Wembley, for us it's a dream come true.
Rule #6: Keep Learning
Noel: You say that or we read that you say that you only really stay anywhere for three or four years. Do you intend to build a legacy or at least put the foundations…
No, I came to learn.
Noel: You've come to learn?
Yeah, of course, that's why I move on. I came to learn. You know there will be still in Barcelona.
Rule #7: Go Step By Step
Woman: What is the biggest challenge you face now? What is at the top of your to-do list?
Play good.
Woman: Play good?
And after try to win one game and after second one and after another one but the first target is team spirit and play good as much as possible and after, try to win one game, and after the second one.
Rule #8: Engage Emotionally
Interviewer: Three years from now when you threaten to leave and we have to tie you to a chair, and we won't let you leave, we'll take your passport off you, what does success look like three years from now for Manchester City?
Yeah, you know for the people, for the media, how many titles are you going to win?
Okay, you have success or not success. That is pretty sure.
So, but at the end the title is amazing, you lift the title and two days after the people say what's next?
I think the process is how I will be comfortable here working with these guys.
At the end my life, it depends on that. I will be happy when my relationship with them and when we decide to play in that way, it works or it doesn't works and that is the end.
And I am pretty sure the club will fantastic and the people working with are going to help me. I'm pretty sure that's going to happen.
It happened in Barcelona, happened in Bayern Munich, and it's going to happen here.
And of course, they're going to fight everyday to win the titles and especially form the people after the game, when we finish the game so, 'Oh, 90 minutes, it was not bad. 'I would have preferred to be here and not in the bar.' That is a good sign, you know.
And after the relationship with the people. I think maybe because I am a Latin guy, I need to be close to the guys to have to say… I'm going to kill you and five minutes to love each other. I think I need that to be happy. And I hope in three years that is going to happen.
Rule #9: #Believe In Yourself
Joan: We went to a restaurant in Barcelona to talk personally. We had decided that he would be the next coach of the first team for Barcelona. And when I told him this he said that, 'You wouldn't have the balls.'
You know because he comes from the first division and at the same time he said, 'Remember, you know that with me as a coach 'you will win everything.' And it happened.
We knew that it was was a very tough decision but we are taking this decision with enthusiasm and with the expectation that it will be a great decision. The reality was much more better than our expectations.
…
Evan: Thank you guys so much for watching. I made this video because David Kezi asked me to.
So if there's a famous entrepreneur that you want me to profile next, leave it down in the comments below and I'll see what I can do.
I also would love to know did Pep say that had the biggest meaning for you.
What struck a chord?
What change are you going to make in your life or business after watching this video?
Leave it in the comments, I'm going to join in the discussion.
Finally want to give a quick shout out to Stephen Scriber from scriberlaw.com. Stephen, thank you so much for picking up a copy of my book. It really really really means a lot to me. So thank you guys again for watching.
I believe in you, I hope you continue to believe in yourself and whatever your one word is. Much love, I'll see you soon.
---
You might also like
---
More from Pep Guardiola
---
Today, we're going to learn how to prove people wrong. Hello, Believe Nation, it's Evan. My one word is believe and …