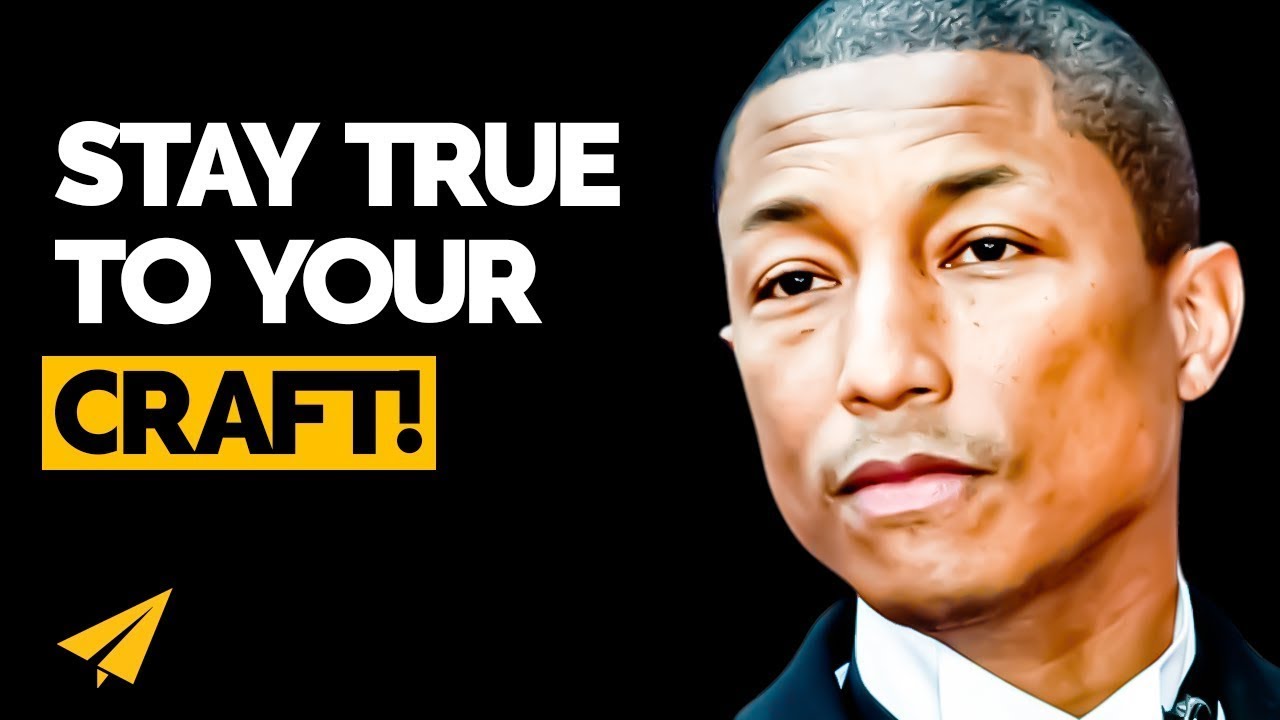 He's an american singer, song-writer, rapper, record producer, and fashion designer. He's worked with a variety of artists including, Shakira, Jennifer Lopez, and Madonna. He's earned ten Grammy awards, including two with the Neptunes. He's Pharrell Williams, and here are his top ten rules for success.
Pharrell Williams's Top 10 Rules For Business and Success
Rule #1: Stay Loyal To Your Creativity
We wouldn't take on a project just to take it on and the couple of times that we did that, like, it always just backfired, like, terribly. So the lesson there was just stay loyal to the craft. You know, stay loyal to your creativity because it's a gift.
Rule #2: Feed Your Curiosity
Well, I remember being in high school, for 20,000 kajillion years, And, I just, when we were given the opportunity, you know, a lot of my teachers, of course, because they weren't really well-versed in, like, the music industry, as it was a foreign business to the area.
They're like, "well, you know, make sure you get your education". And that, they were right about. But they went a little bit beyond that, it went, it went more toward the side of, and besides, you know that only lasts for this long or that long and I'm up here talking to you guys right now.
So it just goes to show you what curiosity could do for the individual. If you're curious, you'll keep chasing it. That's why, you know, the mantra for K!dult is feed your curiosity.
Rule #3: Take A Different Route
Individuality and just appreciating, like, the way I think and the way I feel and having, you know, letting that have some value and worth. And depending on that. So you know what, if everybody else is, you know, what, what is it, the 405? You all got like 29 million highways out here. Right? Take a different route.
If every, if you all got traffic there, isn't that what you guys do? You get off on the next exit, and you go somewhere else. You'd rather sit in the traffic with the stoplight, than to be on the 405 trapped. You know what I'm saying? And I think that like, individuality is a wonderful thing.
It's the reason why Drake is so good. It's the reason why Lorde is so good. You know, it's the reason why, you know, the West Coast's own Tyler the Creator, now Future, and Kendrick Lamar. Like, these are all, like, none of those guys sound alike, yet and still, they're all out at the same time.
Doin' their, you know, perspective things, right? So it's betting on yourself and betting on your difference, and appreciating the rarity of how you think.
Rule #4: Just Do It
Oh, this is a free world. This is a free world now, it's different. And there are some restrictions, but there's no restriction in you being exposed to the world to be discovered as an artist. I would say believe in your direction and, and do it.
Spend less time talking about it, and more time trying to like, perfect it, and put it out there, and you know, if there's fire, the kids will sniff it out, they always do. And they'll turn you all the way up if they feel like that's where you belong.
That's all, so all you have to do is be true to your craft and they see that. When they see you going inward, and being proud of who you are and what you are, and you know, there's some good intention, they're going to support you. It's a numbers game though, right? Seven billion people on the planet, less than a third online, you know.
That's a pretty significant number which raises the odds for you to become heard. I mean, even the like, most boring person on twitter has a hundred followers, right? Hundred people who don't know you from a can of paint. Why, because everything is about numbers. So there's benefit, you just have to make the numbers work for you.
Rule #5: Life Is A Roller Coaster
We all have egos and it's okay to have a sense of self-awareness and identity. But it's not okay to have an ego because what an ego does is. The ego is a funny, it's a funny, it's a funny entity within the human brain. It is on your side when you are doing great, but have you ever noticed when you think you've failed, it's the ego in your mind that tells you, "it's so bad.
Everyone is looking at you." You start to sweat across your forehead, and you're like, "oh my god, I can't believe this is happening. The whole entire world is watching." And none of it is true. When you're doing great you shouldn't listen to that voice.
When you're not doing as great, you shouldn't listen to that voice because it's not good. When you're doing great, it's going to get you hooked on that feeling so that when you come down, and you, cause we all, life is a roller coaster. There's valleys and peaks. When you hit that valley, if you can't deal then you won't make it.
Rule #6: Love What You Do
We put out the video on November 21st, all of a sudden, boom. And we were like, "what's happening?" Okay, first of all, people are putting out their own videos. It was like, no longer my song.
Oprah: I think we actually have your tape. Can we roll the tape of that? When people started putting videos around the world of themselves getting happy.
Why am I crying on Oprah?
Oprah: You know, it's being used for something that's greater than yourself, I get that.
It's overwhelming because it's, like, I love what I do and uh, I just appreciate the fact that, like, people have believed in me for so long, that I can make it to this point to feel, to feel that.
Rule #7: Be Grateful
The Grammy's should also be known as a preservation society. We don't get recognized for how expensive our videos are. We don't get recognized for, you know, the superficial aspects and all the other ancillary things that come along with being in this business. You recognize what the first and foremost important thing and that's the music.
And I'm just so incredibly humbled and honored and appreciative to be a part of, you know, this year's consideration, on any level. And to even be doing this interview because as I often say, I could be just back home in my room with uh, with a demo, or not. Could be even worse
. No music at all and just a bunch of ideas that I could be frustrated to get out, but with no outlet. But instead, it's the complete opposite. In fact, I'm doing what I love to do.
Rule #8: Be Open-Minded
You have to be sort of open, and I'm not sure, that, you know, it's cool to be like, super open-minded, you know? And then when you are or when you see people that are, everyone like, rolls around like, you know, coining them geniuses.
And really, all it is is just, like, being open to other things in the world. And I guess that's it, I mean, 'cause I didn't plan these things. I mean now, you know, in the last few years, when I started to catch on, it started to make sense. I'm like, "okay, this is how it goes."
You sort of, set out these goals. And then you have long term goals, and then you have short term goals. And somewhere within, you know, you find your hobbies and then you find the things that you are interested in, which are two separate things because what your hobbies are, what you naturally and readily go to and what you're interested in are the things that you don't mind studying a little more and researching a little more than you would anything else.
And somewhere at the 50 yard line, is what you should be doing with your life. I was lucky enough to stumble across that. I look at every opportunity as something that cements the next block in your sidewalk. And it's just important to like, you know, don't look over your shoulder every five minutes. If anything, just continue to stand on your tippy toes and see how far you can see and what's on the horizon.
Rule #9: "Nothing" Is A Perception
When you say that you come from nothing, you're saying, you're saying, "I come from nothing". Like, you know, nothing. You know what nothing is? Nothing is a void. Nothing is, deep space with no stars. Nothing is, it's not possible for you to exist in nothing.
So there's no such thing as nothing. It's all relative. So when you say, you know I was explaining this to an old friend the other day who was saying, you know, "I have it so hard, it's so tough. It's so crazy," and, you know, "I don't have anything." Well, sure you do.
You have the same things that Bill Gates has, because, just like him, when he dies, you know what you're going to take with you? That's exactly right. So while the apartment may smell funny, while there may be pests and rodents, 'cause that's what people generally relate to nothing, right? Come from nothing.
And the car is a Hyundai, if there is a car. Or there's bus tickets or, train and free lunch. Nothing, right? It's not true. Imagine the people who live out in remote villages that have never heard of the iPod. But they're happy and they would argue with you when you tell them that they have nothing.
Nothing is a perception. So if your reality is merely just your perception and a perspective, these things are interchangeable. So first, you need to, when you say you come from nothing, you should probably reevaluate that and think about it because if you're not cancer-stricken, and you don't have AIDS, and you have your legs and your fingers, I'd say you have a bigger chance than some, you have a huge advantage over people who are amputees, who are really doing good in life.
And people who have had AIDS for ten years, who are really succeeding. And people who have cancer that are fighting everyday. But still they are working at the things that they love to do in life. I would say you have a little bit more than what you thought was nothing.
Rule #10: Don't Wait For The Stars To Align
How many times have you guys, you know, in a situation of need, a moment of need, you go, "you know what I need? I need da-da-da-da-da-da-da-da-da." Right, and you blow it off.
And then three years later, there's a guy, you know, on an infomercial describing exactly your idea. And he's showing you how great your product works. You have to be unafraid to listen and unafraid to think that something that you have is a good idea.
Now, you also can't believe in it so much that you have deaf ears toward like, reason and reality. Because you can have the most brilliant idea in the world, but you got to bet on yourself. You can't think that, like, that one idea and the way that you think is supposed to happen is the only way that it can happen.
You know, don't wait for the stars to align, reach up and rearrange them the way you want. Create your own constellation, I say that all the time. You just have to be smart enough to know, that like, you know, there's so many ways that, like, things can turn out, you know.
And there's so many people in their lives that went, "man, if I would've just made that left turn." Or, "if I would've just stayed in the house five more minutes," or whatever, like, would have, could have, should have.
If we would bet on ourselves but at the same time, take in consideration what this moment would mean to us ten years from now, we could be different but listen, I haven't made all the best decisions in the world, either. I've definitely fell on my ass a million times but I learned on my way down and I definitely taken a stride getting back up.
Thank You
Thank you guys. I made this because Venom Leon asked me to. So if there's a famous entrepreneur that you want me to profile next, leave it in the comments below and I'll see what I can do.
I'd also love to know which of Pharrell William's top ten rules had the biggest impact on you. Leave it in the comments, and I'm going to join in that discussion. Thank you so much. Continue to believe and I'll see you soon.
---
You might also like
---
More from Motivation
---
Watch Ralph Smart's Top 10 Rules For Success video. Famous Entrepreneur Quotes Ralph Smart's Quotes "We're so caught up in the outcome …
Watch Kris Jenner's Top 10 Rules For Success video. Famous Entrepreneur Quotes Kris Jenner's Quotes "You need something to be excited about …
Watch Mark Hamill's Top 10 Rules For Success video. Famous Entrepreneur Quotes Mark Hamill's Quotes "I love the allure, the danger, of …