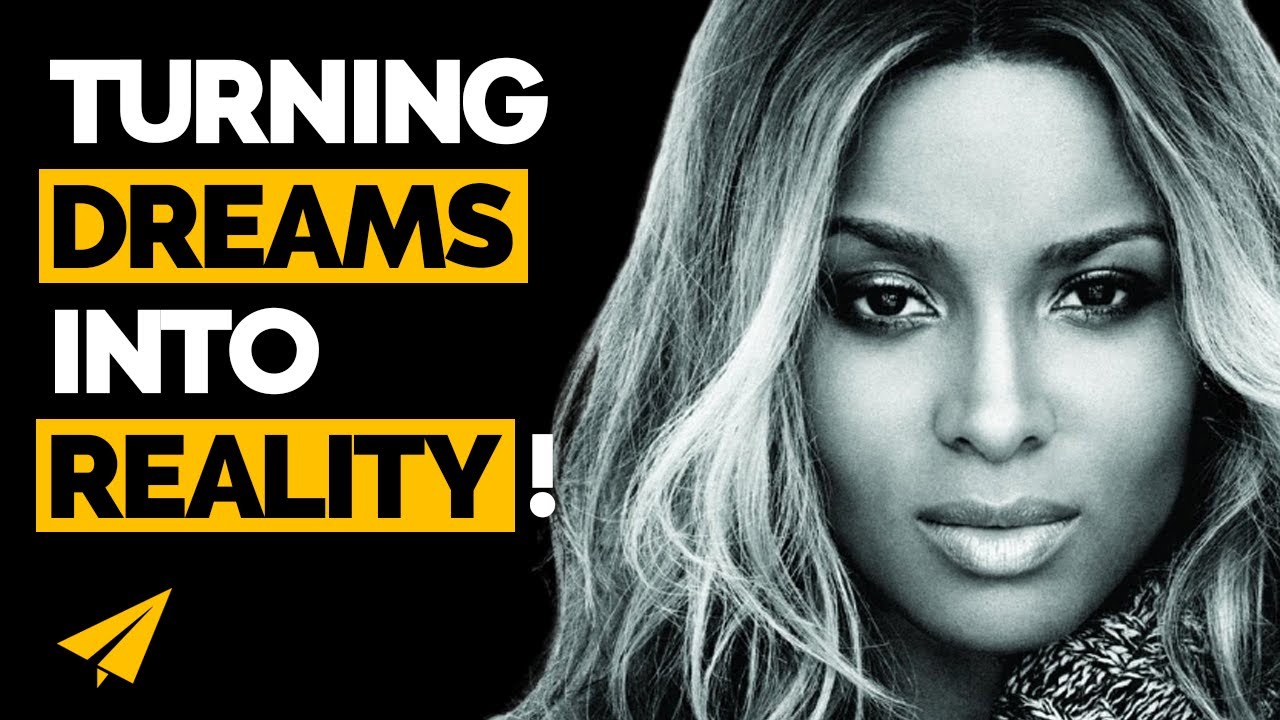 Good morning Believe Nation!
Today's message is it's possible. Over to you, Ciara.
Ciara
I hope to inspire others, and for people to know that dreams are really real. You know, I wasn't raised in this, every mistake, every performance I've done is pretty much happened from the world. Or, like, I kid you not, I didn't grow up doing singing in churches, I didn't grow up doing anything, but I had a dream to do this, and as soon as I put my mind to it and said this is what I want to do, I wrote it down on paper, and I kid you not, everything manifested, everything fell in place.
So, I feel like my experience can encourage anybody to know that no matter what time, you could be later on in your time and you figure out what you want to do, it's possible. So, I hope to inspire.
Evan Carmichael
The difference between whether you will achieve your goals or not quite often is whether you believe you can or not. So, there's a famous Henry Ford quote, whether you believe you can or you can't, you're right. And quite often what we do is we don't listen to ourselves, we listen to the people around us.
Whenever you come up with a new idea, what's the thing that we like to do? We like to tell people about it, we tell our friends, we tell our family. And quite often, they tell us it's a stupid idea, why are you doing this, you didn't go to school for this, you don't have the money to do this, and all of the limiting beliefs that come in that then hold you back from doing the thing that you think is possible.
And sometimes it's out of jealousy, 'cause they tried to do something and it never took off for them, so you're not allowed to do it. Sometimes it's out of love, because they don't see the world the same way that you see the world. What's most important, though, is that if you're taking advice from somebody, it's somebody who's done what you're trying to do.
"The difference between whether you will achieve your goals or not quite often is whether you believe you can or not." – Evan Carmichael
You know, if your parents or your friends are the people who are saying the reason that it's not going to work out, but they've never done what you're trying to do, their advice isn't helpful to you. And, much more important than what anybody's opinion of you is is what is your opinion of yourself.
It doesn't matter what the people around you are saying
If you can create the environment and the routine and the regimen and the schedule to believe that the crazy idea that you have in here is possible, then will align everything in your life to make it happen. If you believe you're going to go off and build a million dollar company and you believe it, then it doesn't matter what everybody else around you says.
And they laugh at your lack of experience and they laugh at the idea and they laugh at everything that's coming out of your mouth, it doesn't matter, 'cause you believe it. And so, that's the most important thing. It doesn't matter what the people around you are saying, what matters is what you're saying to yourself.
Kick yourself forward
And I get that often that's a battle. One day you're energized and you're telling yourself you can do anything, and another day you're down on yourself. I think it's important to be hard on yourself, but not to kick yourself down, but rather kick yourself forward.
If you kick yourself down, then you're just negative and I'm no good, I'm never going to amount to anything, then you won't. But if you kick yourself forward to say okay, this project wasn't good, I know I can do better, I know I can work harder, I know I have the ability to make something great and that was just okay, and to work to achieve that goal, and to create that environment so that every day you wake up and feel that that big goal you have is possible. Because people have done it.
People who look like you, with less resources, have gone on and done amazing things. There's no excuse why you can't go out and do something equally amazing, except the one that you are telling yourself.
Question Of The Day
So, the question really today is what is the excuse you're telling yourself about why it's not possible?
Leave it down in the comments below, super curious to find out.
I also want to give a quick shout out to Linh Podetti. Linh, thank you so much for picking up a copy of my book Your One Word, it really, really, really means a lot to me, and I hope you are enjoying the read.
So, thank you guys again for watching, I believe in you, I hope you continue to believe in yourself, and whatever your one word is, much love, and I'll see you guys again tomorrow morning for another shot of Entspresso.
---
BONUS
#Believe It's Possible
Les Brown
I want you to look at something right now, think of some major goal you want, or maybe just one you're already working on, and you have experienced a lot of setbacks, a lot of defeats. You've experienced a lot of disappointment. Maybe you've already given up.
And maybe you just need a little encouragement to get back in the game again. Here's what I want you to look at: there are winners, and there are losers, and there are people who have not discovered how to win. And all they need is some coaching, all they need is some help and assistance, just a little support. All they need is some insight, or different strategy or plan of action to make some adjustments that will open up the key to a whole new future for them.
That will give them access to the unlimited power that they have within themselves, that's all that they need. So, what I want you to do is think about something you want for you that's real for you, that's important for you, that will give your life some special meaning and power. And I don't even want you to say I can do that, I don't want you to assume that.
Power and conviction
See, five years ago when I started out in this area, I would not have been able to make the mental leap that I would be up to where I am right now. I don't want you to begin to just psych yourself out. No, no, I want you to be able to say something to yourself that will enable you to maintain a level of integrity with yourself, that when you say this, even when you face tremendous setbacks, it will be a benchmark to keep you in the game, to keep you moving forward and experimenting and readjusting your strategy, and your plan of action continuously looking for ways to win.
So, what is that something? When you got an idea you might want to move on, you might not have the money, you might not have the education, you might not have the support or the resources you need. What is that something that can keep us going, that will enable us to act on our dream? What's one of those keys that will begin to help us to discover the secrets to our dream? Here's what I want you to repeat after me, please, with power and conviction, say it's possible.
Audience: It's possible.
That's all I want you to do when you look at your dream, you say to yourself every day it's possible. You say that every day to yourself, it's possible. Because what does that do? See, it begins to change your belief system. See, the way in which we operate, ladies and gentlemen, is a manifestation of what we believe what's possible for us.
Four minute barrier
Whatever you've done up to this point, all that it really is is a duplication, it's a reproduction, of what you belief self consciously that you deserve, and what's possible for your life. Before April, 1954, the common belief, the universal belief, because it had been tried again and again and again, and people felt the belief was that man was not physically capable of breaking the four minute barrier, that he could not run a mile in less than four minutes.
That was the belief on the planet, it had never been done. But here's what happened, ladies and gentlemen, Roger Bannister came along, and he broke the four minute barrier. Now, here's what's significant about that. Since that time, up to this day, over 20,000 people have done it, including high school kids.
It's possible that they could do it.
What changed? 20,000 people, what changed? Here's what happened when they got on the track: they knew it had been done, and because they knew it had been done, there was a new belief about this barrier, about this goal that was unreachable. And those 20,000 people got in the race believing, knowing in their heart that someone had done it, that it's possible that they could do it.
And I'm saying that if you know anybody that had some goal, some dream, something that they wanted to do and they did it, then I'm saying that you know in your heart that if someone has done it, then you can do it, it's possible. And in fact, if someone can make their dream become a reality, then it's possible that you can make your dream become reality.
Christian Von Koenigsegg
Voiceover: In only 21 years, Koenigsegg has come from nowhere to be one of the highest regarded hyper car manufacturers, being counted alongside Ferrari, Lamborghini, and McLaren. How have they pulled that off?
Well, we had to work hard, being innovative, and don't believe in the hype that it's impossible. But it's, you know, every day we strive and push and learn and adapt, and when you do that for 20 years with a great focus within the group, you can do pretty much anything, I think that's the simple answer. But for sure, it's not easy, you have to be prepared to work hard for it.
---
You might also like
---
More from Christian Von Koenigsegg
---
Hello, Believe Nation! Today we're going to look at how you can bet on your strengths. And as always, guys, if you …
He's the founder of Swedish high-performance car manufacturer Koenigsegg Automotive. He showed interesting cars from an early age. At six years …