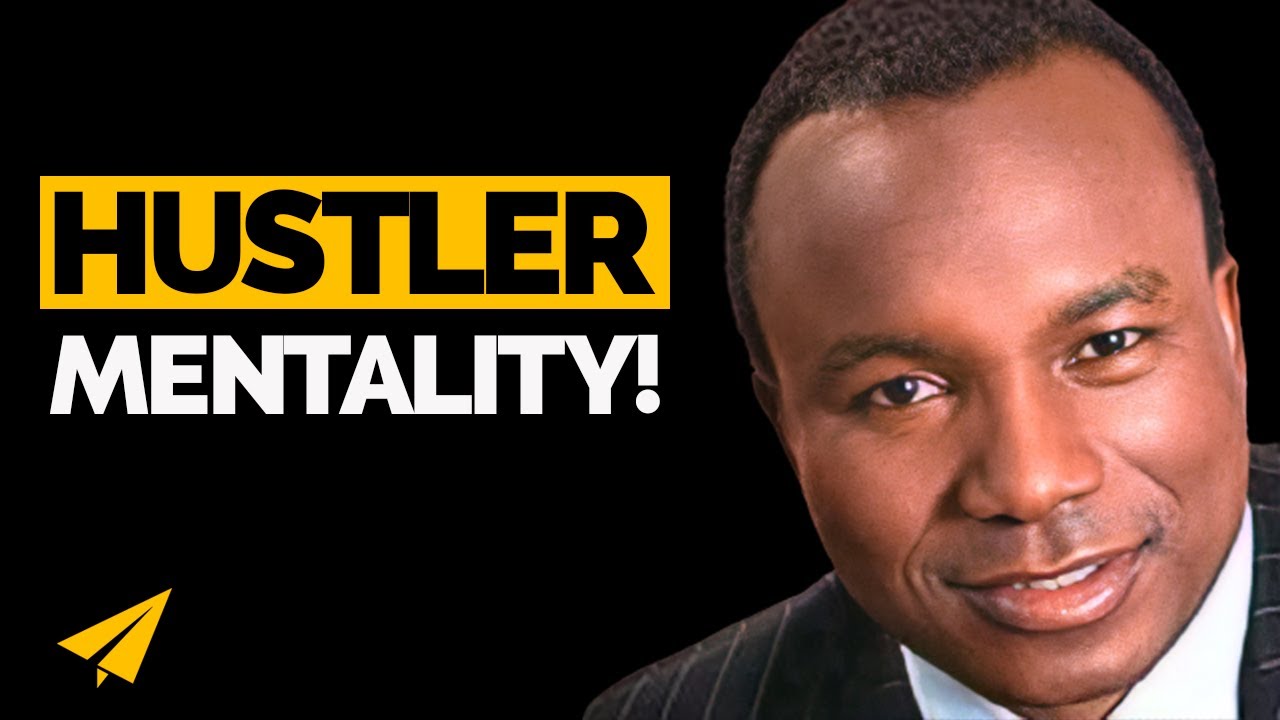 Good morning Believe Nation. My name is Evan Carmichael, my one word is believe. And I believe that entrepreneurs are going to solve all of the world's major problems. So to help you on your journey today's message is prepare yourself for success. Over to you Dr. Sunday Adelaja.
PREPARE Yourself for Success – Sunday Adelaja
Sunday Adelaja
Success is possible, success is a reality. But the fact is that only people who are well prepared get the blessings of success in life. You know, it's like life is not fair it is a  in some cases. If you look at it just from the surface. And you think that, you see some people who are making it, some people who are doing a good job. And some people who are really making it in life. And you think, what makes these people better than the other people?
And it's like there's not really any much difference. But really, there is a difference. If you see anybody that is truly making it, that is doing a good job, it is only because it's done something right. And the major condition, or the major thing a person like that has done right, is that they have gotten themselves prepared for this success that they now enjoy. Only opportunities come only to people who are prepared for them.
If you are not prepared for opportunities, you will never see them, you will think that there are no opportunities around you. People complain about the countries they live in, people complain about their leaders, people complain about their environment, and they all complain that there are no opportunities in their countries, or in their cities, or from their leaders.
But really, even in those countries, even in those cities, there are people who are having opportunities, who are, you know, being entrusted by life, by great positions of opportunities because they are prepared for them.
Evan Carmichael
So if you want to be successful, you have to do the work to be prepared for when it comes to you. Success doesn't just land on your lap, opportunities don't just open themselves up to you, you have to do the work. It doesn't come by just sitting on the couch and dreaming and thinking and hoping that something's going to happen to you. It happens because you are out, and you are preparing and you are doing the work.
So as an example, I look at Lily, who was one of my salsa instructors, still is, and I offered her a full time opportunity to quit her job and start her own business as a new potential speaker with me. And I paid her to leave her job so she can start this opportunity. So she's getting paid to leave her job, she's getting mentoring from me to launch her own business and a lot of people would think, well how do I get that opportunity?
How do I get that chance to do it? You're so lucky that you get this thing that nobody else gets. But she did the work to prepare for it. She was putting in hustle and energy and heart and from one of the first times that I met her, and had our conversation, I said, I want to do something with you, we're going to figure out a way, some kind of business to happen together. And she might have thought I was crazy the first time that we had that conversation.
Lily: During the meeting, he told me that he really liked me and he wanted to start some sort of business with me. So my first thought was, wow! He is so nice. And what an amazing confidence booster for me.
But she worked at it and she prepared and she put in hours and effort consistently and that's the difference. If you look at anybody who's had major success, look at anybody who you look up to, as an entrepreneur, as an athlete, as a singer, whatever you aspire to do, there is always a ton of hard work that goes alongside it. You will not get the success you're after by just sitting on the couch. And when an opportunity does come to you, you have to say yes to it.
"If you want to be successful, you have to do the work to be prepared for when it comes to you." – Evan Carmichael
Before I offered Lily this position, I actually offered a different position to somebody else. To a guy who I was going to start a marketing agency with. And he said no, he said he wasn't ready to quit his job. And he didn't jump on that opportunity. And so I had the space to offer it to Lily. If he said yes, to that opportunity three months sooner, I wouldn't have been able to give it to Lily because my time would have been taken up. But he said no, he's down on his copa path and Lily said yes. So when those opportunities come, and when they're scary, and when you're not sure how it's going to work out, do you seize it or not? Or do you live the rest of your life in regret wondering, what might have happened?
Question of the day
So the question of the day today is I'm curious, what is the thing that you are doing consistently to prepare yourself for success? How much are you working on your dream, on your goal, every single day to make sure that it happens? Leave it down in the comments below, I'm super curious to find out.
I also want to give a quick shout-out to John Jenkins. John, thank you so much for picking up a copy of my book, "Your One Word" and making that Youtube video about it man, I really appreciate it and I thank you for the support, I'm glad you enjoyed the read.
So thank you guys again for watching, I believe in you, I hope you continue to believe in yourself, and whatever your one word is, much love and I'll see you again tomorrow morning for another shot of Entspresso.
---
BONUS
Prepare Yourself For Success
Naveen Jain
I wake up about 4:30 and 5:00 and between 5 and 5:15 I am working on email, catching up on news, looking at the blogs, looking at the different opinions. Because people just don't sleep, I mean they are working 24/7, somewhere around the world people are awake and working. So have this constantly being bombarded with requests, information, or just sometimes news.
And so in the morning I wake up and I you know, take care of my mind.  And then after that I work out and that's taking care of my body. And then I do meditate before I go to work so that takes care of my soul. In a business, it's like a war. You have to be completely prepared. And unless you have mind, body, and soul really all ready for it, you just can't fight that battle.
Samuel Jackson
How often do you find when you get on set, people are like, do the Samuel, do the Sam Jackson thing? Do the Samuel Jackson thing that we know and love?
Not often.
Male Interviewer: No.
I don't know what that is.  I mean, unless you say motherfucker like eight times.  You know, well crafted play.  But umm.. Yeah I don't, I don't really know what that is or to me, the Sam Jackson thing is I've read the script, you know, I don't know how many times and I've broken my character down the way I've learned to break a character down in the theater.
If there's source material, like for George Washington Williams, I'll go through the source material and deal with that, but if not, then, okay, it's up to me to figure out who this guy is. I can figure out when he was born, who his parents were, what his educational background is. Military, if he has that. What kind of life experiences he's had, how he feels about this, that or the other. Even down to sometimes what kind of food he eats, you know.
Just because there are eatin scenes in the movie and I want to figure out what I want to eat, you know when I'm in that particular scene. And then, from scene to scene, what my relationship is with those characters, or what I'm trying to accomplish in this scene that leads to the next scene, that leads to the next scene that leads to the next scene. So, what happens is, the Sam Jackson thing, for me according to my agents and managers is I'm so prepared, when I show up, that I expect everybody else to be as prepared as I am.
So when the director does not have a shot list for that day, or directors floundering and trying to figure out what he's doing, he can ask me and I can tell him. You know, because one of the funny things about movies is the directors usually the person on the film set that's got the least amount of experience of everybody there.
A director makes one movie every four years, every two years…
But director's career is what? A good director's career is 15 movies. You know, everybody there has done 15 movies the last two years. You know, so, we all know, you know why the fuck he using that, that ain't going to be in the movie  It's like, you don't really need that shot.   So, there's that shit goin. Where did I digress from?
No that was amazing  I don't care that we digressed.
I show up prepared. So that's the Sam Jackson thing. When you hire me, you hire an actor who going to show up, who going to know his lines, who going to hit his marks and do his best to make the other actors around him better.
Interviewer: Absolutely.
I'm not going to call shots for you, and I don't expect you to give me a line reading. And if you do, you hired the wrong motherf*****.
Viola Davis
Interviewer: With doubt, which might be the first time that people in film, necessarily really appreciated what you were doing.  Your preparation for that was astronomical, amazing and, so the last, as the last pre-Help question, if I can just ask you, just to show the kind of work that you're willing to do, for even, I think it was eight minutes of screen time? Which was deservedly rewarded with an Oscar nomination but I mean, that is not a ton to work with, and yet, you made the most of it. How did you, what did you do to prepare for that one?
Well, it's based on a play, so I read the play and after I read the play I said, I don't even understand this woman. I don't know why this got all this attention. This woman wants to sacrifice her son, and duh duh duh duh dah.
And I had all the kind of responses that you would have with character that you didn't understand. But, it's being an actor, you have to do investigative work. You have to, you have to, make sure that when people are in the audience, they understand you. And they ultimately feel something. And so, I had to write a bio, which ended up being over 100 pages. I talked to people who had seen the play, cause I was doing a play at the same time and never saw the play.
I read the script, probably, I don't know how many times. So I literally studied the script for four months before I finally got it, like I had the aha moment. And the aha moment, is, we always want to feel that decisions are pretty. We always want to believe that decisions are easy. And sometimes there are so fews choice. You know, and sometimes a person's motivations are absolutely pure. But to the outside eye, they look very dysfunctional.
And I probably, you know, had the aha moment two days before I even started filming and I was really waiting for that aha moment cause I said, I'm going to be opposite Meryl Streep and she's going to tear me a new a-hole. And I do not want to look bad. So I had that aha moment. But I did my, I did my work with that. I can't emphasize that enough, you know, because I never want anyone to dismiss my talent listen, I may get up on this screen and there are times when I may stink because it's occupational hazard to not always be good. But I never want anyone to say that she's not an actress.
---
You might also like
---
More from Entspresso
---
Today's message is be confident. Good morning believe nation, it's Evan. My one word is believe and I believe that …