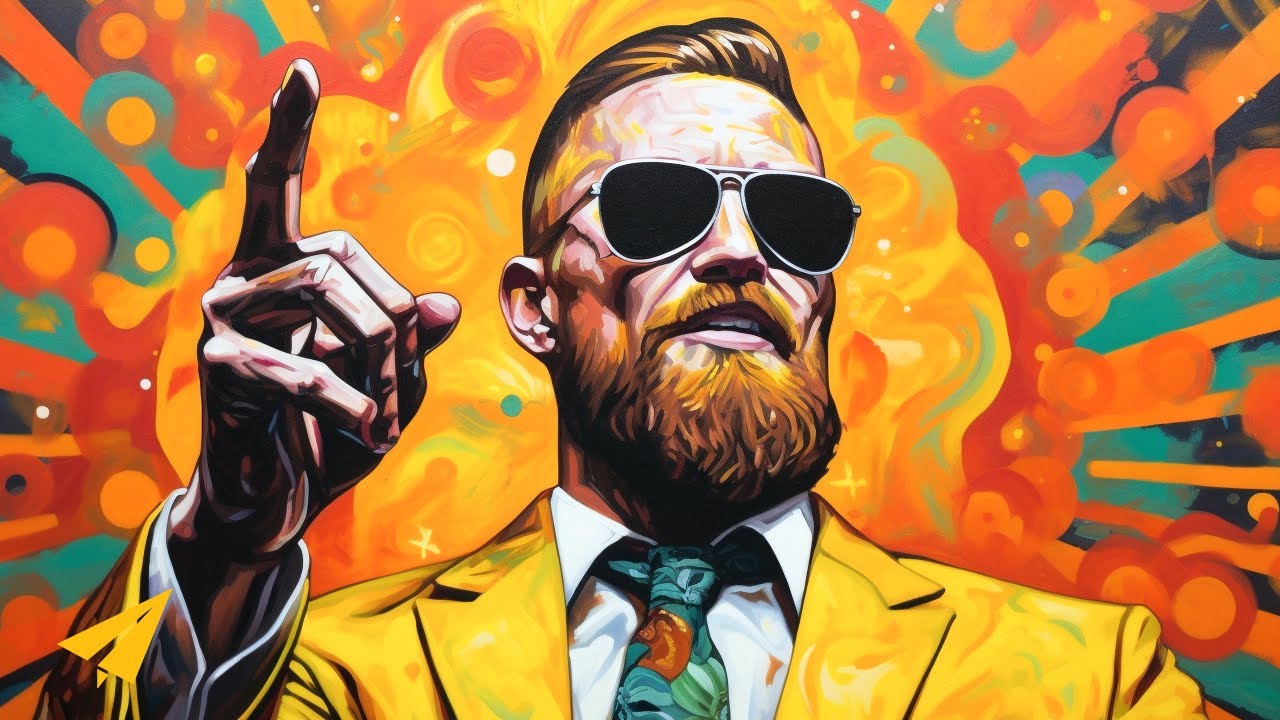 Today, we're going to learn how to prove people wrong.
Hello, Believe Nation, it's Evan. My one word is believe and I believe in people more than they believe in themselves. And my sincere hope is that if you see in yourself what I see in you, you'll be able to change the planet. So to help you on your journey . And as always, if you hear something that really resonates with you, please leave it down in the Comments below.
Prove People WRONG!
Conor McGregor
Interviewer: Did you ever have, let's call it, a normal job, Conor? A nine to five? 
Yeah, 'cause the Irish thing is to get into a trade straightaway. I was no different, Soon as the day I finished school, I was always getting pestered, 'What're you doing with your life? Are you doin' this, doin' that?' And they didn't know what it was. They didn't know what MMA was, they didn't know what none of this, they didn't know I could make a career out of it.
As far as they were concerned, me ma and da I'm talking about, as far as they were concerned, I was just getting into a cage and fightin' with some other guy. They didn't know nothin' about it. No one did really! But I knew, you know what I mean? I knew! And then I ended up getting a trade, just to keep them quiet. 'Cause I used to have a lot of fights with me da a lot
Interviewer: What trade did you get?
I ended up gettin' a trade as a plumber. Literally up in the back guys up an hour up in the Wicklow Mountains. And that site is one of the biggest sites in Europe, Kilternan was right at that skiin' place. Huge, and now it's just abandoned, now it's just deserted. So I used to go up there, six o'clock, five o'clock in the morning I was on my M50.
I used to have to walk to the end for, about half an hour from me house, wait for some limerick guy that I didn't even know. He'd drive on the F4 and I'd have to flag him down. Nightmare, yeah. Two hours down on the M50, two hours back.
Usually 14 hour days and I was the first year, so I had to go and do everything. I had to the shop, I had to go and get this and get that. So I always had trouble with that and I was like this isn't for me. This is not for me.
"A lot of tough times. But I proved them wrong, I proved myself right." – Conor McGregor
Interviewer: How long did you last?
I lasted 18 months doin' it. But it was tough, you know? Just wasn't the life for me. And then John said, 'cause I was training with John as well at the time. And then John got on twitch and said I have a show, I'm running a show, I'd you to fight in it. And then that was it, I just packed it in, didn't show up.
Me da used to come and punch the head out me, like try and drag me out of bed and I just wouldn't go. You know, I had upper hour for a good few years when I'm miserable. And that was it, I just packed it in, quit and then focused on trainin'.
And that's, I knew what was going to happen. I knew I was going to get here. They didn't, it was a lot of stressful years. You know what I mean? A lot of tough times. But I proved them wrong, I proved myself right.
Will Smith
Don't ever let somebody tell you you can't do something. Not even me. Alright?
You got a dream, you got to protect it.
People can't do something themselves, they want to tell you you can't do it.
You want something, go and get it. Period.
Childish Gambino
I'm saying we probably wouldn't have Kanye West, Bill Gates or anyone without someone being like you're not worth it. Like we wouldn't have them. And like we wouldn't have people who were like no, this is worth it.
Because if everybody's ideas was worth it and if they felt that way, everybody felt like that, we just have, it'd be like nothing. Everything would be the same. You need somebody to keep being like, no, I'm right.
You need a Joan of Arc, who's like no, I'm right, I'm right, I'm right, I'm right. Even if it's crazy, even if it's crazy. But then eventually people are like maybe they're not crazy. I mean, yeah, I like to believe that. I mean, people tell me
I'm salty, which means I think salty is a different thing because I'm like I'm just going to prove you wrong. I'd much rather you sit there and be like, huh I was wrong. Because then I think that's growing, like there's lots of times where I've done stuff and been like I was wrong about that and I didn't even know. And then it makes you look at things differently on experiences in your life. Like, I want to make people think you were wrong.
Sam Altman
Ignore people telling you your idea is bad. They may be right but the only way to know is to actually build it out. And I think the thing that works about Silicon Valley that's different than Mexico City or almost anywhere else in the world, is the default response if someone says hey I'm going to start a start-up, here's my idea.
The default response is to be excited and think like oh why might that work. And in most of the rest of the world, the default response when you tell someone your idea is to say oh that's not going to work. And this is really toxic for start-ups. 'Cause you have to believe in yourself. And the good ideas, because they sound like bad ideas, are so fragile and so killable that you have to be really careful to insulate yourself against this.
"Ignore people telling you your idea is bad." – Sam Altman
Nelson Mandela
When I found some place in my country and a lady answered the telephone, I then asked, to whom am I speaking? She said, you're speaking to me!  I said, well lady, I know I'm speaking to you. But what's your name? She said, who are you to ask for my name? What's your name?  I say, well lady, as soon as you tell me your name I'll tell you mine.
But as we argued as to who should tell  his or her name, she became very cross and she said, you seem to be a backward person  have you passed your matric?  Now matric in our country is a university entry examination. And I said, well lady, you must be very careful.
Because if the qualification to speak to you is the possession of a matric certificate, I might work hard and pass my matric and be in the same class as you are. That was treason. She said, you will never be in my class and banged the telephone.  How I wish she were here today.  She would now discover that I have achieved more than passed my matric.
Guillermo del Toro
And you know when they say oh I would like you to do this for me or, and I produce a lot of first time filmmakers but I don't produce all first time filmmakers that approach me. And I say look if I say no and you give up I'm sorry to tell you but it's the wrong job for you 'cause you live with rejection for decades sometimes as a director.
And you end up making the movie you want to make so if I say no that doesn't mean I'm right or I'm wrong, you just say f him, I'll show him later, you know. I'm going to make it and that fat bastard is going to have to say I was so wrong and hit himself in the head because he didn't do it.
And I think that's the thing to do, is show us, don't tell us you know. Do the things. And if you do them wrong but you do I mean your own terms, that's how I define success. Failing in your own terms.
Kim Kardashian
Interviewer: Do you think that people underestimate you? Underestimate your how much you work on this stuff, underestimate your intelligence? And my question is is that something you push back on or something you leverage?
Definitely something that doesn't bother me. When someone underestimates me, I love to get to know them and have them have one conversation with me to just understand that it's, I mean I think the easiest question to ask is what does she do? What is your talent, you know? And I jokingly said, actually to my husband the other day, I said, you know what?
My next answer should be, sarcastically, how lucky am I if I don't sing and I don't dance but I'm still doing what I'm doing, how easy is my job? I don't have to do any of that. I don't have to be on stage like you working so hard but we're still driving the same car, we're still living the same life.
So lucky me, if it was that easy. But you know, I think it's just the easiest thing to ask. For anyone to really assume that it's not a full-time job to have to sit and create things and come up with every single blog post and I do, you know, three a day and having to you know, working on apps.
"If you underestimate me I would love to have a conversation with you. I would love to, I just like to prove people wrong." – Kim Kardashian
To me, it would be the same thing as people saying like anything blogging. Like, what do you do? You're sitting at home in your apartment and you're just on the computer. I think people do say things that about us. And I respect it so much, you know?
And they say that about the modeling world. Well, they just sit there looking pretty. It is a full-time job for models like my sister even, Kendall. It's, I don't mind getting underestimated but I feel for people that I understand how it could bother them if they were put in the same situation.
Even filming a reality show, it's a full-time job. I think that, I know reality shows don't get the respect that I believe they deserve and that's why I love being on one for so long and I will always fight to be on as long as possible because I love to show and prove but my personality is just if you underestimate me I would love to have a conversation with you. I would love to, I just like to prove people wrong.
Barbara Corcoran
But I was dumping the pasta one night into the sink and all of a sudden Ramon Simone walks in and he says you know Barbara we have something serious to discuss. I'm going to marry your secretary. My Tina? She went from Tina the wonderful secretary, I won't even put a label on her. I just couldn't believe my ears or my eyes. I'm like what, how's that possible? He said take your time moving out.
I took about a minute, grabbed a toothbrush, and walked out the door and moved in with my girlfriend Kathy who was living on East 79th Street in a studio and she let me stay there 'til I got my feet back under me. I should say that for the first time in my life, I don't know what hit me. I guess that hit me. But I can't believe I managed it so badly. I felt like I was a nobody. I went from a somebody with a successful business to a nobody because I was turned down for a younger woman.
Tina was five years younger than me. I had to admit, she was prettier. She had real blonde hair. I was already highlighting.  I hated her for that. She was calm and pretty. I hated her.  But I went to work every day. I wanted to fire Tina but Ray reminded me he was the controlling partner. I couldn't do that.
Tina moved into my desk in Ray's office where I used to sit and I sat out with the sales people. And every day I went in smiling like a puppet but in my heart I was runnin' around a broken heart and loss of confidence. I just thought to myself my god, I was nothing before Ray found me.
He picked me up, found me. He was my mentor, he gave me confidence, he gave me the money to start the business. Everything good that had changed my life, all led to one place which was Ramon Simone. And I thought he's right, I'll never succeed without him. But I can't even remember what clicked in my head, maybe desperation, but one day I just decided I'm not going to do this anymore.
And I walked in and I said to Ramone Simone, you know what, I'm ending this business and here's how we're going to do it. We're going to chop up the 14 salespeople like a football draw. You can pick the first person, I'll pick the second. We'll do it fair. If you want to move out, you can move out. If you want me to move out, no problem. You want to keep the phone number, no problem. Or I'll get a new phone number. Whatever. You go first.
He picked Norma Hirsch, our star salesperson. I picked Ester Kaplan, our not-so-star salesperson but I had a plan for her. And we went right down the line and I would say within maybe six minutes, we ended a partnership. Boom! Like that. We had $37,000 in cash. He wrote me a check for half of $37,000 and as luck would have it, it was a real estate recession we're just about to dive into and why was it great?
Because commercial space wasn't leasing well. He was on the eighth floor, where my old office was. I rented the identical space on the eleventh floor above him, there was a little ego in that I'm sorry to say. How needy was I?  And by Monday, this was on a Thursday, by Monday, I moved my salespeople in 'cause in those times, you could rent black desks, rent phones, bang! We were in operation and my seven salespeople moved in and that was the birth of the Corcoran Group.
Right before I left Ramon Simone's office that day, or should I say Ray and Tina's office that day. And by the way, you know what his real name was? It wasn't even Ramon Simone. I found out from his mother Vicky his real name was Ray Simon. And he wasn't from the Basque country like he always told me he was from 145th Street in Harlem, go figure.  Alrighty. Well anyway, so right before I left the office, that's when Ray gave me the gift of a lifetime when he said to me those words that reflected in my head for the rest of my life. It still gets me goin'.
You'll never succeed without me. I'm telling you, I don't believe in negative motivation. I'm a positive person like my mother. But he really knew my number. If he had said I know you're going to be amazing, I'm sure I wouldn't have stayed in business in the tough times. But it was that scolding tattoo in my heart: you'll never succeed without me. That every time I was near-death, growing my business through the ups and downs of the real estate recession.
Being overextended, being over leverage, owing money. Blah blah blah. That same phrase got me goin' again. He gave me an insurance policy for success by insulting me. Thank god he did. I have thanked him a million times. What happened to Ramon Simone? He married Tina, they have three kids together. They are so much more happily married than myself and my husband, Bill. They were meant to be together.  They were destined, okay? But still, thank god he gave me that insult to insure my success for the rest of my life.
Cindy Trimm
Do not listen to the naysayers. If you are going to have a breakthrough, you've got to be able to silence the negative voices. That's the next step and that's the next secret. Many of us have too many people speaking into our ears. I just called these people abortionists. So you've got to be careful.
Your dreams, your visions, your desires. Especially those that have been god-given. I want you to pursue them. I want you to believe that all things are possible. It is possible for you to go back to school. It is possible for you to heal your relationship. It is possible for you to go at life alone. It is possible.
"Do not listen to the naysayers." – Cindy Trimm
Pep Guardiola
Interviewer: Seems to be that managers from other countries come and they are quickly addicted to the place.
Yeah, they told me it's so hard, so tough. And all the people say Pep is not going to adapt and coach in that way, so that is why I'm here. To try to do it so the people have some of them confident it's going well, but some of them in Germany as well the people say the way you play is not possible here in the Premier League so.
And I said myself why not? Why we don't travel there to try it and that's why. So it's a big challenge, not just for me but I am always in my teams I was able to emboss the players and it went to help us here as well. When that's happened, everything will be easy.
---
Thank you guys so much.I hope you enjoyed the article. I'd love to know what did you think? What was the single biggest takeaway that you took from this article that you're going to apply to your life or to your business somehow? Leave it down in the comments below.
I also want to give a quick shout out to Eduardo. Eduardo, thank you so much for picking up a copy of my book, Your One Word, and taking that picture and posting it to Facebook. I really appreciate the support, man. And I hope you enjoyed the read. So thank you guys again. I believe in you. I hope you continue to believe in yourself and whatever your one word is. Much love, I'll see you soon.
---
You might also like
---
More from Barbara Corcoran
---
Watch Barbara Corcoran's Top 10 Rules For Success video. Famous Entrepreneur Quotes Barbara Corcoran's Quotes "If you can be yourself and all …
Good morning, Believe Nation! My name is Evan Carmichael. My one word, is believe. And I believe that entrepreneurs will …