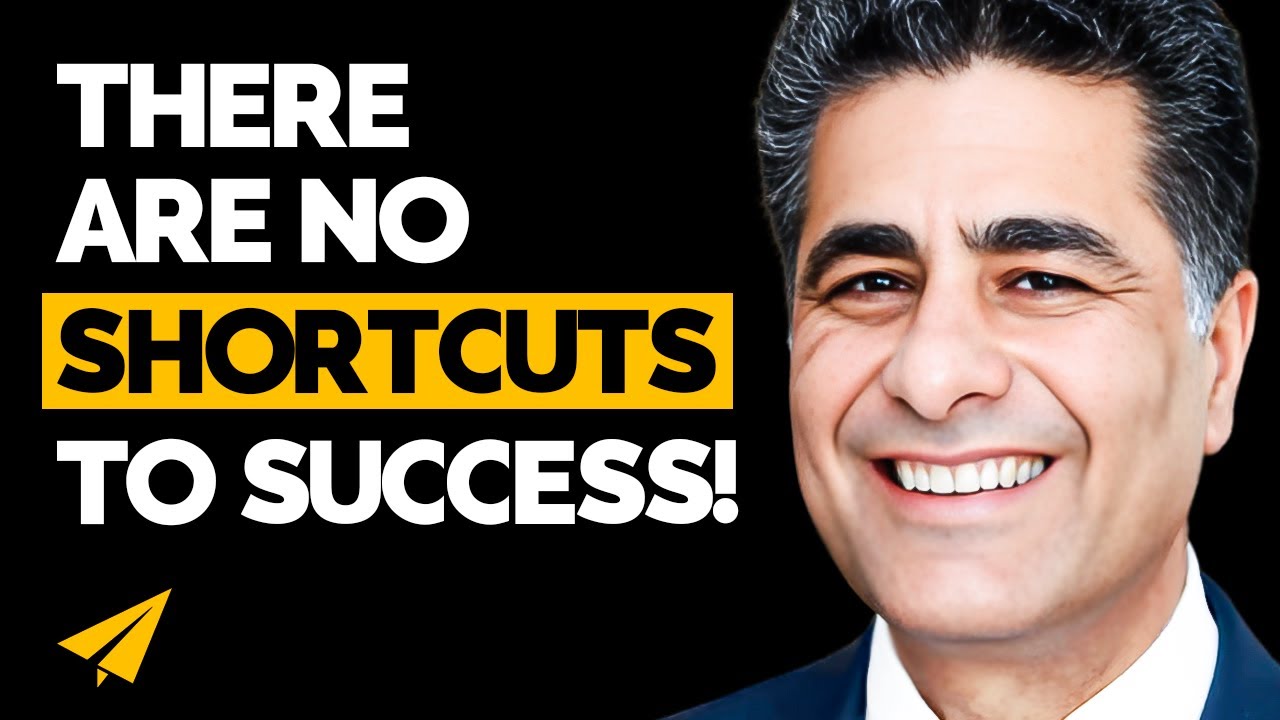 He's the CEO of Deloitte and Touche, he was named one of consulting magazine's top 25 most influential consultants. He speaks regularly with top tier media as well as premiere conferences and business schools. He's Punit Renjen, and here are his top 10 rules for success.
Punit Renjen's Top 10 Rules For Business and Success
Rule #1: Work Hard
Well I think there's no substitute for hard work. None, zero. I was in India, I talked to 200 of the newly hired individuals and I can say this because I'm of Indian heritage, they always ask me when I go to India, so tell us the one or two shortcuts to get to your point.
And I always say there are no shortcuts, you've got to put in the time, and so I think the first takeaway is there are absolutely no shortcuts. It takes time, and it takes a lot of hard work.
Rule #2: Really Enjoy What You Do
I mean I really, really enjoy what I do. I really do, and I think, a number of you probably are interested in consulting, I think my only advice and I hope that I'm a few years older than you so I have the right to give you a little bit of advice. But my only advice is pick something that you will thoroughly enjoy, whatever that may be.
And I think if you do that, you will, to answer the first individual's question, you'll probably survive in it, and potentially, maybe you'll thrive in it. I mean I usually don't say this, but if I wasn't paid a lot of money, I would still do what I do.
I hope some of our managing partners don't see this program, because my units may get cut, but I would still do what I do. You know I'm surprised on a yearly basis as to what kind of money I make.
I mean I just am absolutely surprised, I would do it for a tenth of what I make. So just find something that you really enjoy, and I think you'll thrive.
Rule #3: Find Your Definition Of Success
I define success two ways. One, what I do here at the firm. The impact that I create for my clients, the impact that I create for the partnership, now the new role that I have, the legacy that I leave. That is one way that I will define success.
You know I'm not a great cricketer, I love cricket, I wish I was as good as Sachin Tendulkar, I'm not, this is my life's work. What I do here is my life's work, it will define me. And the second thing that will define me is what my 11 year old son thinks of me when he becomes a man.
These are the two things that define success for me, and in that is a little bit of a conundrum, because I love what I do, it is as I said my life's work, I love my son more than I love myself, and there is a constant tug. There isn't enough hours in the day to be able to do both extremely well, and so that is my challenge.
Rule #4: Be Yourself
There is nobody on planet Earth like you, and you are unique, you have unique gifts that nobody else has. So as quickly as you can accept that, the happier you will be. Why try and be somebody else? And why worry about others accepting you? I am who I am, I'm proud of the fact that I am this way.
And besides, I don't have a choice.  This is who I am, and so I am very accepting of the fact that I come with, and my wife is very accepting of the fact that I come with a certain package, and it's taken me a while to get comfortable with this is who I am and these are the gifts that were given to me by my parents, and I'm not trying to be somebody else.
I'm me and I'm happy about that. So I would say to you, you're unique, you have your own gifts, there's nobody else like you and just get comfortable with that, and that will give you a sense of peace, and frankly, tremendous confidence because you're not trying to please somebody else, you're trying to please yourself.
Now it's easier said than done, because we're trained from an early age to try and please others. I think that's a losing battle because you ultimately end up trying to be somebody else, and I say that about our firm as well. I mean, I say in the US that we aspire to lead the profession.
We're not defined or validated by comparing ourselves to somebody else. We don't care. We don't care what PWC does. We don't care what McKinsey does. We don't care because we're not going to be defined or validated by comparing ourselves to them.
We're unique, we're special, there's nobody else like us, so we're going to define the profession in our image. And I think that applies to individuals as well, we're all unique, and if you try and be somebody else, I think you'll be quite unhappy.
Rule #5: Set High Goals For Yourself
Interviewer: I'm wondering if you have any personal tricks on how you keep yourself motivated.
I set pretty high goals for myself, they're usually higher than what I think most other people set for me. And I just am very driven to achieve them. I'm a goal oriented individual, and I just am very driven to achieve those goals.
Rule #6: Empower People
Interviewer: How do you motivate people to get things done?
You know, the reason why I paused was I was trying not to come up with a trite answer. I think, and this is an overused term, I think defining a overall goal that's reaching, in that it isn't easily attainable, and then empowering, and this is the overused word, and then empowering people to actually go try and get it, and ensuring that when they have a misstep that you're there to help them along is probably the way to.
You know to be frank with you, most of the people that we hire at Deloitte are extremely smart, they're self motivated, they're very hard working, and you've got to, much like a race horse, you've got to make sure that you give them the space to develop and mature and accomplish.
So I think most of my partners would say the same thing, it takes an element of defining the ultimate destination, then empowering people to actually go to achieve it.
Rule #7: Find Mentors
You never make it by yourself, you always need others to help you. I'm good at what I do, I'm really, really good at M&A, and I'm not saying this with any level of arrogance, the only reason why I'm saying that is I've put in over 25 years perfecting the craft.
But one of the reasons why I'm good is that a partner out of the Dallas office took me under his wing and he said, let me apprentice you, let me show you how to become good at it. He didn't say it in exactly those words, but in retrospect, that's what happened to me. So mentorship is incredibly important.
Rule #8: Find Yourself
If you want to be successful at something, you have to love it. And we're not fortunate enough that we know off the bat that we love what we do. I didn't have a clue what I wanted to be, and so I was in that bucket of individuals that found myself in something, and then taught myself to love it, and so it becomes second nature to me and I really like what I do. And I think that's another reason for being successful.
Rule #9: Get Comfortable With Being Uncomfortable
As you stay in the consulting profession, you've got to get comfortable with being uncomfortable. It's a constant state of flux, my administrative assistant kids me on a daily basis, my schedule changes in terms of where I'm going to be.
Every week is a different location and every project is very different in terms of the dynamics, what you've got to achieve, the people issues, and so at a certain point in time, you just become very comfortable with what would be termed as stressful situations.
Rule #10: Stop And Smell The Roses
As you go along on this journey, remember to stop and smell the roses for a little bit. Frankly I didn't do enough of that, I wish I had. I mean this is the funny thing about life, you realize, you know what I would love to do? I spoke to a number of students in India just a couple of days ago, and I said to them, they said, in retrospect, what would you like to do? I said, well I'd like to be your age, which is 22, with the money I have now and the knowledge I have now.
But life is funny, because you get the money and you get the knowledge, but life has passed you by, and so my response to him is, this is a journey, and take some time and smell the roses.
Thank You
Thank you so much. I made this because Aniket B asked me to, so if there's a famous entrepreneur that you want me to profile next, leave it in the comments below and I'll see what I can do.
I'd also love to know which of the top 10 rules meant the most to you, leave it in the comments, and I'll join the discussion. Thank you so much, continue to believe, and we'll see you soon.
---
You might also like
---
More from Motivation
---
Watch Evan Carmichael's Top 10 Rules For Success video. Famous Entrepreneur Quotes Evan Carmichael's Quotes "Changing my environment had a dramatic impact …
Watch Mark Hamill's Top 10 Rules For Success video. Famous Entrepreneur Quotes Mark Hamill's Quotes "I love the allure, the danger, of …
Watch Brandon Beck's Top 10 Rules For Success video. Famous Entrepreneur Quotes Brandon Beck's Quotes "Whether you think you can do it, …