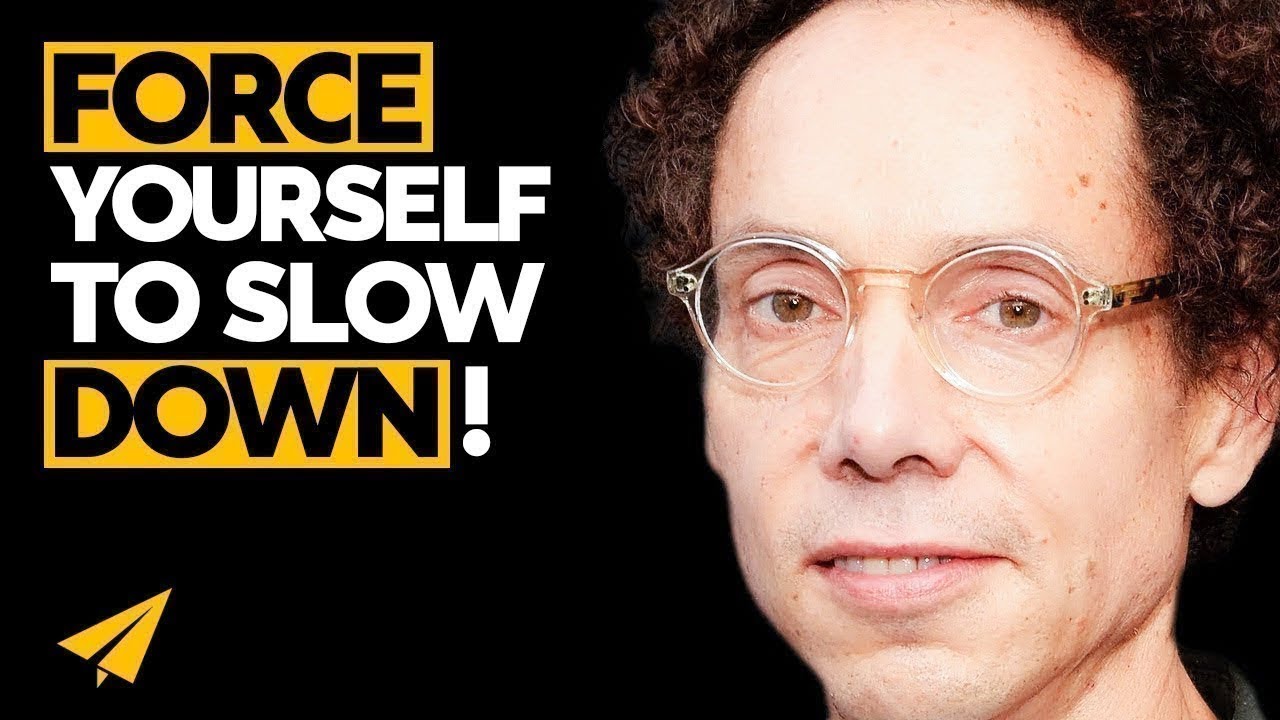 "I'm not out to convert the world. No interest in so doing. I just simply want people to engage with my ideas. And if they disagree, fine."
"I feel like we learn most from people at the fringes. And that's why you constantly have to be looking at the fringes."
"You do not want to be cornered by me at a cocktail party. It's just the worst. That's a really bad idea. "
– Malcolm Gladwell
Evan: Hello Believe Nation. I'm Evan Carmichael. My one word is believe and I believe that entrepreneurs are going to solve all of the major problems of the world.
So to help you on your journey, today we're going to learn from journalist and five times New York Times Best Selling Author, Malcolm Gladwell. And my take on his top ten rules for success Volume two.
Rule number one is my personal favorite and I'd love to know which one you guys like the best. And as always guys, as you're watching, if you hear something that really resonates with you, please leave it down in the comments below.
Put quotes around so other people can be inspired. And when you write it down, it's much more likely to stick for yourself as well. Enjoy.
Malcolm Gladwell's Rules
Rule #1: Pursue Your Passion
Rule #2: Shift Your Thinking
Rule #3: Focus On Quality, Not Speed
Rule #4: Learn Storytelling
Rule #5: Evolve With Time
Rule #6: Make Sense Of Criticism
Rule #7: Learn From The Extraordinary
Rule #8: Refuse To Roll Over
Rule #9: Find Role-Models
Rule #10: Be A Rebel
BONUS
Malcolm Gladwell's Top 10 Rules For Success
Rule #1: Pursue Your Passion
Pursue what interests you, not what you're good at. You're always better off pursuing the things you like over the things that you have some kind of aptitude toward. At the end of the day, passion for something gets you much further than some dry notion of ability.
Rule #2: Shift Your Thinking
What I'm trying to get people to understand is that our conventional notions of disadvantage and advantage aren't accurate. That we've called lots of things disadvantages when in fact, it's more complicated than that.
And so, the reason I started with that story and also, I retell the story of David and Goliath, to start the book because if you look at the story closely, everything you think was a disadvantage about David actually isn't. And Goliath is not what he looks like. He looks like this indomitable giant. In fact, he probably had a medical condition called acromegaly, which is, this is sort of a side thing.
Interviewer: You're bringing medicine in the Bible dude. What are you doing?
No, no, no. It is hilarious because if you, the minute you start digging into these things, you discover these little pockets have been arguing about these things for years. For 50 years, endocrinologists have been arguing about whether Goliath had a tumor on his pituitary gland and, which would explain his height because when you have a tumor on your pituitary gland, you overproduce human growth hormone and get really..
Right Andre the giant
Interviewer: Right.
Had this condition.
Interviewer: Seven foot, four, a beast.
Seven foot, four. But one of the side effects is that it can constrict your optic nerves and leave you largely with very, very limited eye sight. So one of the explanations for why Goliath behaved so strangely and why he doesn't perceive that David is not intending to fight him.
I mean, David comes down the mountain and he's got no sword and no armor. He clearly is not intending to fight a sword fight and Goliath just sits there like he's oblivious. Well the answer is, maybe he could only see this far, right. So it changes everything when you realize, Wait a minute. The giant is weighed down by a hundred pounds of armor and can't see anything.
Interviewer: Right.
He's like. Like this. Right? So I do more with that story but it's all about this, trying to get people to take a step back and understand that we can give up because we have these or feel powerless because we have these empty definitions or flawed definitions of advantage.
Rule #3: Focus On Quality, Not Speed
As a writer, my principle observation about why other writers fail is that they are in too much of a hurry. I don't think you could write a good book in two years. You may disagree. You have done that, I think. But you're an anomaly.
Most of us, can't write books that quickly. And we need to be a little bit more tortoisy and a little less harish. The problem is, the world wants you to be a hare. Your publisher says I want it now. You're under pressure to this x, y and z.
You have a one year sabbatical, where you try to cram in and finish. You've got teaching load etc, etc, etc. But in fact,  even something as simple. One thing that almost all of the professional writers, I know, so not people who have a day job, like yourself, do. The very best of them do, is that they write drafts and then they put the book in a drawer for six months and they come back to it. They build in.
They turn themselves into tortoises. Force themselves to slow down and go back. Now does that, that in a sense harms the system, in that that amount of output is lowered but I don't think the problem with writing in America right now is a failure of output. I think it's a failure of quality, right. So there is a case where I think the overall system could use maybe a little lower level of production and some higher production values. And I think that having individual writers who write better books makes us all better.
Rule #4: Learn Storytelling
All my work is about story telling. But using stories to kind of get at deeper truths. But fundamentally, I'm a storyteller and every, you know in Revisionist History every one of the episodes is a story. It has a, and it's not me ranting on about this or that or the other thing. It's we meet really interesting people and we tell their stories and use that as a way of, and that's a theme in all of my work. I think that the, the way into complicated ideas is through people and their stories.
Rule #5: Evolve With Time
Interviewer: Is there anything in your books you don't believe anymore? Last time I talked to you, you told me there's some things you don't believe at all.
Yeah.
Interviewer: That's bothered me ever since.
Well here's the question, here's the thing. There has to be because you have to keep changing your mind. And Gus, this is what I said last time and I believe this even more strongly now. I mean, we could sit down with the books and go through and I can say, here's how my thinking has changed but if you can't do that about something that you wrote 10 or 15 years ago, you're not alive.
Interviewer: Gotcha, Right.
Right, you have to say. So absolutely there are things.
Woman: We all change our mind.
Rule #6: Make Sense Of Criticism
Interviewer: Paul Greenburg. He writes editorials and this column at the Arkansas Democrat Gazette. It's a conservative paper. He's a conservative writer. He probably has the harshest criticism as I've seen. He says (Paul Greenburg) "Malcolm Gladwell's specialty is the kind of pseudo-intellectuality designed for the carriage trade, and delivered with an air of insight – and only the air. Pretentious, ponderous, and mostly piffle – when it's not just plain wrong-headed." It's the print version of the most pompous talk show you can think of."
He doesn't sound very happy, does he?
Interviewer: He doesn't. I just wondered if, Do you get a lot of that?
A long time ago, when I started sort of writing, being a journalist, I sort of had a, I had to kind of sit down and think about how am I going to deal with criticism because criticism as a writer is absolutely inevitable, right? You're always going to have Paul Greenburg's.
There's nothing you can do about them. And the question is what do you, how do you want to respond to them? And I decided very early on that a) I was never going to make it my, a sign of my own success or feeling I had succeeded, that I silenced critics. I'm not out to convert the world. No interest in so doing.
I just simply want people to engage with my ideas and if they disagree, fine. The other thing that I decided early on that I was, I would I would be happy if the people that I cared about, people closest to me thought what I was doing was meaningful. If my Mom likes it, if my editor likes it, if my best friend Bruce likes it, I'm happy. And that, those are important rules. And if you could have some version of that, some kind of system for making sense of criticism, it's a lot easier to function.
Rule #7: Learn From The Extraordinary
The best way to discover what is special about yourself is to do it from the outside in. So I don't think you discovered those qualities by peering inwards, by focusing on yourself. I think you discovered them by engaging with others.
The fastest way to discover your own unusual or exceptional qualities is to hang out with people who have unusual and exceptional qualities. I had the good fortune when I was 11 years old to meet a guy named Terry. Still to this day, the smartest guy I ever met. He was, we were in the random little town in the middle of farming country in Southern Ontario and Terry was the most fearless and subversive thinker I have ever met.
I discovered through him that I can sort of do that too. I didn't know that at that point. I was just another, you know, conventional, compliant, good student but  and I met this guy whose notion of what it meant to explore life was to metaphorically blow things up. You said go left, he went right. You said this was true, he was like prove it to me. He was that kind of guy. The world just kind of opened up when I met him.
I was like Oh my word, what a way of kind of dealing with ideas and with experiences. He was so exciting and so fresh and I just followed him for years, just kind of learning from him. And there was a case where, that was something I didn't figure that out about that I liked that kind of way of thinking about the world. By sitting and introspecting.
I found that out by hanging out with an extraordinary person You know I've always been interested in, just people who are unusual in some way. Unusual good, unusual bad. Strange, eccentric. I just find that, I feel like we learn most from people at the fringes and that's why you constantly have to be looking at people on the fringes. Even if you don't want to be like them, they're the ones who give you the most powerful lessons.
Interviewer: People at the fringes?
Yeah, so, I do my book outliers for example was about that. It was about just look at people who are just not ordinary, who in fact, who are almost  more than extraordinary and let's sort of figure out what makes them tick.
Rule #8: Refuse To Roll Over
I began with the story of David and Goliath and then I told the story about the Indian guy who coached his daughter's basketball team because they're both examples of people without obvious advantages who refuse to be passive, who refuse to take that, the conventional notion of themselves as underdogs, as a reason to roll over and play dead and that's the kind of spirit, that's the intended to be the kind of message of the book which is just because you lack all the things that we conventionally believe are necessary for success, doesn't mean you cannot be successful.
Rule #9: Find Role-Models
I can't pass up an opportunity to talk about Jamaica and Usain Bolt. So there's many different explanations to why Jamaicans completely dominate the world of sprinting. One explanation though is simply that, if you look at the history of Jamaican athletics, they had a series of transcendent runners in the 60's, 70's and 80's. When you have that kind of tradition, what that means is, if you are a seven year old and you're athletically minded and you're growing up in Kingston, you have a model for how it works.
Man: Look at, right.
It's more than a inspiration. It's like you know that someone who grew up down the street from you was capable of running 9.62 in the hundred meters. It's not just a abstract possibility, it's a real thing. You've watched this guy on the track right. Same thing with, Steph's starts to launching three's and suddenly everyone is, you watch  now, they are launching three's from so far downtown
Man: It messed up kid's basketball. Cause that's all they want to do. They want to shoot three's.
But it's still, everyone's like all of a sudden, it's like woah. It is possible to routinely make 40 footers.
Man: At least they're taking the shot. You know what I'm saying? I'm happy that you're at least taking the shot.
Yeah
Man: Somebody has to inspire you to take the shot.
Someone has to make it and make it concrete, right. It's concrete when you see somebody on the street doing it.
Rule #10: Be A Rebel
You do not want to be cornered by me at a cocktail party.
Interviewer: Yeah.
It's just the worst. It's really a bad idea. I really try to get people to kind of just stay away cause it's not going to end well.  I would be like jabbing you in the stomach.
Interviewer: Where does that come from?
This?
Interviewer: Yes, just that thing of you.
I don't know, I mean, I, no I'm exaggerating. I'm actually a very, nah, I mean I'm largely, actually totally misanthropic. I don't even like talking to people
Yeah.
Interviewer: Your policy and you're quite good at it, so your second language is working.
Where does it come from? I mean, I have. Listen, I grew up in small town Ontario. I now live in New York. I have a massive chip on my shoulder. The best kind of chip. A chip is a terrible thing to waste. You should.  You have to kind of
Interviewer: I heard that you and your buddies at Terry's said that the best way to be punk rock and to be a rebel as a kid in Canada at the time was to be conservative.
Yeah, no, so we, my mother very artfully had foreclosed every avenue of rebellion. There's nothing I can do to possibly rebel except to become a Reaganite. Which I briefly did in my, I had a photograph of Ronald Reagan on my wall for about three months in college until I realized, this is the worst idea in the world. I am essentially making myself into a pariah. So I took it down.
Thank You!
Thank you guys so much for watching. I hope you enjoyed. If you want to get your pick of who I should profile next in the top tens, check out the link in the description and go and cast your vote.
I also want to give a quick shout out to Tony Bennett from Masteryinmotion.com Tony, thank you so much for picking up a copy of my book, Your One Word. I hope you enjoyed the read and I really appreciate the support, man. So thank you guys again for watching.
I believe in you. I hope you continue to believe in yourself and whatever your one word is. Much love. I'll see you soon.
---
BONUS
Keep things simple
It is our function in the world is to take things that are complicated and render them in a form that non-experts foLlow them and make sense of them. That's my job. So it's like, why. Of course, I and do I occasionally oversimplify? Of course I do. That is my job as well.
Sometimes you have to oversimplify. If the choice is between keeping an issue in the dark because most of us can never access it or maybe oversimplifying it, reducing some of the nuance past the point that experts feel comfortable, I will always choose the latter.
If you could introduce a topic in a form that is digestible, ten they can start adding back the nuance. We can have a conversation and we can start talking about the complexity but you've got to start the conversation.
My job the way I see it, is to the start the conversation and there are some people who and I would charitably call them snobs, who are dismissive of any conversation that doesn't begin with the full level of complexity. Well that's just not how the world works, you know.
---
You might also like
---
More from Evan Carmichael
---
What's up, Believe Nation? Greetings from London, England. It's Evan. My one word is believe and I believe in people, …
Watch Evan Carmichael's Top 10 Rules For Success video. Famous Entrepreneur Quotes Evan Carmichael's Quotes "Changing my environment had a dramatic impact …
Today we're going to look at seven different ways that you can make business alliances. What's up Believe Nation? It's Evan. …