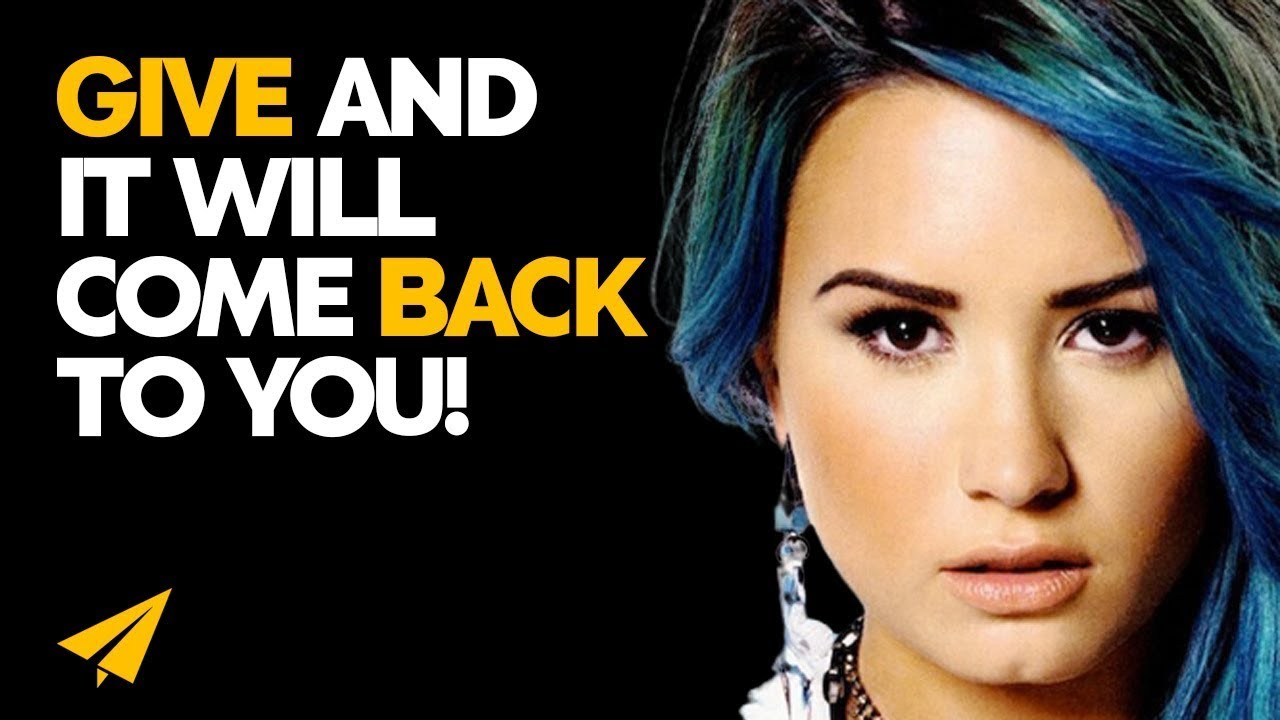 Good morning, believe nation!
Today's message is put out positive energy. Over you to you, Demi Lovato.
Demi Lovato
I am a firm believe in what you put out in the universe comes back to you.
Ryan Seacrest: Yeah.
You know, even if it's as crazy as I have this dream car that I want or maybe it's not materialistic. Maybe it's like I just want perfect health and I want to fall in love and I want this and that and my family.
Ryan Seacrest: Right.
You know, if you put it out there, it will come back to you in return. And I think it's just whether it's the universe, God, like whatever you believe in I think that if you put that energy out there it definitely comes back. It's pretty crazy, I had a night where I was just like frustrated and I was like you know I've been working hard.
It's been about six months or whatever since Skyscraper came out or maybe even like eight months. And I was just like I'm so frustrated. Like I'm not where I want to be.
I had just released Give Your Heart a Break and I just remember I was like you know what God, this is all for you. I'm going to do it, I'm going to work hard, blah, blah, blah. Ten days later, I literally got the phone call from Simon Cowell asking if I want to be a judge.
Evan Carmichael
Positive energy makes all the difference in the world. If you have ever felt a burst of energy that came to you after having a meeting with somebody or delivering a public speech or talking to a customer or reading a book or watching a video and you felt that high.
You felt this was great I want to go out and do it again, then you know what I'm talking about. You know how valuable positive energy is and how much of a force it can be in your life to go out and create amazing things. I think to be an entrepreneur you have to be a force for good.
You have to be, at the core, somewhat optimistic and then you can make great things happen because the odds are overwhelmingly against you. Most businesses will fail and won't work out. And so you have to believe that it will for you to keep going. When everybody says that you're crazy.
If you have ever felt that feeling of the boldness and the high and the creativity and the wanting to do something amazing and felt how can I capture that? How can I bottle that? How do I make that so I can drink that every single day? When you find out what works for you I think it's critical to put that as part of your daily routine, ideally in the morning.
We've talked about this before on the channel, it's supper important. Whether it's meeting people, if you're an extrovert and you like to meet people you got to get out of the house and get out of bed, get out of the office and go have a coffee with somebody, start that, make that the first thing you do everyday.
"Positive energy makes all the difference in the world." – Evan Carmichael
If you need to watch videos of famous entrepreneurs and see people being successful and dream of I want to be successful too, start your day with that as well. Understand that that's what help you reach the higher level, so plan it in. Go and have it happen to you randomly.
I think too many people just happen to consume the right content at the right time and it helps them, but then you fall back off your path and you don't remain consistent and you go back down to where you were before. So if you love a certain YouTube channel that gets you inspired and pumped up then watch every morning a piece of the YouTube channel. Whether it's mine or somebody else's or maybe it's reading the book or it's having a conversation.
If talking to your mom gets you fired up, amped up, self confident, thinking bold, then do that. Talk to your mom every morning. I think once you understand what it is that gives you positive energy and you can factor your schedule around it you are much more likely not just to be a happier person, but to achieve a lot more success and have a higher chance of following through and hitting your goals.
The second part of it, I would say is, once you understand how to do it yourself then you can recognize and I think it's also your responsibility to do it for others. If you understand how important having that external positive vibe is for yourself to get you in the position of being positive and upbeat and optimistic everyday then how can you be that source, that light, that spark for other people.
For your customers, for your suppliers, for your community, for your family, for your team, the people around you. Don't be the person who's bringing everybody down who nobody wants to hang out with. Be the person who builds people up, who helps them have confidence and courage and belief in themselves. If you have figured out how to do it for yourself then you can be a light for other people and I would say it's your responsibility to do so. Don't just hold on the the goodness yourself, share it.
Make other people's lives better. It's part of why I do these videos for you. It helps me. I love it. But I love knowing that it's helping other people as well. I love knowing that you guys are, some of you watching every single day. Some of you start your day. If you start your day, everyday, with a video on my channel, leave in the comments. I want to see. 'Cause I get message from you guys, I get snaps, I get emails from a lot of you saying you start your day, everyday with one of my videos.
That makes me feel great. Makes me feel like the work I'm doing is important and having an impact. I want to share the positive the energy and then you guys are consuming it and you're dishing it out to your community. You're dishing it out into your product.
You're dishing it out to your customers and to your family and the people around you. Step one is figuring out what gives you the positive energy and how can you make that consistent and part of your daily routine and two once you figure that out, it's your responsibility to go out and share it with others and be a light in other people's day as well.
Question Of The Day
So the question of the day, today is how many of you start your day with one of my videos? What's your frequency? Once a day? Multiple times a day? Once a week? Once a month? Never, except this video? Leave it down in the comments below. I'm really curious to find out.
I also want to give a quick shout out to Shauna Fitzpatrick. Shauna, thank you so much for picking up a copy of my book, Your One Word. It really means so much to me and I really hope that you are enjoying the book. Thank you for your support. Thank you guys again for watching. I hope you have an amazing day.
I believe in you and hope you continue to believe in yourself and I'll see you again tomorrow morning for another shot of Entspresso.
---
BONUS
Express Positive Energy
Will Smith
You have to show up at work with the right attitude and with a positive energy. I actually had a t-shirt made the said positive energy is a part of your job description. So the idea that I want to show up with the right energy. I want to show up, you know we're all here.
Even now we're all here, we're trying to feed our families, we're trying to have a good time, you know this is an important part of our lives. Our time is all that we have. So to me, it's hugely important to deliver positive energy in a way because it's viral.
So if I come with positive energy and then someone else is going to pick up on the positive energy and you take it home to your families and you know. So for me, it's just hugely important to approach everything and everybody at every turn with the most positive loving kindness that I can generate.
Charlamagne Tha God
My father was in the construction. So I used to like help him out. As far as building houses and stuff like that. But I didn't really start working until I got out of jail for the first time. When I got out of jail for the first time, I did a year in jail for assault and battery with intent to kill.
The only reason I did a year was because my father was trying to teach me a lesson because I was such a bad kid. So he was trying to teach me a lesson. So instead of posting my bail, he let me stay in jail. I'm like, I don't know, 16, 17 at the time. Like '97, '96, '97, yeah. So when I got out of jail, I started saying yo, in order to change my life, I got to change my life style. I didn't want to hustle no more.
I was never no big time drug dealer. I was a quarter spoon dude. You know, quarter spoons where I'm from is seven grams. You pay 250 for it, you flip it, you make 500. The first jobs I started working, I remember I got a job at this warehouse called IAC, Industrial Acoustics Company. I worked there and I worked at a flower garden, a Taco Bell. I worked at Demo in the mall.
I worked at a telemarketing place called Paragon Solutions and the reason I was doing all that was I always say, you know, you got to create the kind of energy that you want in your life. If you constantly keep creating positive energy around you then more positive things will come.
So I would be landing all these jobs. Like I never was wanting to let my record stop me, my criminal record. And that's what eventually allowed me to get an internship with radio stations because I was just working. I was working two and three jobs at one time. One point I worked at Demo in the mall, Paragon Solutions Telemarketing Agency and interning at the radio station.
It's like a psychic telling you, yo, you're going to be rich one day. So you just sit around and wait to be rich and it don't work like that. You know when you're constantly thinking about doing positive things, you got to actually go out there and work towards those goals. I talked to you earlier about just going out and working at Taco Bell, you know, working at a warehouse just trying to create that positive energy a production into my life.
Salman Khan
There's something that you can do in your own way tonight. You can validate others, empower others, increase the net happiness, the positivity in the world. I mean it can be as simple as your family's going to have dinner tonight and you go to a restaurant and you see someone do something great. Too often we just kind of sit back and say oh that was good, that was good service, maybe you give an extra tip.
You're at work or you see a colleague who goes above and beyond and you say oh that was pretty good they did a nice thing. What I hope and this is something that I tell myself all the time, don't just sit by and observe it. Recognize it. When you see someone do something great, tell them about, tell their bosses about it, tell their families about. And when you do that all sorts of neat, exciting things are going to start percolating into the universe.
Obviously, you're going to make that person's day, you're going to make their year, you might make their career. I've seen it happen before. You probably, in some way, will make their life. Even more, they're going to start doing that ultra positive thing more. The people around them are going to see the recognition they got for it and they're going to start emulating it.
Even though that wasn't your intent. You just wanted to highlight something good that's happening in the world. People will recognize that you are a source of positivity and when you're a source of positivity, people will just naturally gravitate to you.
---
You might also like
---
More from Charlamagne Tha God
---
Today's message is "Don't dwell on the past."Good morning, Believe Nation. It's Evan, my one word is believe and I …
Hello believe nation, my name is Evan Charmichael, my one word is Believe, and I believe that entrepreneurs are going …
Good morning Believe Nation! Today's message is create something authentic. Over to you, Bruce Springsteen. Bruce Springsteen Why songs are good is …