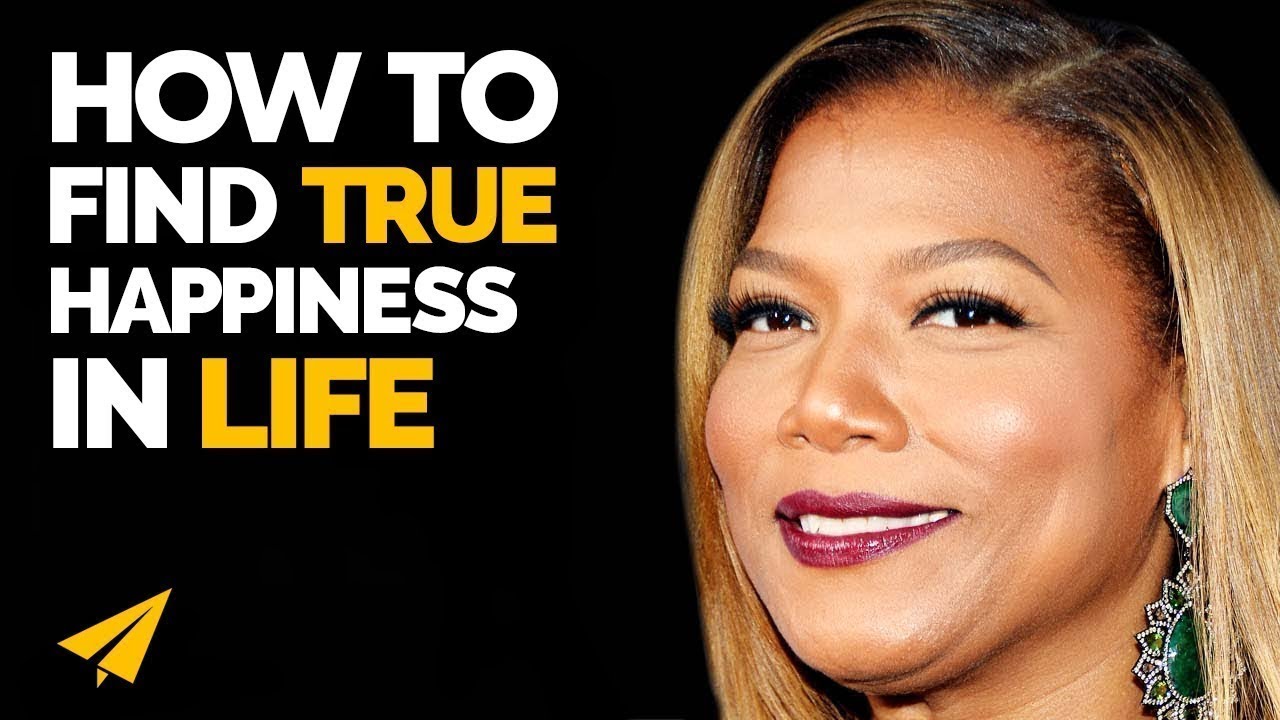 It's not really about the accolades, that those will come, but the work, when you feel like you you know that feelin' When you feel like, I nailed that. I need to have realness around me to kind of break through all the smoke and mirrors, if you will. If I want to go visit Thailand, I'm going. You know what I mean? And eat some crazy food that you would never eat, maybe. Well, I want to try it.
Queen Latifah's Top 10 Rules For Success
Evan: She's a rapper, singer, actress and talk show host.
She gained mainstream success for her performance in the film Chicago.
She's long been considered one of hip hop's pioneer feminists.
She's Queen Latifah, and here's my take on her top 10 rules for success.
Rule number two is my personal favorite and I'd love to know which one you guys like the best.
And as always, as you're watching if you hear something that really resonates with you, please leave it in the comments below.
Put quotes around it so other people can be inspired as well and when you write it down, it's much more likely to stick with you, as well. Enjoy.
---
Queen Latifah's Rules
Stay OPEN
Love the work
Be yourself
Surround yourself with realness
Try out different things
Be determined
Don't take things too seriously
Cut the deadbeats
Impact lives
Have fun
BONUS
Rule #1. Stay Open
You've won a Grammy, you've got nominations for an Oscar, you won a SAG award, you won a Golden Globe. You've done so much. How do you keep going? What inspires you?
Honestly, I pray always to stay open, you know? If you are always learn something new, then you can be inspired. But I don't just kind of sit and look at the past, like I did this. Until people like you remind me of a lot of that stuff I don't really think about it in the same way because I see the new things on the horizon and I don't feel like I have to do the same thing over and over.
I think if you're a creative person then you kind of just have to follow your vibe. If an opportunity is there for something interesting that kind of sparks that thing in you, then you go for it. And I'm just kind of never one of those people who felt like I couldn't do it. I've got the right people around me that I believe to do anything I put my mind to.
Well you do
If God wants it for me.
You kind of mastered everything that you've done.
I don't master it all but I persevere through it all and it gives me a chance to find the next thing to work on. So I'm a fighter. I know how to take 'em as much as I can give 'em.
Rule #2. Love The Work
I been a business woman all these years. I get a lot of joy, like when we first managed Naughty by Nature, just taking them from A to Z, getting them signed, helping 'em create their record, helping 'em create their name, their image, all that and watching them put out a hit record that became platinum.
There's a good feeling in that because you know you had something to do with helping someone else become a super success. And now they have opportunity, their family is good, they have a career they can run with, that feels good.
Just like playing some role that's super difficult or so challenging in some way where you got to go to some deep, dark place within yourself, or you got to give yourself therapy to get through your own mess so you can play this thing, and then you see it on screen and you see that it worked. That feeling is amazing. It's not really about the accolades that, those will come, but the work, when you feel like you know that feeling
Yes.
When you feel like, I nailed that. And you go to sleep that night feeling like, "Wow!"
Rule #3. Be Yourself
Interviewer: 'Cause you are in the forefront, honey.
Well, I don't know. I don't know what kind of leader I am, but I don't know I'm not trying to be a leader. I'm just trying to be me. And if something that I say helps someone else out then that's fine, but to go out and say, "Okay, I'm the role model around these here parts "and I'm the spokesperson for all women."
I'm not trying to do that because we are individuals and we all have minds of our owns and things we want to say for ourselves and I just say the things I want to say, is what I say. Not what other people want me to say.
Rule #4. Surround Yourself With Realness
I have real people around me. I think that's the best way to maintain your realness is to have honest people around you who actually care about you. So there's a balance. I think as creative people, we can be sensitive so there's a way  to talk to us but at the same time, I think it's important to really have an idea of where you are, who you are and not have just a bunch of yes-men around you, unless that's your thing.
Maybe that works for some people, but that doesn't really work for me. I need to have realness around me to kind of break through all the smoke and mirrors, if you will. And we create a lot here. We build this construct around us here, so we need to have real people to kind of let us know, keep us grounded. Keep me grounded, for sure.
Rule #5. Try Out Different Things
I've always been the kind to switch for different things. I'm interested in different things, too. So I have to have the freedom to step into those worlds and not feel like, oh I got to stay here, keep this certain persona, be this person, no. If I want to go visit Thailand, I'm going.
You know what I mean? And eat some crazy food that would never eat, maybe. Well, I want to try it. You know what I mean? So that's just who I am. So I think being okay with that has allowed me to not be afraid to go into different things and places and try different things and kind of move my own personal needle forward a little bit.
Rule #6. Be Determined
Interviewer: Has there never been a point where you have felt frustration, sort of, in Hollywood? I'm sure maybe it was earlier in your career.
Absolutely, absolutely, but you know what? You run into stupid people everywhere, unfortunately. Doesn't matter if it's the cab driver who doesn't want to stop for you or go past 110th Street or if it's some executive who someone managed to become in a position of power to greenlight movies who has no clue. I mean, some things are just timing and determination and perseverance.
Rule #7. Don't Take Things Too Seriously
If you don't have a sense of your feet on the ground, if you're not level-headed to some degree, you could really lose it. 'Cause you literally have all these people telling you how incredible you are, and if you don't have a sense of yeah, but, I still have to take out the garbage. Do you know what I mean?
Interviewer: Yeah.
I still got to walk my dog and poop up scoop, do you know what I'm saying? Scoop up poop. If you don't keep your head, then you could kind of get a little souped up, a little conceited and lose your edge. Or some people take themselves too seriously after that. They feel they have to do every incredible, I did Scary Movie 2 after that.
Interviewer: I loved that.
It was just because the kids loved it and I'm like, I asked one of my friend's kids, "Did you like Scary Movie?" And he was like, "Yeah." I'm like, "Do you think I should do Scary Movie 2?" He was like, "Yeah." Well I trust a nine-year-old, why? Because I don't owe them money, they don't owe me money, they're not gettin' a cut off of it. They just, it's just real. So I did it, just for fun, and then did more critical kind of things but I mix it up.
Rule #8. Cut The Deadbeats
What I don't think we should do is limit ourselves in any way, shape or form in terms of what we think we're capable of. And I think that's been part of the problem. We're relegated into these particular fields and who says that you can only do those things? Unless it's something physically preventing you from doing it, in which case, leave it alone. But other than that, go for it, like go for it.
But just be prepared for what you are going to deal with those things. And when you find people you can connect to, who will support you, whether they're male or female, those are the people you need to keep in your life, because my partner, Shakim, has respected my brain from the very beginning. Not just my get-down, not just my rap skills or not just how cool I am, but really, he respected my mind from the beginning.
And so, he and I can get together intellectually and come up with something, and then we talk shit to each other and like, "Yo, I betcha we can. "We can do that. "You can't do that. "Yes we, well that's how we," and then, we bang about how we can make it happen. But if he didn't respect me, then it wouldn't even go there.
If I didn't respect him, then it wouldn't go there. So, I don't think we always have to live on an island, not with guys or not with women. I think we just need to connect with people who get what we trying to go, we moving in the same direction. And the rest, those are the ones, the haters or those who tell you, "You can't do it," the negative ones or the hanger's-on, that's the dead weight you got to cut.
Rule #9. Impact Lives
I've had a guy who drove me in his limousine, tell me his 12-year-old daughter has a beautiful voice and she was afraid to sing and she would cry because her classmates would tease her and tell her she's never going to make it, she can't do this, and by looking at me, she started singing again.
And she's like, "If Queen Latifah can do it, I can do it," because she looked more like me and because she had a Queen Latifah to look at and inspire her to stay on her path, follow her dreams. So, I think it's been a great thing. I feel good about how I've been able to impact people's lives.
Rule #10. Have Fun
We just follow the moves, right? ♫ I've had a little bit too much ♫ Much oh oh oh ♫
Give us some encouragement here!   ♫ Can't find my drink or man ♫ Where are my keys ♫ I lost my phone ♫ What's goin' on
Okay, that's not too bad to do, right? Uh oh.  Oh boy. Oh yeah, I like this part. I kind of get to chill out.  ♫ Just dance ♫ Going to be okay ♫ Da da doo doot-n
Ah, this is fun!
Oh get it, give it to her!
My boobies are falling out!
Let 'em out, they're my favorite body parts.  ♫ Just dance ♫
Thank You!
Thank you guys so much for watching. I made this video because FOCUS WSU asked me to. Also, if you want to nominate someone for the next top 10 video, please check the description for a link to a video where you can vote for people and put in your suggestions as well.
I'd love to know what did you take from this video. What was the most important lesson that you learned that blew your mind that you're going to immediately apply to your life or your business somehow? Please leave it down in the comments below, I'm super curious to find out.
I also want to give a quick shoutout Kat Harvey. Kat, thank you so much for picking up a copy of my book, Your One Word, and the fun interview we did together on your channel. It was a blast, I really appreciate your support and I hope you're enjoying the read.
Kat Harvey: Today, we have a special guest who I admire and love. This guy has a huge heart. When you think of him, I think of inspiration and definitely the money 'cause he's a boss, of course, and he's helping changing lives all over the world. Just pouring into a lot of people. His videos on YouTube is how I actually found him, so of course, I had to have him on today. So without further adieu, please welcome the mogul himself, Mister Evan Carmichael.
So thank you guys again for watching. I believe in you, I hope you continue to believe in yourself and whatever your one word is, much love. I'll see you soon.
---
BONUS
Focus On your Passion
Once you know what your dream is, setting those goals to accomplish that dream. It will require a sacrifice, it will require work, it will require maybe sleepless nights, but your passion for what your dream is has to be that strong that you're willing to sacrifice all that to accomplish it.
Put good people around you that can help you get to where you're trying to go, move you in the right direction. Don't get caught up in a crazy relationship in college unless you went to college to get married, which some do.
In that case, find a good man and do it quick  before somebody else does. Other than that, stay focused on your education. Focus in important, don't get caught up going here and there and everywhere. Just keep your eyes on the prize, keep God in your life and you'll be there.
---
You might also like
---
More from Queen Latifah
---
Good morning Believe Nation! Today's message is stay open. Over to you, Queen Latifah. Queen Latifah Interviewer: You've won a Grammy, you've got …