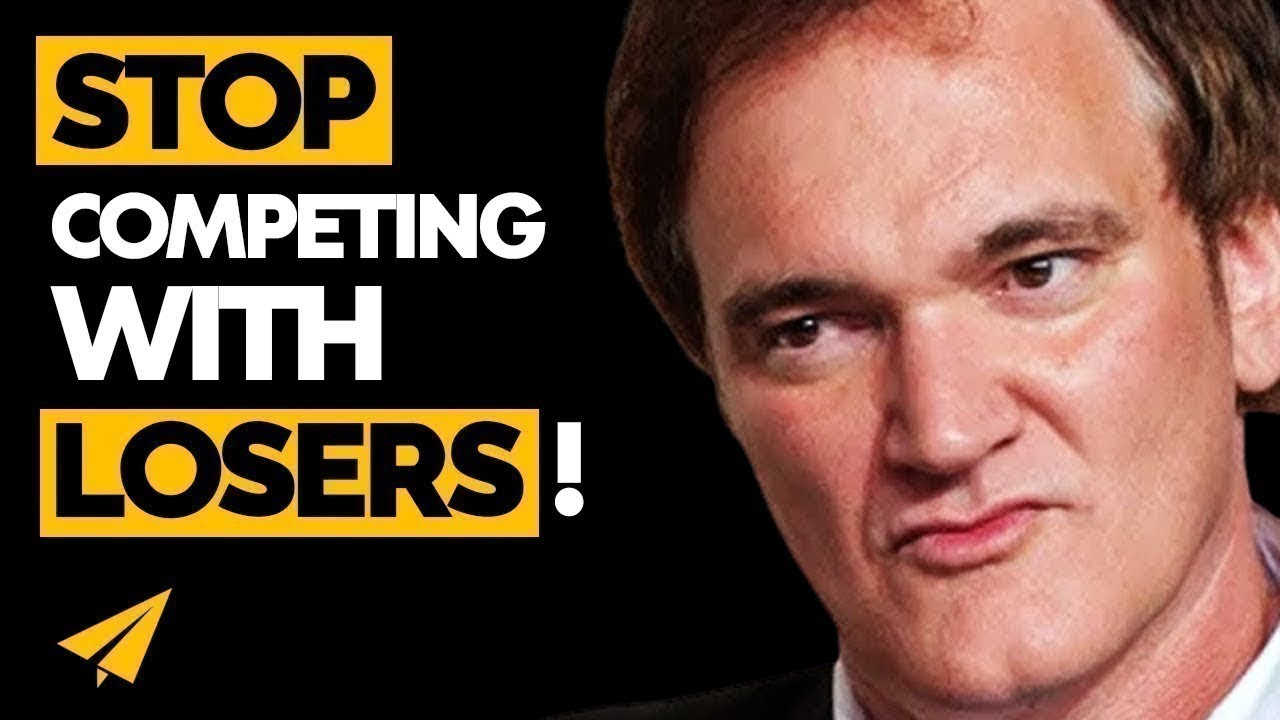 He's an American film maker and actor. His film have garnered both critical and commercial success. He received a star on the Hollywood Walk of Fame for his contributions to the film industry. He's Quentin Tarantino and here are his top 10 rules for success.
Quentin Tarantino's Top 10 Rules For Business and Success
Rule #1: Get Out Of Loserville
I got a, I started working at this video store, it's pretty much what you're talking about around that time. And, it was great at first because I'd always hated day jobs and stuff. And so, I got a day job and it ended up being pretty good, but admittedly I was there for five years.
At a certain point it was a narcotic. All right, I didn't have to keep pursuing my dreams because it's not what I want to do, but it's sort of kind of close. And, if I didn't have an artist's soul burning in me I could have made myself happy with that.
If I didn't have an artist's soul burning to get out I could have walked backwards a couple steps and just done that. And, it would have been a fulfilling, well to anybody else it would have been a fulfilling life. It wouldn't have been for me 'cause I wouldn't know and I would have had something to say that I didn't get a chance to say.
But, it did put me to sleep for a while. And, I've always just thought, I mean what really got everything kind of truly going for me, you can point at a lot of different things. But, the bottom line is the fact that I realized that even the group of people I hung around with they were all great, great, great fellas and great gals.
But, it was easy for me to think that I was doing a lot because I was doing more to try to move myself forward than they were. But, that's not, okay I'm a big fish in a puddle, so what, all right, they're not doing anything, all right. So yeah, I'm doing more than them, but I realized that actually I need to get my ass out to Hollywood and meet other people who are in my category or working a little higher.
And, I should be the weakest link in my chain that I have and that'll make me be stronger and make me run faster. I mean, like an analogy I've always used is all right if you run the 100 yard dash with people that can't run as fast as you, yeah you'll win hands down you know that.
But, if you run with people much faster than you all right, you might come in last every single time but you're time will be better because they're making you run all the faster. They're making you dig down just a little bit more it doesn't matter that you won your time is faster. And, that's what I knew I had to do. I had to get out of loserville and throw myself into a place where like this is what the  do for a living.
Rule #2: Make People Notice
Interviewer: Do you think it's still possible for an up and coming filmmaker to go the route that you guys went and still be successful?
Man: That's a good question. What do you think?
Make Reservoir Dogs. Actually, I'm not even being a smart ass. That was a  kick ass movie all right. You make a god damn kick ass movie and you can take it all over the  planet Earth, not America, not  Las Angeles, not New York, the planet  Earth. And, everyone will know it.
Man: There is a lot more competition than there was when I was like kicking around with El Mariachi, so you've got, there's just a lot more to do these days. You have a lot more competition because everybody's got a camera now and everybody can edit. It's just it's tough, I don't know but the state of independent filmmaking changes just like filmmaking changes.
Yeah, but at the same time yeah there's a lot more competition but also those crappy movies aren't competition if the thing is like  dynamite. All those shit is, yeah there's a lot of people out there doing stuff but if it's like waves on the beach all right. You make a piece of nitro that you throw in an audience's lap, people notice.
Rule #3: Be Your Own Audience
And, people ask me from time to time, "Do you make a movie with an audience in mind?" And, my answer is yes I do, all right, but the audience I have in mind isn't some faceless blobs that I'm trying to second guess. It's me, I'm the audience.
I'm the guy that goes out and pays $7 or $8 in New York to go and see a movie. If I'm excited about seeing a movie I see it on opening day, all right? I am the audience, all right? And, I know what I want to see. And, I was betting and I was a little surprised at how many there were, I was betting that there were other people like me out there, all right? Now true, I'm making specific films.
And, if you make a specific film that's not everything for everybody you're going to turn some people off, all right? But, you're going to turn some people on, too.
Rule #4: Grandiose Your Way Out Of Fear
Audience: When you experience moments of self doubt how do you approach getting out of that dark place?
Woman: Good question.
I grandiose my way out of fear.
Man: If you can imagine that.
Woman: It's a good way, it's charming.
It's like literally it's like, okay I'm going to do one of the greatest car chases of all time. And, if I don't I'm not as talented as I thought I was. And, I will realize that there is a ceiling to my talent, right now I don't think there is, but if I don't do,  but if it's not one of the greatest car chases of all time then I failed and there is a ceiling on my talent, I'm not as good as I thought I was.
And, I said that to everybody. And, was I scared?  yeah, I had trepidation going all the way, 'cause it's mine to fail. And, it's failing in front of the mirror, too, 'cause I'll know if I did it or not. And, I'll be like, "Okay, you are not as good "as you thought you were." And, that got me to Mount Everest.
Man: That's true, and at one point he goes, "Robert, can you imagine you and me doing this "car chase together, how great it's going to be?" And I'm like, "Hey man, you're on your own brother."  I ain't going out there man, I've got five  kids. I'm not going no hundred mile an hour bull . You want to live the Vanishing Point dream, buddy, live it.  And, he did it all by himself and I'm so  proud of him. 
Rule #5: Explain Your Vision
You see movies and they can be full of vision and you want your movies to be like that. But, you see these other movies that don't have any vision but I'm sure the director tried. So, what's the difference between this guy versus that guy? How was this guy able to get this on the screen and how was this guy not able to get this on the screen? I'm sure if I talked to that guy he'd tell all these, I'm sure he wanted that, who knows.
And, I was afraid of being that guy. I wanted to be that guy. And, well Terry Gilliam definitely has a vision, no two, three, four ways about it. So, we were at Sundance and it was like a lunch going on at the picnic tables there else F.O.ed and it was just me and him talking, which was a thrill.
And, I go, "Look, you have a very specific vision "in your movies and it's right there on the screen. "How do you do that? "How do you get that vision that's in your head "how do you get it on the screen?" And he said, "Well Quentin, you have to understand "as a director you don't have to do that. "Your job is to hire talented people who can do that.
"You hire a cinematographer who can get the kind "of quality that you want. "You don't have to be able to know how to take "the lights and move then around to create an effect, "you hire a talented costume designer who can give "the colors that you need and the flamboyance or not "that you want. "
You hire a production designer who can do that. "Your job is explaining your vision. "Your job is articulating to them what you want "on the screen." And then, all of a sudden the whole mystical shamanistic thing that I thought directing was just went boop.
And, I realized I could do that, that it wasn't this Merlin like magic kit that I needed to know the right spell in order to conjure. Oh, I can describe what I want, I know what's in my head. That's the easiest part, I'm good at describing.
Rule #6: Just Do It
To get the passion, if you've got the passion to do it and you do it and it doesn't like work out I worked for, God, three years on 16 millimeter film that ended up becoming nothing but guitar picks. And, I was very disappointed when I realized it wasn't any good.
But, it was my film school, all right? And, I actually got away really cheap. When it was all over I knew how to make a movie. I didn't want to show anybody that, but I had the experience. I had it a lot cheaper than I would have gotten if I had gone to film school.
Rule #7: Find The Right Balance
If you're really going to be an artist with you own voice and you want to do different things and try not the standard thing then the biggest balancing act you have to pull isn't really even being a good filmmaker, we'll just say that you have that, is that balancing act between sticking to your visions, sticking to your voice but not being some asshole that can only hear the sound of his own voice.
And that's, I mean, it's all right there. That's it, you got to be able to listen to people. You got to be able to hear what their saying, but you also can't just, I mean when the going gets tough not give up on your vision.
Rule #8: Keep Reinventing
There's a French director named Jean-Pierre Melville who came out in the 50s and basically started doing a whole series, he was like a total entertainment director. He did a whole series of crime films always like set in Paris or Marseilles or something.
They were basically the Warner Brothers' Bogart Cagney films all right, but completely set to this like French Parisian rhythm. And, they started, . And they're great, and they work very much in the same way that like Sergio Leone's films do where they take a genre that like we know left, right, forwards, up, and down, and backwards, all right, but they do with a whole different style and a whole different perspective.
And, here they've basically reinvented the genre. They've created something new that didn't exist before. Now, that's what I'm always kind of trying to do with my genre films. I don't know if I'm succeeding or not, but that's the attempt. To take something you've seen before, I love it, I respect it, and I'm going to deliver the goods.
I'm not just some arty guy going off, but I'm delivering the goods but I'm also trying to reinvent it in a way. All right, do something, do it in a much different way you've ever seen before. Like, in the case of Reservoir Dogs. And again, it's not just trying to just be a clever boy.
It's not just a clever idea it's got to work dramatically. All right, but like do a heist film, deliver the goods as a heist film but it's a heist film where you never see the heist. That's just my goofy way of doing it. I always say like if I was going to do like a hunchback movie the guy would get like have an operation at like the beginning of the film, the guy that used to be the Hunchback of Notre Dame.
Rule #9: Find Your Creative Process
I started writing like say around 10 10:30 11, something like that. And then, I write till about five, six, or seven something like that. But, around that time, around five or six I'm going to stop for the day. And, what I do is I stop for the day and then after a little bit of time of unwinding I go into my pool and I keep it all nice and warm there and everything, And so, I just kind of hang out in the pool and if I'm not done with something I think, okay, what do I want to do? How do I want to go further with this? Now that I've written the first pass on it what do I think about it? How can I make it better? Is there another element I can bring into it? Add too much, whatever, I'm just looking at it critically. And, maybe I come up with some neat ideas.
And then, I get out of the pool and I make notes on those neat ideas that I came up with, by thinking and meditating about it. It actually is meditating. And then, that's my work tomorrow when I get up. Or, if I've finished a scene, okay boom, man that's done now that part of the story is done.
Now, I go in the pool and I go, "Okay, what happens next? "what's the next thing?" And then, I usually come up with like a pretty good idea and then I make my notes and then that's the next day's work. And, that was never really the way I did it and that has become exclusively the way I did Inglorious Bastards and Django and this and it truly brings a lot of joy to my life. It's a really, really lovely, lovely way to work. It makes me feel really happy.
Rule #10: Engage Emotionally
The American car chases that we grew up loving in the 70s like The Driver or Bullet or French Connection they were location based, that was part of it the fact that the chasing is happening in downtown LA a night where it turns into a ghost town in The Driver.
Or even like colors, the fact that it's through Watts, that's a deal that's a thing, all right? But then, once the Australians got involved in it they revolutionized car chases. And, I'm not just talking about Mad Max. I mean you can't make a 14 year old girl coming of age movie in Australian without having a car chase break out at some point.
But, the thing that they did that was so great was location oriented, is the  Outback. Everything looks like the  same, all right. So, all of a sudden they didn't have drive by shots. Everything you were in the chase. You were with the cars constantly every second. It was like pussy to put a car off the side of road and have them .
They were with them and so I wanted to actually do that. I wanted to do the Australian style and bring in there, but then there's even one more difference and that is who's chasing who. All right? Most of the time it's the protagonist is being chased by a bunch of cops like in Blues Brothers or something like that.
You're being chased by somebody. But, the most exciting chases, the ones that you're on the edge of your seat "Yeah, get em, "get 'em, get 'em, get 'em," all right is when the protagonist is chasing the person and you want that person to get caught.
That's French Connection, that's what makes French Connection so cause you want Popeye Doyle to get that bastard. All right, and those were always more emotionally connected when you were following the hero. Well, I have both in mine.  I have the girls being chased, I have girls chasing. So, I tried to hit all those emotional bases.
Thank You
Thank you guys so much. I made this because The Morrow Brothers asked me to. So, if there's a famous entrepreneur that you want me to profile next leave it in the comments below and I'll see what I can do. I also love to know which of Quentin Tarantino's top 10 rules had the biggest impact on you, leave it in the comments and I'll join the discussion.
And, one last thing my person goal with this channel is to get it to one million subscribers. So anything you can think of to help share it, tweet it, comment, give it to some friends, add it to playlists. I really, really, really appreciate it. Thank you guys, continue to believe and I'll see you soon.
---
BONUS
Appreciate Criticism
Well, I have to say all that criticism that came out it ended up being kind of a good thing because one of the things I wanted to do is I wanted to actually start a conversation about slavery about America's role in it. And, to actually take an audience member from the 21st century and stick them in the antebellum south and have a sense of what America was like back then.
And, so even the people that have been, have criticized the movie and so a lot of people don't like, and I can understand that, a lot of people do like it. And, they've been kind of going back and forth and that back and forth is really what I really wanted for the end of the day of this movie. And, I hope that actually even continues for the next few years.
Collaborate
We would truly, yeah, because he was my audience and I was his audience and everything. And, he was like the perfect sounding board. So, we really would like inspire each other to go further to like, "Oh, this oh Robert's "going to love this."
All right, I'd read him this and then he'd come up with like, "Oh man, that's going to be so cool. "And the greatest fun fight never heard." I remember that, the silencer gun fight you had at one point.  And actually, it was the Sony lot so like Versailles, that Cuban place was right across the street.
So, we'd like web spin all day then go at Versailles at night and eat and just talk about how we were going to take over Hollywood.
Follow Your Passion
A reporter all of a sudden will say, "We want to do "a big in depth story on Quentin. "We want to just spend some time with him "and have him do what he does during his day." What I do during my day is I go out to restaurants and I go to movies, that's what I do.
And, I hang out with my friends and stuff. I'm not into sports, I don't like sports. Anything with a ball, no good, all right? I'm not into sports, I'm not into cars or anything like that. I mean I'm into driving a car, but I'm not into like, I don't collect cars or make model cars or anything like that.
I'm into movie stuff and horror stuff and like I said just hanging out with my friends and watching TV and messing around. And now, I'm into travel, I like traveling. I love traveling, I love being here in London, that's great. Yeah, I love going different places and stuff.
But, that's it, that's kind of what I like to do. The best thing is now that I'm making a living in the industry I have a little bit of money is and you have to see before when I didn't have any money at all, all I spent my money on was movie stuff anyway.
Buying videos, buying records, buying movie posters, I have a big movie poster collection, buying all that memorabilia, buying all that crap. When I didn't have any money to spend I spent my rent money on that stuff. See now I got more money to spend on it and it's tax deductible because it's all in the industry so I get it all.
I have much more money to spend. I can buy damn near anything I want, all right, and it's all written off at the end of the year. I mean, so it's like, what a life this is great.
---
You might also like
---
More from Motivation
---
Watch Evan Carmichael's Top 10 Rules For Success video. Famous Entrepreneur Quotes Evan Carmichael's Quotes "Changing my environment had a dramatic impact …
Watch Mark Hamill's Top 10 Rules For Success video. Famous Entrepreneur Quotes Mark Hamill's Quotes "I love the allure, the danger, of …
Watch Brandon Beck's Top 10 Rules For Success video. Famous Entrepreneur Quotes Brandon Beck's Quotes "Whether you think you can do it, …