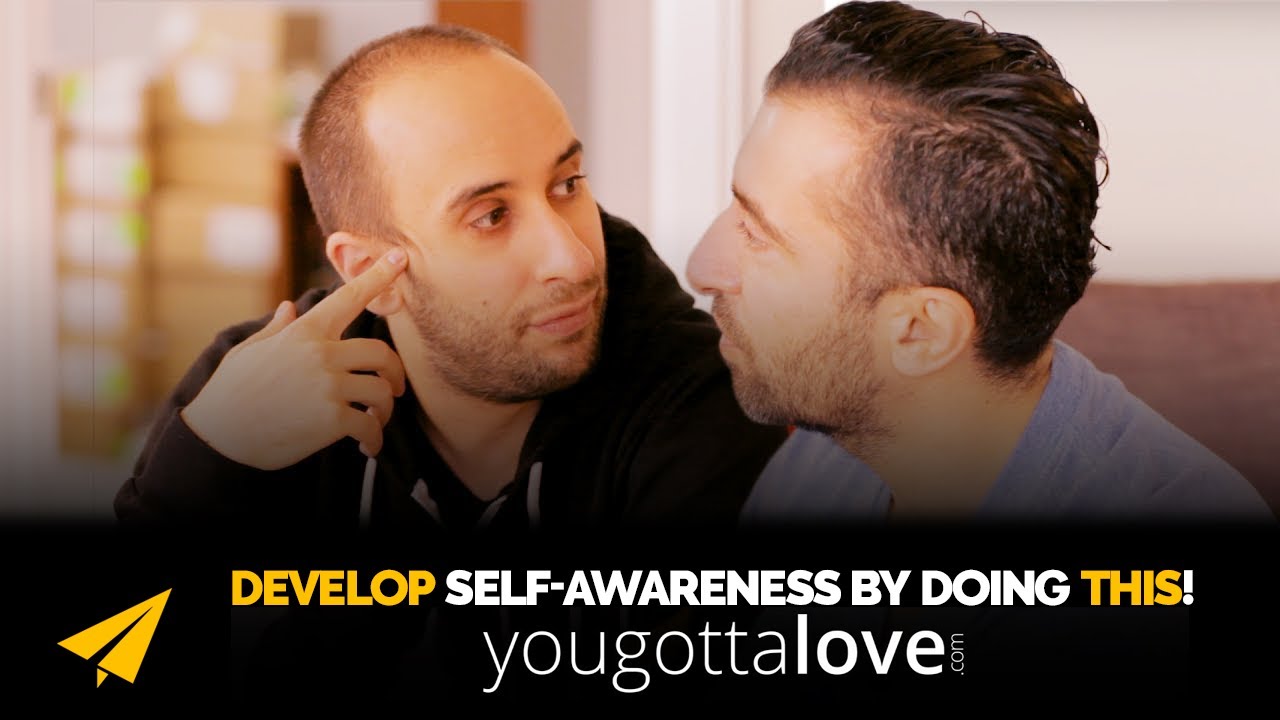 Interviewer: Is there a way, is there a process or something that you do to yourself to raise your awareness, to see new things, so that you can always kind of be on track or even be ahead of where you want to go? 
Evan: For me, developing self-awareness starts with figuring out your one-word, we talked about this, I think for another video, but I believe everybody has one word that kind of defines them and you need to understand what that is so your constantly living your true values.
So for me, it's believe, you know, you've got got inspire. As you look at your work, as you look at your life, it now becomes, like if that's who you truly are, if you're really about inspire, and then you look at your videos, and you look at your marriage, and you look at your kids, and you look at your house, and you look at everything it applies to. It's the most important core value for you.
Interviewer: It's like your essence.
Evan: Yeah, it's the lens to the world, and I'm believe, you're inspire, like it's close but we're not the same either, right? Somebody else who picks inspire, your inspire would be a little different than theirs, but at least you know, and you're always going to be unhappy in a situation where there's no inspiration.
If your marriage doesn't have any more inspiration, you're going to be upset, it's going to lead to unhappiness. If your work is boring, you're going to feel boxed in, there's no inspiration, you're going to be upset, you're going to have to find a change, right? And so a lot of people don't know what their, they just feel the angst without having a solution.
So understanding what your one-word is is a great start so that you can say, okay you know what I don't have enough inspire my life, I don't have enough believe my life. I got to go find a way to inject some of that, so you start feel good again, through your business, to your career, to your marriage, all of that stuff.
That's the starting point. I think then it's overcoming the fear to go out and do it. I think building the muscles is important, I think the best way to do it is through your environment. I think a lot of people would be in the situation where they are like, great, I'm about inspire.
I have my own business and I love it, inspire, great, okay. I'm going to go off and today's the day now. Here are all the ten ways I'm going to inject some inspire in. You are on fire, like finally, yeah, I've got life into me, like, who's this new person? And then it all falls apart.
Like the next day you're up and what was that I was smoking yesterday, it's gone. Your back your crappy life, what happened? Cause your life doesn't support it. You have a big goal and your environment doesn't match the goal, so you fall right back down.
Like if you want to learn French, the fastest way is to go to France, like be emersed, you're forced to learn it. If you just try to pick it up from an audiobook once a week, like you're not going to, it's not going to happen for you. You've got to live it, and your environment needs to scream it, right?
Interviewer: Well, how do you do that?
Evan: Well, whatever it means to you, like what is inspire, who was most inspiring person to you? If it's Albert Einstein, if its Quentin Tarantino, if it's, like whoever, I'm not judging.
Interviewer: Surround yourself like on the walls?
Like you love Che Guevara, or whatever, right, like yeah. I mean, we just went to the store, the picture of the girl, the girl that I couldn't catch, you know, on my wall helps me. I touched it, is it okay?
The picture on the wall helped me make the hard decision in my life, where normally I probably would've backed down, but because I saw that daily I didn't want to live with regret again, I reminded myself of the pain of not asking that girl to coffee, and that let me make the most important decision in my life.
And so you need to be surrounded by inspire. You to have it, it's your physical environment, right? What's on the wall, what's on the floor, you can't live in a box, for someone who loves inspire. You can't live in a cookie-cutter box. It's not inspiring, right? You need to do something funky with your space, right?
Interviewer: So like your space has to reflect your inner thoughts or vice versa, you should put things in your space that affect your inner thoughts?
Evan: Think about the big goal you have when you have those moments of boldness, like the ultimate Rich, or the ultimate Jane, or the ultimate Johnny, what environment is he or she in? What is this space scream? And then maybe the ultimate vision is, yes, I'm in Maui and I've got like a balcony.
Okay, great, start with a picture of Maui on the wall. Like there's costs associated with some of these things you want to do, so start smaller, right? I want to be around Steve Jobs and his big thinking. Okay, it's possible, he's dead, I never met him and I never will.
But I can put his picture on the wall, that might cost me 20 bucks or whatever it is and that injects a little bit of Steve into me everyday when I go in. Physical space is important. From there you look at your habits, your routines, the content that you read.
Are you reading books that make you inspired, or are you reading People Magazine or whatever, right? Like, not to get down on People Magazine, but look at what content you're consuming and does it help you become that person? Now somebody who, somebody whose word might be security, maybe a box is perfect for them.
They don't want the chaos of switching out light bulbs and putting new carpets and new stuff on the wall. All that uncertainty is not great for them, they couldn't live in that crazy environment. Great, go live in the box, it's perfect. But then you need to have other things around security that make you feel like you're in charge of what you're doing.
So we've talked about physical environment. Look at the people in your life. Do the people in your life, are they inspiring? Do the people that you talk to daily, do they inspire you or do they just like, can you tell them this crazy idea that you have, and they are like oh yeah yeah yeah, okay great.
Or, even worse, like you can't do that, you didn't go to school to do that, Rich. Like, what are you, nuts? How are you going to be a photographer? You didn't go to school for that, you don't have family connections there. There's a thousand photographers, what makes you so special?
Right, lie that's a lot of people, like those are the people in their life. That's not inspire, right? So the people in your life, the books you read, the videos you watch, and an easy way to kind of figure that out is think about, we've all had moments, like you've had moments in your life where you've been that best self, you've had moments you've been super inspired.
What was happening there? Was it watching a Tony Robbins video? Was it doing some adventurous thing with your wife? Was it reading to your kids, whatever it is, right? Like, not judging, whatever it is you need to do. Now instead of having it happen randomly at 5 o'clock on a Monday afternoon, because you happen to turn on a Youtube channel, build it into your routine.
Interviewer: Pause it, schedule it.
Evan: Yeah, with purpose, yeah, start every day with this stuff, whatever it is, great, if you need to wake up, scratch your back, run in a circle for three-minute, I don't care, if that's what gets you to be that better.
I reset everyday, I great now, you've got me pumped up, we're spreading some love, this is amazing, right? I'm going to some other interviews and stuff after today and tomorrow morning to wake up and
Interviewer: And it's back to scratch, huh?
Evan: Yeah, I got to start over, it's square one everyday. And so I need to, I inject believe into my life daily. You need to.
Interviewer: And you know, I think this is where a lot of people fall down is they think because I'm inspired now, that it's, that's my new way of being, and when they wake up the next morning or the next day or the next week and it's not there, like aw, that didn't work, that sucks.
Evan: It's gone, yeah. This is likely going to be the next, it's the next book man.
Interviewer:  That's why you have to like restart.
Evan: The first books about finding your one word, the self awareness, and the next one designing that environment, because that's what holds people back. Your environment sucks, maybe I'll call that, that's the name of the book: Your Environment Sucks.
Interviewer: I think also, people's expectation and thinking that it's done, it's fixed, and then when it's not, they don't have that persistence like as an entrepreneur, you really have to persist. You're going to fail now, you're going to fail again and again and you've got to keep persisting.
A lot of people think I tried once, maybe I tried twice, but it didn't work out and that's it, I'm done, I'm going back to my old ways, when really, they have to be present and that it's an everyday, moment to moment thing.
Evan: Yeah, I mean, I think the only way that works is if you enjoy the work. If we're talking about entrepreneurship now, like most entrepreneurs fail, I think the big reason is people look up, they pull out a magazine of the top hundred businesses to start in 2017, like, notes the number one, photography, great, I'm going to be a photographer in 2017.
And then they're going to go up against people like you, you who have a passion for what you're doing and it's art form and you've injected your personality and creativity and you're going to crush them. And they're going to try, and it's going to be hard, and they're going to quit. If you're only chasing the end goal, you're never going to get there.
Interviewer: You got to check with yourself when, I know with you, you talked about before, it's really, you don't talk about it now, but it's really a feeling kind of thing with you, like if you feel good about it, if you love it, if you enjoy it, you do it.
As soon as you don't want to do it, you won't force yourself, which is kind of counter-intuitive or not counter-intuitive, but it's counter to the ways everything's run in society. You have to go to work at 8 or 9, you just have to go to school, and you just have to do this and you have to do that.
Yeah.
Interviewer: And you do it whether you like it or not. But with you, it's backwards, isn't it? You only do it if you really want to do it. Can you talk about that?
Evan: Yeah, the more, you know everybody has a bad days and it's all gravy and amazing and even in my life too, I have bad days, but if I find myself doing the same thing repeatedly and I like it less and less less less less like, I got it, like this has to be cut somehow.
If it is important to the business, then I'm going to hire someone to do it. If it's not important to the business and it's out, I'm going to do something else. We did a top ten on Jerry Seinfeld recently, and one of the things he was talking about was doing the work that other people find torture, the torture that you enjoy.
So people look at my schedule, within a Youtube context, I'm filming, we film at least three videos a day go up on the Youtube channel. Where a lot of people have a hard time making a video a week, we're doing three a day. People look at my schedule and say that's insane, it's torture, who'd would want to do that, right?
And I would look at yours and say Rich, you're nuts man. I don't want to sit there and edit video, that's torture man. You put me in your job, I would pick up a smoking habit or something. It's torture, I would hate it, right? But for you it's love. For me, I love doing it.
This is not work for me. For a lot of people, they'd be like oh I've got to do this stupid interview, you know whatever, they hate it, right? It won't be a great interview. I love this, I got get jazzed up from this, right? I'm leaving this on a high, right? I love it and so too many people are just addicted to the outcome, where you have to enjoy the process.
You've got to enjoy the work, so if I do it doesn't work, okay, keep doing it, you do it to do it, you do it because you love doing it and you'll figure out a way to make it work, not just chasing the work and then whatever I have to do that to make it work, right? You'll never get there.
The people who've had success in any field entrepreneurship or career, anything, they love the business, they love getting up and doing the work. They may not love every day or every part of it, it's not all roses, but they like the work and when other people looking their schedule it looks like torture.
---
You might also like
---
More from Evan Carmichael
---
What's up, Believe Nation? Greetings from London, England. It's Evan. My one word is believe and I believe in people, …
Watch Evan Carmichael's Top 10 Rules For Success video. Famous Entrepreneur Quotes Evan Carmichael's Quotes "Changing my environment had a dramatic impact …
Today we're going to look at seven different ways that you can make business alliances. What's up Believe Nation? It's Evan. …