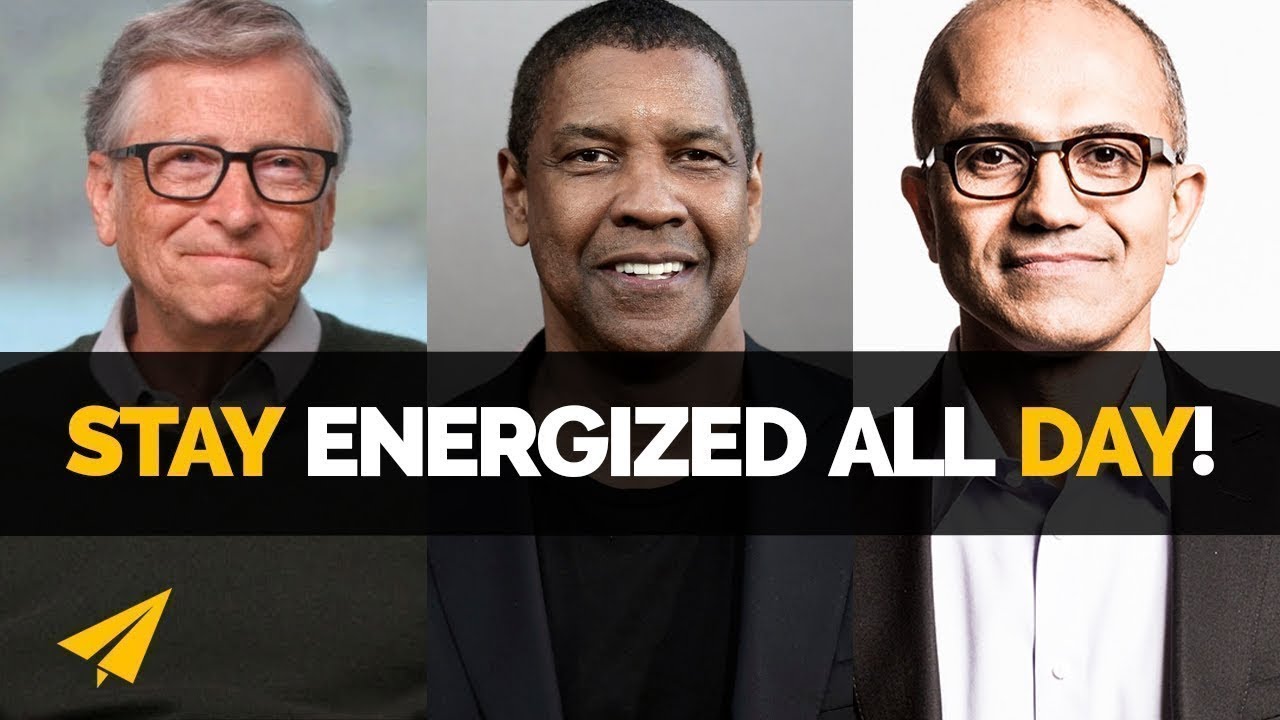 Energy..
We have the energy.
Sustain that sense of energy.
Great energy.
Energy.
Energy.
Hello Believe Nation, today we're going to talk about how you can raise your energy.
And as always if you hear something that really resonates with you please leave it in the comments below and put quotes around it so other people can be inspired as well. Enjoy!
Bill Gates
When I started Microsoft, I didn't think of it as all that risky. I mean, I was so excited about what we were doing, it's true I could have gone bankrupt, but you know, I had a set of skills that were highly employable, and in fact my parents were still willing to let me go back to Harvard and finish my education if I wanted to.
Warren: You've always got a job with me, Bill.
"And the thing that was scary to me wasn't quitting and starting the company, it was when I started hiring my friends and they expected to be paid." – Bill Gates
And then we had customers who went bankrupt, customers who I'd counted on to come through, and so then I got this incredibly conservative approach that I wanted to have enough money in the bank to pay a year's worth of payroll, even if we didn't get any payments coming in.
And I'm almost true to that the whole time, we have about 10 billion now, which is pretty much enough for the next year. Anyway, you know, I,
"If you're going to start a company it takes so much energy that it better overcome your feeling of risk." – Bill Gates
I don't think that you necessarily, if you're going to start a company, should do it at the start of your career, I think there's a lot to be said for working for a company, learning how they do things, if you're young, it's hard to go lease premises, they made that hard for me, you couldn't rent a car when you were under 25 at the time, so I was always taking taxis to go see customers.
And the people would say, we're going to have a discussion in the bar, well I couldn't go to the bar. But you know, that's fun because I'll tell you, when people are first skeptical, and they go this kid doesn't know anything, then when you show them you've really got a good product and you know something, they actually tend to go overboard and they think "Whoa, they know a lot! "Let's really do an incredible amount with these people."
So our youth, at least in this country, was a huge asset for us once we reached a certain threshold. It is hard, it's hard to hire older people, because they'll be a little bit conservative about whether they should come and take the risk.
And it took three or four years before we could go out into the normal sort of employment pool. But those problems come with starting the firm. You better think of those as part of the pleasure, part of the challenge that is part of the excitement.
Denzel Washington
Interviewer: And what do you think the biggest difference between doing a play and doing, I mean it's a cliched question but I'd be interested to know your answer.
I think a part of what Viola just said, is that you get to dig deeper and you get another day. And you get the energy.
You do a movie, and it's 200 people that are used to it, and they don't care, and everybody's doing their job and it comes in a theater somewhere, and you're picking your nose at home somewhere, clipping your nails, there's no energy.
When I was on Broadway five years ago, Julius Caesar, I made a decision to sign autographs every night I don't know what I did, it ain't happening this time! Only, as I rub my knees, only because my knees are bad. It's harder for me to stand. But–
Interviewer: And why did you decide to do that?
Well, you know, I wanted to say thank you. It was my way of saying thank you. And the first night, it was like, 5000 people out there so okay, wait a minute, everybody who has playbills from our show. Yeah, because it was like, people were just wandering up the block. I'm like wait a minute, I forgot I'm on you know, 42nd street and Times Square. I said, wait a minute. But honestly.
Interviewer: You were signing for weeks.
The energy. I was out there hour and a half, every night, every show.
Ann: Wow.
But the energy you got back, the stories, the five little old ladies who just drove in from Detroit, and I'm like well what you all doing tonight? They said "we getting back in the car, baby, "we got to go back tonight."
And you know, little old 84 year old lady was like, "baby if I was three years younger." Oh, true story! True story. Then we had, and I say this also, because I hope it happens with this play, we had some high schools come, we had one school from somewhere, I forgot where and they were doing Julius Caesar.
And some young kid was like "well, you know, "my Brutus is a bit different." "He's more the classic, stoic." But it was great to engage, and exchange with these young people, there was an energy.
I got more from it than I gave to the people that I signed for. That's, you know, you don't get that, you know the odd thing about success in film is that budgets get bigger, you make more money, but they become more formulaic.
So you don't get the opportunity. So I, God willing, if I stay around long enough, this is what I'm going to be doing.
Satya Nadella
One of the things that people talk a lot about is, what gets someone to become an entrepreneur? I mean I, it's just a fascinating mindset, right? You really have to be slightly delusional to be an entrepreneur, because you have to suspend disbelief.
Or you have to believe about your own idea and have deep passion to go pursue it. So in some sense, quite honestly, before I even advise, I take a lot of inspiration from what you're doing. It takes a lot of guts.
"It takes a lot of energy to be an entrepreneur." – Satya Nadella
And I think that therein lies, I think, your secret to success. Which is your ability to overcome every constraint and every obstacle. And do it with the boldness, and the risk-on nature of it. I think it's fantastic.
If anything I would say, especially for entrepreneurs, is, you got to sustain that sense of energy over a long period of time because you all know, and you are grounded in it. The mortality rate is super high.
And that means you will be thrown curve-balls day in and day out, and you have to be able to overcome that. And so being a source of energy in your small team, especially if you're a CEO of a startup, I like to sort of absolve them a lot, because you can't have a bad day. You're all the time.
You know you get up in the morning, you're calling in the afternoon, you're talking to your investors in the evening, you're, ya know, hiring, and that constant sense of energy and passion for what you're doing is what I think it takes, and to never give up, which is what makes you who you are in terms of the core makeup.
And I think that for me, I am personally inspired by that and I think that even from a Microsoft culture, that's what really my dream is. My dream is not that, okay, we have you know, a large organization, my hope is that every team inside of Microsoft feels both that sense of energy and empowerment and goes about it.
Steve Irwen
Interviewer: Do you have moments of repose, moments of just, just take it in and sit quietly?
No. You know, I got to, I have to do a lot of plane flights, and I, oh, I'm a handful. I don't know, I haven't made it in the tabloids as the bloke who's started the riots and stuff on the planes, yet.
But I guarantee you it will happen. You know, you can't hang your arm out the window, you can't stop and have a pee and look at the wildlife, you know, you're stuck in this thing for like sometimes 14 hours in a leg, you know what, going to America is a 14 hour stint, mate, and it's shocking awful to sit there and all the, you know, you can't, I like a good movie. But not five of them in a row. It's like, and you know I don't read much, you know, I'm just.
Interviewer: You don't read? How come you don't read?
Well, I do read, but not you know, not for 14 hours. You know, a SurfMax takes a good 20 minutes.
The Notorious B.I.G.
♫ To all the ladies in the place with style and grace ♫ Allow me to lace these lyrical douches in your bushes ♫ Who rock grooves and make moves with all the mommies ♫ The back of the club, sippin' Moet ♫ is where you'll find me ♫ The back of the club, mackin' hoes, my crew's behind me ♫ Mad question askin', blunt passin', music blastin'
To me, I like the live stuff better than the stuff on the album because the stuff on the album seems more relaxed.
And I think you got to have a certain tone, know what I'm saying, like maybe don't get too excited, just chill, let it flow, but when you're on stage, sweat pouring down, I'm a big one, too, sweat be drenching. I just be representing, know what I'm saying, just doing my thing.
♫ Now they heard you blowin up like nitro ♫ and they want to stick the knife ♫ through your windpipe slow
Kevin Hart
Interviewer: Do you run out of energy, emotionally or physically?
This is him not sleeping.
This is me on no sleep now. I don't. I can't express how happy of a person I am, I can't express how inspiring and, I guess you could say, motivating my life and the people around me are.
Jake Gyllenhaal
You know, things work in the moment, and then can die off, and then things can not work in one moment and then come to life, and if you have any wisdom whatsoever you know to follow wherever there is great energy.
And that's what I followed with Denis when we did Enemy, I went, this guy has great energy. We vibe on each other, and this, I got to go with this. Like, I don't know what this movie's about, but I know this energy. And I know this energy is success somewhere. Creative success.
And that's first and foremost to me. And that's what I follow now. And that energy drives a movie. When you watch as an audience, it's infectious when you see that on a screen, and I see it all the time with people, you're infected by that energy. And that's what we want.
BB King
We average about 200, about 250 to 275 concerts per year, and sometimes that mean you might do two in one day. I'm 69, I'll be 70 on September the 16th if I live that long. And I find the energy meeting people like yourselves.
I enjoy people. I love to play, see people happy. I love to see them dance and see them enjoy themselves, that's energy for me. And it's educational. I get a chance to learn how to say merci beaucoup.
I don't speak French, but Lucille does. Music is a universal language, and I believe that because it's been many times I've heard great musicians, like Django Reinhardt I love, you never hear him speak English, but he speaks it with his guitar. So I think music is a universal language that we can, I believe, communicate with anyone.
Sir Alex Feguson
I think of energy, in its, and anyone listening to this it's really important, when you start, the way I did, with United, at 43, 44 years of age, you see the energy, the players see the energy they see it bouncing out of you, but when you get to the 60s, they still expect to see it.
So I have to work at myself in terms of energy. The hours I've slept, because when I was a young manager, four or five hours, no problem. When I got to that, to my 60s, I needed six or seven hours. So you go to bed earlier, you work at your diet better, Saturday nights were out, after the game went home, you know, I never, very very seldom go out on a Saturday night.
So that, I had to examine myself as a manager because people want to see the energy. It's a very important aspect of it, you know.
Wiz Khalifa
Hands up, hands up I always envisioned myself being a rapper and being in the game and having success, but you never know what it really feels like or how you're going to be when you're there.
Hands up! ♫ And they say all I rap about is bitches and champagne ♫ You would too if every night you seen the same thing
The name Wiz comes from me being the youngest dude in my age group of people that I hung out with. They would call me a young wiz, you know, like I was wise beyond my years, and the Khalifa is Arabic, it means successor, leader, shining light, and my granddad gave me that name.
He's actually Muslim, so you know, he's just seeing my path and what I was doing and how hard I was working, and he gave me that name, and I just put the two together.
Of course, I do rap music and I'm a hip hop artist, but as an individual, as a personality and what I give to the people, I see myself as like, the lead singer of a band or something. You know, when I go out there, I'm a real performer.
"It's all about the vibe and the feeling, you got to be balanced, and it's like, nothing that I have to put on, I really feel, you know, that energetic and that happy to be in front of the kids." – Wiz Khalifa
Evan: Thank you guys so much for watching. I'd love to know, what did you think? Did you get your energy raised from watching this video? What was the most important lesson that you learned that you want to apply to your life or your business immediately, what's the first action step that you're going to take to apply it, leave it in the comments below, super curious to find out.
I also want to give a quick shout-out to BestYouPRO, thank you so much for picking up a copy of my book "Your One Word" and taking that awesome picture on Twitter and posting it, I really really really really appreciate it.
Thank you guys again for watching, I believe in you, I hope you continue to believe in yourself and whatever your one word is, much love, I'll see you soon.
---
You might also like
---
More from Motivation
---
Watch Evan Carmichael's Top 10 Rules For Success video. Famous Entrepreneur Quotes Evan Carmichael's Quotes "Changing my environment had a dramatic impact …
Watch Mark Hamill's Top 10 Rules For Success video. Famous Entrepreneur Quotes Mark Hamill's Quotes "I love the allure, the danger, of …
Watch Brandon Beck's Top 10 Rules For Success video. Famous Entrepreneur Quotes Brandon Beck's Quotes "Whether you think you can do it, …