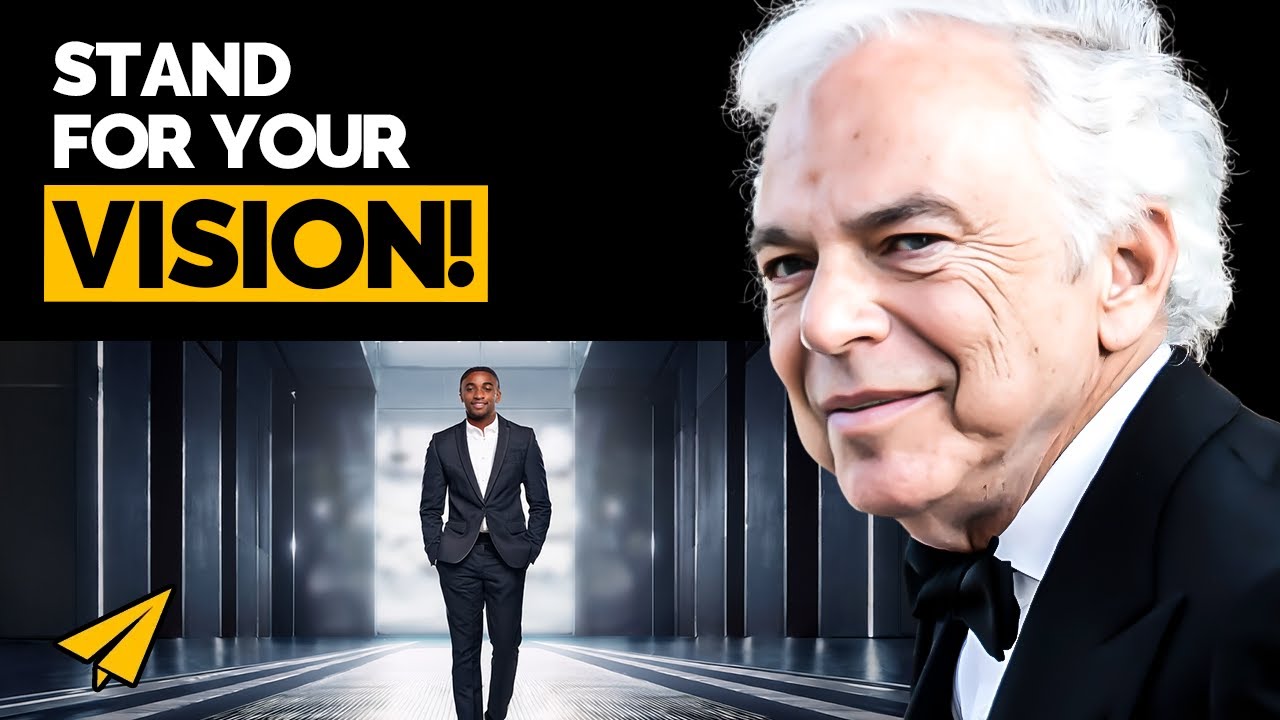 He's an American fashion designer, philanthropist and business executive. He's best known for founding a global mult-billion dollar clothing empire that bears his name. Forbes estimates his net worth to be 8 billion dollars. He's Ralph Lauren, and here are his top 10 rules for success.
Ralph Lauren's Top 10 Rules For Business and Success
Rule #1: Innovate
Oprah: So this all started with a tie. A lot of people think it started with the polo shirt, but it started with the tie.
It started way back. I felt I had something to say. There were no fashion designers when I was growing up. The idea of fashion and what fashion has become today was very different. I was working. I was working in a job and I wasn't sure who I was going to be.
Oprah: What was the job?
I used to hang up returns in a department store when I was 16 years old, when I was still going to high school. Along the way, I felt that I had something to say that was different. No one believed me, of course. When I went to my boss and I said look, I'd like to design these ties 'cause I think they could be new, he said the world isn't ready for Ralph Lauren.
I've never forgot that, because even when he said that, the world isn't ready for you, I thought that was a compliment. So what happens, fellow came along and said, Ralph, would you like to come with me? And I said I would, I'd like to start my own division.
Called it Polo, and they gave me a drawer in the Empire State Building. Not an office, but a drawer. I worked on the bottom of the drawer, and everyone in the office thought, who is this little kid working out of the drawer? And I took the samples, made these wide ties, and delivered them myself in a bomber jacket and jeans, and that's how it went.
Rule #2: Trust Your Instincts
When I went to Bloomingdale's, the buyer said, we like your ties Ralph, but would you make them narrower?  And would you, we don't want to use your label, we want to use our own label. But we'll give you a really good order.
Now here I was, no business, and hungry, and I said to the buyer, I said, my heart's in my throat, or whatever the expression is, I would love to sell Bloomingdale's. They were the hottest store, young, hot store, I said but, I can't sell you. I'm closing my bag and I'm not going to sell you.
Six months later they called me back. And they said Ralph, we can't find your ties anywhere and we want to buy them, and we want to put a rack in. Rack of ties amongst the other ties. That was it. The breakthrough was they bought it. And the breakthrough for me is that I've learned to trust my instincts.
I learned to trust my own sense. 'Cause the normal thing to do is say, I'll make it any way you want to. That's how the world was, I want to sell you the ties, maybe I'll have a new fashion for you next year, let me buy it. My philosophy was that I loved these ties, I made them. They were not just a business to me, they were my voice to myself.
Rule #3: Do It Because You Feel It
Everything I've always done has been for my own emotion and it was never done for a brand or a label, it's because I feel it. And when you give it a title, then it sort of takes it away for me.
Rule #4: Aspire To Do Better
When I grew up, in terms of at that age, I don't know if I had an identity, but I remember years ago, I don't know why, there was a pair of suede shoes in the store, blue suede shoes. And it was before Elvis Presley had the song called Blue Suede Shoes.
On my way to school, I would pass the store that had these suede shoes and I said, I got to have those shoes, how am I going to get them? And every day after school I passed these shoes. It was ironic, 'cause I was not only thinking of clothes, I was really going out with girls, I was trying to look good, see what was sharp.
Interviewer: Did you finally get that pair of shoes?
I don't think so, but I made them. What happened was later, I think they were inspirations. I think when you're younger you have visions of what your life could be and I said earlier that movies and books open the world for you and so maybe those shoes represented something to me, I don't know at the time.
They just looked great. Years later, I think I loved shoes and I've been able to, I think in some levels, growing up, was the platform of things that I wanted as I got older. Instead of looking at a store, I'd say I want to make those shoes, but I can make them better.
On some levels, I had a very good childhood, and I had the clothes, at some levels, hand me downs. But as I grew up, I was inspired to see if I could do things that were better.
Rule #5: Follow Your Dream
I grew up in America, I had the same dreams that everyone else had. Started where I started. My dream was to have a nice house for my family, to have a nice car, to have my kids go to good schools, to do all the things that everyone wants. And as I got there, I was able to do that.
And as I worked harder, I was able to improve it. There was no miracle, there was no snap of the fingers. It was confidence, and I think confidence builds as you go on if you have a good success. Closing the door on Bloomingdale's was at one point sort of crazy, and at the same time was amazingly powerful.
Rule #6: Be Consistent
Interviewer: Fashion is changing so fast, and competition is coming up every day with all these young designers. What has kept you going forward like this?
You just somehow, I've always admired longevity. I've admired people that were not of the only moment. People that can carry it on. They're actors, there are musicians, there are people that came up in rock and roll and the great ones stayed.
Frank Sinatra lasted, the whole pile of names that, Paul McCartney and The Beatles, they didn't last for five years or 10 years, they lasted for 40 years. I admired longevity and I admired consistency, and I admired the individuality of holding your own, standing and fighting for what you believe in.
And I think if there's anything that I really believe in is that, and what made me keep going, I didn't get great reviews every year. People didn't just say you're wonderful, in fact, they couldn't care less, Ralph Lauren. But the consumer loved Ralph Lauren. It's not the fashion editor.
Rule #7: Be Yourself
Oprah: Where are you most yourself, and when are you most yourself?
I'm always myself.
Oprah: That's a great answer. But sitting here on the porch right now, in your dude stuff here?
It's a part of me.
Oprah: It's a part of you.
I'm not a cowboy all the time, I don't propose to be a cowboy. But I love the west. I love ranching, I love the idea of it.
Oprah: Is it like creating
Absolutely.
Oprah: little movies for yourself?
The way I work is i feel like I'm doing movies. Everything I do. If you said just design that dress for that girl or design, I couldn't do it. But if you say, she lives in a mansion, or she lives in SoHo and she's an artist, I could design exactly how she should look, how her hair should be, what she should be wearing, and I'd create a world around her. And I'd pin her up on the wall, and I said, now I know what she needs.
Rule #8: Learn From Tough Times
Interviewer: What are some of the most challenging moments in your career?
Well, when I started out and made the ties and shirts, I started to become successful. After about 10 years, I hired. I had started my company by borrowing $50,000 from another person in the industry. He lent me the 50,000, became my partner.
And so, all of a sudden we were growing and all of a sudden I got a phone call from a banker and said, Mr. Lauren, your bills are not being paid on time. I had a team thinking they were doing all the right things. And all of a sudden, I found that I was in trouble financially because I was taking on too many things and no one told me to stop.
I was being applauded for many ways but on some levels, on a financial level, I was not being applauded, and one of the bankers came to me and said, Ralph, you're almost out of business. What are you going to do?
Interviewer: That was 10 years after you started?
That was about 10 years after I started. But I remember the pain. I took everything I had saved, which was $100,000, and I put it back in the company. $100,000 was all I had left.
And I decided to license some of the brands and have some money coming in, and so it gave me a shot to go and hire better people and so that was a very important moment of seeing success in terms of artistic success, but failure in terms of a company that could go wrong in its finances.
And that was a very important time. And so that was a very major moment in my life. I've had those every five years, I had a show I remember, doing a fashion show and the clothes weren't ready and the tailors were ironing or sewing the clothes as the girl is about to walk out the runway.
Interviewer: What did you figure out? What happened to make it so late? Too many things at hand?
A lack of not getting the right professionals, not planning well, not thinking you've got it going and all of a sudden. I said to myself as I was walking on Broadway, not knowing where I was going, I said this is never going to happen again.
Rule #9: Don't Lose Hope
Oprah: Did you always want to be a cowboy?
I wanted to be everything.
Oprah: You wanted to be everything.
All at once, I wanted to be a baseball player, I wanted to be a basketball player, and I wanted to be an actor, I wanted to be a dancer. I think my whole life has been, actually, I wanted to be Batman.
That's a secret I'm telling you  and everyone out there. But the ability to stay young, the ability to enjoy what you enjoyed when you were a kid. Not to give up the hope and the excitement is very important.
Rule #10: Give Back
I remember meeting a friend of mine, her name was Nina Hyde, and she then told me that she had breast cancer.  I went to the fashion industry and said let's go after this and give it some exposure and support.
I got very caught up in it and then she passed away. And then one day I said you know, what else can I do?  I worked on breast cancer, I certainly didn't solve it. But maybe there's more I can do, and I went to Sloan Kettering.
Dr. Harold P. Freeman: I was called to Memorial Sloan Kettering, and it was in that meeting that I had the opportunity to tell Mr. Ralph Lauren what I saw as a problem and what I thought could be a part of a solution. He stood up and shook my hand and he said, Dr. Freeman, I will help you. And that is how the Ralph Lauren Center began.
He talked about people in under-served areas are dying because they can't get help. I felt that sensitivity. Helping somebody who doesn't have the funds, who doesn't have the know-how. Cancer is not only for the poor and it's not for the rich. It happens to everybody.
Dr. Gina Villani: We really try to educate people about what are the things that they're doing that are putting them at risk for cancer.
Damar Foster: I'm really grateful. The chemotherapy process itself was kind of grueling, but they really helped me a lot here. Everyone that you deal with has just this warm personality that is very inviting and very comforting considering the situation that you're in.
1,000 people are here today.  And in England, and in Milan we have a walk and a march for a very good cause. And I want to thank you.
Oprah: We're here tonight because Ralph Lauren is a life saver. Long before everybody was wearing the pink ribbons, Ralph Lauren was galvanizing the fashion industry's response to breast cancer.
HRH The Duke Of Cambridge: The generous in The Royal Marsden by Ralph Lauren, a dedicated supporter of cancer research, incredibly generously, they will fund The Ralph Lauren Center For Breast Cancer Research. A world class research facility at the Royal Marsden's Chelsea Hospital.
Cancer is scary. It's scary on every level and whatever I can do in this world to help a little bit, I try to do. It used to be cancer was a whisper, or breast cancer was a whisper. Women didn't even talk about it, didn't know about it. Today it's not that way. And I think that's progress. Are we talking about research into the future, this is an ongoing commitment that you stay with.
Cally Palmer CBE: The Ralph Lauren Breast Cancer Research Center at The Royal Marsden will bring together world renowned clinicians and scientists to really take forward our research into better diagnosis and treatment of breast cancer.
HRH The Duke Of Cambridge: I'm enormously grateful to Ralph Lauren for his generosity. You should know that what you do saves lives and gives hope to thousands of people. 
Thank You
Thank you so much. I made this because Abigail Rosser, I hope I pronounced that properly, asked me to. If there's a famous entrepreneur that you want me to profile next, leave it in the comments below and I'll see what I can do.
I'd also love to know which of Ralph Lauren's top 10 rules had the biggest impact on you. Leave it in the comments and I'll join the discussion. Thank you so much, continue to believe and I'll see you soon.
---
You might also like
---
More from Motivation
---
Watch Ralph Smart's Top 10 Rules For Success video. Famous Entrepreneur Quotes Ralph Smart's Quotes "We're so caught up in the outcome …
Watch Kris Jenner's Top 10 Rules For Success video. Famous Entrepreneur Quotes Kris Jenner's Quotes "You need something to be excited about …
Watch Mark Hamill's Top 10 Rules For Success video. Famous Entrepreneur Quotes Mark Hamill's Quotes "I love the allure, the danger, of …