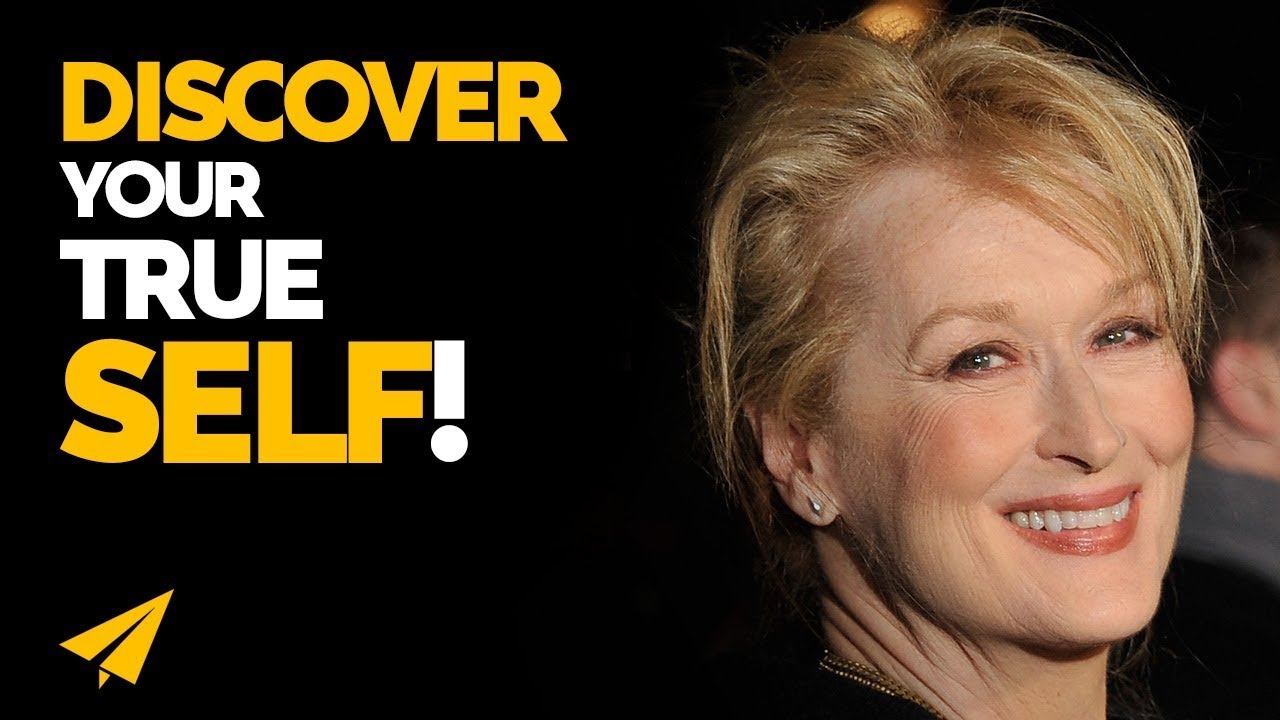 Good morning believe nation my name is Evan Carmichael, my one word is #Believe, and I believe that entrepreneurs will solve all of the major problems of the world. So today's message is be your real self. Over to you, Meryl Streep.
Be Your REAL Self – Meryl Streep
I reached a point senior year where my adjustment felt like me, I had actually convinced myself that I was this person and she me. Pretty, talented, but not stuck-up, a girl who laughed a lot at every stupid thing every boy said. And who lowered her eyes at the right moment and deferred, who learned to deffer when the boys took over the conversation.
I really remember this so clearly. And I could tell it was working, I was much less annoying to the guys than I had been. They liked me better and I liked that. This was conscious but it was at the same time motivated and fully fully felt. This was real, real acting.
I got to Vassar, which 43 years ago was a single sex institution like all the colleges in what they called the seven sisters, the female Ivy League. And I made some very quick but lifelong and challenging friends. And with their help, outside of any competition for boys, my brain woke up.
I got up and I got outside myself and I found myself again, I didn't have to pretend, I could be goofy, vehement, aggressive and slovenly, and open and funny and tough, my friends let me. I didn't wash my hair for three weeks once.  They accepted me like The Velveteen Rabbit. I became real instead of an imaginary stuffed bunny.
Evan Carmichael
Evan: What this video really brings home for me is how important the environment you have is, the people around you, how much they impact your beliefs, your actions, the way you think, and just by being around different people you can become more of yourself.
If you're around people who are playing the big game you're going to want to play a bigger game. If you're around people who are thinking small and complaining, chances are you're going to think smaller and complain a lot more. And so playing close attention to the people who you are surrounding yourself with, really really really really really really really really matters.
There's the age old expression of you are the result of the five people who you hang out with, and it's true. So as a quick example form my recent history, I came back from a conference in Palm Springs called Climber Con which is for YouTubers with 100,000 plus subscribers and I met two interesting YouTubers who I had known before on email, but I got a chance to interact with them.
The first was Charlie from Charisma on Command. He's got a great channel talking about how you can be more charismatic. One of the things that Charlie really liked about me was my ability to network with people in the room and make introductions with people to the point where he made a video on his channel talking about it.
Charlie Houpert: So last week I kind of had my mind blown and it's because I went to an event and I learned more there about networking than I had learned in my entire life previous to that event. And what was really weird was that I learned it from an introvert. So I'd always expected that extroverts like myself would have an easier time networking because we're more comfortable in groups, more comfortable talking for long periods of time with strangers, but quite frankly this guy blew me out of the water. His network far exceeded mine. It felt like almost every time that I mentioned something I was interested in, he's like oh, yeah I know someone who can do that, I can introduce you to them. And then after the event, he did. 
Evan: One of the things that I loved about Charlie was how healthy he was and every time we went out he was ordering healthy foods, salads, salmon, and I'm sitting there eating pizza and junk. And so here's what would happen.
If we spent more time together, if we were in close proximity more than just once a year at this event, then I guarantee you he would become better at networking and making introductions and talking to people, and I would start getting more fit and more healthy and more conscious of what I was eating and working out more because we're in each other's environment.
The second person is Antonio who runs a channel called Real Men Real Style. And he was really impressed with how I was pushing him to want to want to make a video a day. I said you got to make more videos on your channel, if you want to stand out. YouTube wants a video a day, you got to go daily on your channel, to the point where he wanted to make a video about it as well.
Antonio Centeno: And the one thing, the one work I took from Evan is impact, this guy is wickedly smart. He's one of the few people on there that I can be having a conversation with and realize he's more intense than me, and he can turn the situation so that you find you're agreeing with him. Literally he had me agreeing that I should probably be putting out one video a day.
Evan: When I was hanging around Antonio I was always impressed by his style, and he was talking with me about fragrances and smell. It starts to make me think about what I should be doing more in my life. And so if we were spending more time together in close proximity beyond just once a year, he would be making more daily content.
That would happen, I would will it into existence for him. And he would be pushing style advice on me, and fragrance and scent and all the things that he's working on, and the more we spent time together the more we'd come together on those kinds of issues.
And so the people that you spend your time with really really really matter. Now how do you know if you have the right environment? The answer is, start asking yourself about the dreams you have, the big goals you have, the mission that you're on, the big thing that you want to accomplish.
What's the reaction of the people close to you when you tell them your plans? Here's my dream of what I want to be, mom and dad, best friend, teacher, professor, neighbors. What's the reaction? Are people supportive? Are people encouraging? Are people trying to offer resources and help on ideas to make it better? Are people apathetic and they don't care? Are people negative and telling you that you can't do it?
Are you even afraid just to bring up the subject to them because you know what they're immediate reaction is going to be? If that's the environment that you're in, you need to switch. Right, if you are afraid to bring up your ideas to the people around you because you know it's just going to be negativity, then you need to switch your environment.
As long as you're around those people you will never do great things. And then you might say but Evan, I don't know great people, I don't know how to change my environment, I'm stuck with these people, it's my family, it's my friends. So you're right to some extent, they're your family, they're your friends.
One, you can limit your exposure, you don't have to spend as much time with them. You can only talk about certain things with them. And then two, you can design the environment, and maybe going to events, finding places like Climber Con at least for me as a YouTuber.
Finding other events, finding local things that you don't have to travel and spend a lot of money to go to. Finding local people, clubs, meetup groups, like-minded people to hang out with and spend time with. It could be aspirational mentor, that's where I learn most of my stuff from. The tops tens of people who I look up to who've done amazing things.
The more time you spend hanging around people like Steve Jobs and Elon Musk and Oprah Winfrey and listening to their advice and how they think and how they talk and how they deal with situations, the more time you spend hanging around them and the less time you spend hanging around these negative people, the more you're going to be like them.
You're going to gravitate there, you're going to believe in your big ideas, you're going to accomplish bigger things, you're pulled in that direction. Your environment is so so so so important.
Question Of The Day
So the question of the day today is, I'm curious what does your environment look like? Are they full of positive optimistic people helping you? Apathetic people who don't really care? Or negative people who tell you that you can't do it? Really curious to find out, leave it down in the comments below, thank you for sharing.
I also want to give a quick shout out to Susana Villalobos, thank you so much Susana for picking up a copy of my book, Your One Word. It really really means a lot to me and I hope you're enjoying the read.
So thank you guys again for watching, I believe in you, I hope you continue to believe in yourself and whatever your one word is. And I'll see you again tomorrow morning for another shot of Entspresso.
---
BONUS
Be Your Self
Jada Pinkett-Smith
Well I haven't had any regrets, and it's sometimes really hard. I'll tell you a funny story, I remember right before I got A Different World, I auditioned for Blossom. You remember the TV show Blossom?
Interviewer: Oh absolutely, yes.
Do you remember her friend the young girl, her Six, I auditioned for Six, okay? And I had my hair up in a little pony tail with this little jumpsuit, I looked like I was about 12. Got the role, okay? Got the role to play Six. And I was like, I was 18, 19 years old then.
I looked to my agent Nancy Rainford, I said Nancy I can't do this. I just can't do it, I'm going to be miserable playing a 12 year old on this show. I can't do this. And we had to turn it down, and let me tell you, them folks was not happy. It's like who does this girl think she is, you know, that whole thing.
But within two weeks I got A Different World, and that really taught me a lesson which was to really listen to and follow my gut, because everything that shines isn't gold, you know what I mean? And so it really taught me a very valuable lesson to just stay true to myself.
If there's nothing that I haven't learned about this business, it's really about staying true to why I'm here, why I started acting in the first place, and what's important to me. And keeping my artistic integrity as well as my creative, my personal integrity, and that was a big lesson for me.
And let me tell you, that was not an easy thing to turn down, being a young actress you go this opportunity for this series regular, it's money, you know? But I just felt deep down inside, I was like something's coming your way, just fall back. And then I got to meet Debbie Allen, yeah.
Jackie Chan
I said look, why don't we change everything opposite Bruce Lee? Be myself, just me, Jackie Chan.
Interviewer: That takes a lot of confidence and belief.
And also I really think you, the producer will see that. He said okay, do whatever you like to do. Change, no Bruce Lee, comedy. When Bruce Lee kick high, I kick low. When Bruce Lee after punch, ugh, I do bah, ow.
Just like normal human being, normal when I was young, I'm fighting on the street, one by one boom, I knocked somebody down, two by one, I knocked somebody down, three, I run away. So in the movie, do the same thing. Everything used in the movie, it's my real life.
Lady Gaga
Presenter: When she was 17 years old Stephanie got her high-school diploma and left the nuns to join the prestigious Tisch school of arts, a school entirely dedicated to artistic disciplines. She took numerous classes such as art story, music, theater, and dancing.
I was really blessed and lucky to get in, I got in very early, I was 17 and I was one of 20 people in America that got into the school early. And I was really happy and excited and I just felt like all my dreams were coming true. And it was a wonderful school but it was very factory-like, and not in the Warhol factory-like way.
More like a sausage link factory where everyone was taught the same sorts of things and I think what I didn't like about this school was I felt that they wanted us all to be the same and possess the same skills and I had something very different inside of me.
---
You might also like
---
More from Entspresso
---
Today's message is be confident. Good morning believe nation, it's Evan. My one word is believe and I believe that …