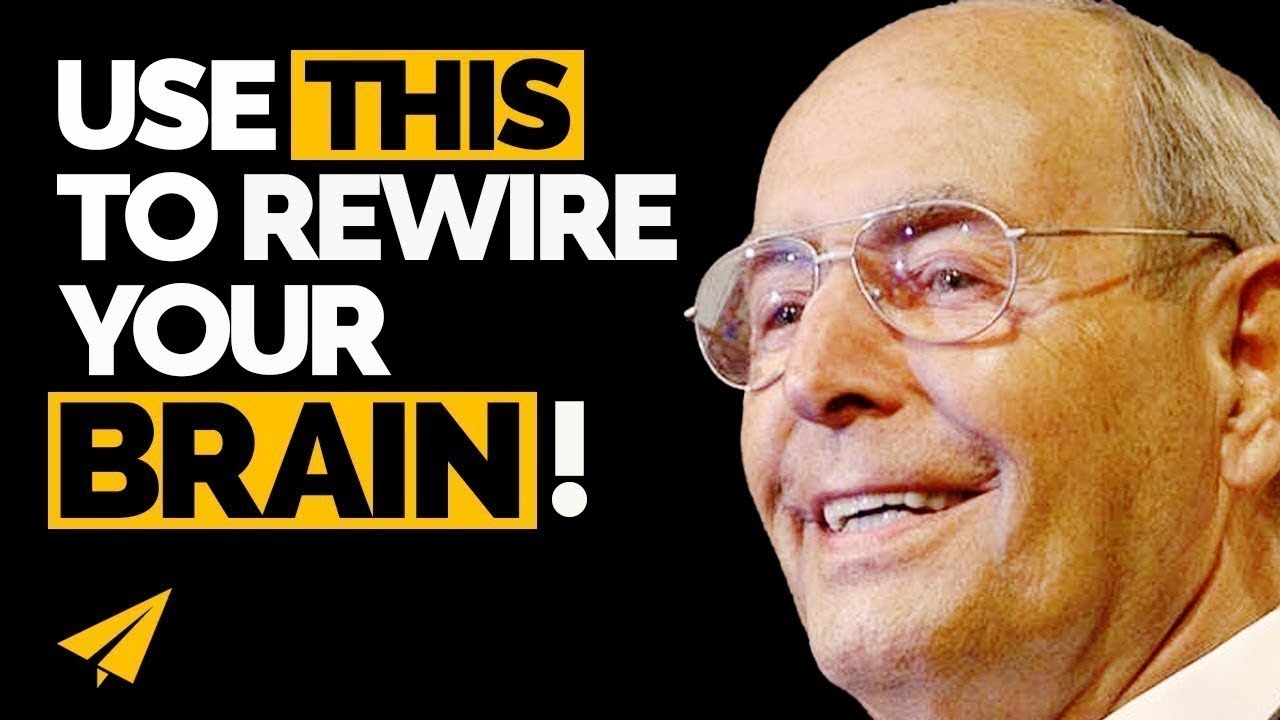 To those who can overcome the obstacles, rise up when difficulties arise, are the ones who win the prize.
Everybody starts at the bottom and there is no advantage to starting 10 years ago, as opposed to starting today. In fact, it's better today, than it was then.
Action is determined by your attitude and attitude is determined by your acts. 
– Richard DeVos
…
Evan: He's an American businessman, cofounder of Amway and owner of the Orlando Magic basketball team.
At one point, he was one of the 10 wealthiest Americans.
He has an estimated net worth of five point one billion dollars.
He's Rich DeVos and here's my take on his top 10 rules to success.
Rule number five is my personal favorite and I'd love to know which one you guys like the best.
And as always guys, if hear something that really resonates with you, please leave it down the comments below. Put quotes around that as well, so other people can be inspired. Also, when you write it down, you're much more likely to lock in for yourself as well. Enjoy. 
…
Rule #1: Take Charge Of Your Life
You are a part of something that transcends all the details of your business. It's a part of demonstrating that free enterprise works, that someone can start with a $50 sales kit and build a large business.
You prove it every day that it works and you prove it by overcoming the obstacles that you have to deal with. There are all sorts of people that want to break your faith. Some enter your own family and sometimes they're just so-called good friends, who think you're crazy for doing what you're doing.
"Those who can overcome the obstacles, rise up when difficulties arise, are the ones who win the prize." – Richard DeVos
But you see, you have decided to take charge of your life. You have decided that you are going to change it. You're not going to wait for the government, you're not going to wait for some school or something else to happen. You are going to change your situation.
That's what free enterprise is all about. Jay and I decided to do that, I don't know over 50, 60 years ago. We started in this kind of business in 1949. I was 23. All I know is this business. I spent my life at it, went pretty good, but it wasn't always easy. Business isn't, life isn't, but to those who can overcome the obstacles, rise up when difficulties arise, are the ones who win the prize.
Rule #2: Think Positively
I recently picked up a book by a Dr. Norman Doidge, D-O-I-D-G-E. He's a brain guy. Psychiatrist. And his study says that I can confirm to you the power of positive thinking scientifically because so many people ridicule that whole idea of positive thinking. I can show you positively, that turning yourself into a positive thinker will change your brain and how it functions and how you think about yourself and what you can accomplish. Now it's been laughed at and most of my life and people say, oh that, that's just wishful thinking. Well, I don't think it's wishful thinking, Norman didn't think it was wishful thinking. His was all biblically based and Bob Schuller did pretty good with it. I did pretty good with it.
Rule #3: Go For It
Starting at the bottom at Amway is where ever you are today. Everybody starts at the bottom and there is no advantage to starting 10 years ago, as opposed to starting today. In fact it's better today than it was then. Our products are better, our line is better, our plant is better, it's more proven. It's a better plan today than when we started. And sometimes there are no answers as to whether you want to be in business or would like to be in business.
Have That Dream
You just got to put year toe in the water, you know. If your going to wait until you know everything, you'll never do anything. And you'll always say, well I got to check some more, I'm going to and a little more research. So go ahead, just keep going and you'll never get in a business.
You're going to go swimming, you got to get wet, you know. And then you find the people that got a hot button for having a business of their own and want to do their own thing and like the chance to build a big business. Well, you got to have that dream.
" If your going to wait until you know everything, you'll never do anything." – Richard DeVos
That's why other people talk about having a dream. Hell, you got to have a little bit of a dream. And then you say, I'll go out and get customers, you know I got a chance to really build a big thing. I'm going to go out and get some customers. When you start something new it's not easy, but life is easier when you got a business and you're making some money, makes it a little easier. So, stick with it, find a way through it, just find out an answer. It works folks, this business works for those who work it.
Rule #4: Learn How To Handle Change
Now, I want to spend a little time on a kind of an old subject and yet it's new in some ways, but it deals with the fear of failure that affects all of us. And I know you've come here with hopes and faith in your future, but back there is a little bit of fear about whether you can do it or what somebody will say about you. Sometimes we have people come to a meeting like this, who are even afraid to tell their friends they came to an Amway meeting for fear of what they will say. And so we are so driven by fear that sometimes we never do anything because we're a fear of what somebody else will say.
Fear of Change.
And what happens when you do that is you give control of your life over to someone else. And then they decide what's going to happen to you, instead of you deciding. Now we have the fear of failure, the fear of what other people will say, the fear of rejection, the fear of change.
We Handled Change
Now the first thing we must do is deal with change and learn to accept the fact that things are changing fast and so to illustrate how to handle change, I thought since I hadn't been here in eight years, I would give you a little Amway history, so you would see how we handled change. When Jay Van Andel and I started our first business, we started a flying school. Now that was a change, but the important thing is that neither one of us knew how to fly and so when you consider doing something new, you say, oh, I can't do it, I've never done this. We didn't let our not flying stop us from starting. We just began and hired instructors and learned from them.
Rule #5: Don't Do It For The Money
Actually what it finally comes down to in your business and how you run it, is you first and me second. Take that home with you, you first and me second. The first thing you want to do is help your people succeed and then you succeed.
Just keep it in the right order. It's not you succeeding and then hopefully they come out okay. It's all about them, not about you and I think that was the foundation of our business. You know we never, Jay and I never talked about how much money we made or how much money we wanted to make.
"The first thing you want to do is help your people succeed and then you succeed. Take that home with you, you first and me second. The first thing you want to do is help your people succeed and then you succeed." – Richard DeVos
We talked about how big we'd like to have our business, but it was never a personal financial goal. But our focus was on how we could enrich the lives of our people and make them better, often times influencing them with our faith as well.
Rule #6: You Can Do It
My father was a very positive guy. You know, you can do it, you can do it, you can do it. That was his mind. And I was like, you know, people say, oh I can't do that. He was the one who said yes you can. He wouldn't accept from me a no or I can't do it.
He would get on me hard about even saying it, even thinking you can't do it. I graduated as class president finally. So I had to speak at the commencement and he helped me put my speech together. It turned out to be pretty good.
One morning he came up to me and said, you know you were a lot better than that minister we had who was our guest speaker. That little phrase, that little experience really encouraged me to keep at it, on the speaking side. His encouragement to me led me to build a life around encouraging others. And so, that's where I've done.
Rule #7: Hang Around Encouraging People
Attitude and action and atmosphere. You want to take the correct action. Action is determined by your attitude. And attitude is determined by your atmosphere. Always put yourself in an atmosphere where you have a chance to succeed. Put yourself in the presence of people who think like you, who want to get ahead like you and lift you up. So not only am I encouraging use phrases of up, phrases up encouragement, but to be an encourager, but to hang around with people who do that.
Rule #8: Help Others First
And when you deal with your people and you bring a new one in, it's their success you need and then you get rewards. That's why people want to take a lot of money out of the sales kit and it's against the law, first of all, to do that as part of our settlement with the government here, that we would not put money in the sales kit as a profit. So there's no profit in the act of recruiting. The profit comes when you help that person succeed. That's a vital foundation principle. Help others first and then you succeed.
Rule #9: Learn From Your Mistakes
It's been a long time since I told stories about my boat, but Jay and I bought a schooner, the schooner Elizabeth. And this is the bell off from it and it's only important because the boat sank. She was kind of a nice little boat, but she leaked a lot. That was our first big sailing experiences, but we bought it, we went on it, we sank and have owned many boats since then. You learn from mistakes. You got to start with faith and belief in yourself. That's something you got to make it your business to do.
Rule #10: #Believe From The Heart
It's from the heart that we derive our emotions and our energy to take on and meet new challenges. This is a business, where your heart has to be in it and you have to believe that you can do it. And overcome the resistance and the negative influence of others to move forward. So have a good heart for this business. And find out what you can do, most all of you will discover you can do things you never thought you could do. You can advance farther than you ever thought you could advance once you put your heart into believing that you can do that.
…
Thank you!
Evan: Thank you guys so much for watching. I made this video because Kris Westcott asked me to, so if there's a famous entrepreneur that you want me to profile next, leave it down in the comments below and I'll see what I can do.
I'd also love to know what did Rich say that had the biggest impact on you. What are you going to take from this video and immediately apply to your life, your business somehow? Leave it down in the comments below and I'm going to join in the discussion.
Finally, I wanted to give a quick shout out to Bitesize Lessons by Mr. Mo. Thank you so much for picking up a copy of my book, Your One Word and making that awesome cartoon and posting it to your Instagram page. I really, really, really appreciate it and hope you're enjoying the book.
So, thank you guys again for watching. I believe in you. I hope you continue to believe in yourself and whatever your one word is, much love, I'll see you soon.
---
BONUS
Keep Going
Keep, keep it on, keep on.  That's all. There's always tough periods in any business, in any life, in any time and that doesn't mean anything, except you got to work your way around it and work your way through it. It doesn't say. You review your plan, figure out what you might have done right or different and then get on with it. If everybody quit when things were not quite favorable, well, then would nobody would get anywhere, but if you want to get somewhere, the best time is when it's bad. So that while everybody else is trying, you're working (audience laughing) and you've done your business.
---
Thanks so much for reading Richard DeVos's Top 10 Rules For Success 🙂
---
You might also like
---
More from Motivation
---
Watch Evan Carmichael's Top 10 Rules For Success video. Famous Entrepreneur Quotes Evan Carmichael's Quotes "Changing my environment had a dramatic impact …
Watch Mark Hamill's Top 10 Rules For Success video. Famous Entrepreneur Quotes Mark Hamill's Quotes "I love the allure, the danger, of …
Watch Brandon Beck's Top 10 Rules For Success video. Famous Entrepreneur Quotes Brandon Beck's Quotes "Whether you think you can do it, …