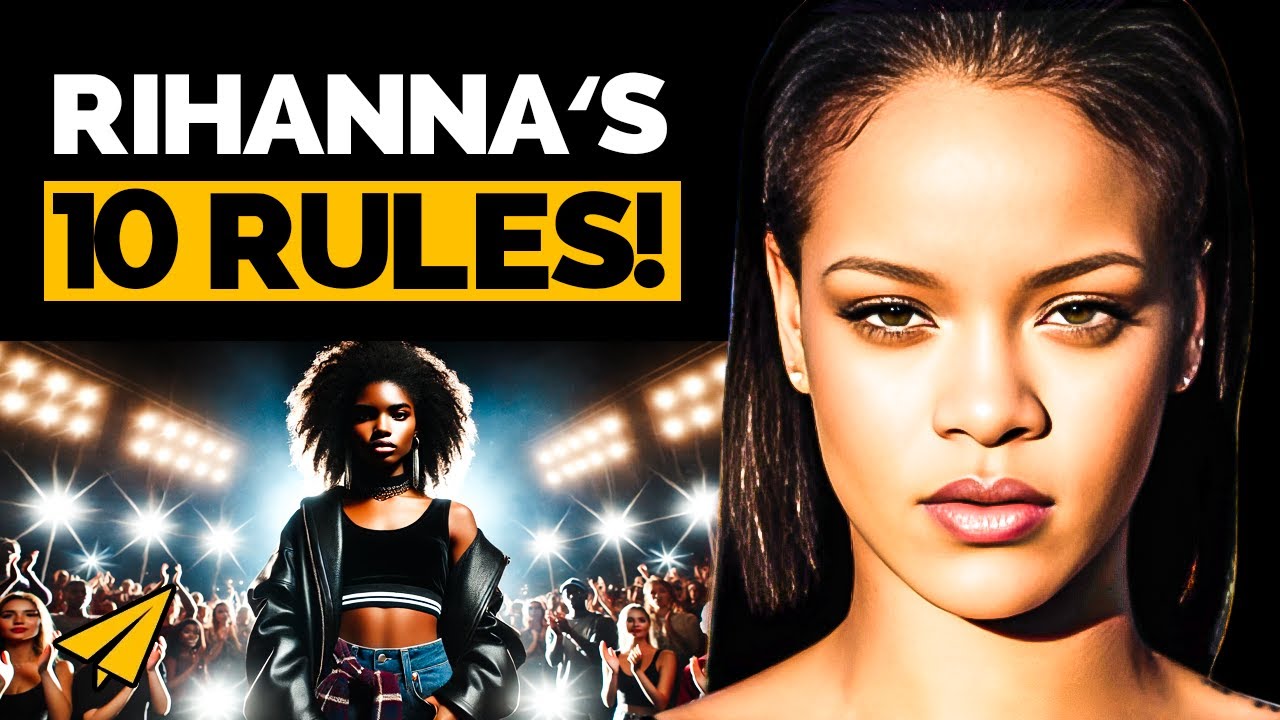 She's a Barbadian singer and songwriter. With sales exceeding 200 million records worldwide, she's one of the best-selling artists of all time. She has an estimated net worth of $230 million. She is Rihanna, and here is my take on her top 10 rules for success.
Rihanna's Top 10 Rules For Business and Success
Rule #1: Love What You Do
I always loved music. I always loved it. Then, I would start singing along, and, before you knew it, I wanted to be that person so bad that I would lip sync or dance or look in the mirror or perform for my friends or cousins, and I just always knew. I just always knew, one day, that I'm going to be doing this. I knew.
Rule #2: Fight For What You Want
Well, the first time I heard "Umbrella," I just knew how much I loved the song. I thought it had one of the most original songs of any song that I've ever heard thus far, and Especially the ones that I've recording, and I was like, "I have to have this one. I have to have it."
Interviewer: But everybody wanted it, right?
Well, I didn't know that at the time. At the time, they were like, "Okay, you can have this song," whatever. I was like, "I have to have it." That's when we started finding, "Okay, hold on a second," 'cause this person is listening, that person's listening.
Eventually, I just went up to one of the managers, and I was like, "I have to have this song. This song is mine." I basically was like, "I'm going to fight you if I don't have this song."
Rule #3: Listen To Your Fans
Interviewer: How social media affects the way that you make music? Do you consider feedback from fans?
Absolutely, big time. My fans definitely have an impact on the way I make music, what I do. It still comes from me, and I still like to show them new things, but I always want to make sure that I have to pay attention.
They say things that you need to hear. They're out there in the world. They're not in the little box here. They know what's going on, and you would be stupid to be so oblivious to what they're saying. You have to pay attention.
Rule #4: Keep Growing
Every album, for me, has been a natural step in my growth. It has displayed that the different steps in my career, and every one happens to be better than the previous one. For me, that's the most important thing, just making sure that every time you do something, you do it better than you did it before.
Even when I listen to my music or watch my videos, for instance, from "Pon de Replay" to "Russian Roulette," it's not even the same person. It's not even the same person, but I don't know anyone who has been the same person at 17 that they were at 21.
Rule #5: Live Your Truth
I think a lot of people think that them doing what they want means doing what everybody else doesn't want, and it's not that. Doing what you want means moving forward with the way you feel and living your truth, and, a lot of the times, you'll find common ground with people, and, sometimes, there are a lot of people you won't find that agree with you, but it has to be your truth, because that's the only way.
Rule #6: Don't Do It For Money
Well, it's definitely the ultimate dream for me, because I always dreamt of doing it, so, yeah, it could be the ultimate dream, but know that there's a lot of hard work that people don't see, a lot of toiling at night, a lot of sleepless nights, a lot of traveling, and some stuff, you don't want to do, but you just do it for the love of it, so if you want to do it for fame or money, forget it. Stop now. But if you want to do it for the love of it, keep on going.
Rule #7: Be Yourself
Everyone has their own definition of a role model. For me, I'm 21, so I'm going to live my life like I'm a 21-year-old. I'm going to dress like I'm a 21-year-old. I know I have a five-year-old fan at home, but I can't live my life like a five year-old, because I'm not five, but, at 21, for a 21-year-old to see the way I act and see the way I dress, that's fine, and I can only be a Rihanna model, because that's who I am. I can't please everybody. It's too hard.
Rule #8: Surround Yourself With Greatness
Interviewer:  Raquel wants to know if it's hard to remain you with all the success at such a young age.
No, I would say it can be very easy to be led astray or caught up and sucked into the fame and the bright lights and everything being grit. It can be easy to do that, but I have great people around me, and a lot of people that I've known since my childhood, a lot of people I trust, my big brothers, Jay-Z, Jay Brown, and Tata.
They're my backbone, and, at this point, I'm in super good hands with them, and they keep me grounded. They keep me in check. My mother is still my mother,  and she also checks me on the reg.
Rule #9: Have A Dream
I just had a dream. I had an idea. I knew what I wanted to do, and this is what I was going to do. All I wanted to do was make music internationally. In Barbados, it's an unrealistic goal, you know? You're a small little island away from the United States.
Rule #10 Be Humble
Interviewer: What has been Jay's best advice to you?
In the beginning of my career, I remember "Pon de Replay" started doing really well, and he came up to me at a showcase, and he said, "You must be a really great person, because great things keep happening for you.
Don't ever change who you are. Always remain humble, the same." It kind of rings in my ear that, every day, I hear that, and it's stuck with me. I have a lot to be grateful for.
Thank You
Thank you so much. I made this because Kristina Swagger asked me to, so if there's a famous entrepreneur that you want me to profile next, leave it in the comments below, and I'll see what I can do. I'd also love to know which of Rihanna's top 10 rules had the biggest impact on you and why.
Leave it in the comments, and I will join in the discussion. I also want to give a quick shout-out to Tashana. Thank you so much, Tashana, for buying my book. Thank you guys. Continue to believe or whatever your one word is, and I'll see you soon.
---
BONUS
Give Your All
I can't tell you where I see myself in five years, but I can tell you that I will work my best to be the most successful artist that I can be in five years.
Interviewer: What do you want to be remembered for? When you're an older lady and you're about to retire, what is the thing you want to be remembered for?
Remembered as Rihanna, remembered as being the artist from the Caribbean who came here and made it internationally, just remembered as me, 'cause I am true to my music, and I just want people to realize that and appreciate me for that.
Have Fun
---
You might also like
---
More from Motivation
---
Watch Evan Carmichael's Top 10 Rules For Success video. Famous Entrepreneur Quotes Evan Carmichael's Quotes "Changing my environment had a dramatic impact …
Watch Mark Hamill's Top 10 Rules For Success video. Famous Entrepreneur Quotes Mark Hamill's Quotes "I love the allure, the danger, of …
Watch Brandon Beck's Top 10 Rules For Success video. Famous Entrepreneur Quotes Brandon Beck's Quotes "Whether you think you can do it, …