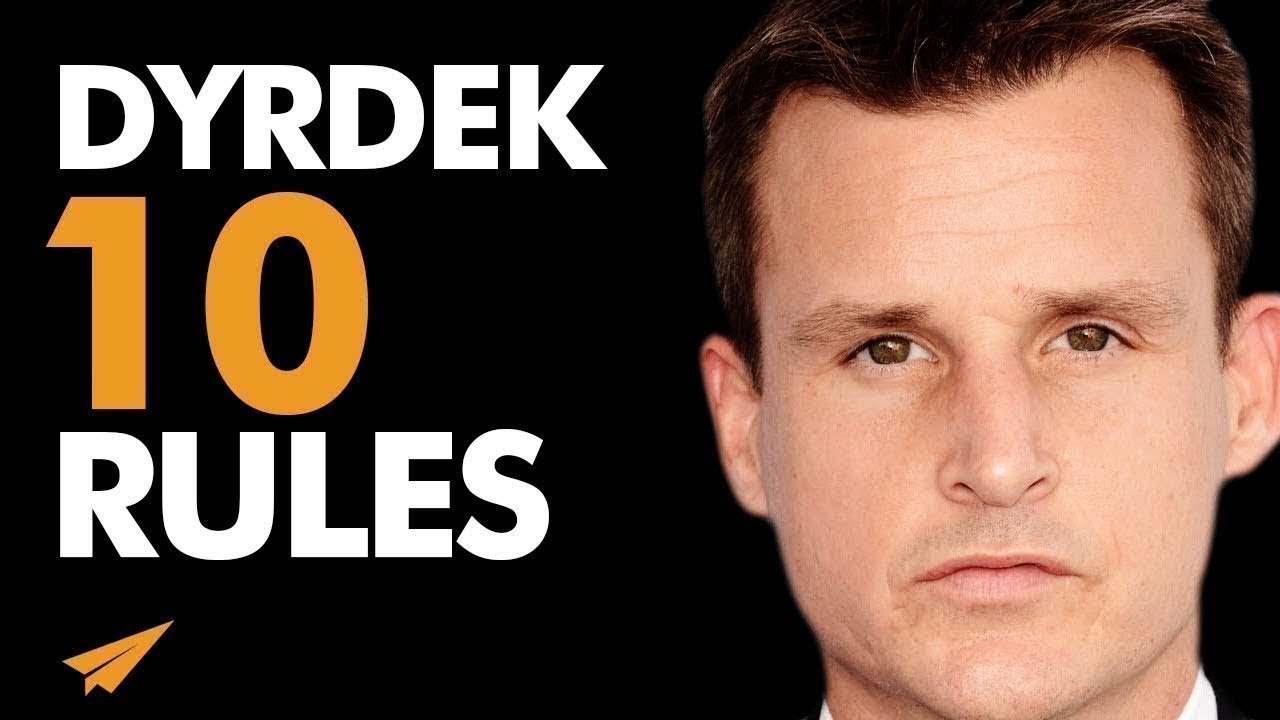 He's an American skateboarder, actor producer entrepreneur, and reality TV star. He's one of the biggest supporters of professional skateboarding and one of the sports most well known characters. He was labeled one of the most influential skateboarders of all time by Fox Weekly. He's Rob Dyrdek and here are his top 10 rules for success.
Rob Dyrdek's Top 10 Rules For Business and Success
Rule #1: Be Relentless
I think when it comes to understanding, tackling fear and relentless problem solving. The reality of learning tricks, you have to try it over and over and over and over. Keep adjusting every little aspect of your body to ultimately get it to work. When you get it to work it's like, this incredible oh my God I can't believe I learned this and that progression drives you even further.
Rule #2: You Can't It By Yourself
I've always been, have an idea and execute it to a fault. What I had to learn over the last few years is you can't do it by yourself. I really would have said years ago I don't do it by myself. I got all these great partners but the reality of it is, I would have my hands in so much and not delegate properly and put in the right verticals on how and what you want to accomplish and go out and accomplish it.
I just willed everything into existence. More than anything it's about what do you love to do the most and what are you best at? Do that all the time and then put everybody else in to fill in the rest. That's what I've really been focusing on these last couple years.
Make no mistake, even every person that I want to move forward with, all I care about is your greatest quality is that you want to get better tomorrow than you were today.
Rule #3: Stick In Your Lane
It was that big step for me to have money to start exploring different entrepreneurial, darts if you will, at a skate shop that lasted about three months. That was where I first discovered stay out of retail. Started a hip hop label. Had a rap label for a little while.
That's when I really discovered the importance of making sure your partner that's equally as motivated and driven as you not lazy. More than that, stick in your lane. Just 'cause you think it's cool that you're a pro skateboarder and you got a hip hop label, you don't know what you're doing. You got no business in that. In that time period I had refocused on just all things skate.
Rule #4: Be Honest
There's this air of transparency. The entrepreneurs that I love the most they'll be honest about everything and they'll tell you exactly how it is good or bad and will just put a stake in the ground on a opinion but not drive it home. That's the stuff I respect the most.
Rule #5: Desire To Grow And Create
The greatest energy that you can live in is that excitement of something coming around the corner whether it's a new job or a new moment of something big happening. There's that energy. I've figured out how to live in that alive. I think that becomes incredibly motivating.
Then when you see the results of making yourself better, how much better you get and how it affects the world around you, it just gives you that much more motivation like, if I just get better and better everything gets bigger and stronger and better.
That motivation and drive comes from that desire to grow and create. Where I ultimately see myself I just haven't quite got there.
Rule #6: Create A Healthy Schedule
For the most part I don't take meetings before 11. I build my whole schedule around my morning and the working outside of it just so it's not compromised. The only way it really becomes compromised if you begin to schedule into your time.
For me it's really important that I really don't take a meeting. If that's shooting TV, doing voiceover doing whatever. Whatever it is it never happens before 11 down here.
Rule #7: Learn From Others
I have had so many failures at so many levels and I think I only really started to get it and grow up a year and a half ago when I finally brought on a CEO for my company. He really began to help me learn to continue to grow and then start surrounding yourself with mentors and really smart people that have done what you're trying to do or what you may want to do so you can learn from them and that really revolutionized my entire process because before I was making millions losing millions making millions buying this doing this.
I wrote produced financed films. Lose a couple million like  I was so driven that it didn't matter to me. I just wanted to get things done.
Rule #8: Let People Excel At What They Are Best At
What you never want to do is put unrealistic expectations on somebody that you're trying to do business with because it will strain a friendship. You got to be smart to keep people in their lane and have them excel at what they're best at. You don't want to have someone in your particular crew take over the accounting if they're bad with numbers.
The same way you don't want them to do design, if they suck at designing, just 'cause you need someone else to work on design stuff. I think in all aspects of life it's always much funner when you surround yourself with people that you enjoy being around.
Rule #9: Focus On Always Learning
You have to focus on always learning. It's cliche but the reality of it is is if you take action and try and fail you're going to learn a lot by the time you try it again and you will build a foundation of experience that's going to be ultimately the rock that allows you to find success or follow your dreams.
Rule #10: Think far Out
I don't know if I've always though global but I've always thought big and I think the difference is now I have it so clear on what I want to do for the next 10 years that I've slowed down because I know I'm building this great machine and it's going to take me a couple years to get it perfectly in order before I finally turn it on.
When I turn it on it will be bigger than anything I've ever done or ever will do and will ultimately represent my legacy and I realize that's cryptic but that's how far out I'm already prepared for what I'm doing next.
Thank You
Thank you guys so much. I hope you enjoyed. I made this because Jorge Gallegos asked me to. If there's a famous entrepreneur that you want me to profile next, leave it in the comments below and I'll see what I can do.
I'd also love to know which of Rob Dyrdek's top 10 rules meant the most to you. Leave it in the comments. I'll join in the discussion. Thank you so much. Dreams To Believe and I'll see you soon.
---
You might also like
---
More from Motivation
---
Watch Evan Carmichael's Top 10 Rules For Success video. Famous Entrepreneur Quotes Evan Carmichael's Quotes "Changing my environment had a dramatic impact …
Watch Mark Hamill's Top 10 Rules For Success video. Famous Entrepreneur Quotes Mark Hamill's Quotes "I love the allure, the danger, of …
Watch Brandon Beck's Top 10 Rules For Success video. Famous Entrepreneur Quotes Brandon Beck's Quotes "Whether you think you can do it, …