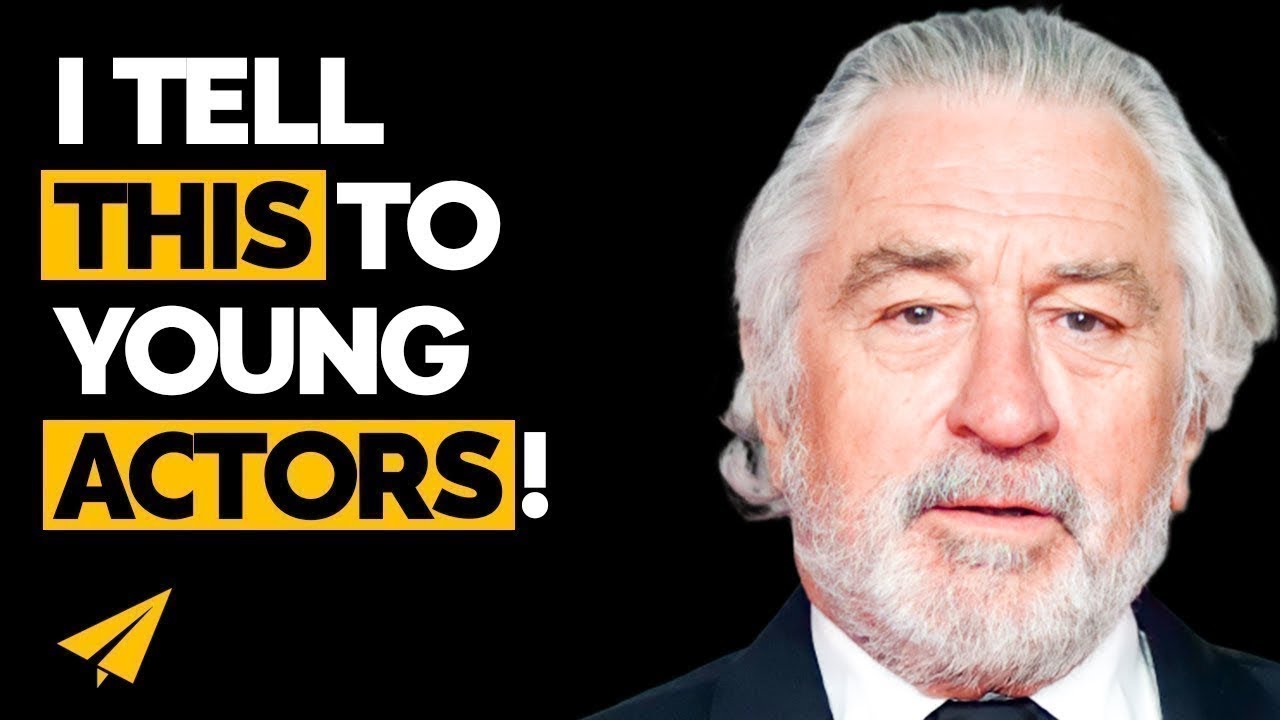 He's an American actor and producer, who has starred in over 100 films. He earned an academy award for portraying Jake Lamotta, in the 1980 film, "Raging Bull." His business ventures include, co-founding the film studio, Tribeca Productions, as well as the Tribeca Film Festival. He's Robert De Niro, and here's my take on his top 10 rules for success. Rule number three, is my personal favorite, and make sure to stick around all the way to the end, for some special bonus clips.
Robert De Niro's Top 10 Rules For Business and Success
Rule #1: Make Your Own Decisions
Personally, I always try to listen, because maybe I'm not getting something. I always try and take everybody's, because it's important to listen to everyone, as many people as you can and get their input. But, then finally, you have to make your own decision about what you're going to do and that's it.
That's what you feel and that's it. And, that's the most important thing, I think the most important thing, because that's where the uniqueness comes in, because it's you, you've done it, it's your thing. It's not anybody else's, it's your choice.
Rule #2: Have A Devil-May-Care Attitude
Interviewer: And, when young actors come to you looking for advice, what do you tell them?
I tell them, just to keep at it, and not be you know, discouraged by, if you're going for say, readings and stuff like that, you have to try, always try your best, and just follow your instincts more, so you can be free and easy about it, and assume that you're not going to get it, so you have a more, "devil may care," attitude about it. I think that helps, a lot.
Rule #3: Follow Your Passion
Thank you for inviting me to celebrate with you today. TISCH graduates, you made it.  And, you're . Think about that. The graduates from the college of nursing, they all have jobs. The graduates from the college of dentistry, fully employed.
The Leonard N. Stern School Of Business graduates, they're covered. The school of medicine graduates, each one will get a job. The proud graduates of the NY School Of Law, they're covered. And, if they're not, who cares? They're lawyers.
The English majors, are not a factor.  They'll be home, writing their novels. Teachers, they'll all be working.  jobs, lousy pay, yeah, but still working. The graduates in accounting, they all have jobs. Where does that leave you? Envious of those accountants? I doubt it. They had a choice.
Maybe they were passionate about accounting, but I think it's more likely that they used reason, and logic, and common sense, to reach for a career,  that could give them the expectation of success and stability. Reason, logic, common sense, at the TISCH School Of Arts?  Are you kidding me? But, you didn't have that choice, did you? You discovered a talent, developed an ambition and recognized your passion.
When you feel that, you can't fight it. You just go with it. When it comes to the arts, passion should always trump, common sense. You aren't just following dreams, you're reaching for your destiny. You're a dancer, a singer, a choreographer, a musician, a film maker, a writer, a photographer, a director, a producer, an actor, an artist.
Yeah, you're. The good news is, that, that's not a bad place to start. Now that you've made your choice, or rather succumbed to it, your path is clear. Not easy, but clear. You have to keep working, it's that simple.
Rule #4: Take Advantage Of Opportunities
Interviewer: How did you get into entrepreneurship? Was it something that when you were young, you got inspired about it, or because I know your father was an artist, and your mother, as well.
Yeah, I don't know. I've always been wanting to act, or direct. But, then, these opportunities came along, and I felt, "Let's just take advantage of them." Like, Nobu. I went to Nobu, years ago, over 20 years ago, 25 years ago.
I went to Matsuhisa, his first restaurant, I said, "If you ever want to open a restaurant." I was there, one time and then I went many times after. I said, "If you ever want to open a restaurant "in New York, just let me know." Because, to me, it was a no-brainer.
Rule #5: Ignore The Critics
That's fine, they can criticize, and they could be right. I want to do those things. You can't please everybody, all the time, or even part of the time.
Rule #6: Follow Your Instincts
Interviewer: Are you a good picker of scripts and things, or do you get somebody else to help you?
Well, you get people to help you in terms of getting feedback. I have people like, my agent or people who work with me, they will read it, read the script and tell me if they think it's if it's good.
Because, I'm so busy, I don't have time to read everything that comes along. Sometimes, it's just something that I can see in a script that, maybe no one else can, and I follow my own instincts about it.
Rule #7: Do It Now
Interviewer: Why, at this stage, did you decide to direct a picture? Was it because the particular subject matter or because you had a yearning to direct?
Well, I always wanted to direct. Since I was in my late teens, early 20s, and I just never got around to it. I finally started realizing as I was getting older, by my early 40s that I better really do it. It's either now or I'm never going to do it.
Rule #8: Try Your Best
Interviewer: What is the one thing, that you want people to think or know about you?
I don't know. Whatever, I mean, you know I try my best.
Interviewer: Don't give a damn. You don't give a damn, about what people think?
I mean, I care, but I don't let it, I try to do my best at doing the right thing, if you will. Not always, but I hope I'm perceived as that or appreciated for that.
Rule #9: Take Chances
It's difficult for me to come up with advice for you who have already set upon your life's work. But, I can tell you some of the things, I tell my own children. First, whatever you do, don't go to TISCH School Of The Arts.  Get an accounting degree, instead.
Then, I contradict myself, and as corny as it sounds, I tell them, "Don't be afraid to fail." I urge them to take chances, to keep an open mind, to welcome new experiences and new ideas. I tell them that, if you don't go, you'll never know. You have to have the, you just have to be bold and go out there and take your chances.
Rule #10: Find Your Inspiration
What I like is if somebody says, "I never thought of you for this type of part, "but then I thought, yeah. "you would be good for it, just for that very reason." That would spark something in me that makes it different.
You and I were even talking a little bit about that. You mentioned some things. Sometimes, you need that from an outside source in order to stimulate you and get you inspired almost, or revved up about doing something different.
Tahnk You
Thank you guys so much. I made this because, jurgen803, asked me to. So, if there's a famous entrepreneur that you want me to profile next, leave it in the comments below and I'll see what I can do. I'd also love to know which of Robert De niro's top 10 rules, had the biggest impact on you and why.
Leave it in the comments and I will join in the discussion. Thank you so much. Continue to believe, and I'll see you soon.
---
BONUS
Stand Out From The Crowd
Interviewer: Do you remember the audition when you first met, De Niro?
That was one of those, incredible auditions that came around that I suppose every kid had been waiting for, for a long period of time, because it's just not that often that you get a starring role above Robert De Niro, in this incredible screenplay.
Ellen Barkin and Michael Caton-Jones, it was just, everyone was sort of fiending for this role. I got down, I suppose to the final five, and there was like, a last, sort of, day. Toby was there and I, I do remember thinking to myself, "I got to do something. "I got to do something to stand out."
In the audition, there was Art Linson and Michael Caton-Jones. Art Linson was the producer and De Niro. And, I remember it was a mustard jar, scene. And, he had to jam a mustard jar, in my eye, repeatedly. It was an abuse scene.
And the script didn't call for it, but I got up and he said, "Is it empty, is it empty?" And, I got up and I screamed, "No!" Like, completely unnecessary, but I screamed it in his face. And, I sat there, you know, with my head, you know, looking like a red tomato, and everyone started laughing at me, in the entire room.
De Niro, everybody was in hysterics and I sat there frozen thinking, "Oh my God, I just "screwed this entire opportunity up." And, I just sat there frozen and then, you know, Bob in traditional De Niro fashion, kind of just, looked at me and went, "It's good, it's good."
And, then, we carried on doing the scene, and I think, I actually had dinner with De Niro recently and he told me, "I was the one who said, "you should get the job."
---
You might also like
---
More from Motivation
---
Watch Evan Carmichael's Top 10 Rules For Success video. Famous Entrepreneur Quotes Evan Carmichael's Quotes "Changing my environment had a dramatic impact …
Watch Mark Hamill's Top 10 Rules For Success video. Famous Entrepreneur Quotes Mark Hamill's Quotes "I love the allure, the danger, of …
Watch Brandon Beck's Top 10 Rules For Success video. Famous Entrepreneur Quotes Brandon Beck's Quotes "Whether you think you can do it, …