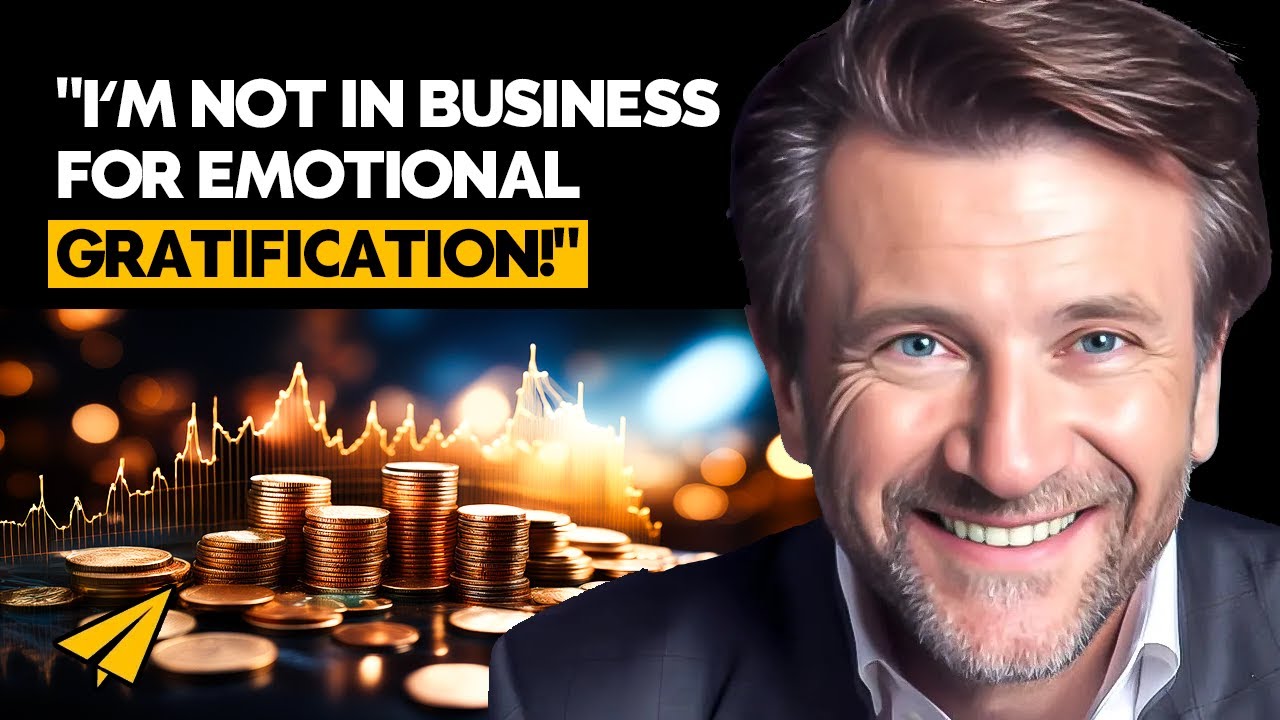 He's a Croatian-born, Canadian businessman, author, investor, and TV personality. Herjavec Group is one of Canada's fastest growing technology companies. He has an estimated net worth of $200 million. He's Robert Herjavec and here are his top ten rules for success.
Robert Herjavec's Top 10 Rules For Business and Success
Rule #1: Be Great At One Thing
You have to be passionate about one thing, be great at one thing. The world will reward your knowledge of a very narrow field. So the analogy I always use is, you know, Tom Brady, I love NFL football, Tom Brady gets paid $25 million a year to throw the ball. He doesn't get paid to block, he doesn't get paid to tackle.
In fact, when he does those things, people freak out. Be Tom Brady. Be good at one thing. And then be great at that one thing. Be world class at one thing. Forget your weaknesses, because somebody is going to eat your lunch at the stuff you're not good at.
Rule #2: Never Complain
I'm a pretty happy guy, you know, I think that's one of the keys to success. I read in an article that the difference between successful people and people that struggle, are successful people exude joy. Jeff, if you're not a happy guy, and other people don't want to hang out with you, why would they hang out with you? If you're miserable, and nobody wants to spend time with you, how are you ever going to get ahead? Why complain? I remember when we were really young, this lesson was taught to me by my dad, and I kind of had a miserable day at school 'cuz ya know, the kids make fun of you, you're an immigrant, you're poor, and I came home and I was feeling sorry for myself, and my dad came home, it's going to sound so melodramatic, he walked a couple miles to the factory, he was a blue-collar guy and I came home, and he just stood there and I was complaining about my day.
Interviewer: Where were you living?
Oh, we were living in like a, oh, this stage would be three times the size, in a little apartment.
Interviewer: Oh there's a, oh my gosh.
Oh it wasn't pleasant, and my dad was just standing there and I was complaining and feeling sorry for myself and my dad looks at me and says, "Never complain, you should always be happy "with the opportunities given you." And that was it, and so you feel that big.
Rule #3: Just Keep Going
You know, every time you lose at something, you're one step closing to winning the next time. The difference between successful people and not successful people, are people give up, people wake up every morning, they have doubt, they have fear, they lose in a Ferrari race, or they lose in a race, and then they just give up.
But the hardest thing in life to learn, is to lose. Winning's easy, you win, you're happy, you get a high five, your friends are happy. It's your ability to take a loss, get up the next day, dust yourself off, and keep going.
I have lost at everything you can imagine, seriously. I have been beat up and put down and everything that can go wrong, has gone wrong for me. But I just kept going.
Rule #4: Create Value For Your Costumers
I used to work for Warren Avis, the guy who started Avis Rent a Car, and he said to me one day, "Robert, "what's the purpose of business?" And I said, "Oh, make a profit, and all these other things." And he said, "No, the purpose of business "is to create a customer because "everything else takes care of itself." It you can create customers, and create value for them, because the answer to that question is different for every single customer, then you're going to have a great business.
Rule #5: Become The Person Others Want To Know
You know what's funny, when I was growing up, everybody said that to me, "It's not what "you know, it's who you know." Well, so there I am, I'm 18 years old, my dad works in a factory sweepin' floors, and my mom's a receptionist, so if the key to success in life is who you know, I'm in trouble. So I said to myself, "I don't believe that. "I believe I got to go out and become the guy "that others want to get to know." It's all about what you make of it.
Rule #6: Listen To Yourself
Interviewer: And you listened to what you call your spidey senses or your spider senses, your intuition. Have you always?
Always, always, I learned that from my parents because I don't have a fancy education. We didn't have fancy advisors. The most successful person I knew growing up was my dad's boss, and that was only because he had more seniority in the union than my dad.
So you've got to learn to listen to yourself. People over-complicate business and success. People are watching right now and saying, "Oh I can't do what he does 'cuz "I don't know how to run a business." Everybody has the ability, you just got to listen to yourself.
Interviewer: That's hard to do. Because you get the message, and it's unemotional, and you think, I know you have to listen to your senses. When you're on an elevator, a big hefty guy gets on, as a female, get off, right, no matter if you're intuition is right, just get off the elevator.
It's fear, I think most people are blinded by fear. And to be successful at anything, you've got to be able to control that and work your way through it.
Rule #7: Leave Your Emotions Out Of It
I always say to people, "I'm not in business for "emotional gratification, I'm in business to make money and "build a great company and all these other things." So you got to leave your emotion out of it, because when you're angry, or you hate, you make stupid decisions. But that doesn't mean you have to become a jerk, or mean about it, I mean, nobody likes to do business with somebody who isn't nice.
Rule #8: Be Able To Adapt
Interviewer: You draw on other people's experiences that don't seem to relate to your life. Georges St-Pierre, MMA fighter, what does a businessman learn from a guy who punches people for a living?
Well, we were just talking about that outside and, you know, the difference between the UFC fighter and the rest of us, is no one hits us in the face every morning.
So that really brings things into focus. What I learned out of him is it's all about being efficient. It's not the strong, it's not the big, it's not the rich, it's not the poor that'll inherit the Earth, it'll be the efficient. You don't see too many dinosaurs walking around anymore and they were really big animals.
Adaptability, so I've never been the smartest guy in the room, but I feel pretty confident if you dropped me in the middle of a jungle, I'll figure out a way to survive. It's your ability to survive in any situation that separates the people that do well from those that don't.
Rule #9: Find What Make You Tick
I think you've got to find what makes you tick. And I think greatness comes from when you marry your passion with your job 'cuz I don't really think I have a job, I just, I love what I do, and I always say that to kids.
I talk to a lot of kids who are university, and say, "How do I make a lot of money?" And I say, "Forget the lot of money part. "Find something you're going to be great at, "and let the money follow you."
Interviewer: So what is it about people who find their passion, who work hard, and never make a dime? Well they make a few dimes but not enough? They never get there.
So, you know, Fanny, it's interesting 'cuz we have this conversation all the time. I live in a very affluent area and I have these quarterly dinners, or I used to, with my neighbors, so at one point I had 20 guys, they were all worth hundreds of millions of dollars, and we asked that same question.
Can you always be successful, even if you love what you do and all the other stuff? And the reality is, as my dad said, if you work hard, you will never be poor in life. But just because you work hard, doesn't mean you'll be rich. Sometimes you need to get lucky, but the reality is, that the harder you work, it's true, the luckier you get.
Rule #10: You Are In Control Of Everything
'Cuz people always think there's a finality to success. You know, people think about success in terms of the finish line. People always ask me why are you so successful? And I always correct them and I say, "I'm not successful." You know, the minute you think you've made it, is the beginning of the end.
So it's just about, the overall message is, you got to keep going, you got to love what you do, and you got to keep going. What's the alternative? Why were we put on this earth? Were we put on this earth to be miserable and to complain and to look at life as victims? I am in control of everything that happens to me.
Everything, everything that will happen in my life, I will be the master of. That doesn't mean my life will always be happy. That doesn't mean my life will always be good. But I have the ultimate choice to choose how I will react to the things that happen to me, and move forward from them. And I'm okay with not succeeding at them, because the journey on that road is worth it for me.
Thank You
Thank you so much. I made this because Pov Neeri Roth asked me to. So if there's a famous entrepreneur that you want me to profile next, leave it in the comments below and I'll see what I can do.
I'd also love to know which of Robert Herjavec's top ten rules meant the most to you. Leave it in the comments and I'll join the discussion. Thank you so much. Continue to believe, and I'll see you soon.
---
You might also like
---
More from Motivation
---
Watch Ralph Smart's Top 10 Rules For Success video. Famous Entrepreneur Quotes Ralph Smart's Quotes "We're so caught up in the outcome …
Watch Kris Jenner's Top 10 Rules For Success video. Famous Entrepreneur Quotes Kris Jenner's Quotes "You need something to be excited about …
Watch Mark Hamill's Top 10 Rules For Success video. Famous Entrepreneur Quotes Mark Hamill's Quotes "I love the allure, the danger, of …