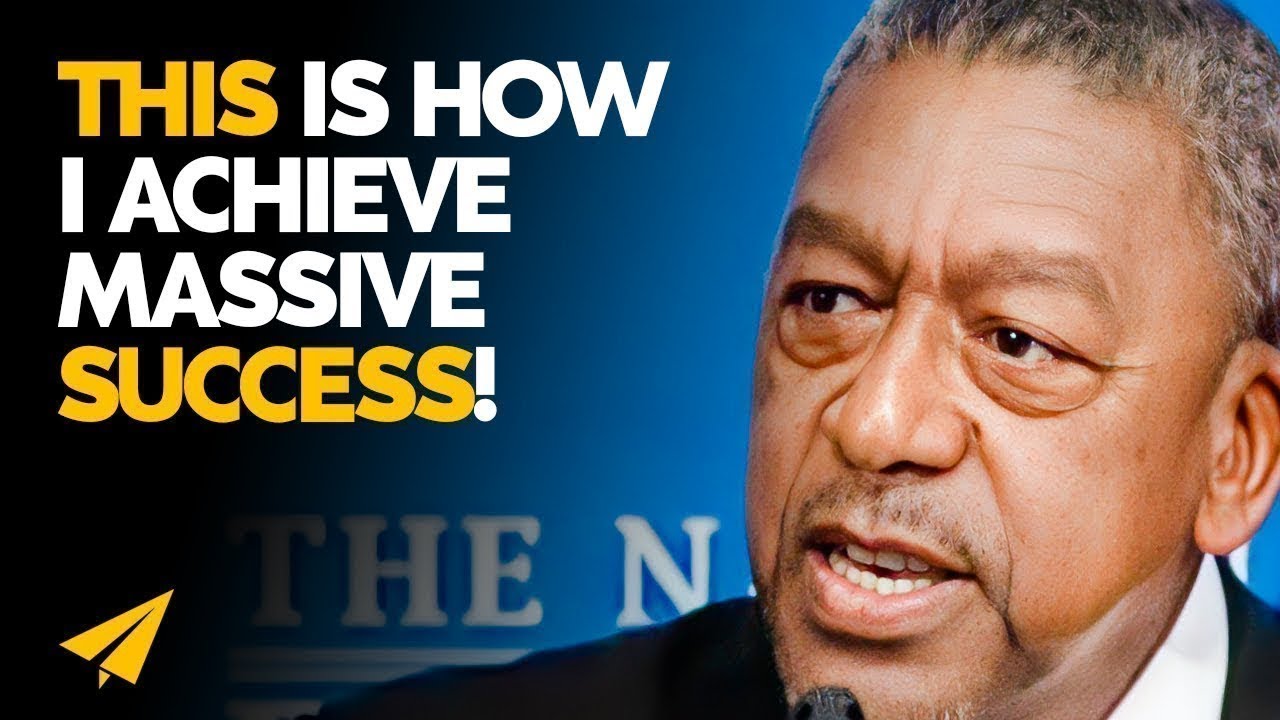 He was the first African American billionaire. He's a businessman and media magnet, philanthropist, and investor. He's worth over a half a billion dollars. He's Robert Johnson and here are his top 10 rules for success.
Robert Johnson's Top 10 Rules For Business and Success
Rule #1: Build Relationships
Fundamental connection to doing business is basically relationships. If you really think about it. People want to do business with people they like. I mean, every now and then you'll do a deal with the devil, but you don't really like the devil, but you have to do sometimes.
But you'd really much rather do business with somebody you like, somebody who shares your values, somebody who you know is committed to the same objectives you are, somebody who's willing to work as hard as you are. And when you find those people, those are people you want to bring under your tent to be part of your business objective, and you've got to do that by sort of presenting yourself in a way that people clearly understand that you are committed to creating value.
Business people want to create value. It doesn't mean they don't want to have fun, doesn't mean that they don't want to be involved in other kinds of things, but if you go to someone and convince them that, "I can help you create value." And by your ability to articulate that and communicate it, and to get people the impression that you will work as hard as they will to create that value, you're going to find people wanting to come to you.
And so, for me, it's sort of been like that throughout my whole career, is being able to say to people, and talk to people in a way that convinces them that I am going to do everything I can to help make what they want to achieve a success and by extension, I'm going to be a success.
When I started BET, the guy who invested in BET is a guy named John Maloney, he was, at that time, the operator of the third largest cable company in Denver, Colorado, and he kept investing money into BET without taking additional equity. And as BET became a big success, I ended up with about 75% of the company, he ended up with about 25% of the company.
And one day, I asked him, I said, "John, John, you put over a half a million dollars "in BET during the startup, "you put it in as debt, you didn't put it in as equity." Which would've give him great ownership. I said, "Why'd you do it that way?" And he said, "Bob, I always knew you would work harder "for yourself than you would for me."
And it was that kind of commitment, so if you can convey to people that you're willing to work hard for them and for yourself, you've got a business partner, you're connecting the dots.
Rule #2: Get The Capital You Need
One of the key components of growing a business is getting the necessary capital to grow. So, if you start off were you own 100%, but you need more capital to grow the business, you may have to sell off 20%, 30%, depending on how you look at the business needs.
Don't fear that. Don't be afraid about the notion that you might fall below 51% and therefore, not be minority-owned because being minority-owned is the culture you set, is the focus you set, it's the service you make to serve the minority community, and it's your commitment to do what you can do best within the minority community.
Keep in mind, if we go back to JP Morgan Chase, Jamie Dimon probably owns less than 005% of Chase. He's the CEO, but no one will ever question whether or not he is charged of Chase. But he's brought capital as a publicly-traded company to grow that business.
So, whether you get money from outside investors or whether you get money from friends or family, don't be afraid to take on capital, sell shares or restructure debt or trade before there's whatever it is, because the notion is you want to be in charge of a growth company, if that's what you want to be.
A company that can go to scale, a company that competes, and you need capital to grow. If you want to stay above 51%, by all means. If you can do it and sell equity off, do it. But if you have to because you got a great strategic partner that could bring something to the table and they want to be an equity player, and you end up with 50 or less than 50, you're still the CEO, you're still setting the vision for the company, you are achieving what you set out to do, and I think that's very important to understand because we can't get to scale without growth capital.
Rule #3: Keep Revenues Up, Costs Down
I may not be smart, but I'm not stupid. So, I got the heck first.  And then I said, "John, I never started a business. "What advice could you give me?"  But I had the check by then.  He said, "Bob, get your revenues up, keep your costs down." That was my 501 business school class.
And ever since that time, every business I start, revenues up, costs down. That's what I do. Big business is where you can get your revenues up, keep your costs down, and you can find a recurring income stream, like a cable company called BET.
The guys pay you, the cable operators pay you for the programming, the advertisers pay you to advertise within the programming, and the record companies give you the videos free, you'd have to be pretty dumb to lose money on a business like that, so.
Rule #4: Make Friends Before You Need Them
The key to building a relationship and so called connecting the dots is make your friends before you need 'em. And that means that first impression, that first interaction you have somebody is sort of like a stamp of approval. And if you do that with someone and they like you and then they in turn tell somebody else they like you, that's where the dots start coming.
'Cause somebody will say, "I know Damian, good guy." So, I respect the guy who told me that so all of a sudden, now, he's transferred his stamp of approval on you over to me. And that's how it happens.
Rule #5: Stop Consuming, Start Saving
The one thing I think we have to do is we got to smart about consumption. We have got to start saving. When I went to graduate school at Princeton, and I took one course in economics, and there was one turn that I learned.
It's called, and you guys should remember this one, it's called the marginal propensity to consume. The marginal propensity to consume is that you consume way beyond your margin of wealth and you know they call that? Debt.
We have more debt than any other group in America, Ergo, we have less savings. Without savings, you can't invest. Without investment, you can't accumulate wealth.
We have got to postpone sort of what I call just unnecessary, impulsive consumption. And focus on savings. And until we get to that point, we're not going to have enough wealth to invest.
Rule #6: Stand For Something
As most of you know, I've always been vocal about economic opportunity for African Americans. I'm what you might call a serial entrepreneur. I get a vision about something that should be done, usually in an area where African Americans are economically underrepresented, and I try my best to create a business solution to help address these social and economic problems.
Rule #7: Get To Scale
People here in the same business. I mean, if you're running the same business as somebody else, the first thing I would do is sit down and talk about, "Can we merge and get to scale?" That's the first thing I would do.
There's no way in the world if I were running a company, let's say I was in the security business, providing security to companies, and then there's another guy, named Fred who had a security company, a person named Mary had a security company.
Three security companies all vying for the contracts. I would say, "Why don't we merge? "Get to scale, reduce our overhead cost, "and go out and become the preeminent security firm "in the city of Charlotte." There is no way in the world I would be competing against that, that's the first thing I would do.
Rule #8: #Believe In Yourself
You have to believe in yourself. If you don't believe in yourself, if you don't believe that you can overcome obstacles, if you don't believe you have the work ethic, if you don't believe you have the inner confidence to project to other people, it'll never happen.
Because part of starting a business is not only having the vision of an idea, you've got to build around you a team of stakeholders who believe in you. People follow leaders. People invest in leaders, people support people who have a vision and are willing to, and are able to articulate it and not just the ability, you know, a lot of people got a good gift for gab.
It's the ability to convince people that you're going to be part of something that's going to be successful, you're going to share in the success, it's going to be beneficial to you and your family in the long run, you're going to be respected for what you contribute, and you're going to have an opportunity to fulfill your own dreams consistent with the dreams of the person you're working with.
If you can convey that sense of confidence and that sense of leadership, and focus on giving people and opportunity to grow and be successful with you, you're going to have people, and I mean really smart people come in to be a part of what you do.
Rule #9: Make Hard Choices
Imagine a group of people go to a restaurant and they start eating. Well, they don't have enough money to pay the bill. So, when the waiter comes with the bill, they don't want to pay it, they don't want to make the sacrifice of paying, so they keep ordering. And that's what we're doin'. We just keep piling on debt and keep piling on cost because we don't want to make the hard choices.
Rule #10: Partner With Suppliers
And look at businesses who can provide support to your business at a cost below what you're paying somebody else. And if you don't have the money for that but it'll help you jumpstart your business, give them equity. Trade equity for the service provided. It happens all the time.
When I started BET, I needed cable distribution. Some of the cable at Time Warner at that time said, "Yeah, we'd like to be an investor, but we also want equity. "We'll give you our carry, but we want equity." And that's another way to build a relationship.
Doesn't take capital, just you got to be confident, but when you provide a service, that service is going to help this business grow, you have 10% equity, whatever the trade is is going to help you grow.
Thank You
Thank you, I made this because Frank White asked me to. So, if there's a famous entrepreneur that you want me to profile next, leave it in the comments below and I'll see what I can do.
I'd also love to know what you think about Robert Johnson an which of the top 10 lessons you relate to the most. Leave it below, I'm going to join in the discussion. Thank you, continue to believe, and I'll see you soon.
---
You might also like
---
More from Motivation
---
Watch Evan Carmichael's Top 10 Rules For Success video. Famous Entrepreneur Quotes Evan Carmichael's Quotes "Changing my environment had a dramatic impact …
Watch Mark Hamill's Top 10 Rules For Success video. Famous Entrepreneur Quotes Mark Hamill's Quotes "I love the allure, the danger, of …
Watch Brandon Beck's Top 10 Rules For Success video. Famous Entrepreneur Quotes Brandon Beck's Quotes "Whether you think you can do it, …