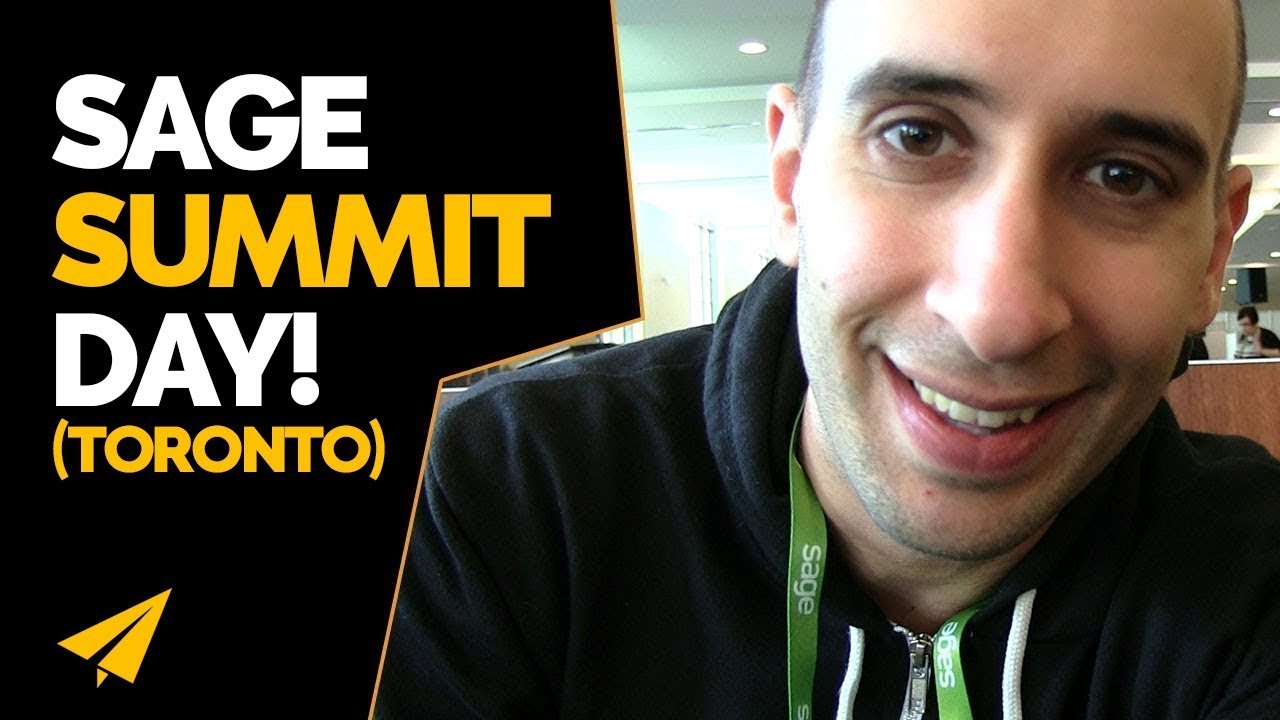 What is up, BelieveNation? It is just seven o'clock in the morning on I don't know what day it is, but today is Sage Summit day here in Toronto and I'm taking you with me.
SAGE Toronto Summit
So Sage is one of my clients. We've had Stephen Kelly on the channel lots and lots and lots and lots of times. He's a visionary CEO, one of my favorite CEOs in the world and every year they put on these huge events to celebrate entrepreneurship and this year they have one in Toronto so I am going and going to have some fun. Let's do it.
So typically Sage Summit has been in one main city and last year I went, past two years I've went and spoke. This year they're going to multiple cities so I'm here in Toronto for their tour which is awesome and Lily and I are also going to be taking part in it. We have sessions today and tomorrow mentoring some of the entrepreneurs that are showing up, so I'm pretty pumped. I love mentoring and helping entrepreneurs and it's Lily's first time at the Sage Summit so I'm excited to see her energy too.  I just saw Lily. I'm going to go find her. Look who I found, it's Lily.
It's Evan.
Evan: She's filming. Oh yours says new to Sage, look at that.
Lily: Yeah.
Evan: Alright.
Maybe people will be nicer to me
Lily and I got here early. Room is about to get full. We got our front row seats. Look at that.  Alright, just came out of the, what was that, key note session part. Lily was dancing a lot. Kind of. And I found the troublemaker, the troublemaker. Rebecca Coleman.
If you have a video camera I have to photo-bomb you, that's the rule. That is a rule, I didn't make it, I just observe it.
She's doing a session on ABCs of social media here today. What's a tip? Number one tip from Rebecca Coleman on social media?
Consistency. If you want to be successful on social media, you just got to keep doing it.
What is consistency?
Like every day.
Once a day?
Maybe not for every single network, but yeah, you got to keep doing it consistently or else… That's 90% of the battle right there.
Or else, this happens.
90% of the battle right there, like you just got to keep doing it.
Rebecca Coleman everyone. Next up, Lily and I are doing our mentoring sessions.
Yes we are!
Lily's pumped. We're going to go help some entrepreneurs. We're going to go help some entrepreneurs. I'm excited, too.  Alright, it's lunch time. Time to get some food. So I had a fan of the channel, Sebastian, come up and interrupt the conversation we're having and he is trying to write a book and trying to build his business and wanted feedback on Your One Word, how to apply it to his life for what he's doing and we have Lily, who is the Your One Word coach, so she just started a session with him and I'm excited to see how it turns out.
Fingers crossed he has a big breakthrough that's coming. I'm excited for them.  Alright, that ended up being a crazy day one. I was B-rolling Lily doing some coaching sessions and then I got bombarded with people who wanted to meet and get advice and so didn't even have time to set up the camera, no B-roll no nothing. Just helping entrepreneurs.
One story that was awesome was there was a girl who started a business and saw my YouTube channel, watched every video, and was thinking about coming to Summit, got an email, thought oh, it's about accounting, I'm not interested, and then saw that I was speaking at the event and she said I got to go, I'm going to go and see Evan and that felt good and I hope she got value. I hope she got good value.
I hope I didn't let her down, there. But it's great to connect with fans, great to help some entrepreneurs. I've got to leave. Lily's still doing some mentoring. I'm going to go pick up Hayden from school and then I will be back again tomorrow for day two of Sage Summit, helping more entrepreneurs. Alright, day two of Sage Summit. This is Aleks. Aleks has our message of the day.
Today's message is hustle even when you don't want to.
Hustle even when you don't want to, that's good, that's a good message for you too
Aleks: I'm hustling. Hustling to get some coffee right now.
Aleks is not coming today but I'm heading off, Lily's doing a session, I'm doing a couple. We're going to have some fun.  Alright, so I made it in. Got my coffee. Back in my mentor lounge seat here. I got my name tag. I'm supposed to do one session today but apparently there's a line up of people who want to chat so they smushed three people into my one session and on my break, I'm talking to somebody else too, so… I love it. I don't like breaks, like let's go.
You want to help entrepreneurs, I'm here, I'm pumped, I'm ready to do it. I'm waiting for Lily to come and then, first session, I don't know if I'm going to have time to shoot any B-roll while I'm making it, maybe Lily will, we'll see, but being able to help entrepreneurs is what gets me fired up. Had a couple good sessions. Just found a good friend of mine, Roger Pierce, going to go say hi. He's about to give a presentation. It's Mr. Roger Pierce. There he is.
Hi, Evan, how are you?
What are you talking about?
We're doing professional tips to close more sales, following the seven steps of selling.
What's your favorite step?
The close, overcoming those nasty objections to get the customer to sign the line that is dotted.
What's a piece of value that you could drop on BelieveNation around closing?
Don't be afraid to ask for the sale. You'd be surprised how many entrepreneurs quiver, don't want to ask the customer to proceed. Ask for the sale if you think you've earned it.
I like it. So lunch is Asian chicken noodle something, beef pilau, burrito, although I don't see a burrito. Maybe I missed that. And a fruit stick. Yeah, time to eat. Alright, had a couple more great sessions. Awesome vibe here. So many great entrepreneurs.
I love entrepreneurs. It's always great helping them out, but I'm late. They are overbooking me and then on my breaks they wanted me to meet more people and as I'm leaving more people come up to ask questions so I was like I got to go, I got to go, so I'm heading off to the media center upstairs.
Supposed to do a Facebook live hangout with Stephen then I think I have a little bit of time and then doing the live YouTube hangout with you guys, so super pumped for that. This is where we're going to do it. We got the set up. Me and Stephen in the middle. CN Tower on one side, City Hall on the other. Excited for some Facebook live.
Great to have a live broadcast from Sage Summit in Toronto. There's a couple thousand entrepreneurs, business partners here, and we'll tell you a bit about Sage Summit. We might go for a walk and go see the show floor during the broadcast as well, but most of all, I'm really privileged to be joined by an old friend, an amazing entrepreneur, author, inspirer. Many of you know him and you've seen him on his channel. Evan Carmichael. So Evan, great to be in you home city, Toronto.
I love it. I'm glad you guys came here on the Sage Summit tour. It's great, I can just wake up and come right downtown to Sage Summit, it's awesome. Alright, we had a fun Facebook live hangout. Got to explore the floor as well, go chat with some entrepreneurs. Next up is our Google live hangout with you guys. Just setting up here. Testing the connection, make sure we got a good one and looking forward to answering your questions.
Stephen's rocking some Canadian pride. We've got the Canada pin happening there. Oh there's Sage at the top, too! I didn't see that! There's a little Sage logo at the top. The cuff-links. You can't see his shoes, he's got the shoes. He's got the tattoo happening on the arm.
Here we are. Upside down, sorry guys, here.
There it is, look at that. There it is, Canada flag.
There it is, can you see it? Canada flag. Can't get my arm around.
Alright, we are done. That was awesome. There were so many questions coming in, I couldn't keep track. Normally on the hangouts that I do, while the other person's talking, I'll scroll through the questions and look for the next one, but I didn't want to look offscreen all the time and feel like I was ignoring what Stephen was saying, so I was going through it, but I looked at a question and then I came back and the question was gone 'cause the page filled with new questions and so it was awesome to see the interaction.
Love you guys, so many great questions, so much fun. I just feel bad that people posted some questions multiple times and I saw it and then when I came back to read it, it was gone and I went to another one, so… Just be persistent guys, get your questions in early and often and hopefully next time we'll be able to answer them.
That's it for me. It's been another amazing Sage Summit. Going to head home, catch Nina, do our workout and enjoy the rest of my week, so… Appreciate you guys for watching. Hope you enjoyed. Maybe I'll see you at a event soon and just one quick thing. If you're going to events, and you want to meet people, get in there fast. You want to go talk to a speaker? Be there before the speaker goes on stage. You want to have a mentoring session?
My first mentoring session was empty. Nobody showed up. I spoke with Lily for 45 minutes. And then at my next mentoring session it was all full and the next one it's like triple booked and getting people wanting to talk to me on my break and walk me to the next thing, and it's great, I'm happy to do it, I love being fully booked. I'm not complaining, I love it, it fuels me.
But there were lots of people waiting too, who I didn't get to talk to and it bothers me because I had all this free time before. And so if there's someone who you want to talk to at an event, don't be shy. If your goal is to go there and talk to them, get their feedback on something that you're dealing with right now.
Don't be shy. Go say hi. Talk to the speaker before they go on stage because they're going to be bombarded afterwards and even if you do get in, they're only going to have a couple minutes because they're swamped, there's a huge line up. For the hangouts that I just did, right? Be the first one there.
The guy who asked the first question, I answered his question, right? It was the first question in. All the other people who join later, you know, there's a chance we answer it and there's a chance we may not and then we're rushing trying to get through other questions so if there's something that you want to do, there's somebody that you want to meet, and you know they're going to be there, they're doing a hangout, just show up early. Ask the question, be the first one there.
It makes such a huge difference between getting results and not and so, just going to leave you with that, guys. Hope you have an amazing weekend. Thank you for watching, thank you for all the love. I really appreciate it. You guys are the reason why I do all this and I'm really thankful for your support and viewership so that's it for me. Continue to Believe in whatever your one word is. Much love guys. I'll see you soon.
---
You might also like
---
More from Evan Carmichael
---
What's up, Believe Nation? Greetings from London, England. It's Evan. My one word is believe and I believe in people, …
Watch Evan Carmichael's Top 10 Rules For Success video. Famous Entrepreneur Quotes Evan Carmichael's Quotes "Changing my environment had a dramatic impact …
Today we're going to look at seven different ways that you can make business alliances. What's up Believe Nation? It's Evan. …