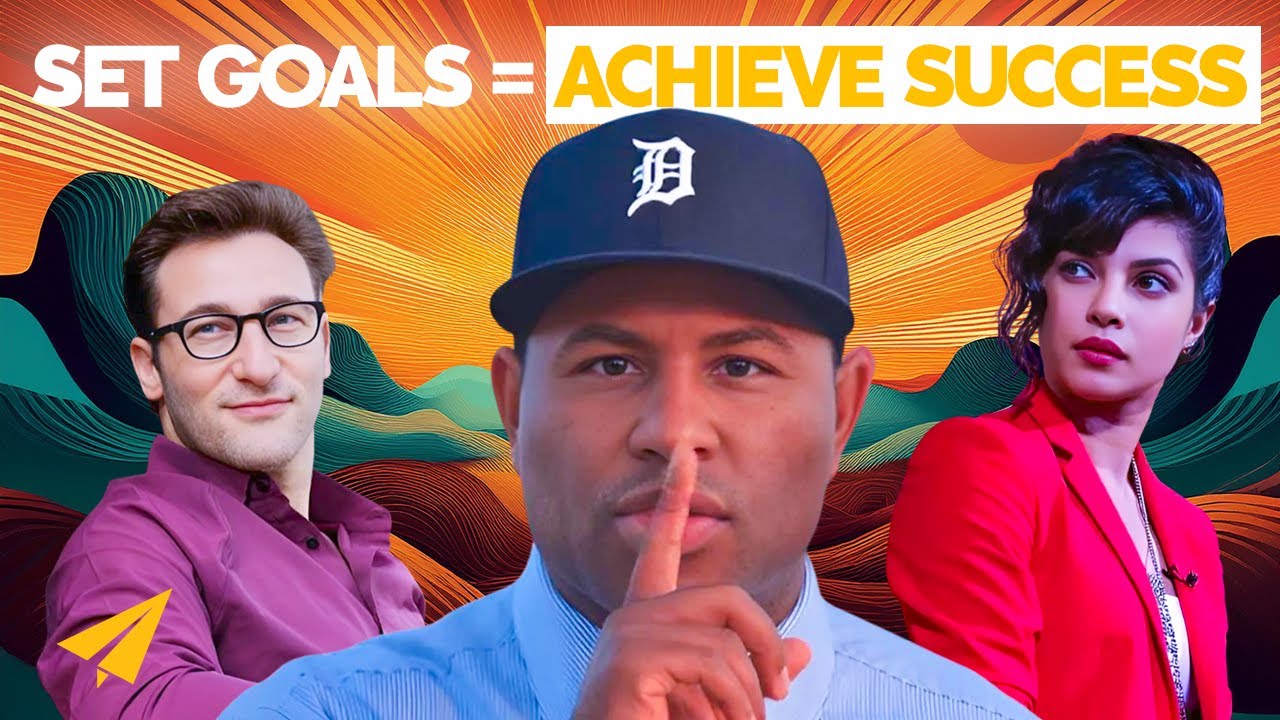 Hello Believe Nation. My name is Evan Carmichael. My one word is believe and I believe that entrepreneurs will solve all of the worlds' major problems. So, to help you on your journey today we're going to learn how you can set goals. If you're watching and you hear something that really resonates with you, please leave it down in the comments below, put quotes around it, you might win a prize, but also, when you write it down, it's much more likely to stay with yourself as well. Enjoy.
Set GOALS!
Eric Thomas
I got an older white male, he's probably in his 60's maybe, and my man says to me, "I heard what you said ET, but how do you sustain it?" I'm like, "okay, all right say it again because I want to make sure I'm hearing what you're saying". He's like, "you talk about going 120, you talk about going hard, you talk about having what you want, being what you want, do what you want, okay I get it, but how do you sustain it?" I'm thinking is that a real question? I said, "listen to me very closely, how did I start this whole presentation off?"
He said, "write down the people's name that you love." I said, "duh, if you're waking up every day and thinking about your wife, duh, how do you not sustain it?" If you wake up every day and you're looking at your son, how do you not sustain it? You think I'm going to put my kid's life in the hands of some other man? You think that's my role as a father? You think my role is to allow my kids to come here, and pay all this money to go to school, and do everything they did and now they've got to go beg somebody else for a job?
That's not my role or responsibility. Sustain it? What do you mean? How do you not sustain it? I asked you, "why are you not pumped up?" Why you have days off? I'm asking you why you give 70%. You don't love nobody? Is there not somebody that you don't love more than yourself? Is there not somebody that you're waking up for? Is there not somebody you're grinding for? Somebody told me that they get distracted easy.
Let me tell you something, the reason why you're getting distracted easy is because you don't got eight or nine things you wake up to every single day and say, "I've got to go get that". Many of you are getting distracted because you don't have something that's stronger than the distraction. You need something stronger than the distraction. You're getting distracted with parties. You're getting distracted with smoking. You're getting distracted with drinking.
You're getting distracted with sleeping. You're getting distracted with video games. Why? Because the video game is stronger than your goal. I tell my homies all the time, bro, if it don't have anything to do with, you all be playing. I'm like, if it ain't about the money. You're just singing it. I'm for real; don't be blowing me up.
Simon Sinek
It's easy to pull things back. It's very hard to ramp things up. I'd rather start with something that's too big, and pull it back into reality than start with something that's so easy that you can't really get it up. For example, don't set your goals realistically, set them entirely unrealistically. Shoot for 80 and be disappointed when you hit 70, as opposed to shooting for 20 and being ecstatic when you hit 21.
We beat our goal! Yeah, but it was a very low goal. I think to be frustrated in achieving something rather than ecstatic and achieving less is a better way to live. Not to mention, you achieve more. So, I'm a great believer in the greater good. Those things are so big; they're ridiculous. My goal, is a hundred-year goal, is called world peace.
So daunting, but that's the idea. If I fail, and I certainly want to achieve it in my lifetime, I'd like to think that what I'll contribute towards that ridiculous, idealistic, nonsense goal will be more than if I say, "if I can just be happy by myself, in my little house". That's nice and all, but I like the idea of contributing to your neighbor as well.
Priyanka Chopra
I don't want to be called an actor. I don't want to be called a star. I don't want to have a label. I want to have a legacy. I want to be known as someone who has goals and achieves them. Whatever they might be, wherever they might be, I want to be limitless. I want to break stereotypes. I want to go where no man or woman has gone before.
It might be a scary path, it might be a path that no one's taken, but at least it'll be just mine. I had the worst self-esteem when I was a kid. I was made fun of because of the way I talked, because of where I came from. I was made fun of on every level, and the only way you can change that is setting goals for yourself and saying I will be the best version of me.
When I was 18, I started doing movies, I gave myself a year and a half, and I said, "if I sense that I'm not good at what I'm doing, and I don't see something opening up for me, I'm going to go back to college". I always had a plan B. I still always have a plan B. That's what I always tell young people. Life doesn't end, it just keeps moving. You have to put your blinkers on and find what you do best, and just keep moving.
Mel Robbins
I want you to start seeing something bigger. I know you're all successful. I'm talking about something really big for your life. In order to do that, you have to answer this question, what do you really want? Now, I'm not talking about something small. I'm not talking about a little haiku. I'm not talking about renovating your kitchen. I'm not talking about signing on ten new customers this month.
I'm talking about what you really want. Three years ago, I was a lawyer and a business coach, working with private clients and big corporations all over the country. I came to a seminar, just like this one, a big leadership seminar and I went there with my husband. We're both business owners, and I went because I wanted to be more successful.
I went because I wanted to make even more money than I already did. I was sitting exactly where you are, in fact, I was sitting about 15 rows back, right where that woman with her hand, yeah you, she's like, "hi", was sitting. I was taking notes, and I'm like, okay, I'm here to make more money. Then all of the sudden, she walked on stage. That is Martha Beck. She writes a column for Oprah Winfrey.
She travels around the country speaking. She's a best-selling author. When she walked on stage, I literally stopped listening. Please keep listening to me right now, okay. It hit me. I said, "I want to be doing that". I'm ready for a bigger stage. That's it. What's so interesting about when you answer that question, is that you don't answer it up here, you answer it here.
That's how you see something bigger for yourself. You guys are really cute because everybody is like, I don't see it, I don't see anything for myself right now. I'm just confused. I thought I knew what I wanted. Now Mel, I'm not really sure. Right now, the economy is so bad. It's so bad that even if you're successful, I know sometimes I feel embarrassed talking about my success around some of my friends because I know that they're really struggling.
I get calls every day into the radio show, people saying I've got this great idea, but I just don't know if it's the right time. You know what I say to them? I say, yeah, you know, you're right. The recession, it's huge. You should wait. Those dreams, yeah, put them on hold. You should stay in that job you can't stand just a little bit longer. You've got college bills to pay.
What you're doing, it's fine. You're busy, right? That guy you're dating, he's good enough for you. But, for the people in this room, bologna. That's right, you know exactly what you want, and the only thing that you need to do is to admit it. This may sound weird because I know most of you came in here because you're like, "I know what I want, I'm here at Success to try to figure it out.
I'm talking about something bigger, much bigger. I'll admit to you what it is that I'm up to. The truth is, it's embarrassing because when you lock onto something way bigger than where you're at, it is down right embarrassing to tell people because you're not there yet. At this rate, I've already admitted to you that I stalked Martha Beck, and that I brought a haiku to the best lit agent in the country, so I've got nothing to lose at this point. This is what I want. Well, not him, I'm married. I want what he's got. I want 600 radio stations.
I want two million listeners, and I could certainly deal with the $400 million salary. In fact, if I got it, I'd renovate everybody's kitchen. The thing is though, that's so interesting about this, is that I didn't pick him. I'm not looking to become a cigar-smoking conservative political guy that stirs the pot and makes everybody all mad. I'm the liberal lifestyle gal that's trying to help people out, but what I want to do is I want to use radio to entertain people and help them achieve their dreams. When I really think about it, he's the one that's in the front.
I want to not only reach what he is doing, I want to surpass him. Do you think I like it when my friends come over to my office in Boston at my house, and they're like, "what is that guy doing on your board?'. No, it's embarrassing. When you admit the big thing that you're up to, it's embarrassing. I have 40 stations, he's got 600. There's a big gap. So, admitting where you want to get to is embarrassing, but you've got to do it.
Bob Proctor
You see, the beautiful part about goals, and understanding it is goals are not to get. You don't get set goals for acquisition. You set goals to grow. You set goals to reach inside, stretch, and go where you've never been. You set goals to take you to a place you've never gone before, and you grow as a human being. You don't accept it, you never go back.
Tim Tebow
Now, I don't watch TV too much. It's hard because most of the time I watch a lot of ESPN, but not anymore. To be honest with you, try to stay focused and set little goals for myself every day. Get a little bit better. Learn one new thing and improve in one way every day when I step out here. When you set all those little goals and you keep hitting them, then you're constantly going to keep getting better and not worry about everything else. just let that take care of itself. Worry about what I can control.
Kai Green
First, let me say that I think the goals, pretty much set the tone for everything else. I guess when you think about goal setting, and when you really allow your goals to start becoming the lead to manage your steps then your life path starts to become guided, and not just haphazard and by chance. Your goals become the predetermined address that would serve as a destination, an end result.
Now, with at least that, you're able to make decisions and map out a course, step-by-step, if you will, that will help get you there. The really cool thing about goal setting is that even if you do not have all the information beyond the address, like, what streets, where and when to turn, with having the address, you can always type in the GPS coordinate and pretty much take advantage of other sensibilities that can help point you in the right direction.
A lot of times, you don't really need to have all of the guess work predetermined and already figured out. Once you have the address, you're that much closer to being able to get where you're trying to go. As an athlete on stage, that's kind of what I'm using to help get me where I feel I need to be to perform at maximum efficiency. Goal setting is very, very important. It's been very, very critical in helping me get from the beginning of my career to where I am presently.
Robert Rodriguez
Interviewer: You had a plan; the remarkable thing to me was at 22, 23 years old, that your plan was completely laid out. In reading your book, you knew, I was going to take this amount of money. Your plan was to make three El Mariachi movies.
Yeah, the thing is, if you want to get somewhere, you've really got to set some goals for yourself. They won't ever happen the way you planned, but at least you …
Interviewer: Don't I know that.
You'll step forward in a positive direction that may take you some place better by accident.
John Legend
You just have to … it's not easy to see beyond where you are, but you have to try to see beyond where you are. Try to set goals beyond where you are. Think about ways that you can break out and make a difference. That's what I did. I had some great people around me, my family, teachers, people that believed in me and encouraged me. Sent me off to an Ivy League school, and I figured it out after that.
John F Kennedy
But, why, some say, the moon? Why choose this as our goal? They may well ask, why climb the highest mountain? Why 35 years ago, fly the Atlantic? Why does Rice play Texas? We choose to go to the moon. We choose to go to the moon.
We choose to go to the moon in this decade and do the other things, not because they are easy, but because they are hard, because that goal will serve to organize and measure the best of our energies and skills, because that challenge is one that we're willing to accept. One we are unwilling to postpone, and one we intend to win, and the others too.
Thank you!
Thank you guys so much for watching. I hope you enjoyed it. I'd love to know, what did you take from this video that you're going to immediately apply somehow to your life or to your business? Leave it down in the comments below. I'm really want to see what you have to say.
I also want to give a quick shout to Luis Lopez from The Better Men Project. Luis, thank you so much for picking up a copy of my book, Your One Word. I really appreciate the support and I'm glad you enjoyed your book.
Announcer: If you could describe yourself with one word, what would it be?
So thank you guys for watching, I believe in you. I hope you continue to believe in yourself and whatever your one word is. Much love, I'll see you soon.
---
You might also like
---
More from Bob Proctor
---
Today, we're going to learn how you can stretch your limits. Hello, Believe Nation, my one word is believe and I …
Good morning, Believe Nation. My name is Evan Carmichael, my one word is believe, and I believe that entrepreneurs will …