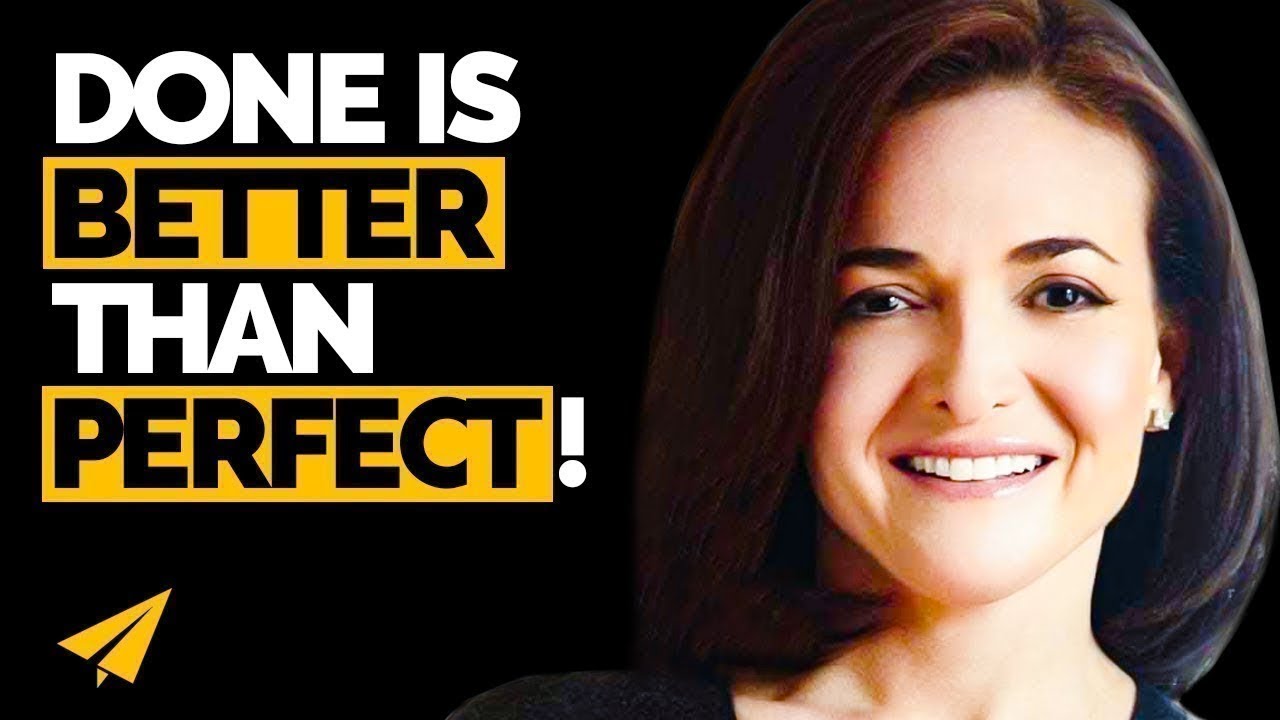 She's an American technology executive, activist and author. She's the chief operating officer of Facebook. Her estimated net worth is reported to be over one billion dollars. She's Sheryl Sandberg, and here are her top ten rules for success.
Sheryl Sandberg's Top 10 Rules For Business and Success
Rule #1: Have Impact
And so I thought about what I wanted to say. What would I pass on if you were trying to be an entrepreneur, if you're trying to be a leader. I think if you're trying to be those things, what you're really trying to do on a fundamental level, is have impact.
You're trying to have impact. You're trying to have the things you do, the things that you spend your time doing, have impact, meaning change something around the world. And for me, I think the lesson is really simple, and it's particularly important in the era in which we live, and for me the industry in which I work, which is that this is about scale. It's all about scale.
Having impact is all about how you do something that scales. And by scale I mean things that can have broad impact potentially things that have decreasing marginal cost. Things that can scale beyond the one-to-one interaction you have as a person.
Rule #2: Think Big
I think the most important thing about growing a business successfully, is thinking ahead, about where you're going to be. So I think about the three tips you have for scaling your organization. The first and I think the most important is to think big.
People think about how do you manage, how do you motivate an organization. And they think about management, basically the science of administering a business, or leadership. And my favorite definition of leadership is the art of accomplishing more than the science of management says is possible.
When you have a big vision, when you're thinking really big, something that can change the world, so, my favorite example connecting the world, which was Mark Zuckerberg's vision for Facebook, that's the kind of thing that excites people and motivates them.
That gets them to follow you, not just because they work for you and they need to do what you say, but because they believe in what you're trying to do. And when you're trying to really scale an organization, you need to go really quickly and get people to accomplish more than they thought was possible. And I think that comes from internal motivation, which really comes from a vision that's big enough.
Rule #3: Go For Growth
I think the most common mistake I see people make, and men make this mistake too, but women do a lot, is they're too worried about the upward trajectory, and not worried enough about growth. So, the two corporate jobs I've taken, I went from Treasury to Google, and then I went from Google to Facebook, had one thing in common which is that they were more junior, other people's words, not mine, than other jobs I was offered.
When I went to Google, Google was like 250 people, I was going to be a business unit general manager, except there were no business units. Susan Wajusky's here, she helped recruit me. This was the non-job of all time. I mean there was no job there.
And I was offered senior sounding, more senior roles at more established companies. But I really believed in what Google was doing and Eric Schmidt gave me great career advice, he said, go for growth. Growth moves everyone up. If it's growing it works.
And so, I went to a smaller company, with a very, more junior, less-defined job. When I came out of Google, it seems obvious now, to come to Facebook, but at the time, a lot of people asked me, right, you remember this, what are ya doin'? You're going to work for a 23-year old, you know.
No one knows if Facebook's going to be the next MySpace or Friendster, and you're not CEO. You could be CEO somewhere else. And what I saw was something that mattered. Facebook mattered, with authentic identity, and an opportunity for growth.
And so at each stage, I cared less about my level, I kind of think it's silly, than I have about the underlying growth. And I do think this is really important for everyone to know.
Rule #4: Communicate Authentically
How do you communicate authentically? How do you figure out what to say and what not to say in a way that's authentic? And what Fred says, and I really believe this is true, is it starts from the fundamental understanding that there is no truth.
There's my truth, there's your truth and everything is subjective. And so if you always start from the position of this is what I believe, I don't expect you to believe it, I don't think you have to believe it, I'm not saying it's true, you can actually always communicate authentically.
Because if you walk in the room, and this gets worse as you get more senior, here's the answer, you're not giving anyone else any room to say anything. And if you walk in the room and say, I believe this for this reason.
What do you believe? If you share your truth in that language, you give people room to authenticate, to communicate authentically. And that is hugely important to these relationships at any stage.
Rule #5: Hire Big
I think the second thing is you have to hire big. And big, I don't mean famous, I mean ahead of where you are. So when you're growing an organization really quickly what happens is that what normally takes an organization years, happens in a period of just months.
So, when I was at Google, my team went from four to 4,000 in about five years. That means that if you look at those first four people I hired, in order for them to be part of the people who were running that organization, they need to do about 10 or 15 years worth of growing and getting experience, in a much shorter period of time.
So if you think you're going to grow quickly, hire for what you think you're going to need. Over hire. Hire people who are more qualified, have more experience, or hire people who are right out of school, but can overachieve in their current roles.
I don't think it's the number of years in the workforce that matters, I think it's hiring the people that you're going to need then, now, because then happens so quickly.
Rule #6: Don't Just Talk, Really Listen!
I really believe we lead best, when we walk side by side with our colleagues. And to achieve this, you're going to have to do the opposite of what I'm doing right now. You're going to have to not just talk, but really listen. And you have to one step further, which is not just listen, but find a way to get people to actually tell you the truth.
Rule #7: Take Responsibility
There is no such thing as complete control, nothing. No one has complete control in any situation. People that leading organizations in some ways have less, because not only do they have to control what they do they have to persuade everyone else, what they do.
But, if you are able to take responsibility, I'm not late because there was traffic, I'm late because I didn't leave early enough to account for the fact that there was traffic. The project didn't get finished not because my friend, my partner didn't do it, my colleague didn't do is part.
The project didn't get finished because I didn't set up a team where my colleague wanted to do his part. When you take responsibility and you take full responsibility, that is the most empowering thing and you can do it any stage.
You have to do it if you're raising money as an entrepreneur, you have to do it if you're trying to persuade people to work with you, you have to do it all stages.
Rule #8: Measure Results, Not Face Time
One of things I talk about in my book is the importance of measuring results, not facetime. If you as a company measure facetime, you will be rewarded with facetime. If you talk about the people who are working really hard, rather than the people who are getting great results, people will work very hard but not focus on results.
In my job at Facebook, Mark and I try to run the company very focused on results. We had one employee, actually for a while, who famously was one of our absolutely highest performers, but just didn't like to be in the office very much at all.
And we would publicly applaud him. No one's seen Shemoth in a week, but look what's happening. And we were publicly saying his results were amazing. If he feels like doing it, sitting in his basement, go ahead. Now, not every company can do that, different companies have different constraints, but many more companies can do this.
Rule #9: Find Something You Really Believe In
The best kind of leadership starts by finding something you really believe in. Facebook exists because Mark Zuckerberg believed that the world would be a better place if we all used technology to share and connect. He believed in that enough to drop out of school at 19, and he believed in it enough to hang onto that vision and hold onto it, even when people tried to take it away from him over the years.
I joined Facebook, along with so many others, because I too believe in that vision. And now it's the most important part of my job, to keep myself and everyone else at Facebook maniacally focused on what we are trying to do, day in and day out.
So start, start by finding a company you believe in, a product you love, something, a cause you really, really care about. Because not only will you inspire yourself, will you be inspired, but you in turn will inspire others. And that's the most critical part of great leadership.
All organizations have some form of hierarchy. People in organizations, if you're their manager, will do what you tell them to do, even at Facebook, at least some of the time. But great leaders don't want compliance, they don't want people to follow orders.
Great leaders want real excitement, genuine enthusiasm, real commitment. Great leaders don't just win the minds of their team, they win their hearts. Great leaders don't just issue commands, they heed the voices of those around them.
Rule #10: Careers Are Not Ladders, But Jungle Gyms
Careers are not ladders, those days are long gone, but jungle gyms. Don't just move up and down. Don't just look up, look backwards, sideways, around corners. Your career and your life will have starts and stops, and zigs and zags.
Don't stress out about the white space, the path you can't draw, because therein lies both the surprises and the opportunities.
Thank You
Thank you so much. I made this because Veronica Watts asked me to, so if there's a famous entrepreneur that you want me to profile next, leave it in the comments below and I'll see what I can do. I'd also love to know which of Sheryl's top ten rules meant the most to you.
Leave it in the comments. I'm going to join in the discussion. Thank you so much for watching, you need to believe, and I'll see you soon.
---
You might also like
---
More from Motivation
---
Watch Ralph Smart's Top 10 Rules For Success video. Famous Entrepreneur Quotes Ralph Smart's Quotes "We're so caught up in the outcome …
Watch Kris Jenner's Top 10 Rules For Success video. Famous Entrepreneur Quotes Kris Jenner's Quotes "You need something to be excited about …
Watch Mark Hamill's Top 10 Rules For Success video. Famous Entrepreneur Quotes Mark Hamill's Quotes "I love the allure, the danger, of …