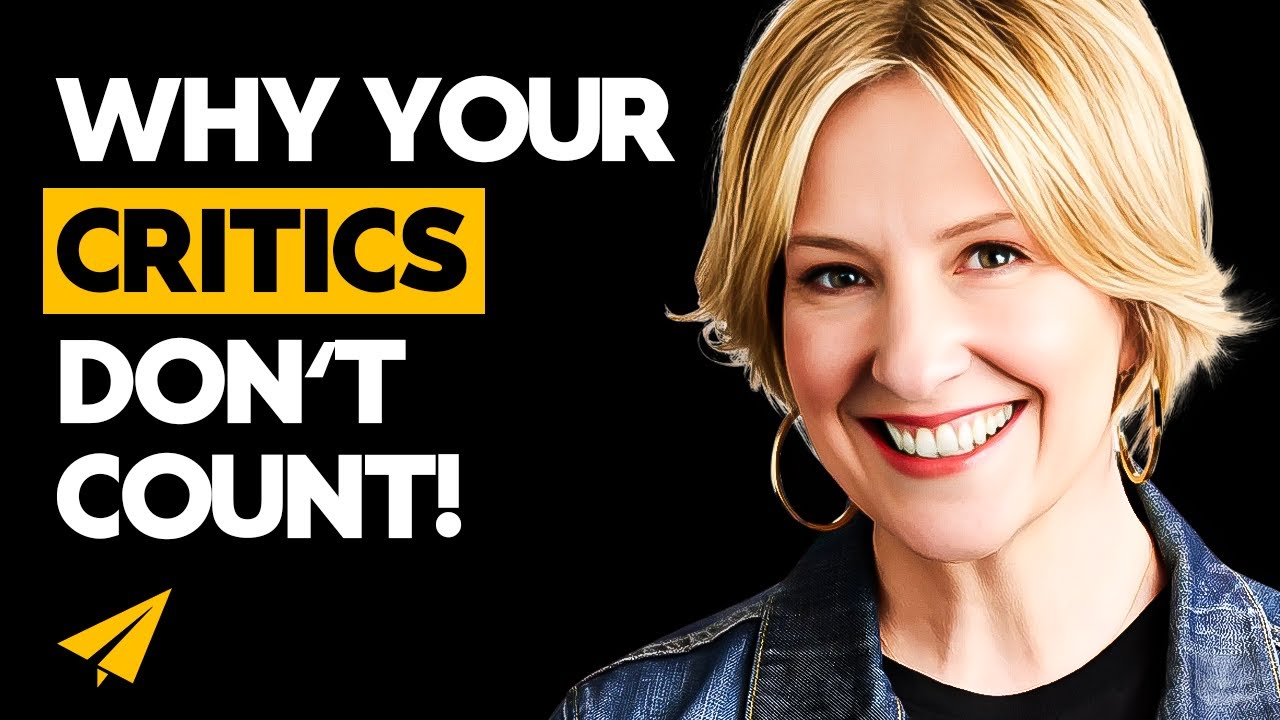 Today's message is show up.  Good morning Believe Nation, it's Evan. My one word is believe in, and I believe in people more than they believe in themselves. And my sincere hope that if you see in yourself what I see in you, you'll be able to change the planet.
Show Up
Brené Brown
My story is that I am a researcher and I never thought I would have a big public career. And so I did a Ted talk that went very viral and in the wake of that, I was kind of everywhere for a couple of months on every CNN.com, in PR, it was everywhere, and something that I wasn't used to.
And the marching orders from my therapist and my husband were do not read the comments online.  So I read all the comments online. And so one morning I woke up and there were two or three new articles out and I started reading the comments. And they were devastating.
They weren't about my work, they were about me, they were super personal. And they were the things that creative people play in their mind and then give up doing what they really want to do. Like if I asked every single one of you, what would you try if you knew people would never say this about you? What would this be?
Those were the comments that morning. Of course, she embraces imperfection, what choice does she have? Look at how she looks. I feel sorry for her kids. Less research more Botox. Just mean personal attacks, the things that really up until that moment had inspired me to stay very small in my life and in my career.
Just so I could avoid those things. So that morning, Steve and the kids leave, I stay home. I get on the couch and I watch eight hours of Downtown Abbey.  And when it's over, I don't want to turn off Downtown Abbey, 'cause the minute you turn off Downtown Abbey, then it's like soccer practice and dinner and back to the mean people, and maybe should I get Botox?
Maybe, you know, maybe if I stand still when I talk. So I get out my laptop and I do a search for who was president in the United States during the Downtown Abbey era. Have you ever done that, like you're numbing with TV or a movie and so when it's over, you just like, you stay in that space by learning more about the actors and what's going on?
I've been doing this long enough to know that this is like you're laughing with me not at me.  And so I put it in and Theodore Roosevelt comes up and a quote comes up, and I read it. And this is what it says.
It's a quote from a speech that he gave in the early 1900s at the Sorbonne, and a lot of people call it The Man in the Arena Speech. And this is the passage that changes my life. "It's not the critic who counts, "it's not the man who points out how the strong man stumbles "or where the doer of deeds could've done it better, "the credit belongs to the person "who's actually in the arena "whose face is marred with blood and sweat and dust, "who at the best, in the end, knows the triumph "of high achievement and who at worst, "if he fails, he fails daring greatly."
So the moment that I read that, I close my laptop and this is what shifted in me, three huge things.
First, I spent the last 12 years studying vulnerability, and that quote was everything I know about vulnerability. It is not about winning, it's not about losing, it's about showing up and being seen.
The second thing, this is who I want to be. I want to create, I want to make things that didn't exist before I touched them. I want to show up and be seen in my work and in my life.
And if you're going to show up and be seen, there's only one guarantee and that is you will get your ass kicked. That is the guarantee, that is the only certainty you have. If you're going to go in the arena and spend any time in there whatsoever, especially if you've committed to creating in your life, you will get your ass kicked. So you have to decide at that moment, I think for all of us, if courage is a value that we hold, this is a consequence, you can't avoid it.
The third thing, which really set me free and I think Steve my husband would argue has made me somewhat dangerous is kind of the new philosophy about criticism which is this: if you're not in the arena also getting your ass kicked, I'm not interested in your feedback, period.
My thought About Show Up
What are the hardest parts about being an entrepreneur is you put your idea out there and it gets rejected. It doesn't work.
Much more worrisome than failing for people is failing in front of other people, to have this new product you create, or new service you create, and you put it out there, and you don't get customers or even worse, your friends and your family or people around you tell you it's never going to work out, and then it doesn't and then you failed in front of them.
And most people are so afraid of that failure, of failing in front of people that they care about, that they don't do anything. Because you have this plan, this thing that you want to do, this great idea that you think is going to change your life and help the people around you, but because it may not work out, because you don't have the certainty that it's going to work, you play small and you don't do anything about it.
And there has to be a point that you decide whether you are going to live according to your own expectations or somebody else's. Like how long are you willing to let other people's opinions and perspectives of you hold you back from doing the thing that you want to do?
A lot of times those perspectives and opinions will be wrong, a lot of times your friends and family are actually cheering you on, you still just don't want to fail in front of other people, but sometimes is may be true.
Sometimes your Uncle Joe will say, "You're never going to make it, look at you, "look at your education and your background, "and your family or how much money you have. "You don't have the skills to do that."
"Most people are so afraid of that failure, of failing in front of people that they care about, that they don't do anything." – Evan Carmichael
And he may be right. But you won't know until you actually go out and test it. And I relate and I resonate. In my first business when I was making $300 a month, I turned down the high-paying jobs that I thought I wanted, that my friends all wanted, and I was too embarrassed and ashamed to tell my friends that I had no money, that I couldn't go out to beer and grab, you know, beer and pizza with them.
And I had to pick one thing month that I could go to, 'cause that's all I could afford. But I was too embarrassed and ashamed to tell them. When they asked how I was doing, I would say, you know, I'm living the entrepreneur lifestyle, everything's great, I'm just hustling hard, I'm working, I'm working. But really I was just, I couldn't afford to go out.
And I'm sure if I actually told them that, they would understand, and they would have my back, and they would've been supportive and encouraging. Maybe some of them would've razzed me, but I think that they would've supported me. And that would've actually been very helpful to me, 'cause at the time I was dealing with everything by myself. I was trying to internalize everything, and to the outside world, be seen as a success.
I think about my friend who really wanted to get in front of the camera. He was a guy who was behind the camera all the time, and he wanted to be in front of the camera. And one day I forced him, I pushed him to be in front of the camera.
And I asked him, why are you so afraid to be in front of the camera? You want to do this, like you want to spread a message. Why are you so afraid to get in front of the camera? He was worried about what his friends would say on Facebook if they saw a video of him, he's worried there'd be a negative vibe, he's worried they wouldn't support him, and so I did something dramatic.
You know, I filmed him, I said, enough of this, we're going to film you, we're going to put you in front of the camera. I put him in front of the camera and he shared his message and then I posted the video and I posted it to Facebook and I tagged him and I contacted his wife, and I had her contact all of his friends who I didn't have as mutual friends, and say, hey, watch this video.
"You just have to decide at what point in your life are you going to show up and do the thing that you want to do and get a result and just see if it works, versus just sitting in your head all day wishing you could do something, but being afraid because of other people's expectations and perceptions." – Evan Carmichael
And something amazing happened. All of his friends were super supportive, were encouraging him, were cheering him on, where he thought there'd be this negative buzz, negative vibe, judgment, a lot of negativity, and it was the exact opposite. They supported him and wanted him to go and have success. And when he saw that difference, that sparked a shift for him.
And then he started getting in front of the camera. And he's been unafraid to get in front of the camera ever since. He's created a lot of interviews, a lot of videos, a lot of moving videos, some with me, some with others, where now he enjoys being in front of the camera. Just because he was living according to what he thought his friends would think, and experiencing their support and kind of being pushed into the limelight made that shift for him.
But I said it was going to work out like that. Sometimes you will fall flat on your face. Sometimes people may laugh at you, sometimes the people in your network will tell you that you suck and that you're never going to be a success.
You just have to decide at what point in your life are you going to show up and do the thing that you want to do and get a result and just see if it works, versus just sitting in your head all day wishing you could do something, but being afraid because of other people's expectations and perceptions. At some point you have to say, I've had enough. I don't care what you guys think. I'm going to go out and do it, because I need to prove to myself that I can, or at least I need certainty that I can't.
---
So the question today is I'm curious what has prevented you from truly showing up?
From really releasing the message or the product or service, or the business that you have inside you, what has prevented you from really going all at it? What are you so afraid of? Leave it down in the comments below, I'm really curious to find out.
I also want to give a quick shout out to Mary. Mary, thank you so much for picking up a copy of my book, Your One Word and taking that picture, it looks great leaning up against your laptop. I hope you enjoyed the book, and I really appreciate your support. I believe in you, I hope you continue to believe in yourself and whatever your one word is, much love and I'll see you again tomorrow morning for another shot of Entspresso.
---
BONUS
Show Up
Samuel L. Jackson
I had a path. I knew where my path was. My path was to become what I am right now.
Now, I lost sight of it in an interesting sort of way or I went about it in a wayward path. But fortunately for me, all the getting high, the drinking, the drugs, everything else I did, I showed up at the theater every day.
I did plays, ripped out of my mind, I rehearsed, ripped out of my mind, but every lesson that I learned, I held on to for some reason. God, whatever, somebody let me hold on to everything that I was learning.
My stage lefts, my stage rights, my upstage foot always out, turn down this way, learning how to develop a character, doing all those things, because those are the things that I love.
And I did them in the midst of everything else that I was doing to, you know, when my friends were getting ready to go get some more drugs, I go, and I got to be at the theater. And I'll catch you all when the theater's over, you know, when I'm done, and I'd shew, I'd jet.
Or I got to go build a set, I got to do this. So I did everything that I had to do. So I was focused on this by any means necessary. Plus I had a professor who was like, you know, well, you know, all the great ones do their jobs and they ripped out of the their minds.
You know, you look at the Peter O'Tools, and the da da da da, da da da, you know, they get drunk, they get high, they do what they do, but they show up and they do their jobs. So we were like, okay.
And that's what we did, you know, we drank with him, and we went to Styles Acting class. We'd go smoke a joint and come in and do our other acting classes, or go build a set, or build some costumes, or hang some lights and do all the things that we had to do. So I kept learning my lessons and doing them.
Grant Cardone
In different places in life, I promise you, you're going to find you don't know where to go. Everybody goes through this. The most successful people in the world wake up some mornings with no clue what to do today.
Okay, so first thing I want you to know is that it's normal, it happens to everybody. It's not like you're a bad person or you're lost or you're depressed or you got some problem you need to take medication for.
Everybody, everybody regardless of their stature in life, where they are, regardless of their money, their relationship, their job, they run the joint, promise you, no matter how much they present like they look like got the whole package put together, everybody, everybody has those days, and the sun is kicking today, has those days where they don't know what to do.
I don't know what to do, you know? Uncertainty. My friends Dale Christenson told me when I was 25 years old. I was experiencing depression every day, he's like, no matter what, man, no matter what, no matter what, dude, show up.
Even if your eyes are bleeding, show up. I've been doing that for 34 years now. Show up, even when I don't want to, okay. And then what I try to do is I try to help one person, one person.
And what happened over the period of 34 years, I did that every day. I'm not depressed anymore, at least not for long periods of time. I don't use any kind of medication, don't use any kind of drugs.
Don't smoke weed, don't drink over excessively drink, I might have drink once in a while. And got a beautiful wife, two beautiful kids, and for the most part my life is freaking wonderful. All I did was this. I don't over analyze, never do I label myself a loser, a quitter.
I'm hard on myself. I never label myself OCD, ACD, ADD, OCDD, whatever a depressant, alcohol, like a drug addict, no, no, I don't. This is what I do, I do things, okay. I show up, move in the direction, I don't overanalyze, move in the direction that I think could be more pro survival than staying in one place. And number three, help somebody.
---
You might also like
---
More from Brene Brown
---
Watch Brené Brown's Top 10 Rules For Success video. Famous Entrepreneur Quotes Brené Brown's Quotes "There is no innovation and creativity without …
Hello, everyone! So, welcome to another episode of Unlocking Lily. It's always been my dream to be a speaker, and …