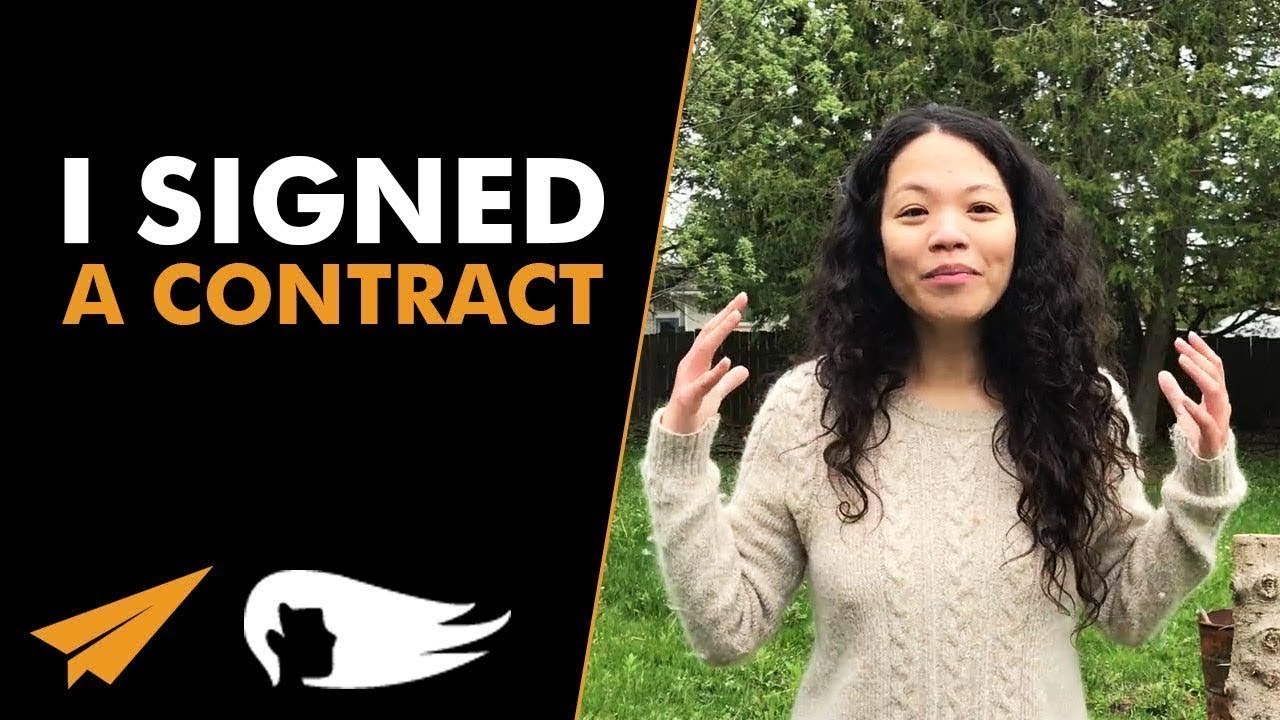 Hello everyone! So welcome to episode number two of Unlocking Lily.
So I quit my day job to pursue my dream in becoming a public speaker and you guys are all coming along with me for the ride.  So my first challenge was doing the entpresso video. One of the most important goals that I have is to become a great storyteller.
I want to be able to tell compelling stories where people feel a little bit changed after listening to me. So with the entpresso video, I'm able to take someone's message, like Gwen Stefani's message in finding who you are, and use my own stories to actually be able to give you guys a teachable lesson.
I Signed a CONTRACT
Good morning believe nation. Today's message is find who you are, over to you Gwen Stefani. So when I first found out that I will be talking about find who you are, I got so excited because being on the path of self-discovery and self-awareness has been so important to me and has been my focus for the past two years, I was so, so looking forward to actually sharing all of that with you guys as well.
And in a weird way, I thought that Evan picked it on purpose for me because he knew that it would mean a lot. I don't know. Maybe he did, maybe he didn't. Maybe it was pure coincidence. But I will find out from him. I was really, really happy about that. This has been a path of mine for the past few years and I really wanted to share my struggles, my failures around it, as well as to let you know that things do get better. Things doesn't always have to be that way. And I wanted you to learn from my experiences. So knowing all that, I got really excited on the day of. And then it took four hours.
I don't know what it is with the camera being in front of your face, as soon as a camera's in front of my face I feel like I forget everything. So all in all, it took two days to actually get the entire video out. So the first day I spent two hours going over and over what I'm going to say, rehearsing it in my head and out loud, and then once I got in front of the camera it took me another two hours to actually record because I still get very, very nervous when the camera's in front of my face. Right now I feel really nervous. And finally, finally, 28 times after I got the first final draft. I got really… I was so proud.
I was so proud. Oh my god, I'm so proud of myself and I'm going to really send it off to Evan and he's going to be so impressed with me because, you know, I did such a good job and everything. Which I did, which I did. So I sent it over to him and he gave me feedback. So, by the way, all the videos that you guys see of me on his channel, he looks over. He looks at it before it actually goes live. And he sends me feedback of things I need to work on, as well as he sends me feedback on the things I did well as well. So he did the same thing for this video.
People are thinking like you know better
But there was one thing in particular that really just, ugh, just got to me, was when he said that right now you're saying a lot of general things and I don't feel what you're feeling. And that's the entire thing, wasn't it. I want to be a good storyteller and he's not feeling what I'm feeling. That is not the point of this. I haven't done something right because of that. And then when I thought about it, I was like okay, why, why isn't he feeling what I'm feeling? At that moment, I realized, that in order to have a powerful story, I have to be specific about the moments in time. I have to be specific about that pivotal moment that caused me to make a change to find out who I am. So I suggested to rerecord and being the really encouraging guy that he is he's like yeah, of course, go for it.
So the next day, after 24 hours of reflecting what happened to cause that change, I decided to go in front of the camera. And then when I did, I wasn't sure if I wanted to share my story specifically with you guys. I was saying too many general things to dance around the idea of the real, hard hitting questions. And the hard hitting questions was, what caused me to change, was I asked myself some really, really transparent questions about myself.
I had to reveal that my job, at the time, was making me miserable. I had to reveal a part of me that I wasn't so proud of, specifically the part of me that picked a certain job because she thought that money would make her happy, you know? Also staying with a job for so long, knowing that you're miserable and you're unhappy and you have no passion for it, you know, what would people think of me?
People are thinking like you know better, why? And I was so afraid of getting judged that I didn't want to share the specifics of my story. And then I started thinking and I'm like I really don't want to hurt people's feelings either because a lot of people that I worked with are going to be watching my videos. I don't want them to think that, you know, I was miserable when I was working there and they had something to do with it. Or people who are doing the same job that I was doing, I don't want them to think that it's a bad job, or it makes people miserable. The only reason why I was miserable is because I was doing something that I do not have passion for and that's it.
I summed up the courage to actually do the video the next day
So I had to really, really wrestle with this idea, like do I share? Do I not share? I don't know. Maybe I should share another story. And then I came to the realization of something. I signed a contract with you guys. The first day when I got in front of the camera and I told you that I'm going to share everything about my journey with you, my failures, my struggles, my joy, my celebration. Everything. This means this story too. I have to tell you the story what caused me to change. Everything that I go through, I can't edit it. I can't edit certain parts of my life and show you certain parts and not show you certain parts.
I had to share. And I summed up the courage to actually do the video the next day. So I did. I got in front of the camera the next day and I told my whole story around how I found who I am today. And I think the impact was so positive because you guys responded to the video in such loving, encouraging words, and I actually really wanted to share some of the comments with you right now. So the first comment comes from Steph Reveron. Thank you Steph! I remember you. You're the first one that came to that Zumba class in December, I remember. And, I miss you too. So if you ever come to Toronto, please come by Toronto Dance Salsa and just come by and visit and say hi or take a class. Whatever you want to do, just come by, okay? I would love to see you again. The next one comes from Paula Meneses.
Paula Meneses is one of the first people to actually write on my intro video as well, so Paula, honestly, your feedback and your encouragement and your words mean so, so much to me. So thank you so much Paula. The last one comes from scholastic01. Scholastic01, now that you know that I struggled really hard with whether or not I should tell my whole story with you guys, your words right now made me feel more confident that I did the right thing. So scholastic01, thank you again for writing this comment. So those are the three, but I do have one honorable mention, that was not on YouTube, it's actually on Facebook.
I can figure everything out on my own
It comes from my mom. My mom recently discovered social media and she's been very, very active on it and she wrote on the video that Evan shared on Facebook was amazing with two smiley face emojis. My mom is so funny and so humorous and such a wonderful human being. And she honestly is the most generous person I have ever known in my life. She's the reason why I can give and she taught me one very important lesson, is to always give without expecting anything in return and I will always take it everywhere with me. So Mom, thank you so much. I love you. Love you So my challenge for next week is to research 20 inspirational speakers that I look up to. So right now, I have this big goal, right? This big goal of stepping on stage and speaking to thousands of people.
But I don't really know which specific paths I can take. And the truth is I can figure everything out on my own. I can, you know? But it will take me a very long time. It will take me maybe five years, ten years, fifteen years. I don't know. And the truth is, a lot of times, you and I don't have that kind of time to actually figure things out. So the best thing to do in that case is actually look at people who have gone through what we want to go through, whatever that mission is, in my case, being a public speaker.
And see what their breakthroughs were and see what their a-ha moments were and see their mistakes so that way we don't make the same mistakes as well. So that's going to be all next week. I'm going to share with you my research. I'm going to share with you all the breakthroughs that these people had and how my path is going to change or develop as a result of it. So actually, I have a question for you guys. When was the last time you shared a specific story with someone and if you're willing, and comfortable, I would love to see it in the comments of what the story was. You guys have been so open with your stories and I love reading it.
So the more stories you share, the better. And I'll be looking forward in reading all your comments below. Once again, I am so, so incredibly grateful for all the wonderful comments, the love, the encouragement, the support that's been pouring in over the past couple of weeks. You guys are incredible. I couldn't ask for more. Thank you, thank you so much and I will see you guys very soon.
---
You might also like
---
More from Lily Ma
---
Hello, everyone. So welcome to another episode of Unlocking Lily. It's always been my dream to be a speaker, which …
Today's message is create your own luck. Donald Trump Knowledge. Knowledge. But if it's one word. One word's very hard for that, …
How to OVERCOME your FEAR #1: Fear Is Holding You Back The number one thing to always think about is how is …