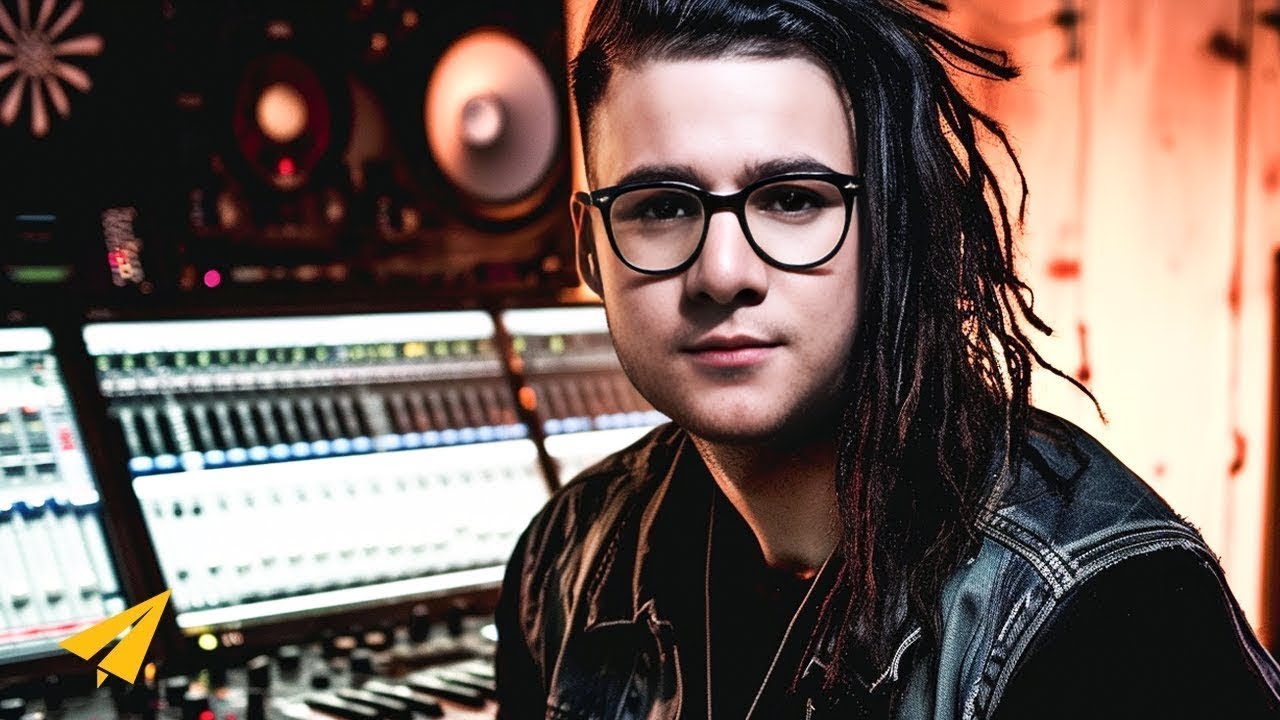 Hello Believe Nation, I'm Evan Carmichael, my one word is believe, and I Believe that entrepreneurs are going to solve all of the world's major problems. So, to help you on your journey, today we're going to learn from Grammy Award-winning music producer, Skrillex and my take on his top ten rules for success.
Rule number five is my personal favorite and I'd love to know which one you guys like the best. And as always, as you're listening if something really resonates with you, if there's a message that really holds true to you, please leave it down in the comments below and put it in quotes so that other people can be inspired and when you write it down, it's much more likely to stick with yourself as well. Enjoy.
---
Skrillex's Rules
Rule #1: Cultivate Your Own Thing
Rule #2: Express Energy
Rule #3: Don't Be Afraid To Fail
Rule #4: Push The Boundaries
Rule #5: Take A Leap
Rule #6: Ignore Haters
Rule #7: Be Focused
Rule #8: Be An Enabler
Rule #9: Work Hard
Rule #10: Have Fun With Your Mistakes
Bonus
Be motivated by success
Pay attention to feedback
Do what makes you happy
Skrillex's Top 10 Rules For Success
Rule #1: Cultivate Your Own Thing
Man: Let's talk about how things developed in terms of when you started to play shows.  Give us a bit of insight into, were you sort of playing smaller club shows? I know you released stuff through a thing called Myspace back in the day and how that evolved, tell us about that journey.
Before MySpace  I sold some cd's too. Maybe there's no science in what it takes to be musician because this wasn't called music even a couple years ago. The first time I went to the Grammys people we're still like why is this guy at the Grammys he's not making music. Make music for the 16 years old inside yourself even when you're 50 years old. F*ck the craft, Everyone can learn how to do this s***. Cutivate your own things, stick together and just do that. Have some fun making some music. If it's fun  – that's all that matters.
Rule #2: Express Energy
You look back and be like, "I set those days, "I met some people, it was fun." That's cool.    Anything you're trying to start up, businesses or whatever, like, if you have a friend, start it with a friend. The first guy that should hear your stuff, who should be excited about your stuff, is the guy that supports you the most anyway.
And, like, maybe you can do it together and then that friend has another friend and you bring them over and you say, "Hey, check this out, do you like this?" Maybe they don't like it and you find the next person and it literally, like, it's like you take one brick and just stack the next and the most you can do yourself, then you can create something.
And sooner or later people are going to notice what you're doing because they can feel that energy, they can feel that, like, I mean, I think a lot of people, like A & R in the industry, like part of what we look for in artists is not only someone that makes great music but is someone that has that energy, that devotion to what they're doing.
And that's a big thing, I mean, that's what I look for in artists that I sign are people that are really talented and people that have that energy, like I'm just going to do a "What's up?
Rule #3: Don't Be Afraid To Fail
Interviewer: A lot of your hardcore fans were not really excited about this collaboration with Justin Bieber.
I wouldn't even say a lot of my hardcore fans, I think my hardcore fans get what I do and like the fact that I don't care and I'm not, you know, I'm not afraid to fail or I'm not afraid to do something that everyone doesn't like.
Rule #4: Push The Boundaries
A lot of times, you know, people do music for a long time then they get to a certain age, and you know, they have families, they have kids, and all this stuff, but, like, you know, we're just so inspired and hungry to, like he said, make great songs and make great tracks that sound like nothing else and push the boundaries of what… I mean, even the Justin Bieber single, that's a top ten record, you know, isn't a pop format, the way it's written, you know? It's not a traditional pop song and it's trying to, sort of changing, not necessarily the verse-chorus-verse-chorus-bridge-outro, it's like we're changing this sort of, the pop format.
Rule #5: Take A Leap
It was only a couple years ago, before, I'd say skip back to three years ago, like, I'm in debt. I'm probably in, like, $50 grand.
Man: Three years ago?
Yeah, three years ago.
Man: Like, 1,000 days.
Yeah, exactly, 1,000 days ago. Yes.  I was, like, you know, debt, I was living off credit card, like, I had spent some, I got this lease on this building that I was actually essentially trying to do the same thing I'm doing now, but this was three years ago, and it was so whack, and, like, not legit.
But I built out 10,000 square feet of studio space as well, and this is me and my friends living in this warehouse that wasn't zoned for living, so a year later we got kicked out. I was in so much debt. Skrillex started to go and I was just paying off my debts and trying to, like, re-stabilize myself, I guess.
And I remember and one point I had a million dollars in my account, and that was it, and we were doing this tour and all the shows were selling out. It was my first nation-wide tour and I spent all that money on production.
Like, I was like, okay, cool, I just want to make all these shows really really special and I want to make a show that everyone remembers and I want to show that, show people that may not necessarily know where we come from that it's more than just meets the eye, it's more than just pressing a button.
There's so much that goes into creating a great show. So, I spent all my money on that. Didn't have anything past that point, didn't really know what I was going to be doing or what the thing was, but, like, it's times like that where you, where you really truly believe in something and you make that giant leap.
And those are always really surreal and important times in your life. Kind of like opening a new chapter. Like you're moving to a different city, or you're going 100% on a new idea. Those are always important, I think, as artists and creative people, to take those, especially when you have the right people around you.
Rule #6: Ignore Haters
The last thing I need to do is go forum-rolling and checking out what the people are talking about me. I don't care and, you know, a part of me wants to ask them, "What's wrong, man? "Why are you, "Should I not be allowed to do this? "This is what I love to do." I'm not doing anything wrong, I'm not, you know, killing babies or, you know, I'm not doing anything bad. Like, you don't have to like my music but do you have to, the thing that's hard on me is, you know, it's a waste of time. But I mean, you get angry sometimes, but then that kind of washes away and then you just go, "Man, that sucks." I'm more interested when I read things in message boards and reviews, like, I want to hear good, I want to find out new cool things, I want to hear a new great song. I don't want to hear someone trash-talking someone else. I'm not just, that's not discovering, that's dictation, you know what I mean? You're telling me to think a certain way, whereas, like, something more open-minded, like, it's going to make me want to grow.
Rule #7: Be Focused
Katie: I read that your parents were Scientologists, your dad still is. But you are not.
No, um, I'm not a Scientologist but my dad does it for himself and it's something that's helped him forever.
Katie: And why didn't you want to, if both your mom and dad-
Well, I think the main part, it's like, you dedicate so much of your time to it and my time was always spent doing music and I wouldn't have been able to do what I'm doing now if I spent my time doing that.
Rule #8: Be An Enabler
Everyone at some point is just a guy or a person but if you enable, if you give the gift, enable someone to help out and to be a part of something, I think that's amazing, like, enablers, that's a true leader. When you can enable someone that's under you and give them a step. Because you look around, man, there's a lot more geniuses than you, than meets the eye. And you're like, man, these kids, all these people around me, all my friends that have been touring with me, just, like, before we were driving vans and trailers together, like, Getting $50 a show, making no money but doing it all ourselves. And we were just kids doing that, and looking back at it now, like, had we had the internet and all these things we have now, back then it would have been a different story but now that's true, you know. Now it's like, it's incredible.
Man: Leaders don't have followers, leaders create other leaders.
Right.
Rule #9: Work Hard
What sucks about the future is that anything could happen. The exciting thing about this ride is it's expect the unexpected, that's been this whole year for us. Anything really can happen as long as you work hard and we keep doing what we're doing. We're working hard but we'd be working hard anyway because we love the music, right?
Rule #10: Have Fun With Your Mistakes
This is better than any 50,000 person festival.  You know what that means. No, no, no, wait, wait, wait. Every time I trainwreck a mix or do something wrong I'm playing Indiana Jones.
Thank You!
Thank you guys so much for watching. I made this video because The Electric Warehouse asked me to. If there's someone you'd like me to profile in the next top ten, check out the link in the description and go and cast your vote. I'd also love to know what was your favorite message from this video? What did you learn from this video that you're going to immediately apply somehow in your life or in your business? Please leave it down in the comments below. I'm really curious to find out.
I also want to give a quick shout out to Surge Wisdom. Thank you so much for picking up a copy of my book, Your One Word, and posting eight different reviews, chapter-by-chapter, of the book, on your YouTube channel and promoting it on Twitter as well. I really really appreciate the support and I'm so glad that you enjoyed the book.
So thank you guys again for watching. I believe in you. I hope you continue to believe in yourself and whatever your one word is, much love. I'll see you soon.
---
BONUS
Be motivated by success
If it's not fun, if it's not a good time, if the party doesn't… Then I don't want, then don't do it, you know what I mean? It's not a job, it should be something you enjoy. And to see it grow and have success, you just want to work harder and make it better, you know.
Pay attention to feedback
When you're playing a show, the energy you get from the stage is, like, indescribable and it's just this constant feedback, you know? Like a cycle. And when you're in the studio with people, when you have good energy and people are having fun and feeling the music, it inspires you to continue to go down the right path. People stop moving then you're not making the right sounds.
Do what makes you happy
Katie: Scientology gets a terrible rep, you know? What do you make of that?
I think it's easy for a religion like that to get a bad rep, because it's so sensationalized and people want to get clicks and people want to sell magazines, at the end of the day. And like, you've got Tom Cruise jumping on couches and that's, like, you know, with Oprah, and that whole thing was, like, hilarious. Being an artist and knowing what it's like to be taken out of context or at least to be criticized so much in the media, it's like, what is their intention at the end of the day? They're just trying to get a reaction and I think if you're doing something that makes you happy and that's all that matters.
---
You might also like
---
More from Skrillex
---
Hello, Believe Nation, my name is Evan Carmichael. My one word is Believe, and I believe that entrepreneurs are going …