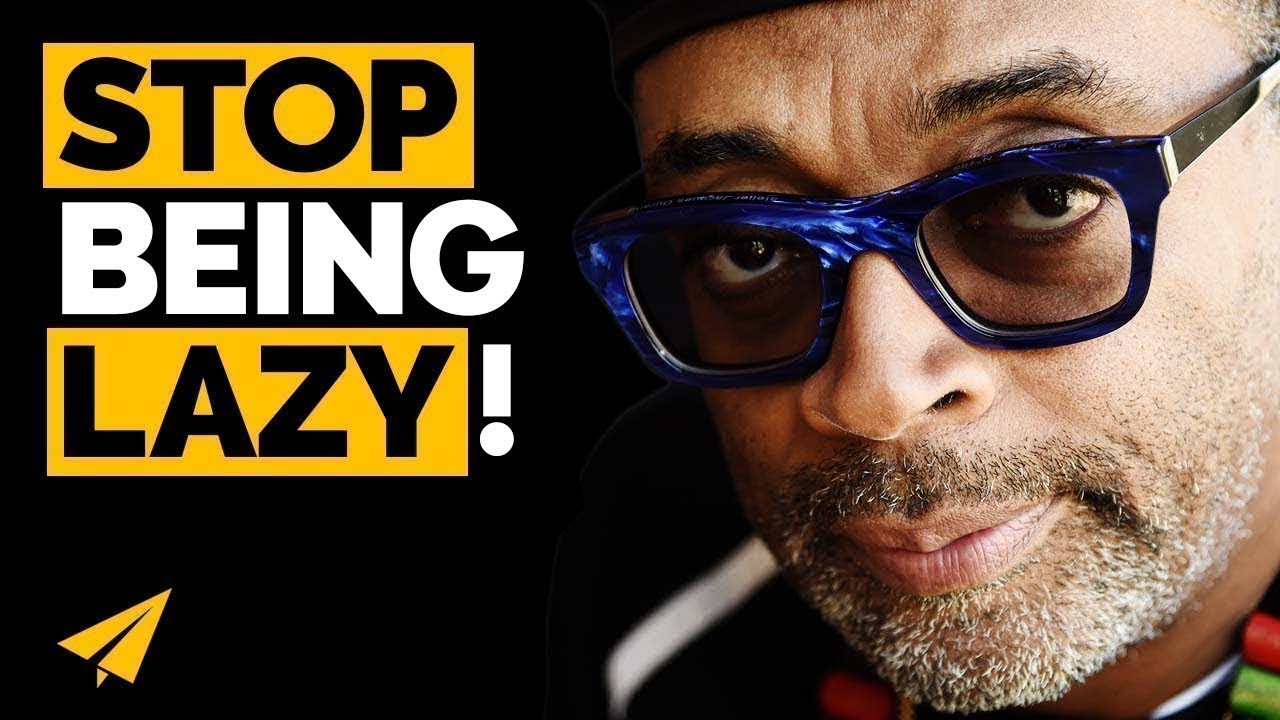 He's an American film director, producer, writer and actor. His production company, 40 Acres And A Mule, have produced over 35 films since 1983. He's won numerous awards including an Emmy Award. He's Spike Lee and here's my take on his top 10 rules for success.
Spike Lee's Top 10 Rules For Business and Success
Rule #1: Love What You Do
I did not become a filmmaker 'cause I want to be famous. I did not become a filmmaker 'cause I want to make a lot of money. I became a filmmaker 'cause I found something I love. I'm a professor at NYU, the graduate of film school, been here 15 years.
I'm also a director, artistic director of the film school. I tell to all my students, the worst thing you'd do is choose your major just based solely on how much money you're thinking to make when you graduate. If you want to be happy, have a happy life and not be miserable. Find something that you love. That's it.
Rule #2: Don't Be Lazy
Laziness is something I really can't tolerate. So because of laziness, I think that that speaks of a sense of entitlement and, that's just not a good look in this industry where you think that you're entitled to something, that you deserve something because you are whatever you think you are.
It doesn't work like that. And another thing I'd like to add is that, and I'm speaking about my school, a lot of people come on NYU thinking that because you have this degree from this prestigious, prestigious institution, NYU or USC or AFI or Columbia.
In the real world, they don't really give a sh. If you don't have the talent, that degree doesn't mean a thing. When you come out of school, you should have, if you're a director you should have a film, if you're a DP you should have a reel, editors should have a reel. If you're a screen writer, you should have scripts. So people really want to see the work you've done.
Rule #3: Perfect Your Craft
I came to the mindset when I was in film school, Marc, that I do not want to be a one and done, I do not want to be a flash in the pan. I want to be here for the long haul. And when Kurosawa, the great Akira Kurosawa was doing press for one of his last films, Ran, these journalists asked him, you're one of the greatest master filmmakers of all time, what else do you still have to learn? And Kurosawa said I still have the universe to learn.
So I was in film school and that blew my mind. The baddest ever. He's 85, 83, 84. And he says he still has the universe to learn as far as storytelling. That really hit me. You really got to, like the jazz term, you got to stay in the woodshed, you got to shed, and constantly be on it, perfecting your craft and never get to the point that you trick yourself of thinking that you know it all.
It's a life long journey. the stories, to tell stories, how you craft them. Just be a good storytelling and you do that by having a body of work. So it's always been on the body of work.
Rule #4: Express Yourself
The reason why I've told the story I've told, the story I want to tell at that particular time, it's part of being a human being. It's something that makes us who we are. My favorite filmmakers are storytellers. And that's what I try to do. It allows me to express myself and share it with the world.
Everybody comes into the theater and sits down in a chair in the dark room. Who they are is going to affect how they view the film and how they receive it. You want them to have some feeling. About what that feeling is, that depends on the person's, who they are when they experience it.
Rule #5: Make A Way
You make a market. Was there a market for She's Got to Have It? You make it, you have to. There was no market for hip-hop before there was hip-hop. Some guys in the Bronx started getting together, rapping all the beats in. Now it's a billion-dollar industry, so. You got to make a way.
And when there doesn't seem to be the way, you got to make away. One of my favorite words is visionary because these are the people, visionaries are people who see something when no one else can see it. And when you can see something when no one can else can see, you're called crazy but you see it.
And you're ahead of other people and they'll catch up eventually. That's what makes them a visionary. So I hope that the students here at Dillard, they evolve. Hopefully you're growing and you're learning. Not standing still and being stagnant.
Rule #6: #Believe In Your Work
Interviewer: What makes a good storyteller?
I don't know that's a fortune cookie.
Interviewer: But what from the patterns you've seen or things that you've applied? Were you just like one move, two moves, on the board that are going to assure a certain kind of qualitative refinement and the right storytelling.
I think the storyteller has to believe in the story that that person's telling 'cause if you don't believe in it, the audience is not going to believe in it. So you really have to believe that this is a good story. I don't really want to make any generalizations but a lot of people I've spoken to and I've spoken to some great, great filmmakers and novelists.
They do stuff like. I'll write a novel 'cause it's the one I want to read. This is a film I would want to see. And hopefully. You hope and pray that the audience will be in tune. I mean, one of the greatest people with that gift, I think is Steven Spielberg 'cause he just has this intuition. He knows, he could point out the pulse in what people want.
Interviewer: Right, that's a good anecdote. It's like if you're not believing in it, people see right through it.
You be faking the funk and people are going to tell.
Rule #7: Attack, Attack, Attack, Attack
Three years of film school, I do a film, my thesis film is called Joe's Bed-Stuy Barbershop and it wins the Student Academy Award. I won a Student Academy Award back in 1983.  So I had an agent. Man, I thought that Spielberg, Spielberg was going to call me, Lucas, Fox, Universal.
And I had a little apartment off Myrtle Avenue on Fort Greene, before gentrification. So I had my, now the Student Academy Award is not like this. It's a wooden box with a circle with this on it. So I know for sure because I have a Student Academy Award, I'm going to take over Hollywood. But a funny thing happens.
When you don't pay Ma Bell, you don't pay Con Edison and you don't pay Brooklyn Union Gas. The phone gets turned off, the heat gets turned off and lights get turned off. So I was in the dark just by having my Student Academy Award.  And then I woke up. And so that's when I learned the tough lesson, nothing happens overnight.
There's no such thing as overnight success and that's the biggest thing we do to our young people. Tell them that there's no thing or amble as overnight success. You have to bust your ass, roll up your sleeves, and attack, attack, attack, attack every single day. And that's what I've been telling my film students at NYU for the last 15 years.
Rule #8: Follow Your Passion
Interviewer: How do you choose what's interesting to you? I mean how do you decide?
It's something I have to feel passionate about. I mean it, people don't know this but to make a good film has to be one of the hardest things known to humankind to make. I mean there's so many factors that go into making a good film.
And like filmmakers who are passionate about this, we kill ourselves to do this. So you spend a year, two years, and Malcolm X, that took two years. That's time out of your life and you have to have that passion for the subject matter, for the story. Whatever it is that makes you want to go ahead and persevere.
Rule #9: Write
I'll give the same advice to aspiring filmmaker and writer. Write. Both with those disciplines, you need to write. And that's something I tell my film students. I've been teaching, I've been a professor at NYU last 15 years in the graduate film school where I went.
And if you did a survey, the last 25 years, and looked at the first films of directors, I would say a large percentage of those films, those directors wrote that script. So I think that's a big clue when I'm talking about film, that if you want to be a director and you could write also, you have a much better chance of getting your first film made.
Rule #10: Defend Your Work
Thank You
Thank you guys. I made this because Fredricka Fonta asked me to. So if there's a famous entrepreneur that you want me to profile next, leave it down the comments below and I'll see what I can do. I'd also love to know which of Spike's rules had the biggest impact on you? What did he say that was really memorable and meaningful to you? Leave it in the comments.
I'm going to join in the discussion. I also want to give a quick shout out to Stacey Crewe. Stacey, thank you so much for picking up a copy of my book, Your One Word. It really, really, really means a lot to me. So thank you guys. I believe in you. I hope you continue to believe in yourselves. And whatever your one word is, much love. I'll see you soon.
---
BONUS
Be Consistent
I've been very fortunate to make, the average output of film a year 86, we made two this year. But we're very happy about that because I think that's the only true way you're able to intelligently put, I mean evaluate an artist's work.
So often today, somebody does one movie, one album, one play, one book and then they're a genius. And it doesn't work like that. You have to put together.
You have to be consistent, you have to put together a body of work and that's how you evaluate artists. I mean somebody comes into the NBA and have a good year. They say this guy's the next Michael Jordan. You know that's bull.
If you could do what Michael Jordan's done for 10, nine years, every year at the top of this game, then you're able to say to compare somebody. They've only been in the league one year? How could you make that comparison? You just can't do it.
Defy The Odds
Ava DuVernay: What advice would you give to artists of color, LGBT artists, women artists, artists who are outside of the dominant culture? What would you tell us on how to nurture and nourish ourselves so that we have careers as long and as varied and as beautiful as yours?
Interviewer: Is it a different reality for somebody who's making a film in the margins as opposed to what she said, the dominant culture?
Yeah, but you can't let that stop you. When I was in film school, there was only, when I was in NYU film school from 1979 to 1982, there was only one African-American director working in Hollywood, period. His name is, Michael Schultz, excuse me, and at the time, he was directing Richard Pryor's films.
Richard Pryor was the biggest star in Hollywood. So if I'm in film school and says the only one, I mean if I'd had thought about those odds, it would have hindered me.
Stand for Something
Interviewer: So what do you make of Colin Kaepernick not standing up?
I support him. I find it so interesting how people want to pick and choose what rights people have. Now any time you talk about anti-gun violence, people run around screaming about they don't want their Second Amendment rights to be infringed upon.
The same way John Carlos and Tommie Smith raised their black-gloved fist at the '68 Olympics in Mexico, the same way Muhammad Ali refused to fight for injustice, a war that was crazy.
Interviewer: Refused to fight the Vietnam War.
Yes, the Vietnam War. These are rights that Americans have.
Interviewer: You see, you see what he is doing, what Colin Kaepernick is doing is in that tradition.
Yes, it's in that tradition of black athletes standing up, using their platform, saying I'm not happy with the way black people, people of color are being treated.
Interviewer: It's so interesting because often at the time when an athlete does it, they are vilified.
Oh that's the thing.
Interviewer: And years later, I mean Muhammad Ali.
The biggest revisionist story ever, Muhammad Ali one time was the most hated person.
Interviewer: Hated. Hated, yeah.
People need to Google. Do research. Muhammad Ali was the most hated person in America.
Interviewer: He couldn't box in America.
Yeah, the Muhammad Ali people love is, him lighting the torch where his arm is shaking in the Olympics in Atlanta. But not the defiant. He said no Viet Cong ever called him, I'm not going to say the N-word. And he sacrificed the prime.
Interviewer: New York Times would not use his name. They called him Cassius Clay.
Now you call the guy's name. So I think this is in the same tradition. What I find, hold on, I like to this. I find it very interesting that three members of Big Blue, the New York Football Giants, one presently playing and two retired are the ones that criticized him.
Three are the New, that's my team, football. Three of those brothers, they should, I'm really, I'm not, they should understand in what tradition, the history of why Colin did this. Now I bet if you went to all three of them. They would say they love Muhammad Ali.
How could you love Muhammad Ali and not love him for the stance he took not to be inducted in the Vietnam War? If you say you like Tommie Smith, John Carlos, yeah, yeah, yeah. It's the same thing.
Interviewer: Muhammad Ali said, "If I kept my mouth shut "just because I can make millions "then this ain't doing nothing. "So I just love the freedom and the flesh and blood "of my people more so than I do the money." And Jackie Robinson said, "I cannot stand and sing the anthem "I cannot salute the flag, "I know that I'm a black man in a white world." That's Jackie Robinson in 1972 in his autobiography. 
This is the tradition. What Colin is doing now has not just come out, pop out of nowhere. There's tradition. Tradition of African-American athletes standing up and saying, using their platform to say something is wrong.
Interviewer: Do you think he's going to pay a price for it?
They all do. Muhammad Ali, three years of his prime. John Carlos, Tommie Smith, of course. But these brothers do this knowing that there will be ramifications and they don't care because this is their belief. And I'm about to say this.
They always bring up, oh, you're making a lot of money. So the reason because you make money that means that you can't have a moral foundation and speak. I mean like, 'cause here's the thing, black athletes, we pay you money.
Play ball, shut up, don't say nothing. We're giving you money. Million dollars, just go out there, run up and down the gridiron. Run up and down the court and just be quiet and play.
Interviewer: There have been a lot of athletes who don't want to risk their endorsement deals, things like that.
Look, I understand that. It's all an individual choice but when someone has the courage to step out, with knowing they can lose all that, why are you going to jump on the brother, man?
Interviewer: Do you stand up during the national anthem?
Yes. But it's a personal choice. That is not. Me standing up for the national anthem does not affect me doing Malcolm X or Do the Right Thing and all the other documentaries. So that does not do it for me. I stand up but I'm not going to blast.
Interviewer: You also stand up for his right not to?
Yes.
---
You might also like
---
More from Motivation
---
Watch Evan Carmichael's Top 10 Rules For Success video. Famous Entrepreneur Quotes Evan Carmichael's Quotes "Changing my environment had a dramatic impact …
Watch Mark Hamill's Top 10 Rules For Success video. Famous Entrepreneur Quotes Mark Hamill's Quotes "I love the allure, the danger, of …
Watch Brandon Beck's Top 10 Rules For Success video. Famous Entrepreneur Quotes Brandon Beck's Quotes "Whether you think you can do it, …